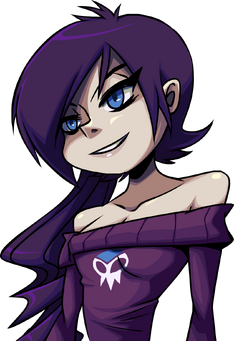 ZONE-tan is the mascot and personification of ZONE-Archive. She was created by ZONE in 2007 and first appeared in a flash loop animation for Halloween showing the character sitting on a tentacle. Since then, she has appeared in many places around her website, and even appears the beginning of most of her flash animations
The Miracle Elite Storyline
Nightosphere Most Wanted
Zone-Tan debuted as Major Character and is working with Strong Bad and others to get rid of Nightoshpere Empire. She declared and proclaimed herself as new team captain that Romeo Conbolt was before.
Trouble in London
Zone-Tan joins the Miracle Dark Elite which Athena and the Mystic Apostles organizes and led by Skulduggery Pleasant. She is chosen to be a decoy to their new worthy foes.
ZTV News
Starting in (April 2012) Zone-Tan has been featured as the host of the YouTube show ZTV News by the YouTube channel Zone Toons, which brings viewers updates on upcoming flash games on Zone-archive as well as answering viewers comments and showing some fan art.