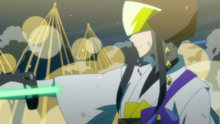 Yuri Inuwashi (犬鷲由里, Inuwashi Yuri) / Magia Furumine (マジア・フルミネ, Majia Furumine) is a character in the Magica Wars franchise and the representative magical girl of Ishikawa prefecture. Her companion misaki is Shishiku. Her voice actress is Ryouko Shintani.
Appearance
Yuri is a tall, pale-skinned girl wearing a white hat with a green visor piece and black accents covering the upper portion of her face. Hanging from it are beads and straps. She wears a white outfit, reminiscent of a kimono with a black and gold piece around the middle. Around the shoulder is a dark purple ribbon tied into a bow, while the sleeves have long, loose pieces of material streaming from them with a floral design. White covers the legs and arms with black and gold accenting. The bottom of the shoes are bright green and cyan.
Personality
Yuri is a high school girl who takes an interest in traditional art and tinkering with machines. She has a somewhat rough manner of speaking, and often wonders about being a magical girl at her age.
Dynasty Warriors
Yuri Inuwashi first appeared as a mentor and a soldier of
Ten Legendary Warriors-United Heroes
. She started a training with
Tsubasa Kazanari
and
Maria Cadenzavna Eve
.