Yuri
is a young feminine girl who is partners with Kei in the Lovely Angels. She is one of the main protagonists along with Kei. She's Japanese in ethnicity, wears a golden-yellow uniform. Often uses non-gun weaponry such as energy whips. While the more feminine of the two, she is known to become very violent when crossed.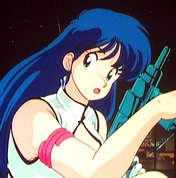 Ad blocker interference detected!
Wikia is a free-to-use site that makes money from advertising. We have a modified experience for viewers using ad blockers

Wikia is not accessible if you've made further modifications. Remove the custom ad blocker rule(s) and the page will load as expected.