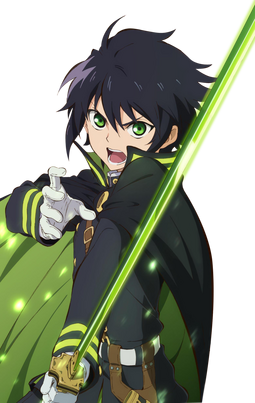 Yūichirō Hyakuya 
is the main protagonist of the
Owari no Seraph
series.
Appearance
Yūichirō has medium length black hair which can be considered quite messy. He possesses sharp green eyes which fall under his thick eyebrows. His eyes are large compared to most other male characters in the series. At the beginning of the series, he is often shown wearing a typical Japanese school uniform with a white sleeved T-shirt beneath.
After joining the Imperial Demon Army, he wears the standard JIDA uniform which consists of a long-sleeved black coat with light green details including the shoulder epaulets which has a brown Sam Browne belt passing diagonally over his right shoulder and two rows of gold buttons on the front. Along with that, he wears a pair of white gloves and a white web belt with a gold waist-plate. He also wears the uniform trousers and black boots which go over the trouser's leggings. Yū keeps his sword on the left side of his hip. Sometimes he can be seen wearing the JIDA hat, and often wears the JIDA cape as well.
Gallery
Ad blocker interference detected!
Wikia is a free-to-use site that makes money from advertising. We have a modified experience for viewers using ad blockers

Wikia is not accessible if you've made further modifications. Remove the custom ad blocker rule(s) and the page will load as expected.