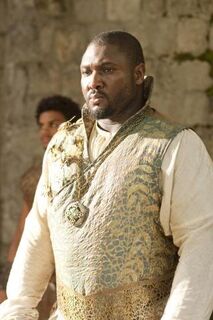 Xaro Xhoan Daxos is a character from A Song of Ice and Fire and Game of Thrones, where he serves as an antagonist to Daenerys Targaryen during Season 2. He is a wealthy (though not as wealthy as he initially claims) merchant from the city-state of Qarth, and one of the rulers of the city known as the Thirteen. In the television series, he conspires with the warlock Pyat Pree and Daenerys' handmaiden Doreah to use Daenerys' dragons to become "King of Qarth".
Ad blocker interference detected!
Wikia is a free-to-use site that makes money from advertising. We have a modified experience for viewers using ad blockers

Wikia is not accessible if you've made further modifications. Remove the custom ad blocker rule(s) and the page will load as expected.