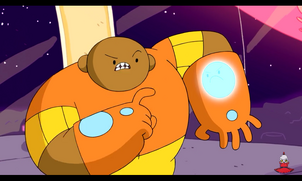 Wallow (voiced by Dan Finnerty (pilot), Ian Jones-Quartey (web series): The offbeat member of the Bravest Warriors. His glove contains a computer A.I. named Pixel (voiced by Maria Bamford) who gets jealous easily. His sticker pet is a falcon that forms an axe. It can also form a bazooka and a guitar. He has a wide range of companions such as Impossibear and Catbug. In "Season of the Worm" he lost his left arm when Beth had to amputate it when it got covered in inter phasing hump gnats.
Ad blocker interference detected!
Wikia is a free-to-use site that makes money from advertising. We have a modified experience for viewers using ad blockers

Wikia is not accessible if you've made further modifications. Remove the custom ad blocker rule(s) and the page will load as expected.