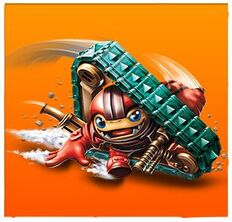 Tread Head
is a bike rider in
Skylanders: Trap Team
.As an orphan from the Dizzying Dunes, Tread Head had always dreamed of racing. And after a summer of scavenging for parts, he finally managed to build a bike that would allow him to enter the local racing circuit. The other competitors laughed at the crudeness of his work, but Tread Head had built it for performance, not for style. So when the race began, he jumped out to a commanding lead. But as he entered a canyon, he suddenly found himself at a roadblock – of Goblin troops! Knowing the other racers were in danger, he pulled off the road and kicked up so much dust that the Goblins had no choice but to flee, allowing the other racers to pass safely. Tread Head may have lost the race that day, but he earned the respect of Master Eon, who would see to it that Tread Head would tread on evil wherever he goes.
Chronicles of Great New Empire
Ad blocker interference detected!
Wikia is a free-to-use site that makes money from advertising. We have a modified experience for viewers using ad blockers

Wikia is not accessible if you've made further modifications. Remove the custom ad blocker rule(s) and the page will load as expected.