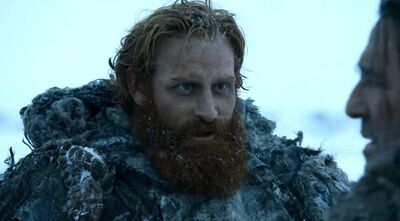 Tormund, also known as Tormund Giantsbane is a major charcater in the ASOIAF novels, by George RR Martin, and the HBO series, Game of Thrones, based on the books. Tormund is a wildling commander and second in command to "King-Beyond-the-Wall", Mance Rayder. Tormund is a sworn enemy of the Night's Watch and acts as a major antagonist to Jon Snow in seasons 3 and 4.
In season 5 however, Tormund becomes somewhat redeemed and acts as an anti-hero and surprise ally to Jon Snow.
He has four sons, Toregg, Torwynd, Dryn, and Dormund, and one daughter, Munda.
Tormund is portrayed by Norwegian actor Kristofer Hivju.
Ad blocker interference detected!
Wikia is a free-to-use site that makes money from advertising. We have a modified experience for viewers using ad blockers

Wikia is not accessible if you've made further modifications. Remove the custom ad blocker rule(s) and the page will load as expected.