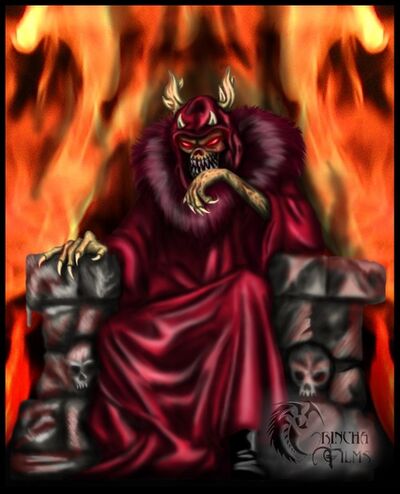 The Horned King is a member of Dormammu's Alliance and a foster cousin to Dormummu.
He is voiced by John Hurt, who also played the War Doctor in Doctor Who: The Day of the Doctor.
The Cosmic Empire Storyline
Coming soon.....
The Miracle Elite Storyline
Scar was upset about Pterano's failure. The Horned King surprisingly calms him down. Pterano had apologized. He forgive him ans sending in Charmcaster and three figures clad in glittering red cloaks. Pterano explained that Tuxedo and Gabriel have setting the girls free. Then Rinkus and Sierra reported that Xigbar and Hitler is defeated. Horned King had declared that the must begin their plan B.
Later, The Horned King spotted his foster cousin, Dormammu returned from the dead. He and Dormammu assembled the new team of Dormammu.
Tuxedo Lovelace vs CarnEvil
The Zombie chemical were made along with the newly acquired Black Cauldron which he then summons the Cauldron Born. He sends them to destroy all opposition, CarnEvil was risen on planet Zeion. The Horned King suspects Tuxedo is the one to blame. He throws Tuxedo aside grabs Tuxedo and lifts him off his feet, but Tuxedo pushes the Horned King into the pull of the Cauldron.The Horned King grabs Tuxedo again and tries to throw him into the Black Cauldron, but the cauldron pulls the Horned King in instead and rips him to a skeleton and explodes.
Gallery