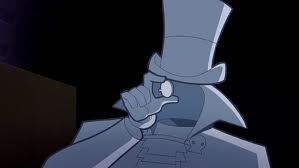 Gentleman Ghost is a literally ghastly super villain from DC Comics in which he initially appeared in the 88th issue of Flash Comics back in October of 1947.
Gentleman Ghost was originally known as James Craddock who was born as the son of a English gentleman whom abandoned him and his mother into a life of poverty in which James ended up as a Notorious Robber and Highwayman in England during the 1800s.
However, when James Craddock died, he became a ghost by the name of Gentleman Ghost in which he had most of the usual ghostly powers such as invisibility and intangibility not too mention other powers as freezing enemies to death.
While Gentleman Ghost has gone up against various DC Comic super heroes, such as Batman and The Flash, he is known as the enemy of Hawkman and Hawkgirl.
Ad blocker interference detected!
Wikia is a free-to-use site that makes money from advertising. We have a modified experience for viewers using ad blockers

Wikia is not accessible if you've made further modifications. Remove the custom ad blocker rule(s) and the page will load as expected.