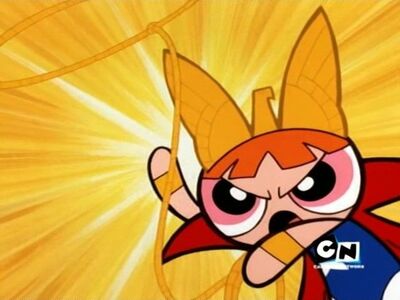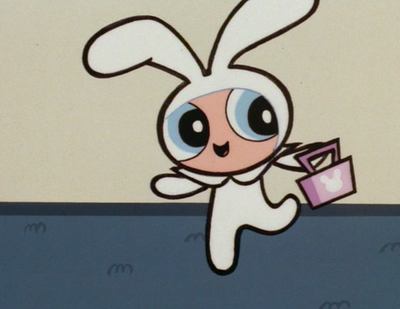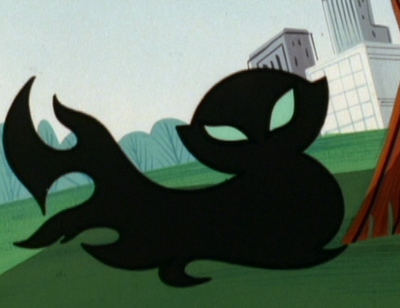 The Suped up super zeros were originally made by the PPG but were rejected until NegaZim made them but even more powerful using some of Porky's advanced technology to recreate the hosts of the bodies.
They debut working for Vilgax as they steal important chips for their boss. But Skipper, Bender, Heloise stop them and beat them down simply with some help from Twilight. Being merciful the four let them leave quietly in Liberty Belle's vehicle knowing they would cross paths again. They kept crossing teams until their encounter with the Shadowness where he managed to kill Harmony Bunny with his attack as her stickers are explosive and have some kind of chemical reaction when contacted with Shadowness' attacks. Liberty and Mange want her back so they plan to abduct Heloise and Mandark but Bender, Skipper and Stan make a deal with them to help get Harmony back on the cost they don't back-stab the Team. They were killed and betrayed by Discord.
Liberty Belle
Liberty Belle was blossom's idea.
NegaZim's upgrades
Her rope electrocutes the person who is caught,not kills them
she has super smoke bombs
she has a mobile to get the super zeros a great escape
Harmony Bunny
Harmony Bunny was bubbles idea.
NegaZim's upgrades
Her stickers are not only sticky but they are spiky and explode when they touch an object
her pogo reaches high heights
Her name may be harmony bunny but because of her upgrade she will be mean to who tries to stop her
Mange
Mange was buttercup's idea
NegaZim's upgrades
Well he didn't see her moves so he made some predictions except for her light hurt so he gave her some sunblock now in black color
Ad blocker interference detected!
Wikia is a free-to-use site that makes money from advertising. We have a modified experience for viewers using ad blockers

Wikia is not accessible if you've made further modifications. Remove the custom ad blocker rule(s) and the page will load as expected.