Stargates
, also called
Astria Porta
in Ancient and
Chappa'ai
in Goa'uld, as well as various other names across the universe, are a series of devices, built by the Ancients, which create wormholes, allowing for near-instantaneous transportation between two distant points in space. The Stargates are often considered to be the Ancients' greatest creation and thus, the Ancients are often referred to as the Gate Builders. The Ancients, the Asurans, the Tollan (with the help of the Nox), and the Ori are the only known races capable of constructing Stargates.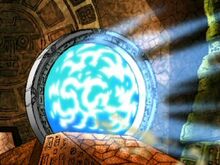 Ad blocker interference detected!
Wikia is a free-to-use site that makes money from advertising. We have a modified experience for viewers using ad blockers

Wikia is not accessible if you've made further modifications. Remove the custom ad blocker rule(s) and the page will load as expected.