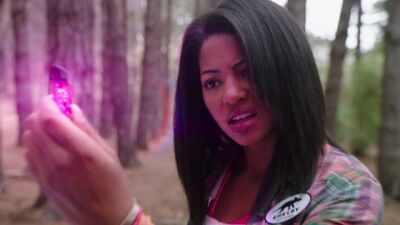 "Triceratops! Power Ranger Pink!"
Shelby Watkins is a character from Power Rangers Dino Charge and Power Rangers Dino Super Charge.
She is portrayed by Camille Hyde.
Shelby is a waitress at the Amber Beach Dinosaur Museum's Dino Bite Cafe. She aims to become a part of fossil digs instead of serving in the restaurant. However, Kendall Morgan, the museum director, doesn't see things her way. After stowing away during a dig that Koda and Chase went to, she accidentally found the Pink Energem. As a result, she became the Pink Dino Charge Ranger.
Ranger Forms
Ad blocker interference detected!
Wikia is a free-to-use site that makes money from advertising. We have a modified experience for viewers using ad blockers

Wikia is not accessible if you've made further modifications. Remove the custom ad blocker rule(s) and the page will load as expected.