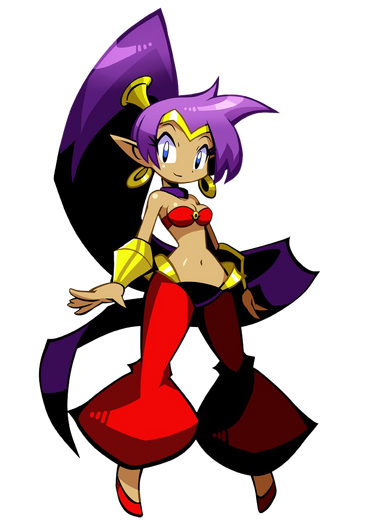 "Ret-2-Go!"
- Shantae's catchphrase
Shantae is the protagonist of the Shantae series. A half-genie, and the guardian of Scuttle Town, Shantae works tirelessly to thwart the plans of the nefarious lady-pirate, Risky Boots, or other forces threatening the town. The character was created by Matt Bozon and his wife Erin Bozon.
Shantae is voiced by Cristina Vee, who also voices Shantae's archenemy, Risky Boots.
Best Friends: Sky, Rottytops, Bolo, Mimic, SMG4, Desiree (In LOTM: Weirdmageddon),
Main Enemies: Risky Boots, Nagito Komaeda
Her favorite food is donuts.
LOTM: Weirdmageddon
TBA
Relationships
Mimic
Sky
Bolo
Rottytops
Risky Boots
Mayor Scuttlebutt
Abner Cadaver
Poe
Squid Baron
Ammo Baron
Techno Baron
Hypno Baron
Ruby Rose
Maka Albarn
SuperMarioGlitchy4
Desiree
Transformations
Gallery