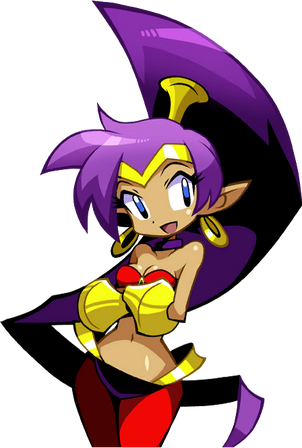 Shantae
is the protagonist of the
Shantae
series. A half-genie, and the guardian of Scuttle Town, Shantae works tirelessly to thwart the plans of the nefarious lady-pirate, Risky Boots, or other forces threatening the town. The character was created by Matt Bozon and his wife Erin Bozon.
Best Friends: Sky, Rottytops, Bolo, Mimic
Main Enemies: Risky Boots, Nagito Komaeda
Her favorite food is donuts.
LOTM: Weirdmageddon
TBA
Relationships
Mimic
Sky
Bolo
Rottytops
Risky Boots
Mayor Scuttlebutt
Abner Cadaver
Poe
Squid Baron
Ammo Baron
Techno Baron
Hypno Baron
Ruby Rose
Transformations
Gallery
Ad blocker interference detected!
Wikia is a free-to-use site that makes money from advertising. We have a modified experience for viewers using ad blockers

Wikia is not accessible if you've made further modifications. Remove the custom ad blocker rule(s) and the page will load as expected.