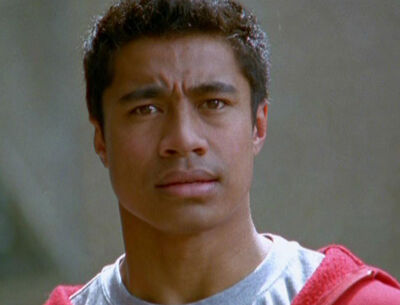 Shane Clarke
is the lead character of 
Power Rangers Ninja Storm
.
He is portrayed by Pua Magasiva.
Shane is a student of the Wind Ninja Academy, training with the power of Air. He is an excellent skateboarder, and his love of flight is evident in his fighting style. Shane is also shown to be arachnophobic.
Shane serves as the Red Wind Ranger.
Ranger Forms
Tri Battlized Armor
"Battlizer Mode Engage! Power Up!"
The Tri Battlized Armor is the Battlizer used by Shane, first activated while fighting Vexacus. The Tri Battlized Armor comes in two modes: Ground Mode and Flight Mode.
Relationships
Ad blocker interference detected!
Wikia is a free-to-use site that makes money from advertising. We have a modified experience for viewers using ad blockers

Wikia is not accessible if you've made further modifications. Remove the custom ad blocker rule(s) and the page will load as expected.