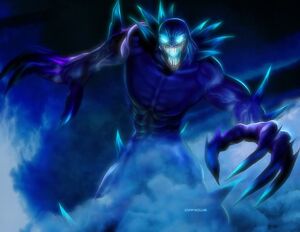 The Shadow King is a powerful mutant and enemy of the X-Men who exists as a malevolent thought-form following his physical destruction: making him a formidable opponent even to powerful psychics such as Professor Xavier. He is the archenemy of X-Men member Storm. 
The Miracle Elite Storyline
Trouble in London
Allies: True Assassin (henchmen/sidekick), UBOA, Atman, The Moon, The Groke, Morpheus(God of War)
Enemies: Dennis Hirano,
Shadow King became one of the upcoming main villains of the history. But he will not be allied with the other villains. He is also a main villain partner with his henchman, True Assassin. While he works by his own, he controls the executioner,  the terrifying thing, Video game ghost, god of dreams, and cold-blooded creature to help him with his plans into haunt his newly victim, Dennis Hirano. He was plannig to study about Dennis's true powers from Raziel. So he can make him the apprentice.
Chronicles of Great New Empire
TBA