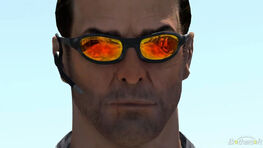 Sam "Serious" Stone
is the protagonist, and a living legend to the Earth's resistance against Mental.
Sam "Serious" Stone is a legend for Earth. With extreme bravery, he fights massive swarms of enemies, wounded countless times, he still does so. Because he is a man with skills! He was sent back in Egypt, to find a Spaceship, hidden by Sirians on planet Titan, and go to planet Sirius to assassinate Mental, to prevent the invasion on Earth, and its annihilation. Unfortunately, a Crate Bus full of Croteam Heads crashed into SSS Centerprice, the spaceship that lead to Sirius. Then he took the Holy Grail and activated the Back-Up Spaceship. Then the Wizards summoned him, and gave him another quest. He finally went to Sirius, but Mental escaped when he arrived at the Mental Institution and destroyed it.
Chronicles of Great New Empire
Ad blocker interference detected!
Wikia is a free-to-use site that makes money from advertising. We have a modified experience for viewers using ad blockers

Wikia is not accessible if you've made further modifications. Remove the custom ad blocker rule(s) and the page will load as expected.