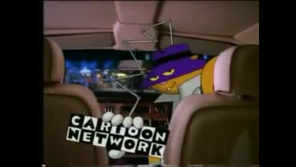 Secret Squirrel
 (voiced by Mel Blanc) serves as a secret agent, taking orders from his superior Double-Q (voiced by Paul Frees) of the International Sneaky Service. His designation is Agent 000. Secret Squirrel is assisted in his adventures by fez-wearing sidekick Morocco Mole (also voiced by Paul Frees impersonating Peter Lorre). Morocco Mole has a thick Middle Eastern accent and likely has Asperger's syndrome. The pair fights crime and evil enemy agents using cunning and a variety of spy gadgets, including a machine gun cane, a collection of guns kept inside Secret's trench coat, and a variety of devices concealed in his fedora (which he almost never removes).
Secret Squirrel's recurring arch-enemy is Yellow Pinkie (also voiced by Frees), a parody of both Auric Goldfinger from Goldfinger and Kasper Gutman from The Maltese Falcon. The last episodes introduced Hy-Spy (again voiced by Frees), the master of scientific criminology
Ad blocker interference detected!
Wikia is a free-to-use site that makes money from advertising. We have a modified experience for viewers using ad blockers

Wikia is not accessible if you've made further modifications. Remove the custom ad blocker rule(s) and the page will load as expected.