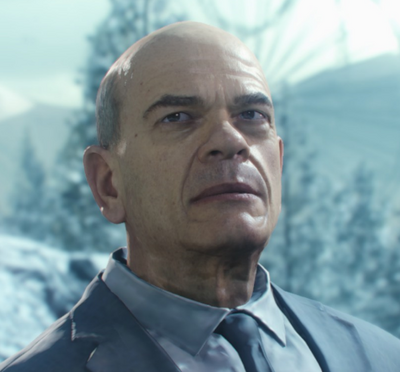 "Society doesn't just happen. The people NEED to be protected. If the only way to prevent future attacks is to monitor the thoughts and desires of the population, then the choice is obvious. We need to know who our enemies are and what they are planning! That is how we save lives!"
- Krueger
Sebastain Krueger is a villain from Call of Duty: Black Ops III.
He is portrayed by Robert Picardo.
Krueger is the head of the Coalescence Corporation, and alongside Dr. Yousef Salim, is a sole survivor of the Singapore Disaster. Creator of Corvus, Krueger inadvertently causes the death of 300,000 people by releasing the Nova 6 nerve gas into the atmosphere.
Ad blocker interference detected!
Wikia is a free-to-use site that makes money from advertising. We have a modified experience for viewers using ad blockers

Wikia is not accessible if you've made further modifications. Remove the custom ad blocker rule(s) and the page will load as expected.