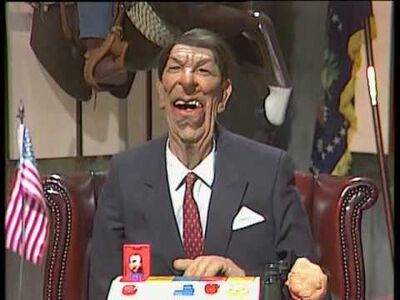 Ronald Reagan is a Spitting Image version of US President as a bumbling, nuke-obsessed fool in comparison with his advisors Edwin Meese and Caspar Weinberger. Next to his bed were red buttons labelled 'Nuke' and 'Nurse'.
The Miracle Elite Storyline
The Guardians of Cosmictopia
Ronald Reagan will appear in this story as one of the major characters of the story teaming up with the good guys against
Baron Overlord
.
Ad blocker interference detected!
Wikia is a free-to-use site that makes money from advertising. We have a modified experience for viewers using ad blockers

Wikia is not accessible if you've made further modifications. Remove the custom ad blocker rule(s) and the page will load as expected.