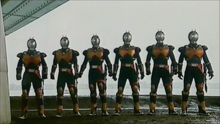 Riotroopers (or Riot Troopers) (ライオトルーパーRaiotorūpā?) are a para-military force of henchmen from the Kamen Rider Series installment Kamen Rider 555 and the accompanying film Kamen Rider 555: Paradise Lost. They are the first set of "Rider-like" foot soldiers within the franchise. They are also the first case of a Rider originally created for a Kamen Rider movie that was later introduced in the TV series.
Dynasty Warriors Storyline
During their first appearance, Riotroopers served Kamen Rider Eternal and his minions. They've first invaded the Makati City

Ad blocker interference detected!
Wikia is a free-to-use site that makes money from advertising. We have a modified experience for viewers using ad blockers

Wikia is not accessible if you've made further modifications. Remove the custom ad blocker rule(s) and the page will load as expected.