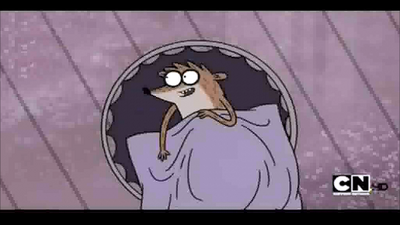 Rigby
is a brown raccoon who resides from the
Regular Show
universe. He is Morcedai's best friend and a member of the V Team as one of it's more moral members.
He joined the team on their vacation to make combat with Uka Uka who was Cortex's former boss to get them out of the way. Rigby early on got called by Bender who made his move to help against them. Rigby worked with the team and was the one who got Eddy and Negaduck to be friends after a break up mishap concerning Lara Su. He returned again to aid Eddy again and meet with Dib who Bender talked about frequently. Rigby then helped Bender take back Mobius secretly as part of the V Team's deal with him. He met back with Eddy and the girls and reveals Bender's whole plan to them and Slade's wedding
Allies: Morcedai, The V Team, Slade, Anti Cosmo, Bender, Skipper, Starfire, Jorgen, Django, King Julian, Lizbeth, Boomer, Nina, Finn, Marceline, Ice King, Axel, Agent 9, Dib, Bubbles, Milo, Heloise, Luciaus, Dr. Doofenschimtz, Dr.Blowhole, Stewie, Oscar, Edd, Gosalyn, Darkwing,
Enemies: Uka Uka, Marceline's dad, Alt Doof, the Joker, Taurus Bulba
Voiced by: William Salyers
Ad blocker interference detected!
Wikia is a free-to-use site that makes money from advertising. We have a modified experience for viewers using ad blockers

Wikia is not accessible if you've made further modifications. Remove the custom ad blocker rule(s) and the page will load as expected.