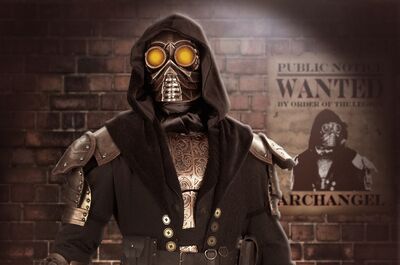 Raphael Lovelace is a son of Tuxedo Lovelace and Martha Lovelace. He's is a youngest brother to Maria Lovelace.
The Miracle Elite: Lovelace Origin
Raphael is in Martha's womb during the adventure. During her captivity in Zinthos' lair, Martha give birth to him.
The P Team and the Miracle Elite 2
Raphael is now the leader of noir raiders, in order to avenge his father with his sister Samantha.
Relatives
Allies and enemies
Allies: Tuxedo Lovelace (Father) Shadow Queen (Mother), Maria Lovelace (Sister) Samantha Lovelace (Sister), Gabriel Haywood, Rainbow Haywood, The Element Empire.
Rivals: N/A
On and Off Allies/Enemies: N/A
Enemies: Dormammu and his gang
Gallery
Ad blocker interference detected!
Wikia is a free-to-use site that makes money from advertising. We have a modified experience for viewers using ad blockers

Wikia is not accessible if you've made further modifications. Remove the custom ad blocker rule(s) and the page will load as expected.