Princess Cadence is a heroine/pony from the My Little Pony Universe and she is also Twilight's sister in law
The B Team Storyline
The Grand Summer Season Trek
After her Honeymoon with Shining Armor, Discords kidnaps her and mindrapes her to hurt her own little sister in law. However she snaps out of it thanks to Meowth, Luigi and Blue. It's good for her to be back to normal but how will Twilight, Bender and the others tell her that her husband was killed by Count Veger.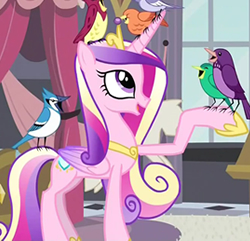 She becomes friends with Bender and the team, when they tell her the truth and how they helped. She stays in Canterlot with Spike and the Princesses to protect the place from a possible attack.
Totally Mobian Spies
She however gets back on the action when picked up by Kirby and his friends to help Eddy and others. She is still deeply sadded by Shining Armor's death but she will try her best to help and for Shining Armor make sure the Twilight does not share the same fate. Supringsly she is not annoyed by Reaver's sociopathic tendecies and even trys to keep them in place. After the adventure she returns to Canterlot and stands ready to help her sister in law if she needs it.
The Next Gen Island Tour
She was kidnapped by Blackgurumon and held like the others but in a speical chamber which The Sinsters of Evil visit and she wants Blue to be found which Carmen and her allies hear before asking for a lock of her hair. She is finally released by Scott and she leave to find Blue and Twilight.. Cadence find the Alpha Team with Katara and works with them to save their friends. She and Isabella find Blue and convince him to switch back to them, Maxmillain then shows up ans stabs Blue with digmon killing poison Cadence joins up with the rest of the heroes and  destroys the Internment camp, burning it to the ground with "Another Brick in the Wall" while killing any army remaining.
Cadence diagonises Blue's condition as Dream Shade and that they must go to Neverland to find a cure. However her magic was drained by Peter Pan like the others and Maxmillian decides to abduct her to force Blue to come after him so he can kill him. Thankfully this is prevented by Frida, Colress and Qui Gon who do the digmon in themselves with a candle given to them by Discord and Mr.Gold
Blue and the others minus Katara all go into cavern 3 where the instructions are all in braille, a hard to read language and they have to use translation to find what they are told to do and after some thinking they do sort it out. Cadnece and Blue help out the heroes against Pan and this intially goes well until Pan escapes, replicates the Niburu power and has her and Blue killed with his new power.
LOTM: The New Multi-Universal War
Order of the Just
"Ready for mission, ma'am." - Agent Florida to Princess Cadence.
Cadence was offered to join the Order of the Just by her sister-in-law, Twilight Sparkle. Cadence is the field handler to Agent Florida.
Friends: Twilight Sparkle, Shining Armor (Husband), Flurry Heart (Daughter), Blue, Spike, Pinkie Pie, Rainbow Dash, Rarity, Applejack, Fluttershy, Bender, Skipper, Heloise, Django, Jorgen, Marceline, Ice King, Finn, Frida, Princess Bubblegum, Sagat, Stan Smith, Sari Sumdac, Flame Princess, Mandark, Snake, Princess Morbucks, Brick, Butch, Q, Falco, Ahsoka, Profion, Kitty Katswell, Sandy Cheeks, Lucario, Meta Knight, Luigi, Meowth, Jack O Lanturn, Big Boss, Kirby, Tiff, Tuff, Escargoon, King Dedede, The B Team, The Alpha Team, The V Team, Butch Flowers(Agent Florida), Order of the Just, Republic Council, Tucker, Simmons, Donut, Caboose, CT, Washington, Carolina, Sam Fisher, Viktor Reznov, Commander David Mason, Hesh, York.
Enemies: Discord, Nightmare Moon, Queen Chrystatlis, King Sombra, Vilgax and his alliegance, Iron Queen and her Syndicate, Maximilian, The Meta, Project Freelancer, Raul Menendez, Majid Sadiq, General Dayton, Omega, Wyoming, Sigma (A.I.), Gamma, Ray Bulgarin, Officer Frank Tenpenny, Akihiro Kurata, Julian Dawes, Corpirate, Stretch,