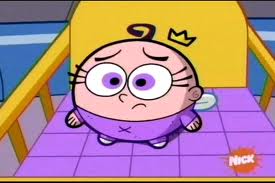 Poof
was born after Timmy wished that Cosmo and Wanda could have a baby. Timmy had to wish for Cosmo and Wanda to have a baby, because no fairy had given birth for centuries. During this time, fairies forgot how to reproduce.
Poof loves Timmy and wants to help his god-brother however he can. The only problem is that, being a baby, Poof is not yet very intelligent when it comes to magic.
He is voiced by Tara Strong.
Gallery
Ad blocker interference detected!
Wikia is a free-to-use site that makes money from advertising. We have a modified experience for viewers using ad blockers

Wikia is not accessible if you've made further modifications. Remove the custom ad blocker rule(s) and the page will load as expected.