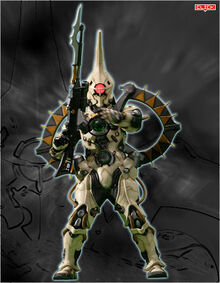 A red-eyed robotic Cyclops,
Oculous
is the sharp shooter of the Ten Terrors and is known as the "Cunning Hunter". He used a sniper rifle with a bayonette as his weapon. When Necrolai first entered the lower sanctum where the Ten Terrors dwelled, he was on the verge of firing on her with his sniper rifle, calling her an "eye sore", before Gekkor intervened. He possesses the power to demolecularise whatever he shoots at and can access another dimension from which he can fire at any target he wants wherever it is.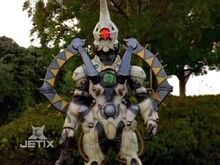 Ad blocker interference detected!
Wikia is a free-to-use site that makes money from advertising. We have a modified experience for viewers using ad blockers

Wikia is not accessible if you've made further modifications. Remove the custom ad blocker rule(s) and the page will load as expected.