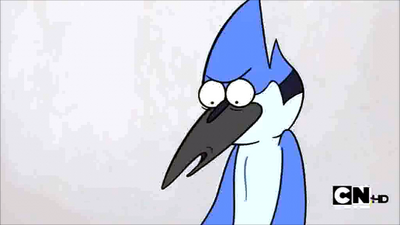 Mordecai
is a big blue jay who is one of the main characters of the Regular Show universe. He is one of the good guys aiding Eddy and The V Team as he debutted with his best friend Rigby to help them and Bender defeat Uka Uka. He returned to aid his partners in their next adventure and got themselves introduced to Dib and his pals. Morecdai then helped his team take back Mobius under the deal made with The B Team.
Allies: Rigby, The V Team, Slade, Anti Cosmo, Bender, Skipper, Starfire, Jorgen, Django, King Julian, Axel, Lizbeth, Finn, Marceline, Ice King, Agent 9, Dib, Bubbles, Milo, Edd, Darkwing Duck, Luciaus, Dr.Blowhole, Stewie, Dr.Doofenschimtz, Oscar the Grouch, Boomer, Nina, Peep, Launchpad,Gosalyn
Enemies: Uka Uka, Marceline's Dad, Alt Doofenschimtz, The Joker, Tarus Bulba
Ad blocker interference detected!
Wikia is a free-to-use site that makes money from advertising. We have a modified experience for viewers using ad blockers

Wikia is not accessible if you've made further modifications. Remove the custom ad blocker rule(s) and the page will load as expected.