The
Moon Presence
is a boss and one of the Great Ones in
Bloodborne
. It can only be fought in the Hunter's Dream if three One Third of Umbilical Cords were consumed before defeating Gehrman, the First Hunter. The Moon Presence is fought almost immediately after defeating Gehrman and is the true final Boss of the game.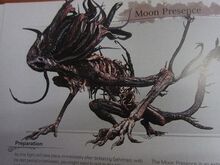 Ad blocker interference detected!
Wikia is a free-to-use site that makes money from advertising. We have a modified experience for viewers using ad blockers

Wikia is not accessible if you've made further modifications. Remove the custom ad blocker rule(s) and the page will load as expected.