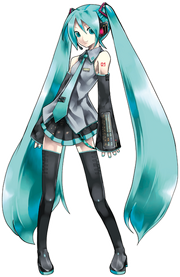 Hatsune Miku
 (初音ミク), codenamed CV01, was the first Japanese VOCALOID to be both developed and distributed by Crypton Future Media, Inc.. She was initially released in August 2007 for the 
VOCALOID2
 engine and was the first member of the Character Vocal Series. She was the seventh VOCALOID overall, as well as the second 
VOCALOID2
 vocal released to be released for the engine. Her voice is provided by the Japanese voice actress, Saki Fujita (藤田咲, 
Fujita Saki
).
[1][2]
 There have since been numerous installments, such as additional voice libraries dubbed 'Append', as well as an upgrade for the 
VOCALOID3
 engine, which contained an English vocal release. She received a 
VOCALOID4
 update to her Japanese and English voicebanks in August 2016.
In December 2016, a Chinese voicebank for Miku was confirmed to be in the works.[3]
She is considered the most popular and well known VOCALOID, and the first to become a pop idol.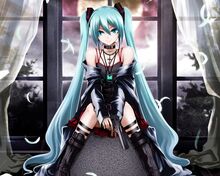 Chronicles of Great New Empire
In this story, Miku is the heroine of the Vocaloid song "Blessed Messiah and the Tower of AI".She is of Messiah of its world.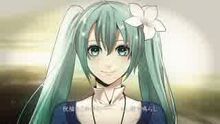 Ad blocker interference detected!
Wikia is a free-to-use site that makes money from advertising. We have a modified experience for viewers using ad blockers

Wikia is not accessible if you've made further modifications. Remove the custom ad blocker rule(s) and the page will load as expected.