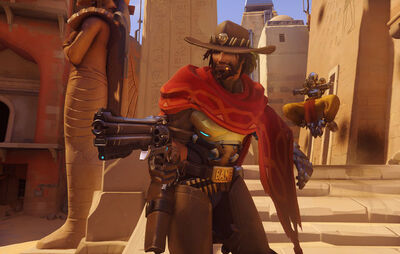 McCree
is one of the heroes in
Overwatch
.
Armed with his Peacekeeper revolver, the outlaw Jesse McCree doles out justice on his own terms.
McCree had already made a name for himself as a member of the notorious Deadlock Gang, which trafficked in illicit weapons and military hardware throughout the American Southwest, when he and his associates were busted in an Overwatch sting operation. With his expert marksmanship and resourcefulness, he was given the choice between rotting in a maximum-security lockup and joining Blackwatch, Overwatch's covert ops division. He chose the latter.
His favorite food is Shrimps
Legends of the Multi-Universe: Armageddon
Legends of the Multi-Universe: Weirdmageddon
Relationships
Chronilces of Great New Empire
Ad blocker interference detected!
Wikia is a free-to-use site that makes money from advertising. We have a modified experience for viewers using ad blockers

Wikia is not accessible if you've made further modifications. Remove the custom ad blocker rule(s) and the page will load as expected.