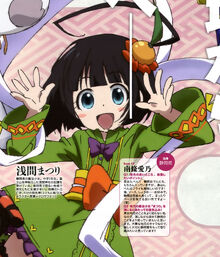 Matsuri Sengen (浅間 まつり, Sengen Matsuri) is the representative magical girl of Shizuoka Prefecture, fighting alongside her companion misaki Toro. She appears in the anime series and in the games Magica Wars Tactics and Magica Wars Zanbatsu.
She was designed by Tetsu Kurosawa and was voiced by Yoshino Nanjou.
Appearance
Matsuri appears to be a young, pale-skinned girl with big, dark teal eyes. She has short black hair worn in a loose bob-cut wih a single large cowlick resembling a halo. On the side of her head is a pale red flower accessory with an orange sewn onto it with a single, long leaf.
She wears a grass-green dress with accents and designs of orange, yellow, black, and red. The dress resembles a short kimono with a large orange bow on the left of her torso. Around her neck is a yellow accessory with a small black bow sewn to the front. At the end of each sleeve is a single yellow ribbon. Around her shoulders is a thin white scarf, while covering her legs is a pair of black tights worn with black and white shoes. At the ankle is a piece of yellow and green ruffled material depicting a small orange on the sides. 
Personality
A positive, innocent girl who is known for being weak with complicated things. She works as a helper in the nearby Shinto temple and loves to assemble things, including plastic model kits or broken objects.
Dynasty Warriors
TBA
Gallery