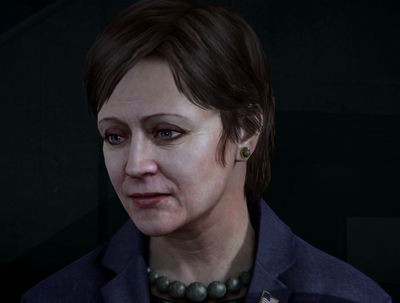 "If we lose anymore foreign leaders, the fallout from this event could be catastrophic."
- President Bosworth
President Marion Bosworth is a character from Call of Duty: Black Ops II.
She is voiced by Cira Larkin.
Bosworth is the President of the United States during the year 2025. She began her Presidential campaign in 2020 with the Democratic Party. She gained popularity through her "Bridge the Gap" campaign, in which she strengthened U.S. relations with China through open communication and intel sharing, as well as having a costly cyber-defense stance. She was eventally elected into office on November 3rd the same year, officially being inaugerated in 2021.
Bosworth is a member of the Multi-Universal United Government as of 2080 (Fire Rebellion Storyline).
Ad blocker interference detected!
Wikia is a free-to-use site that makes money from advertising. We have a modified experience for viewers using ad blockers

Wikia is not accessible if you've made further modifications. Remove the custom ad blocker rule(s) and the page will load as expected.