Leslie Willis
was a shock jock. Going by the DJ name Leslie, her show was dedicated to bashing upon Superman every night, claiming that Superman was only saving people in the name of grandstanding and showing off. She also showed a disdain for fellow broadcaster Billy Batson. Her career as a shock jock was cut short when the owner of the station, Miguel, decided to turn the station into a country station. Miguel was also quite pleased that she was fired because his wife was saved by Superman.
She was born with the gift of controlling electricity. Enraged at the loss of her job, she went to the top of the station where she was struck by lightning. However, she absorbed a large amount of energy from the lightning bolt, changing her appearance to a chalk-white skin with blue hair. With that change, she decided that she would now take her revenge out on Superman.
GNE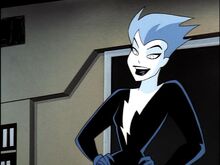 Ad blocker interference detected!
Wikia is a free-to-use site that makes money from advertising. We have a modified experience for viewers using ad blockers

Wikia is not accessible if you've made further modifications. Remove the custom ad blocker rule(s) and the page will load as expected.