"Hmm... You touched my Tralalala..."

This article belongs to its author Destroyer Subjugator90 and therefore only he is given the right to edit it, add this character to some other Storyline or use his work in other website. Only Users from CIS Production on the Wiki can edit this article. This article should not be edited without his granted permission by other Users or unauthorized editors shall be properly punished.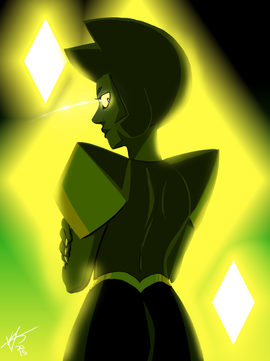 The GEM arc is the second story arc of the LOTM: Sword of Kings Peace Saga and is the only story arc of the 2nd season of Peace Saga of LOTM: Sword of Kings storyline.
One year after Sith Empire's dissolution and subsequent disappearance of Makarov Dreyar, all Heroes embark on a long journey, in order to track down more comrades and reunite more heroes to free other planets from others evil forces. On the way, they encounter allies and enemies, both new and old. Meanwhile, in the shadows, a sinister organization plots to fill the power vacuum left by the defeats and collapse of the Sith Empire, and to pave the way for a new multiuniverse belonging to a empire SO evil that even the Brotherhood of the Abyss is in conflict with the sinister organization called Gem Homeworld.
Later, the Heroes discover that the Gem Homeworld is a faction from a Dark Empire more malevolent, evil, inhuman and cruel than the Sith Empire; the Deus.Ex.Machina Empire that is causing the destruction of entire realities and killing zillions and zillions. The Heroes or Villains notice that their war against the Sith Empire was nothing but a game.
List of Episodes
Season 2
Episode 1: Tartarus
Episode 2: Gem Army
Episode 3: Dictator
Epsisode 4: Geno-
Episode 5: Door of the Darkness
Episode 6: Diamonds
Episode 7: More Power
Episode 8: The Light
Episode 9: Gems
Episode 10: Lies For Me
Episode 11: Ryuugu Rena
Episode 12: My Family
Episode 13: Slavers of the Destiny
Episode 14: Jellal!
Episode 15: Warp Tour
Episode 16: 900
Episode 17: The Legendary Diamond
Episode 18: Big Bad
Episode 19: Fusion Soldiers
Episode 20: Experiment
Episode 21: Yellow Diamond
Episode 22: The Unknown White and Blue
Episode 23: Jasper Vs. Revolutionary Force
Episode 24 (Final): Galaxy Weapon
Episode 25 (Bonus): Deus Ex Machina
Ad blocker interference detected!
Wikia is a free-to-use site that makes money from advertising. We have a modified experience for viewers using ad blockers

Wikia is not accessible if you've made further modifications. Remove the custom ad blocker rule(s) and the page will load as expected.