"Hmm... You touched my Tralalala..."

This article belongs to its author Destroyer Subjugator90 and therefore only he is given the right to edit it, add this character to some other Storyline or use his work in other website. Only Users from CIS Production on the Wiki can edit this article. This article should not be edited without his granted permission by other Users or unauthorized editors shall be properly punished.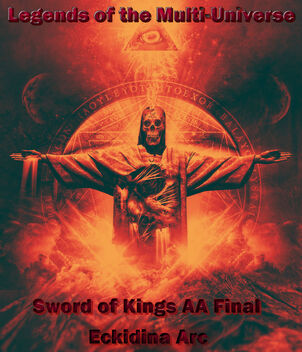 LOTM: Sword of Kings AA Final - Eckidina Arc 
is the second story arc of the whole 
LOTM: Sword of Kings Storyline 
and is the second and final arc of 
Sword of Kings AA
saga. The arc is the next arc that will happen after 
Raizen School Arc. 
Eckidina Arc is followed by
LOTM: Sword of Kings Saga 1; 
the
Multiuniverse War Arc
focusing in the war of 
Balam Alliance
, the Brotherhood of the Abyss and the Alliance of Freedom.
The arc will focus in the 5 months after the end of Raizen High School Arc. After the end of the terrible World War III started by Eckidina KnightWalker and the destruction of Tenguu City, Eckidina start her next move; use the LN-666 Project to make herself the All-Powerful and destroy the world to travel across the space, destroying planets and galaxies for all eternity. Eckidina reached her insanity in max level and now all heroes in the planet will fight her to stop her devilish plan. The final battle between all mankind and KnightWalker Family has started. And so, the event that takes 5 million years will end now.
The arc is followed by the Sith Saga; LOTM: Sword of Kings Sith Saga - Multiuniverse War Arc.
List of Episode
Prologues and Specials
LOTM: Sword of Kings AA 2nd Season- Mina Harker - Episode 1 & 2
LOTM: Sword of Kings AA 2nd Season - The Purge of Mankind - Episode 2, 3 & 4
LOTM: Sword of Kings AA 2nd Season - Mafusa's Black Tar - Episode 5 & 6
LOTM: Sword of Kings AA 2nd Season - Downfall of the Prime Earth - Episode 7, 8 & 9
LOTM: Sword of Kings AA 2nd Season - The Goddess - Episode 10, 11, 12 & 13 (finale)
LOTM: Sword of Kings AA 2nd Season - Triggers Hell's Curse - Episode 1 & 2
LOTM: Sword of Kings AA 2nd Season - The Priestess - Episode 3 & 4
LOTM: Sword of Kings AA 2nd Season - Tears of Immortality - Episode 5 & 6
LOTM: Sword of Kings AA 2nd Season - Servants of Chaos - Episode 7 & 8
LOTM: Sword of Kings AA 2nd Season - New Future - Episode 9 & 10 (Finale)
Blackness Virus
LOTM: Sword of Kings AA 2nd Season - Sovietic Union's Civil War - Episode 1 & 2
LOTM: Sword of Kings AA 2nd Season - Blackness T-II Virus - Episode 3 & 4
LOTM: Sword of Kings AA 2nd Season - Undead Army - Episode 5 & 6
LOTM: Sword of Kings AA 2nd Season - Hamdo's Downfall - Episode 7 & 8
LOTM: Sword of Kings AA 2nd Season - Vira - Episode 9 & 10 (Finale)
Infinity Clock
LOTM: Sword of Kings AA 2nd Season - Holy Eye of Order - Episode 11 & 12
LOTM: Sword of Kings AA 2nd Season - Sin Archbishops - Episode 13 & 14
LOTM: Sword of Kings AA 2nd Season - Damnation - Episode 15 & 16
LOTM: Sword of Kings AA 2nd Season - God's Eye - Episode 17 & 18
LOTM: Sword of Kings AA 2nd Season - Forever With You - Episode 19 & 20 (Finale)
Malevolence
LOTM: Sword of Kings AA 2nd Season - Chain Chronicle - Episode 21 & 22
LOTM: Sword of Kings AA 2nd Season - Iscariot's Salvation - Episode 23 & 24
LOTM: Sword of Kings AA 2nd Season - Astaroth King - Episode 25 & 26
LOTM: Sword of Kings AA 2nd Season - Heis' Final Judgment - Episode 27 & 28
LOTM: Sword of Kings AA 2nd Season - Knights of Astaroth (Special)
LOTM: Sword of Kings AA 2nd Season - Tears of a Fallen Hero - Episode 29 & 30 (Finale)
Astaroth Future
LOTM: Sword of Kings AA 2nd Season - Tenguu City's Festival - Episode 11 & 12
LOTM: Sword of Kings AA 2nd Season - Argentina's Invasion - Episode 13 & 14
LOTM: Sword of Kings AA 2nd Season - Ara Astaroth - Episode 15 & 16
LOTM: Sword of Kings AA 2nd Season - The Future That is "Astaroth" - Episode 17 & 18
LOTM: Sword of Kings AA 2nd Season - Nosferatus - Episode 19 & 20
LOTM: Sword of Kings AA 2nd Season - 79 Pillars of Hell - Episode 21, 22 & 23
LOTM: Sword of Kings AA 2nd Season - Resistence - Episode 23 & 24 
LOTM: Sword of Kings AA 2nd Season - Lubbaby (Special)
LOTM: Sword of Kings AA 2nd Season - Prophet of the Mistress - Episode 24 & 25
LOTM: Sword of Kings AA 2nd Season - Back to the Past! - Episode 26, 27, 28 & 29 (Finale)
Ara Astaroth
LOTM: Sword of Kings AA 2nd Season - The Revelation of Qliphoth - Episode 30 & 31
LOTM: Sword of Kings AA 2nd Season - Beginning of the Apocalypse - Episode 32, 33 & 34
LOTM: Sword of Kings AA 2nd Season - Tomas' Determination - Episode 35 & 36
LOTM: Sword of Kings AA 2nd Season - Goddess of Darkness - Episode 37 & 38
LOTM: Sword of Kings AA 2nd Season - White Light - Episode 39 & 40 (Finale)
LOTM: Sword of Kings AA 2nd Season - Eve Fullbuster's Hand!! - Episode 41 (Bonus)
Sub Arc 5 - Aryana Arc
Sub Arc 6 - Godom Arc
Sub Arc 7 - Diabla Arc
Sub Arc 8 - Order of Terror Arc
Sub Arc 9 - Battle for Earth Arc (Final)