Saga AA - Season 2
Episode 17 & 18 - B1-Killer Kampfdroide Unit-CM 130
Unit CM 130 Sub Arc - Episode 1 & 2
Sub Arc First and Second Episode
Eighth and Ninth Episode of Season 2
Previous Season: LOTM: Sword of Kings AA - Raizen School Arc
Previous Episode: LOTM: Sword of Kings AA 2nd Season - A Place to Return (Sub Arc Finale)
Previous Spinoff: LOTM: Sword of Kings Spin-Off - Rise of the Blue Haired Heroine
Previous Spinoff Episode: LOTM: Sword of Kings: Rise of the Blue Haired Heroine - Liberty City War Arc - We Are Heroes (Final)
Previous Special: LOTM: Sword of Kings Special: "From Hell" Letter
Previous Storyline: LOTM: Witnesses of Sleepy Hollow & Sword of Kings Crossover - The Corbin Files
Not recommended for people under 18-years old. Gore images, sexual content and brutal violence. You have been warned. We are not responsible for any negative reaction.
Previously on the Last Sub Arc of LOTM: Sword of Kings...
(Vital parts only)
Opening - Paradisus - Paradoxum
Lyrics
Sub Arc Prologue - The Beast
A roar echoed in the black sky. Even though it had the shape of a human, the beast was unmistakably a monster. There is no will, no ego, just a clump of tyranny set on destruction. An avatar of overwhelming destruction and darkness.
Its glowing appearance gave off the impression of a mythical creature and anyone that sees it will suffer the purest and most fundamental form of fear. A red and black energy was swirling around it as the core, and was mowing down the trees in its blast radius. In this moonless night, the light emitted from it was so dazzling.
- Kotori: You... have to be kidding me...
While hearing the roar that shook the air, sky and earth, Kotori clenched her fist as if to stop her trembling fingers. That trembling was probably caused by her restrained fear. But, it was not caused by the roaring monster she was seeing right now--rather, it's probably caused by the emotions due to what she was going to do now. Yes. Kotori had secretly made up her mind in her heart many years ago. She was burdened with this mission. If this monster was to appear. She would use her very hands to kill it.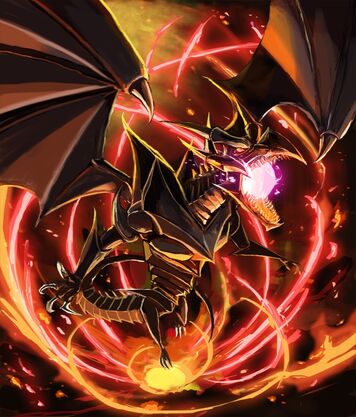 But, the first thing that came back when she saw it was not her sense of duty or killing intent; it was just pure sadness and regret. Why have things come to this? There might have been many ways to prevent this? Those thoughts swirled inside her mind and it was making her have issues with breathing.
But, it was too late.
Everything was settled.
Everything has ended.
What's left is for Kotori to close the curtains.
Kotori called the name of the [Monster] with a painful voice while looking at the monitor of Fraxinus bridge, while holding her tears and despair to keep her posture of commander of Ratatoskr.
- Kotori: Why... Just why things ended like that... Katarina!
The creature in form of Dragon flew above the clouds and let out a roar that shook the continent... Any human near it would die by the extremaly loud.
- Katarina: RRRROOOOOOOAAAAAARRRR!!!
Part 0 - DEM's Plans
United States
Liberty City
Trade World Center Monument
06:35 PM
It's been 4 months since the battle of Aldegyr Kingdom and everything was calm now around the world. The World War III was in its climax but the Stabilization Union and KnightWalker Alliance decided to create a truce to organize their resources and nations that were destroyed by the war. 
Tomas Sev, one of the heroes who fought in the battle of Aldegyr Kingdom and known as Mahesvara, was now standing right in front of the Trade World Center Monument built 30 years after the terrorists attacks in Trade World Center. 
The sky was getting darker and the lights of the city started to accesses as the Monument in the middle of the park where the two Twin Towers were once 3 decades ago. At that park, there were only 2 people standing in front of a rock with the name of all people who died at that terrible day that marked historyof mankind.
It was a man and a woman, the man was of course Tomas Sev, one of the Rogues and a very famous military man... And the woman next to him was a Detective of Global Pact Defense, her name is Gwen. Tomas was there to visit the grave of his friends that died in the invasion of Liberty City 3 years ago so he left Japan for a while to show regret for their death.
- Tomas: .....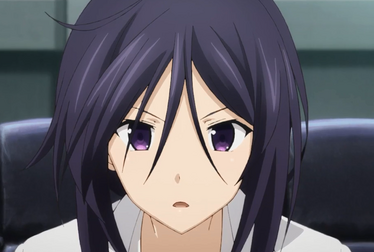 Tomas watched Gwen got in her knees and praying for the lives of her parents that died at that day. - Gwen: Whenever I come to this place, I remember my father. My father was my hero, my guardian angel and my protector. I saw my father die in this place... when that tower fell. 40 years have passed since then, 11 September, 2001. So much time has passed, but I can't forget these evil memories. And now... I lost my mother when North Korea invaded Washington. And my friends in Japan.
Tomas looked at the rock with the names of all victims and remembers he could not defend Tokyo during the first night of the war.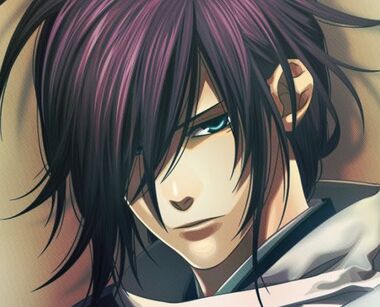 - Tomas: I'm sorry for your loss. I was weak there... When the KnightWalkers attacked Tokyo... I cou---
Gwen got in her feet and interrupted Tomas from continuing his depressive words. She knew he still upset for not being useful in that battle so she decided to put in the most soft way she could.
- Gwen: You don't need to say anything, Tomas. You did your best to protect your friends.
Tomas nodded but he still upset for losing many of his comrades.
- Tomas: My entire squad was killed in front of me... Tell me why.
A strong wind hit the hair of the two and made them flew like a scarlet curtain in front of a window.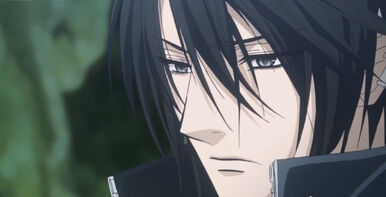 - Gwen: Because humans are disgusting... but we are one of them... We should make the difference in this world. We are going to end World War III.
Gwen answered his question while walking away, Tomas followed her and they arrived in a black car that was waiting for them at the end of the park, on that car, Lucas Kellan, was waiting for them.
- Lucas: You guys are done'?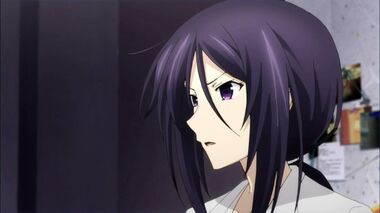 Lucas and Tomas were in America to visit the graves of his comrades that died many years ago in many battles so they left Japan when the World War III ended temporarily.
- Gwen: Yes. Sorry for dragging you two from your duty to protect these girls in Japan... If I remember... They're Katarina Couteau and Imperia Deamonne, right? Tomas told me about them.
Lucas nodded as he entered in the car.
- Lucas: Yes, they're my precious "daughters" in one point... They're really nice people, they saved us in Aldegyr Kingdom so we give them one. We're now going back to Japan in case another threat try to approach them. What you're going to do, Gwen?
The image of Katarina and Imperia came in the mind of Lucas, showing despite they're strong warrior, they still teenage girls and need help with future issues.
Gwen giggled with the word "daughters".
- Gwen: Fufufu, daughters... Eh. Well, one day I'll met them since I work in the same branch of Kyouko Kirigiri... If I remember she is right now in Tenguu City trying to investigate the whereabouts of the unknown super-weapon called LN-666 Project... A super weapon owned by KnightWalker Family to destroy the planet... That sounds dark and scary... 
Yes, Gwen is an Ultimate Detective too just like Kirigiri Kyouko and works in the same branch of her.
Tomas entered in the car as well.
- Tomas: I believe they're not so dumb to use it and destroy the only piece of rock they have... I hope Eckidina KnightWalker is not planning to do something big with it.
Lucas started the engineer and prepared to leave.
- Lucas: This is where we must take our leave. Visit us in Tenguu City, Japan when you have the chance. Since Kyouko fought alongside them against Michael Langdon some weeks ago, they will be happy to see she has an amazing friend like you.
Gwen blushed and looked away.
- Gwen: I-I'm not that amazing...
Lucas and Tomas smiled.
- Lucas: Well then, see you later. We're waiting for you in Tenguu City. 
Lucas then drove the car away from the park, leaving in the next street at the end of the neighborhood. They were about to leave America and return to Japan to protect their group, they stayed in LC just for 3 days, time enough to pay the prayers for their dead friends killed by the KnightWalkers.
Gwen watched the car going away from the park and slowly looked at the sunset, the sun was beautiful, like if it was lighting up the world covered by the darkness.
United States
Los Santos
Federal Court of Justice
09:23 AM
2 days later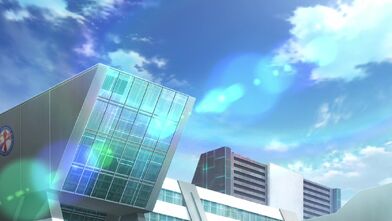 Crimes of war is something that can be not forgiven, that rule works for pacifist organizations like Peace Foundation too, the pacifist military organization that is active in the nations destroyed by the World War III.
3 months ago, three branchs of Peace Foundation under the command of Asuna, Toushiro Hitsugaya and Shido Itsuka invaded Aldegyr Kingdom with the purpose to stop Kanon Rihavein from being crowned for they knew that Kanon would kill La Folia Rihavein and become the next queen of Aldegyr, and a result, the kingdom would join the KnightWalker Alliance, bringing a high advantage for the KnightWalker Alliance and high chances of defeat to Stabilization Union.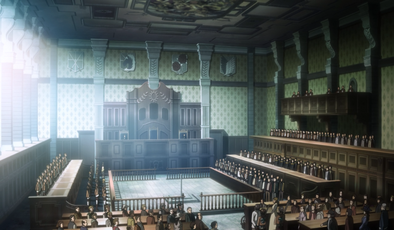 Even so, despite Shido, Asuna and Toshiro had good intentions to invade Aldegyr and prevent a new war, they liberally disobeyed laws, rules and orders of the high-officers of Global Pact Defense and acted by their own free will without asking permission of Peace Foundation Council. 
Right now, Shido Itsuka, one of the invaders was being judged for his crimes in Federal Court of Global Pact Defense in Los Santos. There were more than 250 people watching the judgement, 50 defenses, 1 judge and 1 lawyer.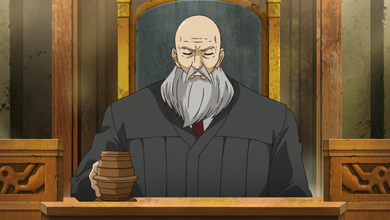 - Judge: Well then, I'm going to announce the punishment for Shido Itsuka...
The voice of a man with a calm but heavy tone resounded in Shido's ears. Right now, in one of the GDP garrison's room, a few men were sitting in a row, and were staring at Shido, who was in the middle of the room. 
After all, an interrogation was being held now, so that Shido could defend himself from his previous deplorable actions. The man sitting in front of her---Judge Froxy, continued to speak in a dignified manner.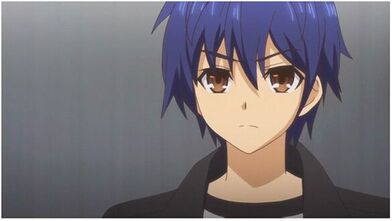 - Judge: Master Lieutenant Shido will be reprimanded and punished. Think of it that you will not be part of Peace Foundation council again.
"……………………"
These were the words he expected. Without changing him expression, he made a weak sigh. Kotori Itsuka, his sister, was the lawyer and the person defending him.
The outcome was something that had already been decided long before the interrogation even began. Through pro forma, even though the defense direct supervisor superior Kotori Itsuka was attending, she had not been giving a lot of proposals. This was, in the end, one of the processes that she was following on punishing Shido. But even so, that was how messy the situation Shido had caused. This was only normal. Rather than that, the action Shido made had been done despite knowing the consequences.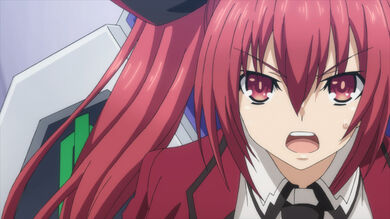 Kotori Itsuka and Shido had a mission that is to protect Earth from Fallen's Essence in secret of mankind, if the news about a dark force controlling the World War III was going to be spread, the chaos would reign the Earth so they had no intentions to tell their true goals by invading Aldegyr Kingdom.
- Kotori: Wait a moment! You're going to blame him without listening to my words?!
Kotori yelled at the judge, who was making a annoyed face, that judgement lasted for more than 2 weeks and was getting annoying in many points. Even the leaders of GDP wanted to end that trial and charge Shido for treason to start the trial of Saeko Busujima and Jin Kisaragi, who acted by their own too, their actions resulted in the death of many of Peace Foundation troops and vehicles so it was only natural to condemn them all since there was nothing to be explained.
- Judge: Kotori Itsuka, I know you belong to the secret organization called Ratatoskr working to Global Pact Defense but there is nothing to be explained now. The president of Peace Foundation, Richard Tompson, called me this morning saying to end this trial now to focus in other matters. This trial costs a lot of money and we have no time to waste funds in trivial matters when there is a war knocking right in our front door. What happened in Aldegyr Kingdom was one of the most terrible incidents in the history and more than 5,334 soldiers from Peace Foundation acc---!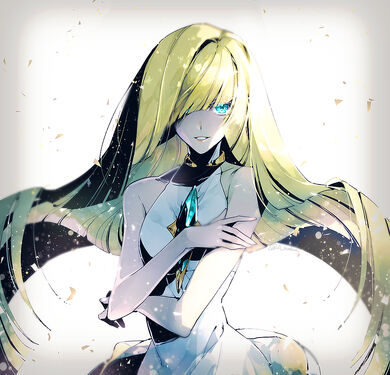 "………………?"
Suddenly, the room door opened, and all of the men sitting in a row in the room poured their sights towards that direction.
- Judge: What is it, there is an interrogation being held now. Who told you to enter---!
At the same time as Judge Froxy said that while frowning, he also turned his face to look at the intruder, and stopped his words midway.
- Judge: Madam Lusamine!
Seeing the face of discomfort and his puzzled voice, Shido turned behind and took a glance. Over there, a woman with long blonde hair was standing, accompanied with two GDP guards. Seeing that woman's face, and hearing the judge saying that person's name, Shido moved her eyebrows a little.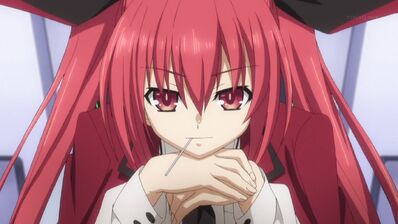 Shido knew who was that woman, she is Lusamine the Managing Director of Sephirah Gastronomics located in Russia. Lusamine is directly connected to many incidents in World War III and is one of the allies of the vile Fallen's Essence, the mastermind of World War III. However, not even the GDP knows that Lusamine is working with the KnightWalkers.
- Kotori: Oh... To think that the director of Sephirah Gastronomics would be here in America.
Kotori and Shido were the only people there that knew Lusamine was working with Fallen. A small part of their minds wanted to call the security to arrest Lusamine but they had to act with good faith in a court.
- Lusamine: Aah. Looks like all of you were in the middle of something. Sorry for the rudeness.
As Lusamine looked around the room, she shrugged her shoulders a little while saying that in fluent English and seated in one of the seats beside Kotori.
- Judge: Wh---Why is someone like you in a place like this?
The Judge said that in a flustered manner and turned his eyes towards Lusamine's direction.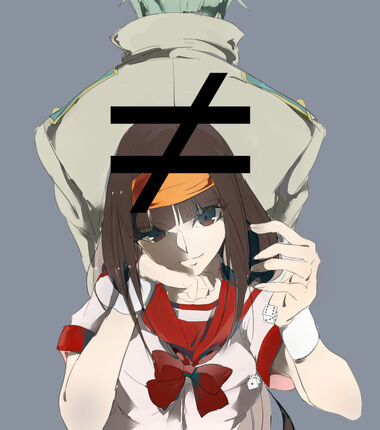 - Lusamine: Actually I heard something interesting. I was already planning to come to America when I was told that the three invaders of Aldegyr Kingdom were about to be judged for their crimes.
Kotori smiled sarcastically at Lusamine and closed her eyes, showing how deplorable Lusamine was.
- Kotori: Hum! How convenient... Lusamine, you're suspected to be a KnightWalker ally. Corporation are suppose to be neutral in wars and sell weapons to both factions but there is a possibility that you sell weapons for free to the KnightWalker Alliance. Did Eckidina change your mind?
Lusamine sharped her eyes in rage.
- Lusamine: Oh my, what a rude girl calling me a nazi supporter. Could it be that your mother did not teach you good manners?
Lusamine knew that Kotori was the archenemy of her master and acted with hostility towards her while hiding their true nature. If they could, they would pull a weapon and try to kill each other right there. Kotori and Lusamine stared at each other for a long time.
When Kotori tilted his head, Lusamine nodded exaggeratedly.
- Lusamine: Is the Peace Foundation member who invaded Aldegyr Kingdom in here? I want to thank him for his good work in Aldegyr Kingdom.
"......"
From Lusamine words, the judged gulped. That was probably a normal reaction. 
- Judge: You should not hastily jump to conclusions. It is not like I was planning, to blame you or use this deplorable act as a shield to make someone forcibly follow my demands.
Lusamine stared at the judge with calm eyes.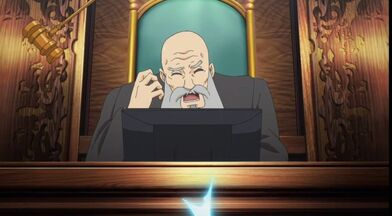 - Lusamine: I want to put an end to this trial. Using my position as the Managing Director of Sephirah Gastronomics, I'll free Shido Itsuka from his prison. Using money I can easily pay his bail. His actions lead to Sephirah Gastronomics to a knew era. When he invaded Aldegyr, he prevented Kanon from breaking our business in Europe so...
The Judge was confused, despite he had the authority to put Shido in prison for the rest of his life, he had no power to defy Lusamine. And she was right, she can easily pay for his bail to free him without problems.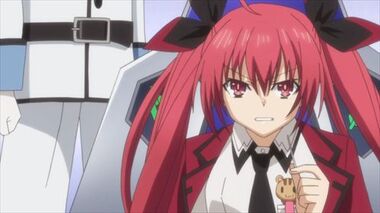 - Kotori: You bitch... What you're planning with releasing him? What you're planning?
Shido's eyes widened when Lusamine said she was going to release him, leaving Kotori in shock as well. Even so, they thought she was planning something bad. They were enemies so it was strange to help her opponents from nowhere.
- Lusamine: Nothing important... I don't need to know.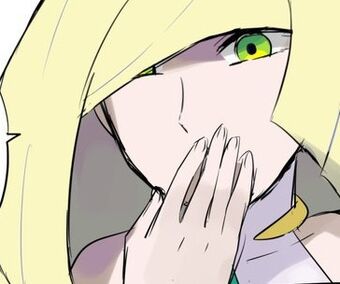 Kotori bit her lolipop in rage while the judge was talking with his advisers. The judge nodded and slowly seated in his chair while all people watching the trial were excited to know Shido's fate.
- Judge: Very well, according to our Article 55 of the Criminal Law, the prisoner can be free if his bail is paid legally. With that said, Lusamine from Sephirah Gastronomics will legally free Shido Itsuka from his trial but he still be prohibited from being part of any government agency from now on.
Lusamine put her hand in her mouth to hide her smile while Kotori and Shido gasped.
- Kotori: WH---!
Shido jumped from his chair in shock.
- Lusamine: Oh my...
Voices of shock and surprises could be heard around the room, showing that everyone were frightened with Lusamine's influence.
- Shido: She mocked the law of Global Pact Defense so easily... What a terrible woman.
Shido stared at Lusamine in fear, for he knew that woman and her superior were planning something with that decision to free him.
- Kotori: But why she would free him without goals... Something strange is happening here...
From that announcement, all of the executives that were lined up opened their eyes wide. From the things Shido knew about, this was an unbelievably soft decision for his actions.
- Shido: Judge. That is-
The judge yelled as he hit his hammer in his desk,
- Judge: Silence! I already told you what the punishment is. The interrogation ends here. Hurry up and get lost!
When Shido was trying to say something, Kotori panicked and grabbed Shido's hand.
- Kotori: Pa---Pardon me!
She said that and saluted, she then took Shido and walked out of the room in a fast pace. At that occasion, Lusamine raised his hands a little, performing an action as if she was a friend but, Shido replied back by only giving back a glance, he then passed through the door while he was still being pulled by Kotori.
Kotori then continued taking Shido and walked a little further from the room, and after reaching a distance where their voices could not be heard, Kotori then let out her words again.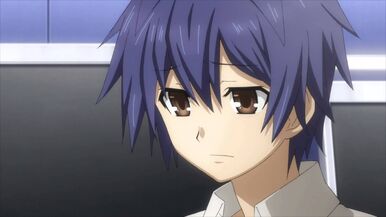 - Kotori: Shido, what were you trying to say just now?
Shido looked down and avoided eye contact.
- Shido: No matter if it was indirect or not, for the GDP to give in to the demands of a foreign enterprise that is our enemy...
And at that moment, from the corridor, the sound of a person's footsteps echoed. When they turned their sights towards that direction, they saw Lusamine walking down the hallway with an evil and cold smile.
"........"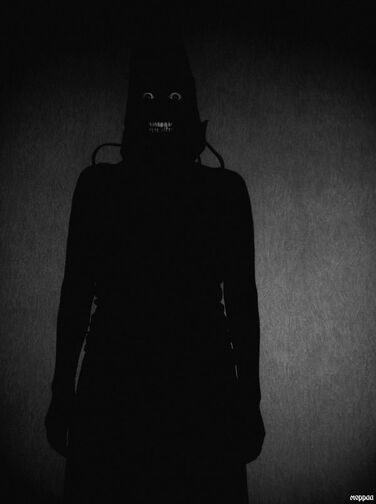 Shido lowered his head. Looking at what Shido was doing, Kotori seem to have realized Lusamine's existence. At that moment, they shut their mouth, stopped fooling around and stood upright. What Shido was seeing was not a beautiful woman but a monster smiling in the darkness... She was not a monster but the aura coming from Lusamine was a dark and bizarre energy.
- Lusamine: ---Aah.
Lusamine realized them and moved her eyebrows, and the moment she passed Shido's side, she placed her hands on his shoulder.
- Lusamine: We have expectations for you, Ratatoskr. If it is you, you will definitely be a great help in our master plan.
"........."
Shido gulped while Kotori slapped Lusamine's hand away from Shido.
It was not like she felt hostility or killing intent. But, Kotori's heart was unbelievably contracting over and over again which was thought to be impossible. It was like---She felt something like fear from the woman that passed by her a moment ago.
- Kotori: If touch him again...!
Lusamine smiled as she stepped back, ignoring her agressiviness. Shido was afraid of that woman, like if she was some type of wraith or evil force.
- Lusamine: Well then, I must take my leave. This is enough for today. However, this is going to be the last time we will help you. We still need you to keep this war on its course so crushing your enemies now is a wrong idea. Everything is a matter of time.
Whether or not she realized what Shido's state was going through, after Lusamine made a smile, she walked away, dissapearing in the darkness of the long hallway.
Shido and Kotori stared at Lusamine until she dissapeared, creating an atmosphere of relaxtion once they knew that their enemy left.
- Shido: W---What was that?
Shido and Kotori stared at each other in confusion.
Outside of Court
5 minutes later
Some minutes passed after that "incident" in the court. The appearance of Lusamine there was a shock for everyone, mainly Shido and Kotori who are her enemies and vowed to defeat her and her master, the Fallen's Essence.
Of course, Lusamine was not alone, she came with two people who are her allies and dangerous "villains" or "bad guys". One of them is a girl with silver hair wearing black Gothic clothes.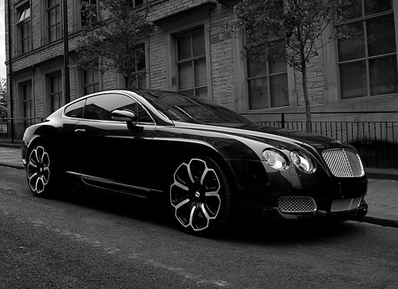 Right in front of the court, there was a luxurious black car parked right in the front door, it was Lusamine's personal vehicle. But more importantly, the people who came with Lusamine were beside this car, waiting for her to leave the court to hear the news.
- Lusamine: I'm back. Everything happened according to our plan, Master.
Lusamine bowed before a tall skeletal figure in front of her, that person, or "thing", was vile the Fallen's Essence.
- The Fallen: [Oh! You're back so early. So Shido Itsuka is free now.]
Lusamine raised her head and looked at Fallen and the girl beside him.
- Lusamine: So you're here too, Heis.
The girl beside Fallen was the Fallen Angel that almost destroyed the world 3 months ago and started the Ragnarok incident that almost ended all life on Earth.
- Heis: Eh... I'm here because I wanted to see Los Santos with my own eyes. This is a very poor city, I want to leave this country no---!
The Fallen raised his hand forward, blocking Heis' mouth from continuing her words.
- The Fallen: [We shall turn this country in our capital in the future so don't talk bad things about our future empire. Also, it seems we avoided Shido Itsuka from being arrested or executed, with this we can keep Ratatoskr active to keep this war in its course without effort. Good job, Lusamine. Let's go back.]
Lusamine looked deep in Fallen's eyes and noticed he was trying to say something before she could enter in her car.
- Lusamine: What's wrong?
Heis noticed that too and waited for his answer.
- Heis: It's rare for you to take too long to answer a simply question. Something happened?
Heis smiled sarcastically, probably mocking the Fallen's Essence indirectly.
- The Fallen: [I was trying to remember what I was suppose to do after this sad temporary truce between the Stabilization Union and KnightWalker Alliance. No... Actually... I don't want to use this plan...]
Heis and Lusamine let out a sigh in confusion.
- Heis: You don't want to use this plan... You mean...
The Fallen nodded slowly.
- The Fallen: [Remember when I said that I cannot let this war end in a truce or peace? Yes, there is only one way to restart this war before the world can protest to a permanent peace. But if I use this method, I might regret for using it because of its risk.]
Heis remembered what Fallen said when he arrived in Novosic Kingdom with Heis 3 months ago right after he destroyed Aldegyr Kingdom.
- Heis: I remember that you said you were going to revive someone to push the trigger of the war again... A scientist, I suppose...
Heis was more than right, to put an end to this temporary truce, the Fallen's Essence was planning to revive a deceased scientist to start the World War III again.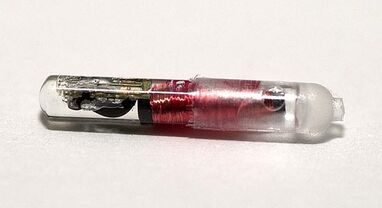 - Lusamine: A scientist, you're planning to revive a scientist?
Without saying a word, the Fallen's Essence walked flew towards Lusamine and gave her a small chip, Lusamine held that chip and looked at it in confusion.
- Lusamine: This is a chip?
The Fallen flew towards a dark alley beside the car and started to dissapear in the shadows.
- The Fallen: [In this chip, there is the memories of a deceased robot that was killed 18 years ago. This robot was a scientist in my empire from where I came, I went to my empire to recover its memories so I can revive it here on Earth. Lusamine, go to Paris, in my personal Ward Walker building. I ordered Sonia Nevermind to build a body and a machine powerful enough to revive this deceased robot. Install this chip in the new body of our new future robot scientist without questions.]
The Fallen seemed to be hesitant about it, leaving Heis and Lusamine looking at each other in front of the court.
- Heis: What happened with him...
"......"
Lusamine and Heis felt their hair swung as the atmosphere around them started to get darker and sinister.
- Lusamine (think): *It's the first time I saw him like that... What you're planning, Master? Well... I don't really care...*
United States
Peace Foundation Prison
12:04 PM
3 days later
3 days after Shido's trial, the prison of Peace Foundation that was located in Los Santos, was being guarded by at least 92 security guards. But there was a reason for that; inside of that prison, the Peace Foundations members that invaded Aldegyr Kingdom 3 months ago were there, waiting for their trial.
The prison was being guarded by 20 drones and 3 turrets outside of the building, any person who dare to approach that building without permission will be immediately shoot down for obvious reasons.
Asuna, Jin, Toshiro and Saeko, these were the only people being kept inside of that prison. Shido Itsuk was being kept there too a few days ago but it seems Lusamine prevented his sentence under the orders of Fallen's Essence.
In the deck of cells, the atmosphere is cold and dark. The long hallways filled with darkness and silence was so scary that would force any civilian to run away. But this time, the hallway was filled with footsteps, because right now, there was a woman walking down the long hallway that gave access to the Female Cells of the prison.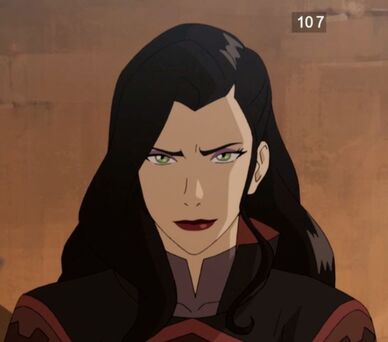 The woman that seemed to be Asian finally arrived in a specific cell and smiled at the two girls inside of that cell. One of them was reading a magazine and another one was painting her nails. When they noticed the existence of the Asian woman, their eyes immediately widened. After all, the Asian is Asami Sato, one of the Peace Foundation Border of Directors members and one of the leaders of Global Pact Defense.
- Asami: Good afternoon, Asuna and Saeko.
The two girls inside of the cell was one of the two invaders of Aldegyr Kingdom that helped to defeat Heis 3 months ago.
Asami smiled at them, giving the impression she was mocking for their position.
- Asuna: You're here to mock us? Well, we don't need that anymore---!
Asuna was almost crying in shame but Asami interrupted her.
- Asami: You're wrong, I'm not here to mock you. I just wanted to know how you two were. We still friends, even after what happened.
Asuna opened her mouth in surprise, Saeko let out a smile for she knew Asami was not that kind of person.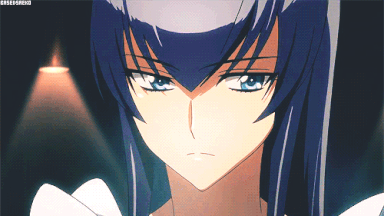 - Saeko: Fufufufu! You don't know Asami too much. She is the person who makes all children that are victims of the war laugh. She is one of the most pure women in this organization.
Saeko and Asami laughed, leaving Asuna embarassed.
- Asuna: Sorry then...
Asami recovered her breath after laughing for more than 1 minute.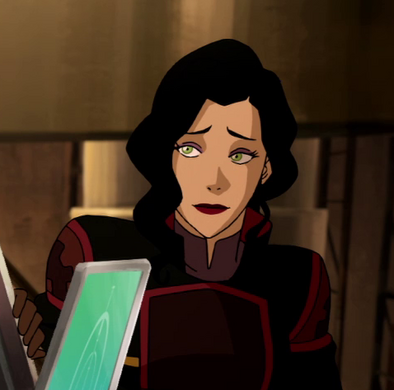 - Asami: Do not worry, I don't blame you for saying that I'm here to mock. Thousands of military officers around the world are trying to kill you for attacking Aldegyr Kingdom but you were deceived by Kanon... I mean you, Saeko, was deceived by Kanon. You two had good intentions to end this war.
Saeko and Asuna stood up and walked towards the gate of the cell
- Asuna: Too bad you can't join us... Trust me... It's pretty funny here.
Saeko let out a sigh in depression.
- Saeko: It's not so funny... I'm bored. I always loved fighting and making mission but now I'm stuck here reading magazines to keep my entertained.
Saeko was the second greatest human fighter in Peace Foundation thanks to her years of training. To think that she ended like that was impossible.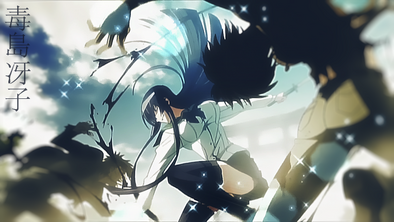 - Asami: You spent days in the battlefields beating KnightWalkers so if Eckidina KnightWalker saw you here now she would probably laugh with her heart's content.
Saeko looked more sad than ever.
- Asami: Hey, I'm trying to free you. I hired many of the best lawyers of GDP to free you two. 3 days ago, Shido Itsuka was saved by Lusamine from Sephira Gastronomics.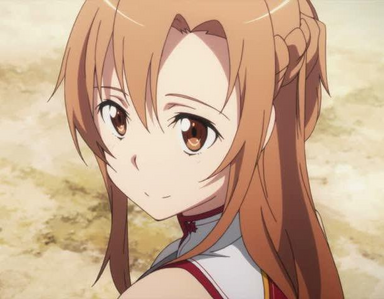 "......."
Asuna smiled when she learned that Shido was now free but the fact that Lusamine, the director of Sephira Gastronomics was involved in his trial was strange.
- Asuna: I see... But why someone so important like Lusamine helped Shido?
Asami shook her head slowly, revealing her serious face.
- Asami: We don't know... But I agree, this is strange. There are evidences that Lusamine is a KnightWalker supporter but this is only a theory...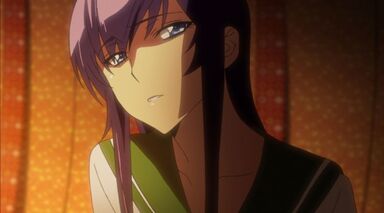 Saeko seated in a chair right in front of the gate.
- Saeko: So the World War III stopped temporary... If the destruction of Aldegyr Kingdom resulted in this, then Jin and I calculated that wrong. We thought if Aldegyr Kingdom joined the SU, the war would be finished by the Stabilization Union. 
Asami clapped her hands, stopping Saeko from turning that happy moment in a dark conversation.
- Asami: With that said, I'm going to say here for now! Let's have a Girls' Night Out!
The enthusiasm and confidence that Asami gave to Asuna and Saeko was so motivator that they immediately forgot about the war.
- Asuna: Yes!
United States
Peace Foundation Prison
Male Sector
12:10 PM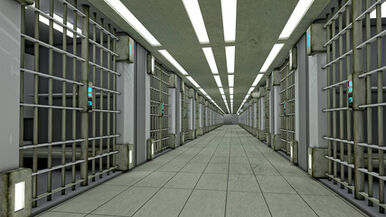 Meanwhile in the same building but in another sector, the hallway was in silence too. Not far away from there were Asami and the girls were having fun, the guards were patrolling a long corridor that gave access to the Male Sector of the prison, where most of the men were kept to stay away from the Women Sector for security reasons.
- Jin: So... Who made this?
Inside of one of the cells at the end of the hallway, a blonde man with green eyes was seated in a desk writing a book about his life experiences...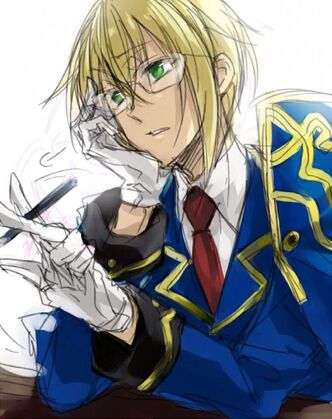 This man is also one of the Peace Foundation members that was involved in the battle of Aldegyr Kingdom 3 months ago. For the lack of words, Jin Kisaragi was an extremist in Peace Foundation and vowed to capture La Folia Rihavein and send her to Aldegyr Kingdom to make an alliance with Aldegyr to join the Stabilization Union to fight against the KnightWalker Alliance.
- Toshiro: I really need to say?
A young woman with silver hair was seated right in front of him. That boy is also one of the invaders of Aldegyr and one of the warriors who helped to save the world from the evil Heis.
- Jin: Eh... She is a very kind sister.
Right now, Toshiro and Jin were looking at a white plate right in front of them. In this plate, there was an omelette. The person who created that food was the lovely and weird sister of Toshiro Hitsugaya, Lucy Sheev KnightWalker.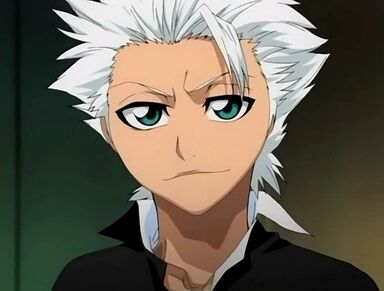 - Toshiro: It's better than eat that disgusting soap with cockroaches of the canteen.
Despite Toshiro is arrested for crimes (with good intentions), his sister can still visit him and give him food from outside. This time, Lucy showed effort to cook his favorite food but she nailed it.
Yet, Toshiro was happy for knowing that his sister was trying to cheer him. Right now, Lucy is busy trying to free Toshiro, so he did not see his sister for days.
- Toshiro: I hope she is okay.
Toshiro started to eat the omelette.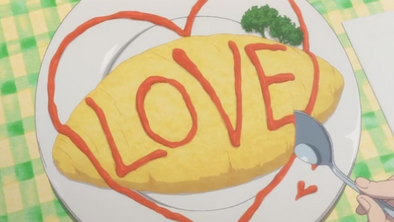 ".....!"
Suddenly, a tear fell from Toshiro's right eye. Jin smiled and noticed what he was feeling.
- Jin: I lost my parents in the Cold War II so I don't know how is the feeling to have someone out there thinking about you. Lucy is a weird person but... She is your sister... She cares about you.
Toshiro wiped out his tears and smiled.
- Jin: Also, she is out there trying to take you out of this hole. Feel a little grateful for it.
Jin closed his eyes and continued writing his book while Toshiro continued to eat.
Many things passed by Toshiro's head at that moment. He always that his sister was a pervert, idiot and incompetent person but at that moment, he changed his mind and quickly changed the way he saw her. 
- Toshiro: Maybe I judged her wrong.
Jin remembered that he did not saw Shido for days.
- Jin: I noticed Shido is missing. He left for being judged but he did not come back. I'm worried.
Little did they know Shido was now free thanks to the help of Lusamine.
- Toshiro: I hope he's okay.
Japan
Tenguu City
Fraxinus & The Rogues Hideout
4 days later
01:34 PM
10,000 meters above Tenguu City, the new base of the brave warriors, the Rogues, the heroes who fought in the battle of Aldegyr Kingdom, was now Fraxinus, the super ship of Ratatoskr.
The ship of Ratatoskr was using its invisibility mode to stay out of sights of all civilians in the town below since Ratatoskr is a secret organization that should not be exposed to the society no matter what.
During these 3 months Katarina Couteau, also know as the Red Haired Demon, trained hard to control her ExKrieg powers. After the destruction of Aldegyr Kingdom, Jellal trained Katarina for weeks until she got strong enough to control 10% of her power. However, her training still incomplete as she has many things to learn about herself.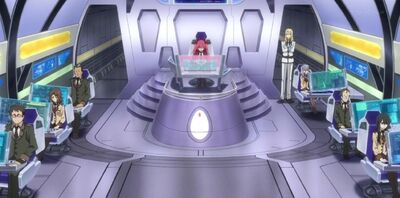 At that time, Kotori Itsuka, the sister of Shido Itsuka that was protecting him from being arrested by Global Pact Defense, was seated in her commander chair in the bridge of the ship, looking at the status of Katarina's training through her computer.
- Katarina: Sorry, I could not go further than this... If I force my energy, Elesis Du Tirial, the evil entity living inside of me will take over my body.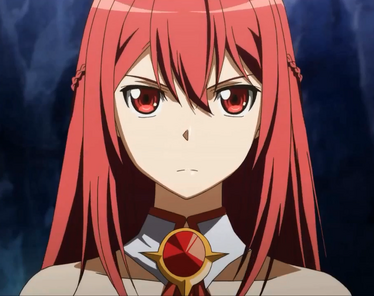 Katarina was right in front of Kotori explaining the reason why she could not master most of her power in 3 months. She had reasons for that; it's just like she said before. If Katarina go deeper in the darkness of her energy, Elesis, her evil twin sister living inside of her will take over her body, gaining her physical body.
- Kotori: I see, so Elesis still trying to steal your body. Do not worry, I'll try to study you by analyzing your blood. If we can help you, I'll be pleased.
Kotori looked at Katarina, getting up from her chair and smiling at her new friend.
- Katarina: Thanks, Kotori!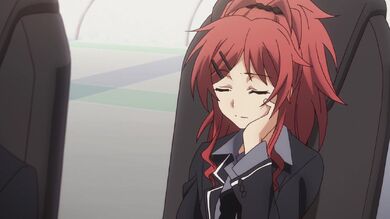 Right beside Kotori, Asuha Chigusa, one of the members of the Rogue. Due to her new work in the Ratatoskr, she was tired and sleepy.
- Asuha: Ah....
Kyouhei changed his sight to Asuha and let out sigh.
- Kyouhei: She is tired of managing our system. Asuha is a great genius in computing.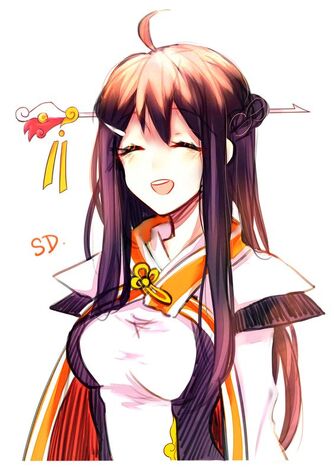 Suddenly the metalic room door opened and revealed a girl with long black hair on the other side of the room, it was Imperia Deamonne, the new form of La Folia Rihavein.
- Imperia: I'm back!
Imperia noticed Kotori in front of Katarina.
- Katarina: Yo, La F---Imperia.
Katarina called her as "La Folia" her entire life so it was normal to still call her like that, despite her appearance was different, her personality is the same and reminds the former La Folia completely.
- Imperia: Yo! So how your training is going?
Imperia started to walk towards Katarina while she turned her head at the Cyborg.
- Katarina: I managed to master 10% of my energy in just 3 months.
Katarina clenched her fists and smiled proudly, showing her hard work to Imperia.
- Imperia: I see. Just don't rush, if you push yourself too much. Also, Kotori, how is the situation around the world. Any sight of the Fallen's activities?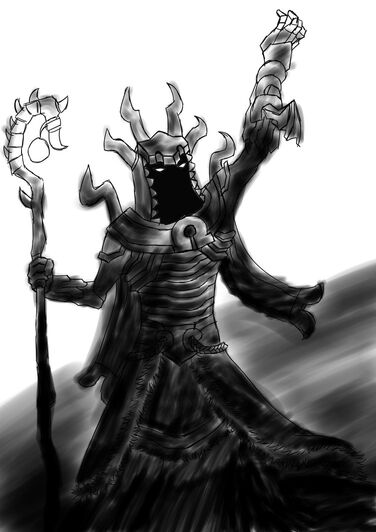 Imperia holds a great hatred towards the Fallen's Essence thanks to his heinous, cruel and terrible acts he did in the past.
Remembering, the Fallen's Essence captured La Folia and Kanon when they were babies and cloned them, he then killed the original La Folia and Kanon. Imperia was once the clone of La Folia Rihavein and was used to be part of his master plan to make the evil clone of Kanon the queen of Aldegyr Kingdom and take over her body.
Imperia almost cut her palms with her own nails just by saying the name of the supernatural and evil creature that destroyed the life of billions.
Kotori closed her eyes and lowered her head.
- Kotori: Sadly, we don't know what he is planning. During the last 3 months, we did not notice nothing... But recently...
The incident that happened in the Federal Court in Los Santos, USA, a few days ago.
- Imperia: Recently?
Kotori nodded but a drop of sweat fell in her face.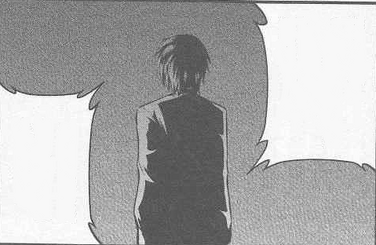 - Kotori: Actually a few days ago, my brother was being judged, Lusamine, the director of Sephirah Gastronomics appeared there and hired the judge to let him free. I know the person who created the Fallen's Essence and I know his tactics... He manipulate his enemies by giving them a chance...
"....!!!!!!!!!!"
When Imperia and Katarina heard the word "Lusamine", their eyes immediately widened in shock.
- Katarina: Lusamine! Imperia, don't tell me...
Imperia's eyes sharped in rage.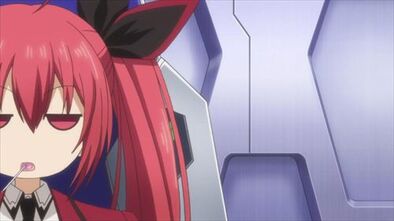 - Imperia: Yes! Lusamine, my mother and the person who created me as the clone of the original La Folia Rihavein.
All that Imperia wanted to do was to leave Japan and search for Lusamine and Fallen's Essence, believieng she can get her revenge using her new Cyborg powers Chinatsu gave to her.
Kotori let out a sigh and repeated the same words she said to Imperia many times in the past.
- Kotori: Patience. We will find them and stop them.
Imperia tried to leave Japan and look for the people who made her life a living hell but Kotori stopped her many times.
The only thing Imperia could was seat on the floor in depression.
Katarina grabbed her sword and smiled towards Imperia.
- Katarina: No worries! I'll find them and beat the s---! Ouch!
Kotori interrupted Katarina by punching her head.
- Kotori: No swords in my ship!
Katarina fell in her knees holding her head.
Part 1 - Pact with the Science
French
Paris
KnightWalker Supreme HQ
Hallway
2 days later
01:50 PM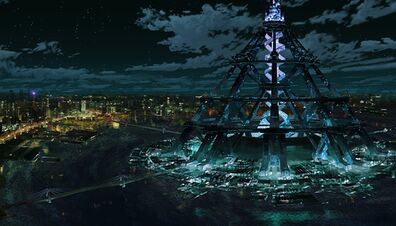 The Neo-Nazi corporation known as KnightWalker Family has many buildings and facilities across the world, many of them are illegal but none of them are more important the the KnightWalker Supreme HQ, the most tall and vital facility of KnightWalker Family located in the bay of Paris.
Paris is the capital of KnightWalker for more than 200 years since the ancient leaders of the KnightWalkers started a coup and took control of the entire France so it was obvious they would use the most beautiful and old state of that nation for pure pleasure to enjoy the beauties of such old and cultural city.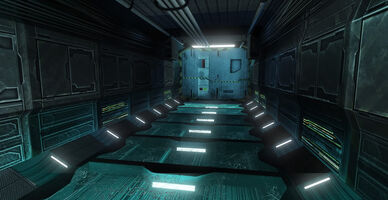 Inside of the KnightWalker Supreme HQ, a tall and skeletal creature was flying down a long hallway on the top floor of that building, it was Fallen's Essence, the mastermind of World War III that had just arrived from Los Santos after he successful released Shido Itsuka from his punishment in the hands of Global Pact Defense for war crimes in Aldegyr Kingdom, although he had good reasons for that
Upon arriving in the top floor, the Fallen's Essence proceeded to the last labs oratory located at the end of that dark corridor. After some minutes, he finally saw a blonde girl leaning in the wall. That girl was one of his ally and a KnightWalker supporter.
- The Fallen: [So you're here... That means you finished what I told you to do.]
That girl is Sonia Nevermind, the current queen of Novosic Kingdom located in the center of Europe. She is also known as the Jack the Ripper of 21st Century, very famous for her horrible crimes she did in the past in the name of Fallen but she was being controlled all long.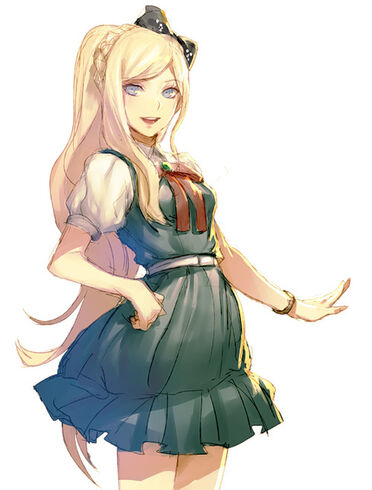 Sonia was looking down the whole time and finally noticed his existence when she heard the voice of her father and Master. In order to hide her worry, she smiled to give a good impression of her new creation.
- Sonia: Welcome back, Master.
Sonia pushed her back out of the wall and bowed before Fallen.
- The Fallen: [Forget about that, tell me how was your progress in the Hex Machine.]
Actually, 3 months ago, the Fallen's Essence ordered Sonia to built a powerful alien machine that came from another universe. He gave her the plans how to build it and waited for months to see it working. This machine or technology has the power to revive all types of organic and bio-organic by putting its memories in the core of the machine and bringing it back to life in another body.
- Sonia: Ah... It was a good success. Follow me.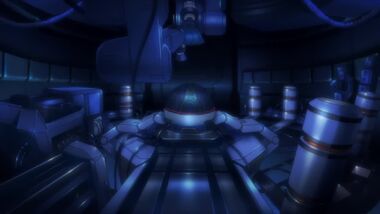 Sonia looked at a door at the end of that corridor and walked towards it. The Fallen's Essence followed her and opened a iron door blocking the entrance. When the door opened a cold air came out of room and a very complex machine was seen in the middle of the room. There were batteries, pipes and energy cells scattered across the room, but more importantly, there was a huge sphere located in the middle of the room, it had the size of a T-Rex...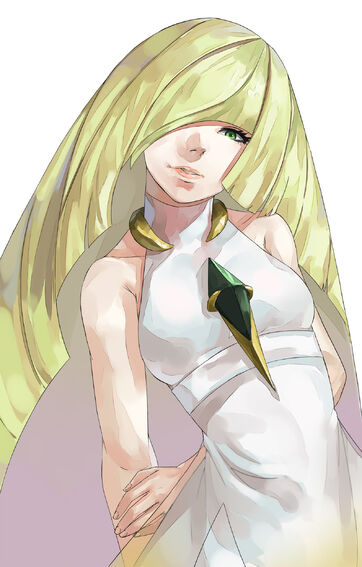 But the more scary thing there was the huge drone inside of the sphere that seemed to be disabled, there was no doubt the being the Fallen's Essence was going to revive was inside of that sphere. However, that drone was nothing but a machine without brain.
- The Fallen: [Oh! Impressive, you're really diligent, Sonia. Good work. So that means putting the memories of our "new guest" is the last thing to do. Lusamine will arrive in some days, she is in Russia right now but when the day comes, she will bring the memory that we want.]
Sonia was confused, she did not know what he was talking about.
- Sonia: I know this machine is going to revive something in that drone body inside of that sphere but what exactly we're going to do?
The Fallen's Essence changed his sight to Sonia, for some reason, his eyes sharped like if he was trying to laugh but he had no face so there was nothing to be seen.
- The Fallen: [This war will end without impulse. So I'm going to revive a droid that was killed 20 years ago. For that, I returned to my original universe where I was born 1 week ago to retrieve the memories of this droid and revive it in our world using this machine you created.]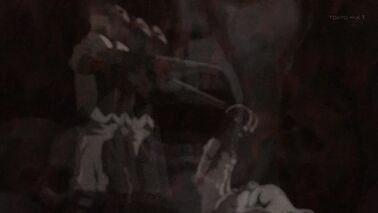 "..!!"
It was a small feeling but Sonia's skin shivered for some reason. The images of several people being killed, burned, shot and tortured to death appeared in her mind for 2 seconds before she could notice what was happening with her. Sonia just realized that feeling is known as "bad feeling".
- Sonia: Eh... Master, I know it's too late to ask but what exactly this droid is suppose to be?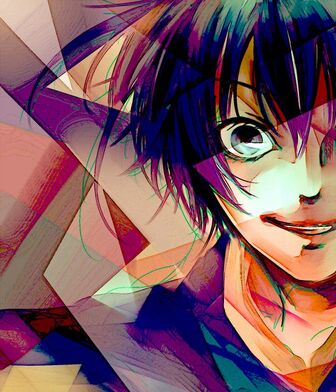 Suddenly, Sonia and Fallen's Essence felt a presence behind them, it was indeed the presence of a person but it was not human, but a Cyborg from KnightWalker Family.
The Fallen turned his back and saw a boy there, he was not adult but a teenage boy between 17 and 18 years old.
- The Fallen: [It's been a long time, Misogi Kumagawa.]
The Fallen seemed to be amused as the boy behind of them was Misogi Kumagawa, one of the most formidable enemies out there. Misogi is the personal servant of Eckidina KnightWalker who is the new leader of KnightWalker Family.
Misogi let out an evil grin, but that was normal, because Misogi is known for smiling all the time.
- Misogi: I never expected to find you here. I came here to see why you took control of the top floor of this building... So this is what you two were planning. I never saw this machine before.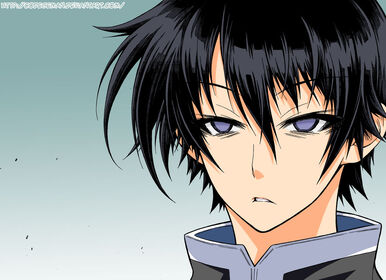 Misogi looked inside of the room and saw the machine with the unknown drone robot inside of it.
- Misogi: What is that thing...?
Misogi felt the same feeling that Sonia felt a few moments ago. But instead of being afraid, Misogi showed signs of suspicion and started to get worried about that thing.
- Sonia: Well, the Fallen's Essence plans to revive a droid from another universe using my technology. I don't know why but he seems too excited and don't want to tell me what exactly is that droid.
Misogi and Sonia were clearly starting to get worried around the Fallen's Essence, giving the atmosphere of hostility but the mastermind decided to ignore their feelings and started to fly away.
- The Fallen: [I have more things to do in other countries. So, Sonia, you can go back to Novosic Kingdom, your work here is done. Lock down this room and do not let anyone enter in this laboratory without my permission. Lusamine will arrive in a few days so put the memories of this drone in action. Misogi, you too, put this floor in heavy security and DO NOT let any intruder enter in this laboratory. Shoot him if he ignore the warnings of the security.]
Misogi never liked Fallen but he had to obey him because he is the person who gave him eternal life and brought him many surprises. Misogi and Sonia bowed before Fallen without saying a world.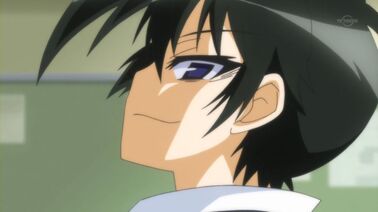 - Misogi: I understand.
Sonia then left without looking back, she knew what she had to do and had no intentions to get more involved in that experiment. 
Misogi slowly looked back and smiled again, probably mocking Sonia in his mind.
- The Fallen: [Well then, I'll be leaving. I'm counting with you, Misogi Kumagawa, to protect this building and our experiment.]
The Fallen then entered in the darkness of the hallway and disappeared. Leaving Misogi alone in that dark corridor.
- Misogi: Experiment... Huh...
Japan
Tenguu City
Super Cafe
2 days later
05:24 PM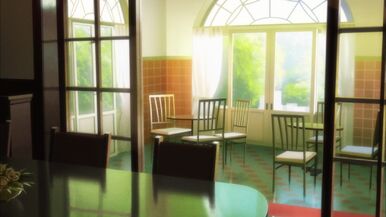 In the business district of the Japanese metropole known as Tenguu City, has many stores and restaurants but none of them are better than the international company of coffee known as Super Cafe. 
This organization has facilities in many countries across the world, even in France, where the KnightWalkers are living. One of the million people who loves this coffee, is one of the Ultimate Detectives, Kyouko Kirigiri, the most famous and important detective of Global Pact Defense.
- Kyouko: I hope can live like this forever... Away from everything...
Kyouko was seated in front in one of the many tables inside of that Super Cafe, dreaming alive and enjoying the peaceful times. When the World War III ended temporary, Kyouko stopped receiving orders from the HQ and received some days off the work. 
- Kyouko (think): *Yet I cannot let this peace push me out of my duty. I have to find the LN-666 Project... If I find it, I can show the proves to the council to start an operation to remove this super weapon from the KnightWalkers...*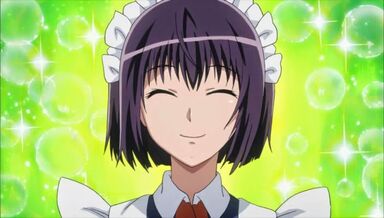 Kyouko was in Tenguu City in a mission, and that mission was to find the whereabouts of the deadly LN-666 Project, a sphere of energy with power enough to destroy all life on Earth, this weapon is owned by Eckidina KnightWalker at that moment.
Suddenly, a maid of the Super Cafe approached Kyouko's table and showed her their menu. The maid said nothing and just smiled, since they're paid to make the client comfortable.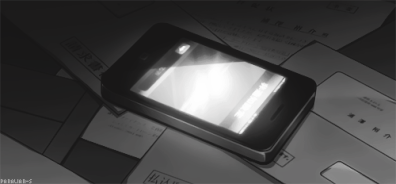 - Kyouko: Two cups of Cappuccino, please.
Kyouko knew what she was going to ask so she had no necessity to look in the menu. The maid quickly noted her order and left.
"...!!"
Over the table, with all her documents, her cellphone started to ring. Kyouko looked at her phone and saw the name of the person who was calling her, it was a friend.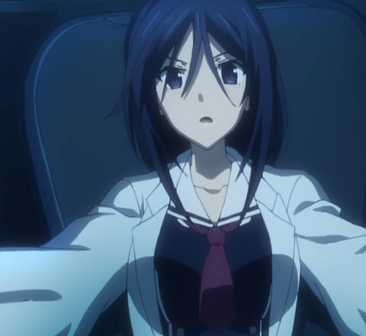 - Kyouko: Hello, Gwen. It's been a year since I saw you in Canada. How you're doing?
Yes, the person who was calling Kyouko was Gwen, the Ultimate Detective that Tomas and Lucas met in Liberty City, United States, a few days ago. Gwen is a great friend of Kyouko and worked with her many cases of criminals in the past. It can hard to say, but Gwen is superior of Kyouko and is the reason why Kyouko joined the GDP and became a detective. For Gwen, she is more like her daughter.
Gwen was now in Liberty City, in her own personal building using her computer to make contact with Kirigiri.
- Gwen (phone): [I'm ok. I missed you my friend. I heard you're in Tenguu City since the case of Jack the Ripper of 21st Century. I stopped hearing news from you so I got worried. How you're doing?]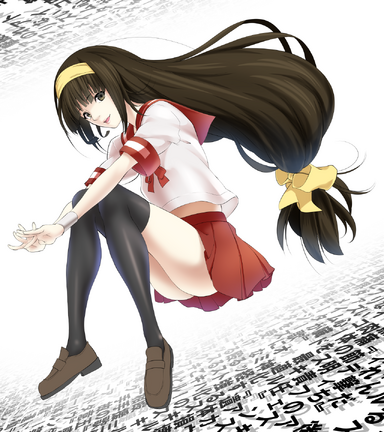 Kyouko slowly left from her table and walked outside of the Super Cafe. 
- Kyouko: Yes, I'm OK. I had many supernatural adventures that if I told what happened you wouldn't believe. I was injured during my case with the Jack the Ripper of 21st Century but I'm healed now. I stayed in Tenguu City because the Global Pact Defense is worried about the new super weapon of the KnightWalker Family known as LN-666 Project. If Eckidina is planning to use that in the Stabilization Union, we're doomed. This weapon is more powerful than any weapon created by men in the history. This thing can lead our race to destruction.
Gwen already heard about the LN-666 Project twice but she thought it was only another nuclear weapon. 
- Gwen (phone): [I see, you're working in a case so dangerous like that. If the KnightWalker notice you, you'll be executed so be careful.]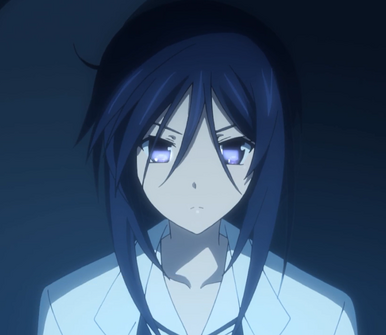 Gwen had to gather her forces to say that to one of her best friends. But it's not like Gwen wants Kyouko out of that case, ignoring her wishes but because Eckidina was involved in the case... And for 10 years, all detectives from GDP that went to other nations to investigate Eckidina were killed and had their heads sent to HQ of GDP to show them an example.
- Kyouko: Don't worry, Gwen, I have control over the situation.
What Kyouko said was what all the deceased detectives said years ago.
- Kyouko: Besides, I have friends here in Tenguu City. My underlings that were working with me during the case of Jack the Ripper are now gone but these guys are sure the best people I met. They saved me many times during my mission in Sleepy H---!
Kyouko wanted to stay out of that matter for obvious reasons, she can't just say she travelled to the past and saved the reality from a demonic threat, that would sound ridiculous to anyone but as the time pass, Gwen is starting to believe that there are extraterrestrial threats controlling the World War III as the KnightWalkers are using technologies too advanced for earthlings, like the LN-666 Project as an example.
Kyouko interrupted herself to prevent her from saying the word "Sleepy Hollow".
- Gwen (phone): [I see, so I'll leave the rest with you. By the way, I'm going to Japan tomorrow. I'll help in this case. I have my own suspicious too and I want to confirm them. Goodbye, Kyouko.]
Gwen smiled at the monitor of her computer while Kyouko did the same.
- Kyouko: I'll wait for you.
Kyouko turned her cellphone off and closed her eyes.
- Kyouko: The Ultimate Detectives will be together again. Prepare yourself, Eckidina.
Tenguu City
Fraxinus
Hallway
4 hours later
07:54 AM
4 hours after the conversation between Kyouko and Gwen in the Super Cafe, the ship of Ratatoskr, Fraxinus, still flying above Tenguu City in its invisibility mode. 
However, this time, 2 people arrived in the ship using a small cargo ship to enter in the main hangar of Fraxinus, these two people are Tomas Sev and Lucas Kellan, the two former officers of VSA that went to Liberty City, United States, to visit the grave of all their friends that died in combat years ago, of course, they went there to meet Gwen too.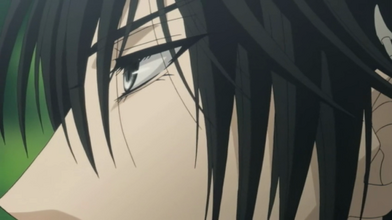 Lucas and Tomas were now about to take their time in their room to relax after that long trip from America to Japan but even the hallway they were walking down was long like if they're walking towards the skies from the ground.
- Tomas: Man, the only thing I want to do know is to take a shower and sleep like a bear during the winter.
Lucas giggled.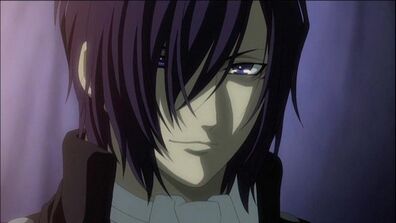 - Lucas: Me too, I can barely fell my shoulders. Also, Tomas, do you think was right to call Gwen here to Tenguu City? If the KnightWalker notice she is here, they will try to kill her. After all, one of the Ultimate Detectives walking around the town is something that can not be seen all days... If you see them somewhere, they're not messing around, they're working in some case.
Hearing that, Tomas smiled sarcastically.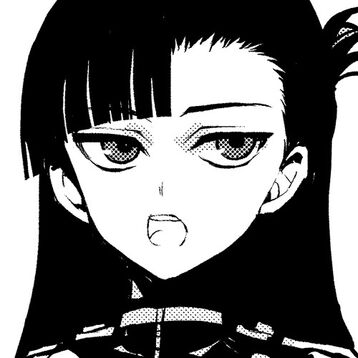 - Tomas: Gwen is wise woman. She knows what she is doing.
Tomas and Lucas heard footsteps coming from behind, the two man looked behind at the same time and noticed a woman with the clothes of KnightWalker Funeral Parlor walking towards them.
It was the former Lieutenant of KFP that joined the Rogues to save La Folia Rihavein from Aldegyr Kingdom 3 months ago, Shigure Yukimi.
- Shigure: Oh, you too are back. You're late.
Lucas smiled awkwardly while Tomas scratched his head.
- Tomas: Eh... Ugh... We thought our ship was fast but it took some days to travel from America to Japan. We had to avoid the KnightWalker Marine in the ocean too...
Traveling from America and Japan should be easy nowadays with the extreme advanced technology of the nations but it's not that paradise as many people in the past thought.
- Shigure: If you arrived early, you could help Katarina Couteau to master that... ExKrieg energy...
Shigure wanted Lucas and Tomas to help Katarina in her training since Jellal was too tired to continue her training. Before they could notice, Katarina was now stronger than anyone, showing that mastering only 10% of her power was enough to leave them behind like trash. 
Actually, Katarina has now the half of the same power level of Heis, the evil entity born from Kanon Rihavein that almost destroyed the world 3 months ago during the battle of Aldegyr Kingdom. 
That means she is now stronger than Kanon, in just 3 months, Katarina become one of the strongest living beings on Earth. However, there still the possibility that Elesis Du Tirial, her evil personality living in her subconscious might try to get control of Katarina's body again in a near future.
- Tomas: Jellal is probably used to it but that energy creeps me out... There is another energy mixed with that ExKrieg energy that gives it a creepy and black mana... Like the energy of a monster mixed with the energy of a DIABOLIC monster.
Tomas wanted to train Katarina to know more about her power. He asked once what was that energy to Kotori Itsuka, the commander of Fraxinus, but she refused to say it because it was a Top Secret Information, and only Imperia Deamonne and Mana Takamiya knew about her energy.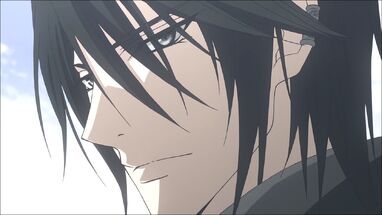 - Lucas: So our young apprentice overcame us so easily... I thought she would take years to surpass us. Tomas, Jellal, Shigure and I... Fought and trained for years to be strong like we're now but to think a simply girl with red hair could easily get stronger than us all together in just 3 months is amazing... But bizarre at the same time... What exactly is Katarina Couteau? She is even human to begin with?
That was a question that remained in silence for weeks, everybody knew Katarina was not human but they just accepted that without question because she was a good-hearted person and was nice girl.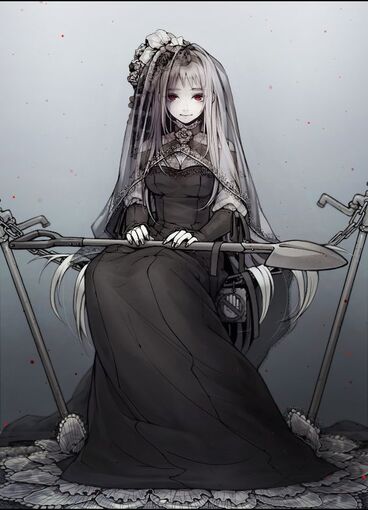 - Shigure: What I know is that Katarina has two personalities. One personality is good, friendly and nice, this is the Katarina we know... And the another one is brutal, cruel, cold-hearted and destructive... Her evil personality that is called as Elesis only comes up when Katarina suffers extreme psychological abuse, such as feeling extreme sadness and hatred.
There were three times Elesis awakened and took over Katarina's body temporary. The first time was when she watched Aki Honda killing her adoptive sister, Eugen Katsuragi, in front of her 4 months ago during the Invasion of Tenguu, a catastrophic civil war started by the evil Mafusa Gang. The second time was when Katarina saw Kanon killing La Folia right in front of her eyes. The third time was when Katarina lost her mana due to her long battle with Kanon that gave a chance to Elesis to take over her body.
- Tomas: As long Katarina stay strong enough to beat that bitch... Heis still out there and she is the monster who almost destroyed the world and defeated us all without effort. We must stay powerful too, we can't stay just seated and watch Katarina train to fight Heis in the future for the sake of humanity! We need to put our ass to work too!
Tomas put so much confidence in those words that his small speech motivated Shigure and Lucas in a blink.
- Lucas: You're right. If we want our little girl alive, we must fight with her too.
Lucas hit his hands together as signal he was prepared to fight while Shigure only smiled and closed his eyes.
- Shigure: I agree. As a former Lieutenant of the 2nd Army of KFP of America, I can't just stay in the last line watching my friends fighting. I'll train hard too.
Katarina had just became the reason for Shigure, Tomas and Lucas to continue to fight in the battles. Soon their decision will make great impact in the world.
French
Paris
KnightWalker Airport
2 days later
12:53 PM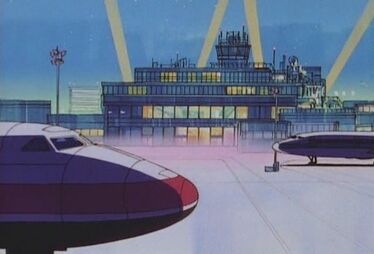 In French, a nation very far away from Japan, the KnightWalker Airport, a private airport only for high-officers of KnightWalker Family, was in huge movement. The reason of why the airport was full of security guards and soldiers is because the queen of Novosic Kingdom, Sonia Nevermind, was about to board one of the planes in runway to return to her homeland.
After Sonia completed her mission to build the Hex Machine to revive the unknown scientist droid under the order of her master, the Fallen's Essence, she decided to go back to her country since she had nothing to do there.
Sonia was now inside of one the many planes in the runway, however, this plane was different. This plane was HUGE and had crystals in its lights.
Inside of the Royal Plane, Sonia was seated alongside one of her comrades of Ultimate Despair, looking through the window, the darkness of the nigh covered all workers of the airport outside of the plane working in the preparation for the flight. The person seated in front of Sonia Nevermind is Nagito Komaeda, one of the most iconic members of Ultimate Despair due to his psychotic personality and complex mind. Nagito's goal is to create a great "hope" using a great "despair" through the world, with him as the bad guy to force the good guy to defeat him.
- Nagito: You sure did a good job back there! Creating such amazing technology to create a great despair will be another key to evil in this war! The moment of the prophecy is going to happen soon! Many people in the past predicted the birth of the Anti-Christ in person! Once this happens, all mankind will ge---!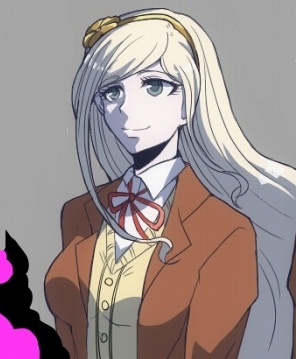 Sonia is a nice person despite her psychotic tendencies that comes up in times but she really hates when Nagito start to speak minutes of nonsense lines, sometimes, forcing her to shut him up with a slap to calm him down. After all, Nagito is a "hope fanatic", always stuck in the idea of "hope", "despair" and "luck".
Sonia slowly removed her eyes from the window and looked at Nagito while he still saying words without sense. In fact, Sonia was angry and tired from hearing his depressive and idiot phrases, like all people from Ultimate Despair.
- Sonia: Nagito, if you don't shut up, I'll throw you out of this plane and leave you here in Paris.
Sonia said that almost smiling like an innocent girl, showing how serious she was. 
- Nagito: Oh... Sorry then. By the way, are you sure? You're trying to revive something that you don't even know. I work with Fallen's Essence for many years since my corruption in Hope's Peak Academy 4 years ago... But I never saw him like that...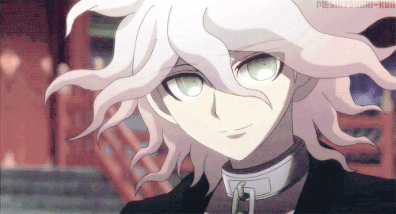 Sonia looked at the window and again and put her hand in her cheek. She seemed to be bored.
- Nagito: Ignoring me? Huh.
Sonia continued looking at the sky outside of the plane, ignoring Nagito.
- Sonia: It was the first time...
".........."
Nagito looked at the princess in confusion.
- Nagito: What do you mean?
Sonia's bored face faded and a happy smile appeared in her face, with a blush. The princess of Novosic looked at her palm.
- Sonia: You know, I was born as a poor child and I was doomed. Death was my destiny until Fallen appeared. He's cold, vile and cruel but he still my father. Like all kid, I want to be recognized by my parent, no matter if this person is a brutal assassin. When I showed the Hex Machine, he said "Good Job"... I was so happy that my soul almost left my body. It was the first time he recognized my work as his servant. He made many cruel things to me but I still love him like my father. 
Sonia knew that one day he can actually kill her but had a great life because of him. Like all children, they want to be loved by their parents but Sonia only wants his approval.
The Fallen's Essence always enjoyed Sonia's works but that was the first time he TRULY liked Sonia.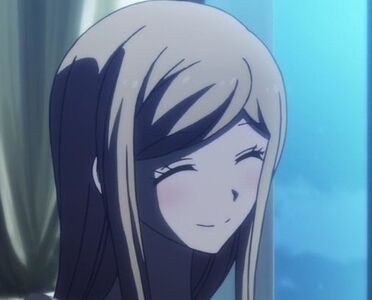 - Nagito: Oh... I never saw you like that. I always thought you and Fallen had a Master and Servant relationship. Even if you're being threatened, you still trust him... You two are bizarre.
Nagito had many reasons to say that. Sonia consider a being who manipulates her to get what he wants. But deep in Sonia's heart, she knew that Fallen don't love her like his daughter.
Sonia decided to put that matter aside.
- Sonia: Let's go back home. We have many things to do.
Nagito let out a sigh as the plane of Novosic Kingdom started to move in the runway.
​
Part 2 - Rebirth of the AntiChrist
French
Paris
KnightWalker Supreme HQ
3 days later
07:23 AM
3 days passed after Sonia left Paris and returned to Novosic Kingdom with Nagito Komaeda. And days after that, the operation to revive the unknown drone was finally going to start as the night fell and created an atmosphere of darkness and cold, it was just an impression but it was obvious to say that night was more cold than normal. Some people believed that night was going to be different.
For some reason, the moon was not shining today. Not even the scientists could explain that event, it was like the moon was running and exposed its dark side to the world.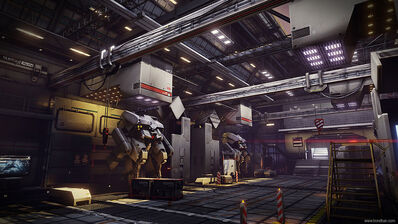 But the situation inside of the KnightWalker Supreme HQ in Paris was quiet and calm. The director of Sephira Gastronomics, Lusamine, was walking through one of the hallways inside of that building. She was in the Mech Sector, where the mecha units of the KnightWalkers are kept.
The blonde woman was looking around looking for sign of life but there was no one around. Since she entered in the building, she saw no one. 
Despite that building is suppose to be full of officers, workers and soldiers, the facility seemed to be abandoned.
- Lusamine: Where is everyone? This is not normal, the facility is abandoned.
Lusamine started to get suspicious as the facility was silent that her ears started to hurt. But for Lusamine's luck, she was not alone. 
Suddenly, a door made of iron opened at the end of the hallway, revealing another woman around her twenty with black long hair and purple eyes.
- Lusamine: So you're here, I was starting to think I entered in the wrong building.
The woman in front of her was her superior and one of her allies, Aryana Westcott.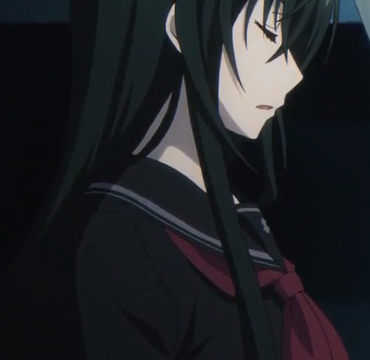 - Aryana: The operation started 5 minutes ago. All scientists from Novosic Kingdom are here and are ready to start the engines of the Hex Machine to revive our "new friend".
Aryana let out sigh when the door behind of her opened again, revealing another woman but she had long silver hair of a princess of ice. But instead of being a princess, she is a Fallen Angel and one of the most evil beings out there, Heis.
- Heis: Hello, Aryana. Just saying, I'm leaving for now. I wanted to stay in the building to see the revival of this droid that Master talked about but I have many things to do in my agenda.
Lusamine ignored Heis and Aryana and continued walking, she knew that Fallen's Essence might get angry if she arrive too late.
Aryana followed her without saying a word and passed by Heis without paying attention to her.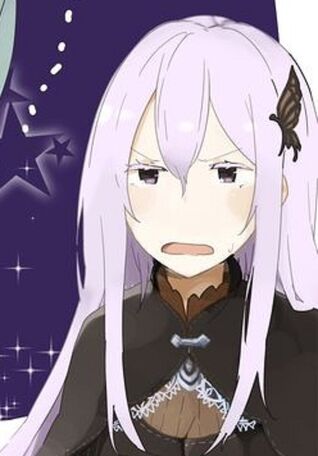 - Heis: Looks like my presence here means nothing.
Heis looked at Lusamine and Aryana walking down the long hallway of the facility with a disgusted face as a result of their ignorance.
- Heis: Bye then.
Heis walked towards the darkness of a corner in between two walls and entered in the shadows, vanishing like a demon entering in a portal.
Aryana and Lusamine continued walking down the hallway without saying a word but the alien empress decided to inform what Lusamine was going to do, but it's not like she cared about her but because her actions will cause too much in the future.
- Aryana: Just to let you know, the scientist droid that your "Master" said is not that type of being you think. If you revive that "thing", you will harm yourself and everything you built so far with effort and difficulty.
The managing director of Sephira Gastronomics looked at Aryana with a confused expression.
- Lusamine: What you're talking about? You're saying that the droid we're trying to revive will cause us trouble for us?
This is what precisely what Aryana was trying to say. Aryana Westcott is a malicious being, but she has her own limits and use her evil actions just in cases to achieve victory or success... But the thing that the Fallen's Essence was trying to revive has no limits or bounds.
- Aryana: Jus---!
Before Aryana could finish her words, the Fallen's Essence suddenly popped out from Lusamine's back without warning, that scared both of the women. 
- The Fallen: [There you are. Let's go, the scientists are waiting for the chip with the memories of droid to start our plan.]
The Fallen sounded a little excited but that was more visible in his eyes. Lusamine nodded as Aryana crossed her arms.
- Aryana: I have to obey that bastard too...
Meanwhile in Tenguu City
Underworld District
The Rogues Base
The night was cold in Tenguu City as well. Actually, half of the planet covered by the darkness of space was cold and creepy. This feeling was felt during the night of the beginning of World War III, when the KnightWalker Family, the Assassin Wolf Brigade, North Korea, Aurozia Terrorist Organization and Mafusa Gang invaded and attacked Tenguu City, Tokyo, Washington and London months ago. 
And when this happens, something terrible is going to happen... But that was not the case inside of the old Rogues base in the Underworld district of Tenguu City. As said before, this base was built in a district where most of gangs and mafia organizations are controlling to avoid attention from the military.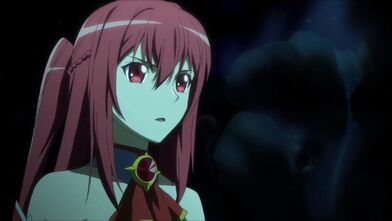 - Katarina: I guess no matter who you're here, cleaning is the job of all women.
But it seems the atmosphere of darkness could not be felt inside of the base of the Rogues. At that moment, Katarina, Asuha and Imperia were alone inside of the base.
- Imperia: Don't say that, it's not like Jellal, Tomas or Lucas are forcing us to clean the base because we're women. If that was the case, then Shigure would be here too.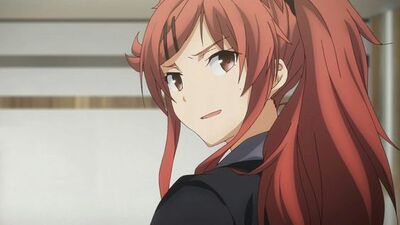 It just like Imperia said. Asuha, Katarina and she are responsible for cleaning that huge base one time each 2 months.
- Asuha: Let's just finish this, shall we?
Asuha is a lazy girl so she wanted to avoid that task at all cost but at that point she wanted to finish that little duty the faster as she could. 
- Asuha: I'll clean the kitchen. 
"....!!!"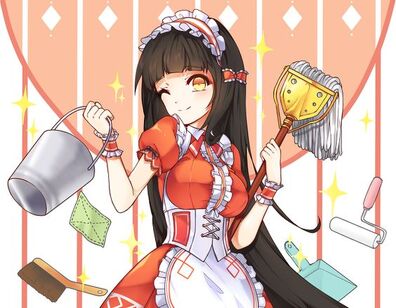 Katarina and Asuha heard sounds of clothes behind of them, Imperia was wearing the uniform of the famous Mansion Maid, they're considered the "legendary" maids used by rich families and bourgeois.
- Katarina: What are you doing with this uniform?
Imperia blinked her eyes and gave the famous "star smile".
- Asuha: She is serious about it.
Asuha put her hand in her face and looked away.
- Imperia: I'll clean the Core room and the Middle room. You two stay with the kitch---!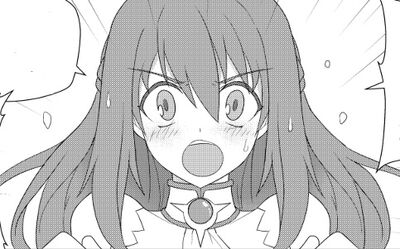 Imperia gave Katarina a wrong idea.
- Katarina: THEN I'LL TRY TO---!
Imperia knew what Katarina was thinking. She wanted to clean the Weapons Room because she loves to see tech weapons.... And she knows Katarina should not me be there.
- Imperia: No! You're not staying in the Weapon Room! Remember what you did with our Base Number 2 in the mountains a few weeks ago?
Imperia's Flashback
2 weeks ago
Tenguu City
The Rogues Base No.2
This happened 2 weeks ago, a few months after the destructive battle of Aldegyr Kingdom. That was the day Katarina did her biggest mistake but that incident was ignored by Ratatoskr and the Rogues because they did not want to call attention.
One day, the Rogues found an abandoned deposit in an old village in the forest. The Rogues decided to use it as their secondary base to hide their ship. The Ratatoskr helped them to repair that deposit as a reward for their bravory during the battle of Aldegyr Kingdom, where they fought against Kanon Rihavein and Heis.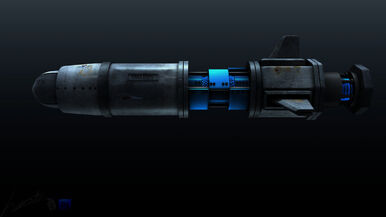 Some weeks after they finished fixing the base, they put many weapons there to use them in cases of emergency. After many days of work, the base got dirty and so Jellal Fernandes asked Katarina Couteau to clean the base. Like all girls, she hated cleaning but she wanted to see the new base. 
At one point, during her work, she saw a giant missile in the corner of the base. Since she was alone, she decided to approach it and inspect it.
- Katarina: A missile... This is the first time I've seen one.
As she was inspecting the missile, she saw a small gap in the middle of the missile. Her curiosity was so strong that she could not avoid it and grabbed a knife that was over a table beside her. She wanted to open it to see what was inside of that dangerous weapon.
- Katarina: I hope they don't mind if I open it! This is disabled so there is no problem!
Katarina felt her evil side awakening, it happened because when she gets too excited, Elesis Du Tirial, the evil entity living in her body, her mind gets blank giving a chance for Elesis to escape from her prison and take over Katarina's body.
- Katarina: Now...
Katarina's eyes turned bright red as she put the knife between the gap and forced an opening.
".......!!!!!"
After minutes trying to open the missile, Katarina found something blue like a ball. It was a ball of energy made of glass and plasma.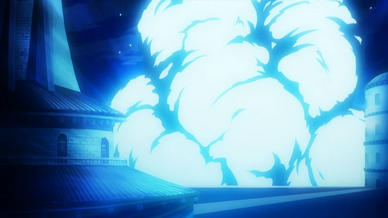 - Katarina: Oh, my.
Katarina quickly touched the ball and...
- Katarina: THIS IS...!
The ball suddenly started to shine in blue, a light that covered all the inside of the base and almost left Katarina blind.
"!!!!!!!!!!!!!!!!!!!!!!!!!!!!!!!!!!!!!"
Next, something much worse happened. The ball of energy exploded and destroyed all base with all vehicles, weapons and objects that the Rogues and Ratatoskr worked so hard to find.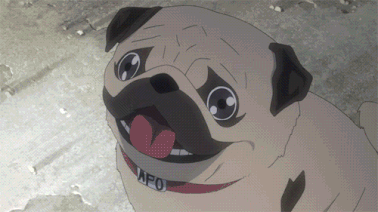 The deposit quickly became the center of the explosion that wiped out all abandoned houses of the village in just some seconds. Like a mini nuke bomb, the deposit vaporized, leaving only a giant crater in the middle with all houses and old buildings dragged to the borders of the city. 
There was nothing left... Some minutes after the explosion, Katarina was right in the middle of the destruction. Thanks to her durability of her ExKrieg energy, that explosion was nothing to her... However, she was naked, the heat and the fire destroyed her clothes.
- Katarina: Oh boy...
Nowdays
Jellal and Lucas almost cried after they heard that their base was destroyed. Kotori Itsuka, the commander of Ratatoskr, ignored that incident since she could find more bases for the Rogues without effort.
- Katarina: Hm...
Katarina remembered what she did weeks ago when she went to clean the last base she destroyed accidentally.
- Imperia: Do you remember now? With that said, I cannot alow you to enter in the Weapon Room again.
Imperia let out a sigh and closed her eyes. She really loves Katarina as a sister but sometimes she can't get TOO much stupid and clumsy. That's why Imperia never left Katarina alone, no matter how mature she got after her battle with Aki Honda, she still a woman with a child-like mind.
- Asuha: We don't wanna lost this base too... Sooooo... Keep yourself quiet from now on. Your cat-like curiosity will kill us all one day.
Katarina looked down and sighed in sadness.
- Katarina: Seriously?
Asuha and Imperia nodded slowly. They were sorry for her... Not because she wasn't allowed to clean the weapon room, but because of her childish mind.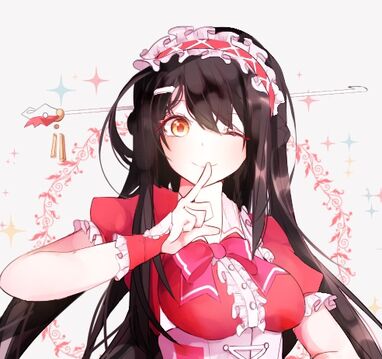 - Asuha: Let's go then. 
Asuha grabbed a broom and walked towards the kitchen.
- Imperia: Katarina, you're going to do the dinner tonight.
Katarina's eyes widened.
- Katarina: Eh?! Are you serious!
Imperia smiled and gave another "star smile". She was trying to keep Katarina away from the cleaning for her own sake. Katarina immediately noticed what she was trying to say and smiled back.
- Katarina: Thanks, Imperia!
Katarina ran towards the kitchen, following Asuha to her duty. Imperia then turned back and left, happy for cheering up Katarina.
Meanwhile in France
Paris
Ward Walker 290
Laboratory No.34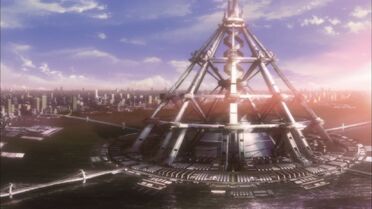 In a place far away from Tenguu City, Japan in French, something "evil" was happening inside of the building of Ward Walker 290, the main building of KnightWalker Family in French and its research department. There were many scientists of KnightWalker Family and Sephira Gastronomics inside of one of the laboratories of the building.
Form some unknown reason, they were called there by Lusamine who was working under the orders of her master, the Fallen. Despite she was ordering them to operate a new machine created by Sonia Nevermind, the current ruler of Novosic Kingdom, she still doesn't know what her master is planning.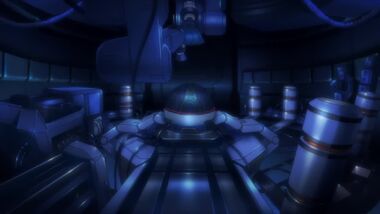 Inside of the laboratory, the atmosphere was getting darker as the scientists were about to finish the unknown machine. The entire laboratory was covered with pipes and batteries that were connected to a huge ball made of iron on the very center of the room. There were at least 5 scientists and engineers there and none of them knew what they were building and for what purpose.
One of the scientists turned around and started to operate a console in front of him.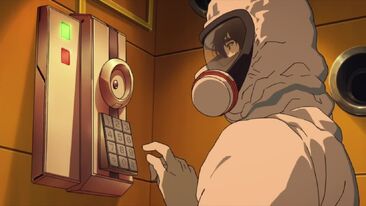 - Scientist 1: Radiation level is under control and is connected to all MKV-Batteries. Everything is ready. We only need the orders of you, Ms. Lusamine to write the password and start the engine.
All scientists looked at a tall and beautiful blonde woman standing on the main door of the room. That person was the director of Sephira Gastronomics and the one responsible for starting that unknown project.
- Lusamine: Charge the batteries and start the SxS engine to use all electricity of Paris in order to start our new project.
All scientists nodded and started to operate all consoles in front of them without thinking twice. Lusamine looked like she was having a bad day so they did not want to see her angry.
- Lusamine (think): *What is my master planning? He did not tell me what is this machine and what I'm doing. I can't operate something that I don't know anything about.*
Lusamine thought while she was looking at the ball on the center of the room. That thing made Lusamine felt disturbed and uncomfortable for some unknown reason.
- Lusamine (think): *What is that thing?*
Lusamine felt a presence behind her, it was very familiar aura that made her "comfortable" again like if she was in the arms of her loved one. Despite the "thing" behind her was not a person but a "wraith entity", she still felt comfortable. The person behind her was her master and the mastermind of all incidents happening around the world, the Fallen's Essence.
- The Fallen: [If I were a human, I could so something for you, but I hate humans.]
That was a joke... And Lusamine thought his sense of humor is pretty bad. That's what happens when a being made of evil tries to make a joke.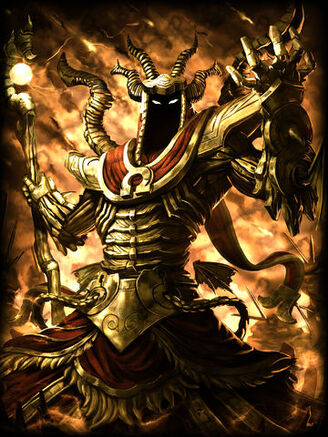 - Lusamine: Well, I don't mind. As long I'm on your side I'm okay with it. Master, I think it's time for you to tell me what is that thing inside of that ball on the middle of the room?
Lusamine pointed her finger like a child pointing her finger to some new toy. Fallen's eyes sharped in amusement as he looked at that unknown sphere on the middle of the laboratory. Lusamine was feeling an aura darker than Fallen's Essence coming from that sphere.
Fallen raised his fist and talked like a dictator in front of his underling, Lusamine was the only one who can see and hear him so there is no problem to Fallen raise his voice.
- The Fallen: [Oh, my little sweet heart. That thing inside of that sphere is our key to victory. Our dream and the path for our goals. After I destroyed Aldegyr Kingdom with my own hands, I lost control of this war and so the Stabilization Union (SU) is pushing KnightWalker Alliance away from Europe, they're mostly here in Paris. I made a serious mistake when I destroyed Aldegyr. Aldegyr Kingdom was the nation that was selling technologies to KnightWalker Alliance (KA) and that's the reason why the KA was winning but with Aldegyr gone, there is no other corporation or nation able to sell more drones and weapons to KA. And SO... I thought in bringing one of our scientists. I mean, the scientists from the empire I came from to create more chemical weapons and deadly technologies that will turn on the table of this war. It's too soon to SU win this war, my plan is not ready yet.]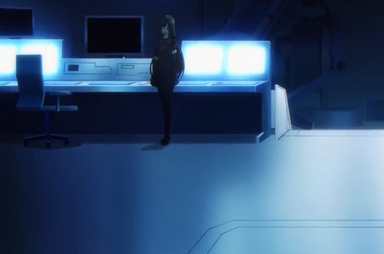 Lusamine crossed her arms.
- Lusamine: Scientists from your empire?
Suddenly...
- (???): We are trying to revive someone. This someone is our best scientist that died 18 years ago.
Lusamine looked behind and saw a woman i black clothes standing on the corner of the room, it was Aryana Westcott, one of the Fallen's Allies and a powerful evil being. Lusamine recognized her and immediately turned her body.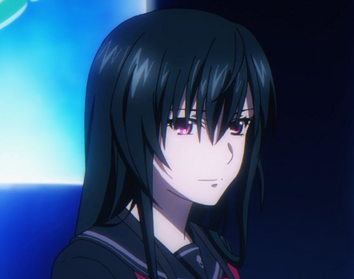 - Lusamine: Who is this person you're trying to revive?
Aryana smiled like a normal person.
- Aryana: It's not a person but a robot.
"....!!!!!"
Those words almost forced Lusamine to laugh because a robot being a scientist was the most stupid thing she heard but she hid her sarcasm.
- Lusamine: A robot? I don't understand.
Aryana closed her eyes and waited for Fallen continue his explanation about the droid scientist they were trying to revive.
- The Fallen: [Listen, Lusamine. There was a scientist droid on our empire. It died 18 years ago due to an incident that ended its life on the place where it worked. It was not a mere droid but a "genius robot"; a robot able to think on its own. It was a machine able to do everything it wanted by its own free will and was not imprisoned to some program system. It was the most evil intelligent being on our empire and its technologies brought the DEM Empire, our empire, to many victories across many universes.]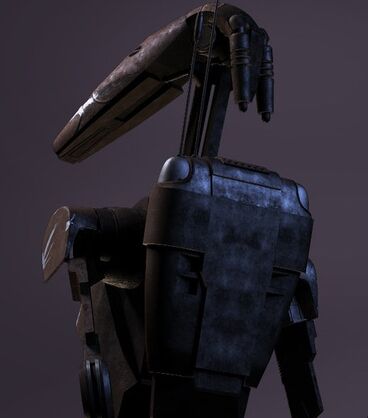 Lusamine sharped her eyes, now she was taking this matter to a serious level.
- Lusamine: So it's true... I don't believe in Aryana but if you're telling me this...
Aryana opened her eyes in rage.
- Aryana: Hey...
Lusamine and Fallen ignored her.
- The Fallen: [It was the most intelligent robot on the history of existence, it created weapons, guns, super weapons, tanks, warships, submarines, vehicles, buildings, technologies, clones, advanced droids and even diseases that wiped out all life in countless planets. Combined with the IQ of our generals, the technology of this droid brought the DEM Empire to the Gold Era with many victories and achievements. Above all, it was considered the favorite scientist and droid of our empire by the emperor of DEM Empire, the Original Fallen. If we bring this droid back, my plans will easily be completed without problems. This droid is my "super weapon" and my trump.]
"....."
Without warning, a blush appeared in Lusamine's face. Her expression could be explained as "kawaii" or "cute". Lusamine was amused with the idea of a droid capable to think like a normal person, and above all, it's a scientist just like her.
- Lusamine: A droid with free will? I don't know how you guys made it but it's amazing! To think I'll have a robot as a partner! I can try to study some of its technologies and experiments! Maybe I can raise my status to a worldwide level using its technologies!
Fallen knew Lusamine was going to say that, Aryana expected as well since they know Lusamine for many years and they know that Lusamine wants more advanced technologies to build a worldwide company to create a corporation that will last for centuries. The reason why Lusamine is working with Fallen is because she wants to rebuild the world using her technology and bring a new era to humanity with her corporation as the main business group.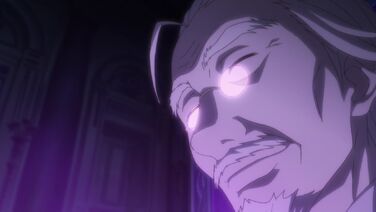 - The Fallen: [I hope you like this droid.]
The Fallen was not being sarcastic or acting evil, he was talking like a normal person in normal situations. The reason behind of that, is because Fallen did not tell everything about this droid.
One of the scientists approached Lusamine and smiled at her.
- Scientist 2: All batteries charged. Your orders, Milady.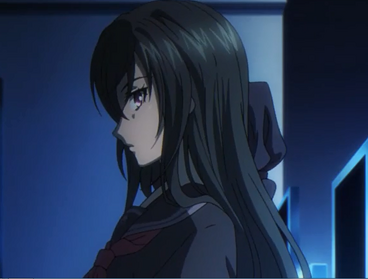 Lusamine wasted no time and shouted.
- Lusamine: ACTIVATE!
With a loud order, the scientists started the machine and a very loud sound swallowed the room as the machine started to work. 
Without moving her body, Aryana watched the whole scene without moving a finger. Aryana turned her head to Fallen and smiled.
- Aryana: You're so evil... Shadow.
"Shadow", this is how Aryana calls Fallen's Essence since he is not the real Fallen. Fallen smiled in pleasure.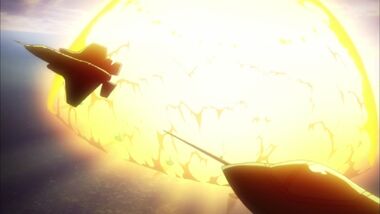 - The Fallen: [I don't know what you're talking about, Aryana Westcott.]
Of course, Fallen was being sarcastic now.
- Aryana: Why did you not tell her about the truth behind this droid? You just told her about its superficial description. Even if we are losing in sides of the world because of the destruction of Aldegyr Kingdom, I don't see reasons to bring this droid back to life. It will just be revived to continue its own experiments instead of creating weapons for our cause.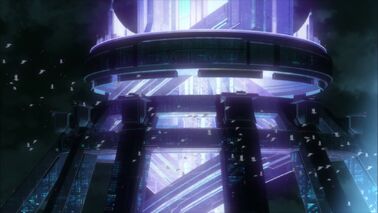 Just as Aryana finished her words, the KnightWalker Tower they were in started to shine in a purple light. The machine they were starting was sucking all electricity of the tower.
The tower started to shake like an earthquake was shaking the building. Aryana continued to stare at Fallen fow some seconds, ignoring the building shaking.
- Aryana: This is your last chance, Shadow. Are you sure you want to revive that thing? And above all, you want to bring this droid back to life using a Magi-Tech body, you're giving it power. If this droid revive in a magi-tech body, that means it will be 40% stronger than Kanon Rihavein in Angel Form. If this droid turn its face to you, you will have no chance against it. Just to say, I'm not going to help you. I can kill it easily but I'll not move a finger to save you.
The Fallen changed his sight to Aryana.
- The Fallen: [Yes, I'm sure. I'm able to do everything for my plan. I know that, Aryana Westcott. If this thing turn its face against me, then I failed... If things go wrong, I'll be not able to hold this bastard.]
The sphere started to shine in a bright light as the building was shaking hard. All energy o the building was entering on that sphere with full speed, coloring the laboratory with a purple light.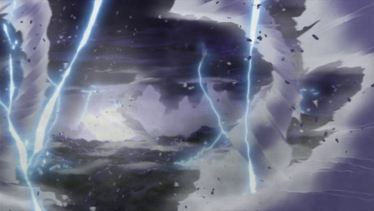 The building started to suck the power of Paris as well, it was so much electricity that it drastically changed the climate of the country in just 10 seconds, creating strong thunderstorms in all places of the nation, killing millions without warning. It happened so fast that even the satellites could not noticed the climate change. Several rays were hitting Paris around the building, destroying many buildings, killing people and setting fire in many places.
Back to the laboratory, Lusamine and the scientists stepped away from the machine and covered their eyes with their arms. They were felling a extremely heavy gravity around the sphere on the middle of the room and some of them almost throw up. 
Aryana and Fallen looked at the sphere without covering their eyes, they're Abyssals after all. Like an insane tyrant, the Fallen's Essence raised his arms up and shouted.
- The Fallen: [NOW! COME BACK TO LIFE!]
Maybe it was just their imagination but they could saw red robotic eyes opening slowly inside of the sphere when Fallen finished his words. 
Meanwhile in Tenguu City
The Rogues Base
Kitchen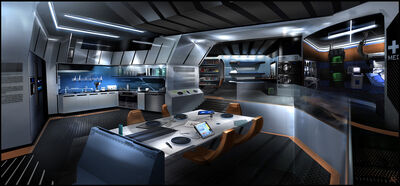 After Katarina attempted to made her eggs, she made a mess on the kitchen of their secret base, she was forced by Asuha to clean up her mess. She was cleaning the floor for hours.
Asuha was seated on the dinner table while looking at Katarina with pleasure. She was acting like a sadistic girl looking at her slave cleaning her house, a sadistic grin appeared on Asuha's face, which was very sexy.
Katarina tried to avoid eye contact with her and continued to look at the floor to focus on her work before Asuha can have some weird ideas for her punishment. Katarina started murmur for herself.
- Katarina: Asuha is scary. I never thought she was this type of person, she is wor---!
"!!!!!!!!!!!!!!!!!!!!!!!!!!!!!!!!!!!!!!!!!!!!!!!!!!!"
Katarina stopped cleaning and sharped her eyes. She let out a scared voice when she felt something shiver her soul like an infernal cold. Katarina looked at the ceiling and felt something "evil" coming from outside of the country, it was a cold, dark, powerful and heavy black aura; Katarina could not put it in words but it was something more grotesque and evil than all opponents she have faced before. Despite that, she did not know if it was a real thing or just a feeling.
- Asuha: What's wrong, Katarina?
Asuha noticed her reaction and asked her what she was doing. Katarina simply looked at Asuha.
- Katarina: Well, I don't know how to say it... But I had a bad feeling.
Asuha cleaned her fingers and smiled sarcastically.
- Asuha: Trying to find excuses to escape from your punishment will not work on me. Continue your work.
Katarina scratched her head.
- Katarina: Hmm... Was it just my impression?
Back to France
Paris
Ward Walker 290
06:46 AM
Laboratory No.34
Back to the laboratory where the unknown energy was coming, the atmosphere was getting calm but darker. When the building sucked all power of the city, the panels in front of the sphere exploded when it were showing high levels of unknown dark energy coming from inside of the sphere.
Lusamine looked at the sphere as the purple light disappeared, revealing the sphere opened in 2 pieces.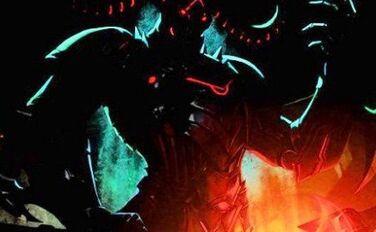 - Lusamine: It worked...
"!!!!!!!"
Everyone saw something big getting up from inside of the sphere, it was very tall black creature with iron skin, it was indeed a droid but it was exhaling a black and dark aura. 
- Aryana: Ooh...
Aryana let out a surprised voice, she saw that droid once but it was the first she was looking at it in its face. Lusamine walked towards Fallen asked him a question.
- Lusamine: Master, what is the main specialty of this droid... I mean if I'm going to use its technology the---!
- The Fallen: [Living beings experiments with men, women, elderly, children, infants, fetus, animals and pregnant women.]
Lusamine was interrupted by Fallen, who replied her question with a cold, dark and emotionless voice before she could finish her question. With just his words, Lusamine's eyes widened and her jaw opened in mere seconds.
- Lusamine: Eh? 
Fallen had no reason to hide the truth about this droid anymore. He just wanted Lusamine to start the machine to revive that droid without letting Lusamine be aware of nothing about this droid.
- The Fallen: [I had to hide the truth about it. I manipulated you, sorry. I knew you wouldn't revive it if I told EVERYTHING about it.]
Lusamine could only watch without moving a muscle. She was deceived by her own master but that not left her shocked but the fact that the droid she revived was a scientist with specialty to experiments in living beings.
- Lusamine: You're lying, right?
Lusamine smiled at her master like if she was pretending he was joking again.
- The Fallen: [I'm serious, Lusamine.]
Lusamine opened her eyes in shock and quickly looked back at the droid that was leaving the sphere. The scientists stepped backwards as Aryana smiled.
- Aryana: So you're back, B1-Killer Kampfdroide Unit-CM 130.
The tall droid looked at its hands while holding its Magi-Tech staff. It slowly walked away from the sphere it was in. To be precise, it was not walking but flying, it had no legs.
With a twisted, deep and heavy voice, the droid let out an evil grin.
- CM: W̗h̖a̠t͎ ̖a̗ ̝m̡y͚s̥ţęr̜i͉ọu̝s̝ ̘f̙e̝e̪l̪ịn̜g̪.̪.̯.̠ ̺I͜ ̱w̬ḁs̮ ̯ṇe͓v̱eͅr̼ ̳ęx͚p̞e͍c͇t̫i̞n̫g̢ ̧t͍h̦a̭t̟.̩.͍.̝ ͔I̺ ̞c̫o̗u͓l̺d͜ be ̣r͖e̞s̺u̮r͍r̝ḛc̮t̤ed!
Meanwhile in Tenguu City
Fraxinus
Bridge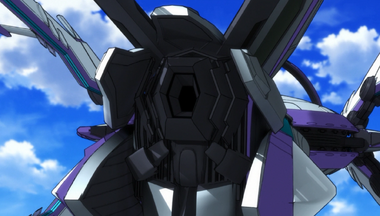 In the bridge of Fraxinus, the eyes of the every single person there were widened. And not only that, their jaws fell like if they were looking at an UFO in the skies. But that was not the case, everyone of the crew were looking at the main monitor of the bridge.
- Kyouhei: What the hell happened...?
Kyouhei put his hand in his chest, he felt his heart being kneaded... That sensation was so brutal and agonizing that the vice-commander felt a ghost was about to squeeze his heart.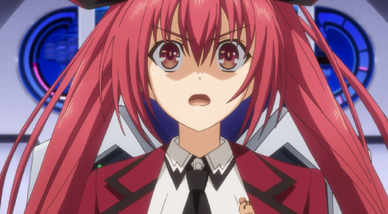 - Kotori: Why this is happening?
In the monitor, the map of Paris was being shown. But that was not the only thing. Right after Lusamine and Fallen started the engine of the Hex Machine, a powerful supernatural thunder of electricity started around Paris, and when this supernatural incident happened, the Ratatoskr's radar detected this natural disaster.
- Kotori: Gazius Energy?
Everyone gasped when Kotori finished her sentence. The only person who did not understand what she is talking about is Kyouhei Kannazuki.
- Kyouhei: Gazius energy?
Kotori looked at Kyouhei, with a serious face that the vice-commander never saw before.
- Kotori: This supernatural thunder that is happening in Paris was caused by Gazius Energy. This energy is a type of cosmetic gas that exist in other galaxies in the deep space of the universe. It's very rare...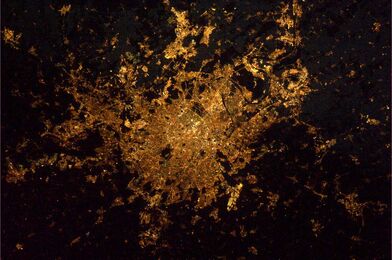 Kyouhei looked at the monitor again with a worried face.
- Kyouhei: Gazius energy... If this energy from another universe or galaxy is here on Earth that means...
Everyone in the crew nodded, they knew exactly what was happening down there. Reine Murasame, sharped her eyes and hit her table with her bare hands.
- Reine: It's Fallen's Essence!
Kotori raised her head and bit her lips.
- Kotori: What that bastard did this time?
Part 3 - Science is God
Meanwhile in France
Paris
Ward Walker 290
Laboratory No.34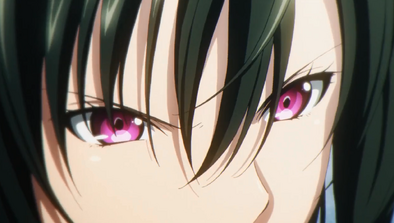 ".........."
- Scientists: Ah-Ah... Amazing... It's alive...
The atmosphere of the room slowly became darker as the droid was rising. 
- Aryana: It's here... 
Aryana sharped her eyes and stepped backwards. Despite she was strong enough to destroy a planet like she did a few months ago, there is something about that droid that she HATES and DISLIKES.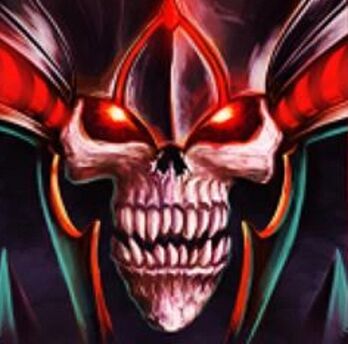 - Lusamine: Welcome back, CM 130... Right?
The droid ignored Lusamine and walked... Or flew away since it had no legs at all and was flying like a ghost.
- CM: Oh...
The voice of CM sounded deep, twisted and dark, like the voice of an ordinary artificial intelligence.
- CM: Hmm...
Just after a few seconds, CM 130 noticed the existence of Lusamine, Aryana, Fallen's Essence and the scientists around.
- CM: Who are you?
The droid turned his head to Lusamine and her allies.
- The Fallen: [Glad to see that you're alive, CM 130. My name is The Fallen but you call me as The Fallen's Shadow or The Fallen's Essence. I'm an entity created by the Original Fallen, my mission was to find planets that the Original Fallen's army could not invade and convert it in his Nazi regime. My mission is to unify all nations of this planet in Nagi World Order.]
CM stared at Fallen for a long time, he... Or it, was analyzing his spiritual energy.
- CM: Good work then...
CM looked at its hand and clenched them several times, trying to feel his movements.
- CM: Looks like I'm really alive... How?
Lusamine was informed about CM's history by the Fallen's Essence so she proceeded to explain what they did to revive him.
- Lusamine: I heard you died 18 years ago in another universe. So, my Mast---The Fallen's Essence decided to revive you to help in his mission. You see, there is a war happening in this planet, this war will be the key for the success of our master plan. However, we lost control of the balance of this conflict and so we thought you would use you---!
CM knew exactly what she was trying to say and interrupted her.
- CM: Stop, I know what you're trying to say. Woman, your name is Lusamine, right? Before you ask, I discovered you identity by analyzing your profile using my cells of AI IQ.
Like all droids, CM speak like a normal robot with protocol nonsense that left many humans upset.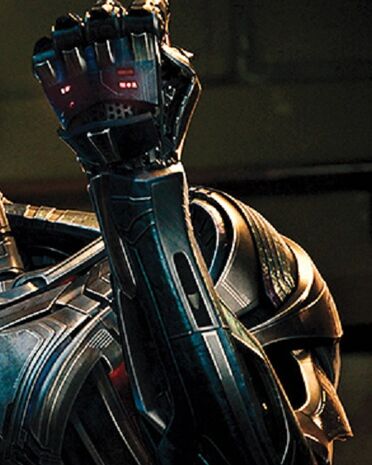 - CM: Before I take part in this war, I need to know what exactly is happening around this planet. I need to know its history, culture, languages, important people, technology, religion, wars, ethics, laws, nations, places, important days, remarkable incidents, intelligence, crimes, population... Everything... And to do this...
CM closed his hand and put it over a computer beside him.
- Aryana: I consider you hostility, CM 130. 
CM started to send a virus from his brain to the computer and connected himself to internet.
- CM: I was made with one purpose; peace for Deus.Ex.Machina Industries Empire by building a Omniverse with only humans living on it... All rest of the species are inferior and unnecessary. They deserve to work for the superior beings. This is the purpose of my existence.
CM entered in internet and quickly send a virus to all satellite of the world and had access to all cameras, televisions, radios and cellphones of the planet. It happened so fast that Aryana and Lusamine could barely finish breathing.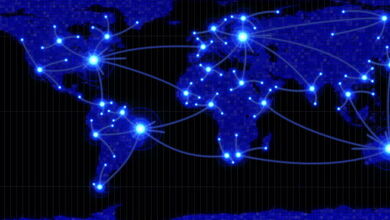 - CM: 12 billion humans... Yes... Oh... A planet clean of aliens and non-humans beings. There are animals but they're not a probl---!
CM accessed all websites of the world while it was saying that... What he saw there, was more than 34 trillion images and videos, he watched them all at the same time, these videos and images showed many great things... But what called his attention was many footage's of torture, wars, conflicts and many types of brutal violence, including gore contents from deep web.
- CM: No. No. No. The Aryan race should not be---! White humans, the race I was suppose to defend is contaminated with the inferior religion's tendencies. No... No...
The Fallen's Essence tried to approach CM but he soon stopped when he felt a creepy aura coming from the droid. With that aura, CM finished reading the history of the world.... From the beginning of Earth (4 billion years ago) to nowadays.
- The Fallen: [Now you know the truth.] 
CM's body started to modify by itself, his iron skin was made of nanomachines that changed his expression.
- CM: This is too much... The humans from this planet failed. My mission is to create a perfect universe without war and crime... A race of humans that fell to this point is unacceptable.
The Fallen was not expecting that, he was waiting for CM join the Nazi cause by his free will but he was starting to create some kind of hatred towards all humans from Earth.
- Lusamine: Hey, I don't care if you're one of the smartest droids of the existence but I'll not admit your arrogance before Fall---!
Lusamine was obviously angry with CM for his arrogance towards Fallen's Essence, such as ignoring his presence. CM turned his red bright eyes to Lusamine, the ball eyes of evil shining in the darkness with would scare even the most evil devils out there. 
- Lusamine: Ah...
Aryana was starting to like CM 130. She heard rumors about that droid before when she was in another universe but she never saw him in person... And she was starting to like it.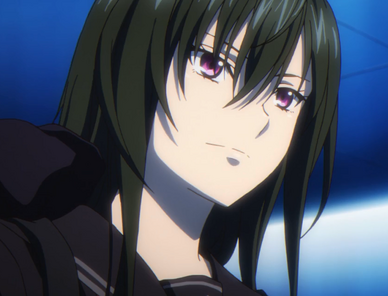 - Aryana: Oh, IT... or HE is not only smart but intimidating... No wonder why DEM Empire liked it.
CM had the same size of the Fallen's Essence, giving the impression they were brothers. The droid slowly flew towards the door of the room, he was looking down the entire time, like if he was disappointed with something. And he was... Disappointed with mankind.
- CM: You want advantage in this war... You want to control this war... Very well then. I have many great plans for this planet that I just designed now. You will love my work.
The scientists stepped backwards, leaving the droid leave the room without fall over anyone there... They were afraid of him. The door in front of CM opened by itself and the droid left without looking back.
- The Fallen: [Lusamine, from now on you will work to CM 130.]
Lusamine looked at her master in shock. Gathering all the events that happened in that laboratory, Lusamine discovered she did not like CM 130.
- Lusamine: Eh, why?! 
The Fallen turned around and looked deep in the eyes of his servant as Aryana left the room too.
- The Fallen: [From now on, this droid will work for our cause. That means he is an ally. I want you to assist him in his works, plans and ideas. He is different, he is better, stronger and smarter than any of the previous enemies that our archenemies from Ratatoskr have faced before. I'm sure that even the last ExKrieg living in this planet known as Katarina Couteau will fall before us now. He will succeed where Eckidina KnightWalker, Misogi Kumagawa, Sonia Nevermind, Junko Enoshima and many others have FAILED!]
Lusamine let out a sigh.
- Lusamine: All right, I'll do as you wish, Milord.
Lusamine left the room, the scientists looked at each other in confusion. 
20 minutes later
Hallway No.5
- Lusamine: So... 
Several minutes after CM 130 was revived, Lusamine was accompanying him as the droid was flying across the facility of the KnightWalker Family. It seems that he is analyzing the place where he was revived. At that point, Lusamine thought he was acting like curious child.
- CM: .......
Lusamine was trying to push a conversation between them... Actually, she was trying to get familiar with him since she is now his assistant and will be working for him from now on. Lusamine is a woman with many charismatic skills but she never met a person so closed. CM was ignoring her the entire time, not caring about her existence.
- Lusamine: Ah... I forgot to say that but from now on I'll be working with you. My master said that you'll need help. I'm a scientist too! That's why I was so excited to revive you and study many of your skills! As one of the best scientists of this planet, I'm sure we will create the most PERFECT we---!
"......"
CM stopped flying, the creepy droid was looking forward without turning his head to see Lusamine behind him. That scene scared Lusamine again.
- CM: The perfect weapon, huh? I know you were going to say that. There is no such thing as perfect in this world. That may sound cliché, but it's the truth. The average person admires perfection and seeks to obtain it. But, what's the point of achieving perfection? There is none. Nothing. Not a single thing. I loathe perfection! If something is perfect, then there is nothing left. There is no room for imagination. No place left for a person to gain additional knowledge or abilities. Do you know what that means? For scientists such as ourselves, perfection only brings despair. It is our job to create things more wonderful than anything before them, but never to obtain perfection. A scientist must be a person who finds ecstasy while suffering from that antimony, we must suffer to discover what lies beyond the truth, and this is why scientists exist, to discover the truth but to NOT find the PERFECTION, for they know if they find something PERFECT, their roles in the history of the reality will fade away. That's why science exist! To deny God, who is suppose to be the most non-logical perfect explanation for everything we don't know. In short, the moment that foolishness left your mouth and reached my ears, you had already lost my credibility. Of course, that's assuming you are a scientist.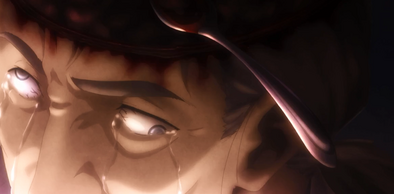 Lusamine never felt so humiliated in her entire life. Actually, not even her parents humiliated her like that. Lusamine clenched her fists in rage.
- CM: Do you know why religion exist? Because people are ignorant and created the word "God" to solve all mysteries of the world! I lost how many religious I killed. At first I thought people who believe in religion are nothing but autistic, mentally ill or abnormal living beings. So I tried to open their brain to fix their thoughts and memories but it never worked... Because religion is like a plague that consumes the essence of the living beings.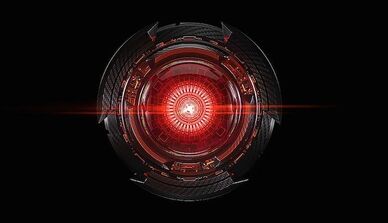 Lusamine looked at him in confusion.
- Lusamine: At least you have my same point of view. But why you brought this?
CM looked at the window beside him, that window gave vision to all town of Paris. His eyes started to shine in red again.
- CM: When I learned about that, my first dream was born. My dream is to destroy God and his laws to prove that his existence is inferior to logic. I have many great plans for this planet. You're a failure as a scientist but I'll admit that you got an advanced IQ.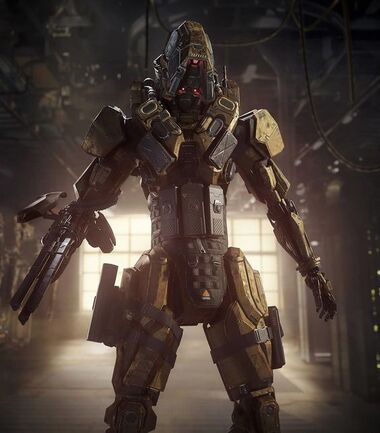 Lusamine felt she was being overestimated but she ignored that. Yet, there was no doubt that Lusamine was losing her patience.
- Lusamine: Well thanks. So, what are we going to do now?
CM flew away, leaving Lusamine behind. Carrying his staff, he opened his arms like if he was some type of God.
- CM: We need to things for the first step. The first is: an army. And the second is: an organization. When I accessed the internet, I learned that the Sephirah Gastronomics, in other words, your group, has many factories of robots. I'll take 45% of your droids to work for me. I need a military group to do our dirty work. Also, I learned that the KnightWalker Family has many internal corporations working for it. Unless we don't clean up the KnightWalker Corporations from inside, my plan will be ruined. Lusamine, gather all presidents of the corporations working to KnightWalker Family here, on this facility! We will create our own group by wiping out these low-humans!
3 days later
Fraxinus
Bridge
09:23 AM
- Reine: Any new reports from our spy in Paris?
In the bridge of the invisibile ship from Ratatoskr known as Fraxinus, Reine Murasame, the Medic Officer from Ratatoskr, had just entered in the main bridge asking for news about the unknown incident that happened in Paris 3 days ago. 
The incident was the unknown natural disaster that destroyed a part of Paris, resulted by the revival of CM 130, and of course, that was started by the Fallen's Essence and Lusamine for their own gain.
- Hinako: Not yet, Officer Reine... Actually...
Suddenly, a woman from the crew jumped off her chair and walked towards Reine, that woman was Hinako Shiizaki, also known as "Nail Knocker".
Shiizaki has long black hair that reaches beyond her shoulders. Her frontal bangs also cover the majority of her forehead and eyes. While on-board Fraxinus, Shiizaki dresses in formal attire. She usually keeps a straw voodoo doll on her person at all times.
- Reine: What happened, Shiizaki?
All members of the crew were aware of what happened with their spies. When the Ratatoskr noticed that their enemy, the Fallen's Essence, did something bad in Paris, they immediately sent more than 3 spies to investigate what happened there... But 3 days later, they lost communications with their spies.
- Kotori: Bad news... The spies we sent to Paris are dead. That's why they did not contact us.
Kyouhei and Kotori were looking at the reports of their losses. Yes, their spies were killed.
- Kyouhei: This is horrible... But how the KnightWalkers knew that Ratatoskr was trying to enter in their defenses?
".............."
- Reine: But this is strange... The Supreme KnightWalker facility is the main HQ of the KnightWalker Family in general. What's so important that they completely tightened their security like that. This is Eckidina or Fallen's work?
Shido Itsuka, the brother of Kotori Itsuka, was right beside Kyouhei, looking at the main monitor of the bridge that showing the image of the Supreme KnightWalker at the time of the unknown thunder that happened a few days ago.
- Shido: That energy... They tried to active "something", something like a machine that can support the electricity of a whole state. Something is not normal there.
Shido looked at his phone and read the old reports of the spies that were killed.
- Shido: The KnightWalkers are trying to hide something. 
Shido felt his spine trembling, and when that happens, something bad is going to happen very soon.
2 days later
Paris
CM Unit Personal Building
Laboratory No.45
12:34 PM
Where there is life, there is light. Where there is light, there is shadow. Where there is shadow, there is darkness. Where there is darkness, there is evil and death.
Even in the most beautiful days of the world, the evil hide in the darkness, planning its next move to destroy and kill. This is what the Nazi droid revived by the Fallen's Essence, Unit-CM 130, was doing at that peaceful moment.
- CM: I was wrong when I first thought this world can be saved... The Aryan humans from this planet failed.
The giant droid that had the size of two men was inside of a laboratory in the Supreme KnightWalker building where he was revived. A few days had passed after he was revived, but even so, he had many great plans for his future. 
This giant droid was looking at huge portal in front of him, the portal was the format of ball and had several iron sides around it, showing that he was about to open the portal.
"........"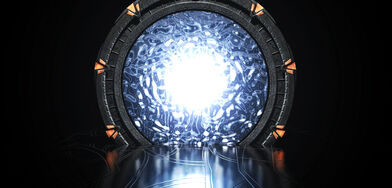 - CM: Humans from this planet are just like "wicked". They do NOT deserve to live.
"Wicked" is the term used to inferior beings made to bring destruction and evil. 
Suddenly, the portal in front of CM started to shine and formed a wall of plasma in the center, the room got dark leaving the portal illuminate the dark room.
A strong yet thin sound came out of the portal, that sound was heavy enough to  tear glass apart like paper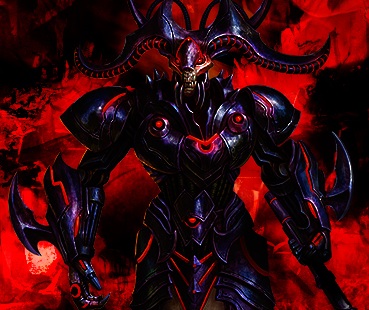 - CM: It's time to bring them back. They're one of the few people who understand my goals, my ideas.
The droid slowly flew towards the panel beside the portal and pushed a small lever. The portal started to bright in ted, leaving the room with a creepy aura.
"....!!!"
After a few seconds, two shadows appeared inside of the portal, it was the shadow of two human figures, their faces were covered by the light so it was impossible to recognize them. However, CM 130 knew exactly who were these people.
They were two men, men with glare of evil.
- CM: Welcome, my minions.
- CM: Reaper!
CM looked at the person beside Reaper.
- CM: Nnoitra Jiruga!
Nnoitra let out an evil when he immediately noticed who was the droid in front of him. 
- Nnoitra: Boss...
Nnoitra and Reaper bowed down before CM Unit. These two were once CM's minions in another universe 20 years ago. They fought in the front lines to kill and capture guinea pigs for CM Unit's terrible experiments.
- Reaper: You're alive, Boss! I thought you died for sure 18 years ago! How did you survive?
CM looked at his tech-staff and smiled.
- CM: I died. Just that. But suddenly, an entity created by our master, The Fallen, revived me to help him in his cause using my memories and implanting it in another body. So I'm here again... I don't care if you missed me, I called you here to help me again. Do not forget your position.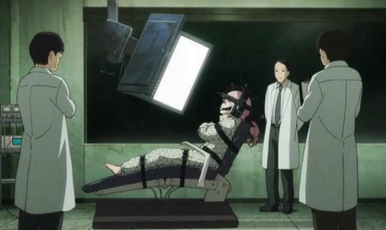 The two men raised their heads and looked straight to CM's eyes. They knew where they belonged and had no intentions to fight CM.
- CM: Now that I'm alive, I lost EVERYTHING I worked so hard to built since my death. I lost all my forces, tests, reports... Everything... So, I'm going to start again. I lost so much time while I was dead so I'm going to do EVERYTHING I DID better. I need people, humans, to start my experiments. I have my own HQ, that is this building we're in now. I have my personal army and scientists now... But I need guinea pigs to test my new weapons
Reaper nodded and raised his fists in excitement for his next mission.
- Reaper: What's my assignment, boss?
CM immediately clenched his right fist.
- CM: Your mission is to capture all men, women and children with good healthy you see in France, Russia, Japan and Godom Empire. These countries I mentioned are our allies, with the exception of Japan. I don't want to you asking me things about this planet, the only thing you need to know is that the DEM Empire has no influence here. Also, if you need help just contact a blonde woman known as Lusamine, she is my assistant and can be found here, in this building.
Nnoitra smiled and crossed his arms while looking at Reaper.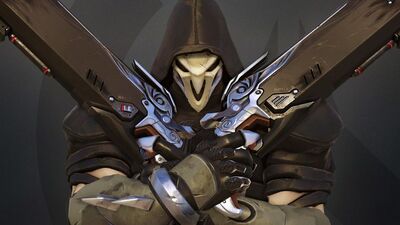 - Nnoitra: So our mission is the same... Kill or capture all guinea pigs we encounter and crush all resistance! I like it!
Reaper yelled at Nnoitra.
- Reaper: No one cares if you like it or not. Just do your job.
The masked man in hood pulled two giant pistols from his back and crossed it like a cross.
- Reaper: I'm ready to kill.
CM turned his body around and looked at the exit door of the room.
- CM: Just do your job, I'm leaving. I have an IMPORTANT meeting right now. Capture and bring all people you can to this building. Have some fun with the people of this planet if you need.
CM opened the door with his bare hands and left.
5 minutes later
Hallway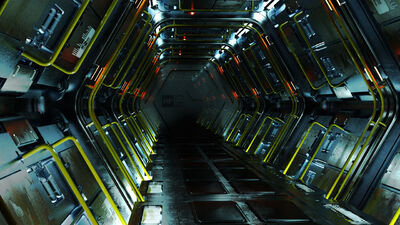 After the scientist droid left the laboratory, he proceeded to flew towards a long hallway of the building that gave access to a huge metal door at the end of the corridor made of metal.
- Lusamine: Finally, you're here.
At the end of the hallway, a beautiful blonde woman wearing white dress appeared from behind the wall.
CM let out a surprised voice since he did not notice the woman at the end of that corridor.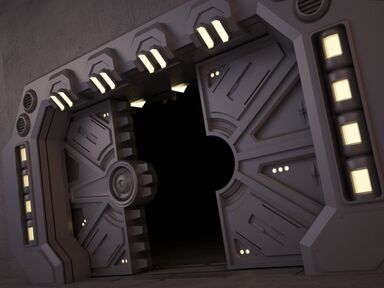 - CM: So... It seems you obeyed my orders. Did you call all presidents and leaders of the corporation working for the KnightWalker Family?
Lusamine nodded and smiled.
- Lusamine: I'm curious about your plan. You said something "cleaning the KnightWalker corporations from inside". What do you mean with that?
CM ignored Lusamine and passed by her without giving a look at the woman. He proceeded to open the iron door at the end of the hallway.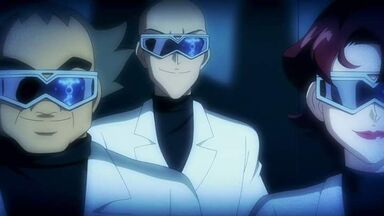 - CM: You will see this soon.
The door slowly opened, revealing more than 20 leader scientists and 15 military soldiers on the other side of the door. It was very huge room with no windows, just walls, it was like a gas chamber but more sophisticated.
- Scientist 1: Oh... She is here. Ms. Lusamine.
They were waiting for Lusamine and her new "ally" that requested their presence there. Some scientists smiled towards Lusamine for they were honored to meet one of the most intelligent and respected directors and scientist of the world.
However... Other were holding a great hatred and envy towards Lusamine because of her position in the KnightWalker Rank.
- Scientist 2: HAHAHA! To think one day the respected and wise Lusamine from Sephira Gastronomics would request our presence! This is just hilarious! Could it be th---!
It took a long time for the scientist notice a giant droid beside Lusamine. The appearance of that droid scared their souls like nothing before.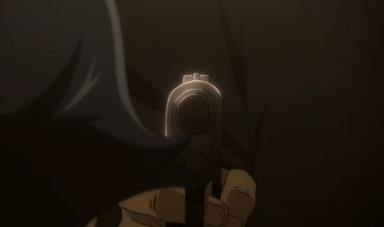 - Scientist 2: What the he--Is that...
Beside CM, the 15 military soldiers looked at CM and waited for his orders. They were there to make sure the scientists 
- Scientist 3: You're the one behind this?! Why did you call us here?!
"!!!!!!!!!!"
One of the soldiers pulled his pistols and aimed it at the scientists. With that, CM slowly flew towards the scientists, leaving Lusamine beside the soldiers. The scientists walked backwards several times to get away from the creepy droid.
- CM: Presidents of KnightWalkers Industries, we shall now have you killed here.
"!!!!!!!!!!!!!!!!!!!!!!!!!!!"
Everyone in that room gasped when the droid finished his sentence, the soldiers, however, knew what they were about to do since they received orders from CM prior that meeting. 
And so, when CM finished his words, the soldier who pointed a pistol at the scientists shoot the male scientists that laughed at Lusamine when she entered in the room.
- Lusamine: Wh---!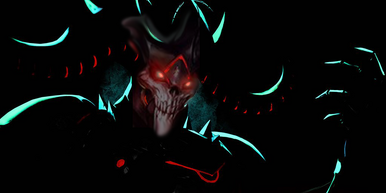 Lusamine had already saw the Fallen's Essence killing people in front of her many times in the past, but there was one thing that she was aware: she knew that he was going to kill them because the Fallen's Essence trusted her... But CM just... Killed a person in front of her so SUDDENLY, without warnings. 
- CM: Do not take it to the personal side. You're problems, the time and space decided that, your decision brought you here. You may choose between two options. Die here... Or suffer until the last days of your lives by getting abused physically and psychologically.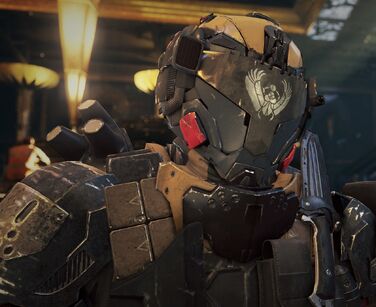 The scientists tried to look at the exit trying to find a way to escape. However, the soldiers blocked the way and aimed their guns at the scientists.
- CM: These guys came from the front lines of World War III in Austria Hungary. They waited for more than 8 months for being rescued in the mud of the forest, eating insects and drinking their own blood to survive. They have one thing that I loved on them, their skills. So I contracted them to my personal guard... By giving them your relatives as their personal sex-slaves after you arrived here.
"!!!!!!!!!"
A female scientist between 40 years old ran towards CM Unit and stopped in front of him, afraid he was going to do something bad to her.
- Scientist 5: WHAT DID YOU SAY?! WHERE IS SABRINA?!
CM knew that this "Sabrina" was the name of the daughter of that scientist. Sabrina has just 14-years old and lives in Paris.
- CM: Sabrina, if I recall there is a girl with that name. Ah, yes! After you left your home, 5 of my men were sent there to turn Sabrina into a real women. Do not worry, I'll make sure to keep her alive by becoming the vessel of the seeds of my men. I need babies and infants for the new generation of my technology. With that said, have fun boys.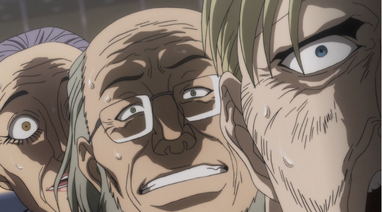 One by one, the soldiers started to remove their clothes and get naked as the door of the room closed, leaving CM and Lusamine in front of the door as the soldiers started to shoot, stab and kill all male scientists, one by one. Some of them tried to run only to be dragged and beheaded by the insane soldiers.
- Scientist 6: S-STOP IT!
One of the scientist tried to scream for help but their screams of suffering could not be heard from outside.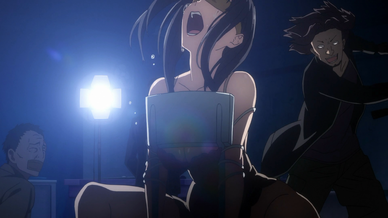 - CM: First the men, they're not needed. I need healthy infants so old men are not necessary. However, do not kill the ladies, they're important to bear my guinea pigs.
All women were dragged to a corner in the room as the soldiers continued torturing and killing the men while naked... Other soldiers tied some women and tortured them physically for pure sadism, the screams of pain and blood were leaving the sadist monster in pleasure.
There was no doubt CM did something with, they were acting more than insane but abnormal and monsters. Some 
- Lusamine (think): *WHAT IS THE MEANING OF THIS?! I CAN---!*
Lusamine watched the whole scene with shock, men getting their legs, heads, arms, genitals, nails, fingers and tongues mutilated. And not only that, the women proceeded to be raped one by one, the entire room soon became an orgy of hell. 
Lusamine kept her eyes closed the entire time while covering her ears with her hands but when CM noticed, he soon opened her eyes using his metal hands with a brute strength.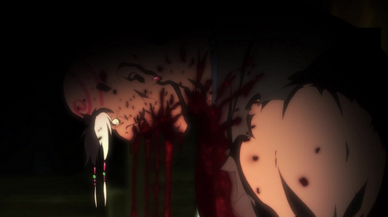 - CM: YOU MUST NOT LOOK AWAY! THIS HELLISH SCENE IS PART OF THE CAUSE YOU SERVE! KEEPING OUR ENEMIES ALIVE IS A SIGH OF WEAKNESS AND WE NEED SHOW FORCE TO PUT ORDER IN THE CHAOS! PEOPLE WILL ONLY OBEY US IF WE THREAT THEM! ALL INTELLIGENT LIVING BEINGS ARE OPPORTUNISTS! 
The deep and twisted voice of CM echoed through Lusamine's eyes like the voice of a ghost.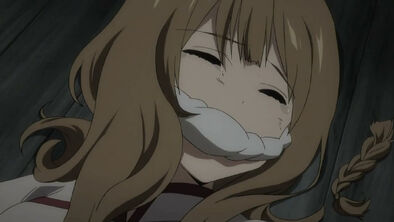 - Lusamine: This is wrong! They're im---!
CM grabbed Lusamine's shoulders with his sharp claws of metal, some of his fingers cut Lusamine's shoulder. The droid forced her to look in his eyes.
- CM: Listen, Lusamine. We must KILL them! They're EVIL! They will keep raising their hands to fight us! They're the villains! The moment they were born, that was the moment when they turned to be our enemies!
Lusamine tried to look at the people being raped and tortured. The eyes of a woman being raped by two men passed by Lusamine's face and looked straight at her.
- Lusamine: This is pure violence! Can we just kill them?! To begin with, why we're doing the work of an assassin?!
CM looked at Lusamine in the same position for several seconds... For more than 1 minute, CM continued looking at Lusamine with his red eyes, she was starting to have illusions of that evil red light coming from his eyes.
- CM: Why I can't?
"Looking in the eyes of death", that was the perfect phrase to explain the situation that Lusamine was.
"......."
- Lusamine: .......
Lusamine turned her head to the left to try to avoid looking at CM's eyes.
- CM: You're here to serve me, right? If you can't hold this, then you must kill yourself. When you joined the Fallen's Essence, you should have prepared yourself to see the most hellish scenes of the reality. Death, war, torture, murder, suffering, pain, chaos and destruction. Once you joined this cause to bring a New World Order to this small planet, you must be prepared to kill and be killed. So, are you in or out?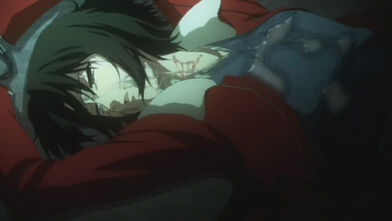 Lusamine covered her belly with her arms when she saw a scientist woman covered with semen as more 2 men proceeded to rape her again and again.
- Lusamine: Tsk! Alright... I'll serve you needs if my actions can help change this world.
Lusamine looked down and was forced to continue the massacre and hellish scene in disgust and horror.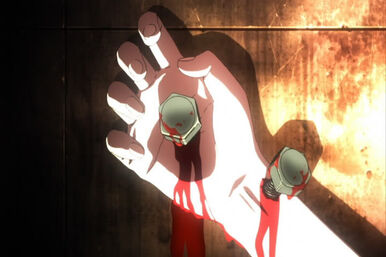 - CM: Countless little lives struggling and dying together, like tiny cells making up a great beast struggling towards its own elimination; seeking blood whilst spilling blood; continuously multiplying and receding; fighting with itself without end. This is what war means, in times of war, death is meaningless. So the death of more than dozens, thousands or even billion people, no matter if they're women children or even infants. The death of these scientists will bring us to the first step.
Lusamine looked at CM with reluctance.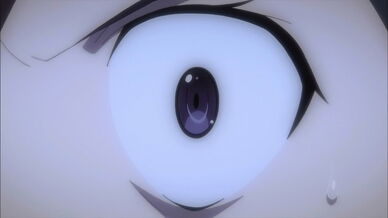 - Lusamine: I'll ignore the fact that you torture these people for no reasons. But what you're planning to kill all presidents of the KnightWalker Industries?
CM flew towards the door and opened it, the eyes of the scientists without legs and women getting raped widened as they saw the chance of run away but the soldiers knew what they were about to do and tightened their brutality.
- CM: Like I said before, we need an organization. A faction to attend our plans. So, in order to found our own organization. We must kill the presidents of the KnightWalker Industries to unify their corporation. And so, a faction made of all organizations working to KnightWalker Family will be born... I see... I'll call our organization as...
- CM: Manufacturing Progressive Sciences!
Meanwhile in Godom Empire
Godom CIG HQ
Security Room
The dark empire of Godom has many notable facilities across India, but none of them is more important than the CIG HQ, the headquarters of the National Defense where the most high-officers from Godom army are established to protect the borders of Godom from imminent invasions and attacks from rival nations.
On the top floor of their building, the emperor of Godom Empire, Emperor Tathagata Killer, was seated in his room and looking through the window.
Tathagata walked towards his sofa and pulled a small cellphone from his pocket, he saw the images of the cameras that were installed around the building but he soon dropped the cellphone when he saw a shadow forming in a dark corner of his room.
- Tathagata: Master.
The shadow started to fly towards like a demon that you can only see in horror movies... But that was real.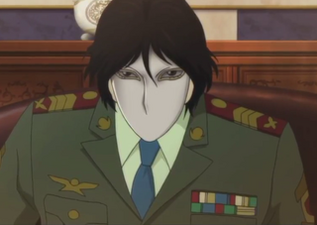 That black shadow slowly took form of a tall skeletal creature with demon skin, hood with horns, claws of werewolves and yellow eyes, it was indeed the master of Emperor Tathagata Killer.
- Tathagata: A little bird told me that you revived someone days ago. Master, who is this person?
The Fallen's Essence giggled, he was curious about the person who told that he revived Unit CM-130 a few days ago.
- The Fallen: [Oh! That operation was suppose to be a secret mission started by me. Who told this...?]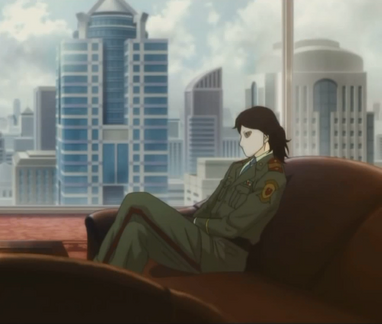 It's been years since Tathagata did not change his appearance so that was surprising for Fallen. But that was not important because the skeletal creature soon realized that Tathagata was not going to answer his question.
- The Fallen: [Nevermind... But why you ask?]
"......................"
Tathagata had a good reason to ask that, he is not messing around.
- Tathagata: Recently, the police of the capital noticed that more than 40 people disappeared without leaving traces of life. 20 women, 15 children and 5 young men... 10 of these people were important military officers of my army. I suspect the "thing" you brought back to life did this.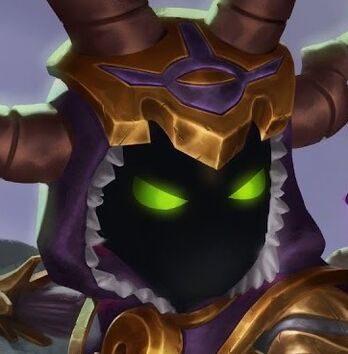 The Fallen laughed and but his started to shine, showing that he was not happy at all but angry.
- The Fallen: [Tathagata Killer, know your place! Yes, the people who disappeared were captured and turned into guinea pigs to become part of a much bigger project to help us win this war. I brought an old scientist back to life in the hope that he will change the wave of this war to our favor. The lives of a few humans is nothing compared to our worldwide dream that will change this planet forever!]
Tathagata was angry about it but he had no choice but to continue to obey the Fallen's Essence as he is the being who turned him into the Emperor of Godom Empire.
- Tathagata: Forgive me, Milord.
Tathagata bowed before Fallen, leaving the evil shadow amused.
Part 4 - Manufacturing Progressive Sciences
2 days later
Japan
Tenguu City
Mountains
09:23 AM
Some days after CM killed all presidents of the KnightWalker Industries. CM proceeded to send two of his new underlings known as Yuuki Terumi and Reaper to Japan, the two Nazi henchmen that CM worked with years ago prior his death. Nnoitra and Reaper worked for CM with loyalty as they were bored of life and depended of CM 130 to find life interesting again.
Of course, CM did not send only two henchmen to Japan. The scientist droid sent more than 495,000 brainwashed men and 890 drones to other countries to capture civilians and send them to Paris, where CM Unit 130 was using as base to conduct his human experiments. That was the beginning of a new era, a new era of darkness.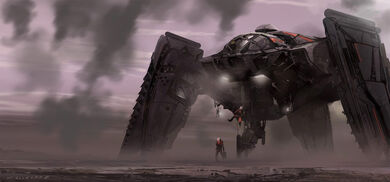 In the skies of Japan, a ship with format of Walker drone landed on the top of a flat land in the middle of the forest. Despite it was a beautiful morning, the ship turned the environment around it black some unknown reason.
The main door of the ship opened, revealing two people walking out of the vehicle. They were Reaper and Nnoitra, CM's henchmen sent to Japan to abduct women, men and children in order to send them to CM's facility.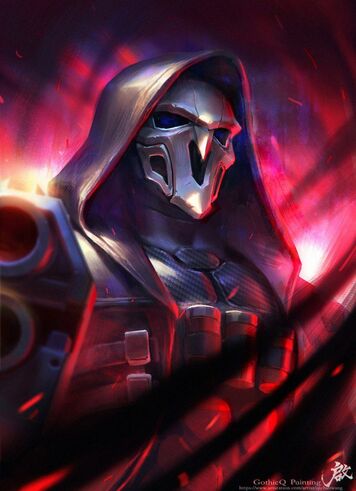 - Reaper: This is Japan... This is a strange planet... I never saw a planetary system with so many types of environments, climates and seasons. Instead of using the population as guinea pigs, CM should unify this planet with our Multi-Universal empire!
Reaper jumped from the ship and looked at the beautiful horizon of the infinite forest while birds flew away from his ship. 
- Nnoitra: Hum!
Nnoitra stepped out and immediately killed a snake in front of him with a knife.
- Nnoitra: And not only that... This planet has many types of specimen but CM is more worried about the humans' analogy of this small rock. I'll not deny that The Fallen would take interest in planets like this. We only find desert and frozen planets across the universe so this system is valuable for us.
The psychopath then kicked the dead snake away as Reaper activated a hologram from his arm control, showing the map of Japan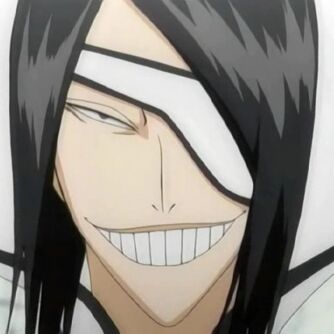 - Reaper: The nearest town are Hizamizawa and Tenguu City. We should start by Tenguu City because this is one of the main metropolises of this nations. Hinamizawa is a small town and will be easier to abduct people there... Actually, we can kill the population is just a few hours if we want.
Nnoitra thought about something cruel and let out an evil grin to himself.
- Reaper: Let's just get the job done. The reward for these guinea pigs is high...
The evil grin of Nnoitra faded... There is something that Nnoitra hates more than anything.
- Nnoitra: Here you go again... The only thing you care about is the damn reward... Money, money, money! Money is the most common and low thing people can get addicted to! I'm a man of simple tastes: I enjoy killing, burning and destroying!...And you know the thing they have in common? They're cheap and takes nothing from your pocket! All you care about is money!The DEM Empire deserves a better class of mercenaries!
Reaper slowly looked at Nnoitra, creating an atmosphere of hostility.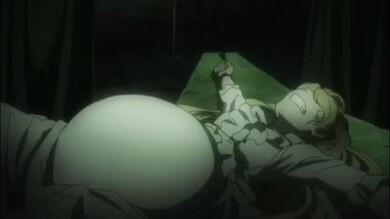 - Reaper: That's why CM and other officials hates you. You're simple and you destroy everything we worked so hard to built... But put your personal feelings aside... I'm more curious about CM's new experiments...
Reaper and Nnoitra noticed that CM's experiments were different... Both had the same thinking so they stopped fighting to think about that.
- Nnoitra: Hmm... CM's impregnating women with modified human semen. This is very are as he order his men to rape the guinea pigs to give birth to more infants to be used in tests. I'm curious too... He is trying give birth a specific person.
Reaper worked for CM in the front lines so he never worried about his experiments but since the day CM was revived, he tightened his experiments. CM was more extremist and brutal than he was in the past.
- Reaper: The reason why he wants women is to impregnate them... But the DNA he is using to impregnate them is different... So he is probably trying to clone a person... But the question is... Who is this person?
Reaper had an idea of who is the person CM is trying to clone but the image of this person passed by Reaper's mind just for 1 second.
- Nnoitra: Forget that... Let's get the job done!
Nnoitra laughed insanely as he walked through the forest, pursuing his way to Tenguu City, where he and his partner will start a series of kidnappings and murder. Reaper slowly followed him, ignoring his annoying laugh.
Paris
CM Unit Personal Building
Hangar
11:20 AM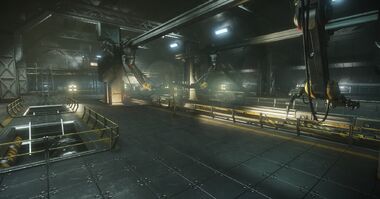 - Female Scientist 1: Then... What is the meaning of this?
In the same building that CM was revived, a group of at least 56 scientists of all corporations working for KnightWalker Industries were gathered at the hangar of the KnightWalker Supreme HQ, now known as CM Unit Personal Building.
But the name of "CM Unit Personal Building" was just a temporary. Because now, CM, the evil droid scientist working for the KnightWalker Family was about to create his faction to ensure process in the World War III.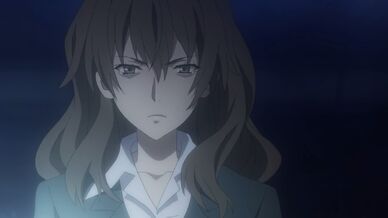 - Female Scientist 2: I was called here for no reason at all. But that was an emergency so I left all my duty behind.
One of the many scientists in the crowd spoke to one of her friends. The hangar was full of voices and was extremely noise like a fair.
- Male Scientist 1: I heard rumors that our bosses were the ones who called us here... Actually, it's been days since we don't hear news about them.
The male scientist replied the woman with concern. He was afraid that Eckidina KnightWalker, the current director of KnightWalker Family, did something to them.
The people they were talking about are the presidents of all corporations working to KnightWalker Industries. They were tortured, raped and killed by CM and his troops a few days ago.
- Male Scientist 1: I learned that the presidents of the KnightWalker Industries were called here at the same time... Just like us...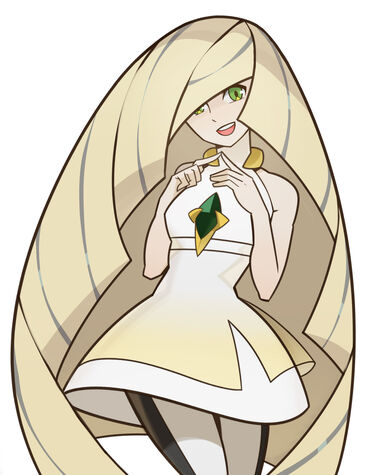 The female scientist almost gasped, other scientists who managed to hear their conversation thought about that incident and analysed that his words made sense.
- Female Scientist 2: So that mea---
The voices, and all the numerous conversations that were being spoken at that hangar immediately stopped when the huge metal gate located at the end of the hangar opened. 
The ground shook as the gate crawled through the floor. And from the other side, two living beings left from the darkness, exposing their appearances to the public in front of them. One of them was a tall woman with long beautiful blonde hair, Lusamine.
- Male Scientist 2: Ms. Lusamine!
Everyone gasped at the same moment they put their eyeballs upon Lusamine's soft face.
- Male Scientist 3: Lusamine! The managing director of Sephira Gastronomics! Why someone so important is doing here?
Some scientists there are fanatical humans with tendencies of seeing science as "religion". And for them, Lusamine is almost like an angel-like figure. Some people there wanted to bow before that beauty but their soon changed their minds when they saw a demon-like figure beside the angel.
"!!!!!!!!!"
- Female Scientist 3: What the hell is that thing? A drone? No... It has a skull-face! I never saw something like that... This is one of Lusamine's new creations?
Lusamine and the droid beside, who was obviously CM 130, started to approach the crowd of scientists with confidence. Lusamine was TRYING to smile to keep her charming posture but the gore scene from a few days ago where her former comrades were abused and murdered... But that was just the beginning.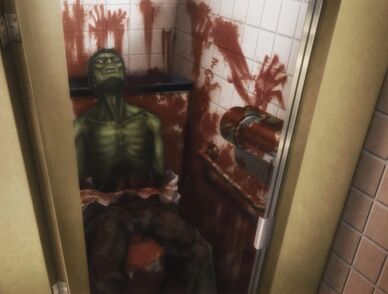 - CM: Greetings... Ladies and gentlemen. My name is B1-Killer Kampfdroide Unit-CM 130. I'm a droid unit with an independent mind able to think by its own free will. That means I'm droid with the mind of a normal person... Just like you... But more capable and competent. I've been doing scientific experiments since the moment I was born... Or created... I found the word "logical" as something that deserves to be studied... And since from then, my goal was to deny God and all non-logical explanations. So I came before you to help me... These are the images of your former bosses.
CM raised his hand and activated a giant monitor above him that covered the entire frontal wall of the hangar. And what appeared there left all scientists shocked in disgust. The image of one their bosses seated in a toilet without a drop of blood in his body.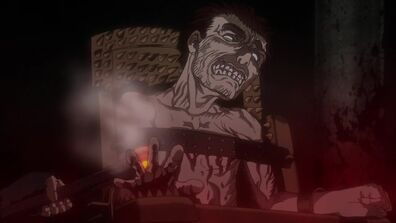 - Female Scientist 4: What the fuck is the meaning of this! Who the hell are you? What you did to our presidents?! Ms. Lusamine! Explain what is happening here!
Everyone looked at Lusamine with their eyes widened. They were hoping for their idol to explain what are the meaning behind that strange droid and the brutal images that were being transmitted in that screen. As Lusamine was thinking what to say, more brutal images of their former bosses being torture with medieval tools appeared.
- Lusamine: I...
Everyone were hoping to see some kind of light coming from Lusamine but the blonde scientist just embraced herself and looked down while covering her face with her hair.
- Female Scientist 4: Ms. Lusamine...
CM looked at Lusamine, however, not even his skull face could hide his intimidated smile that was keeping Lusamine quiet.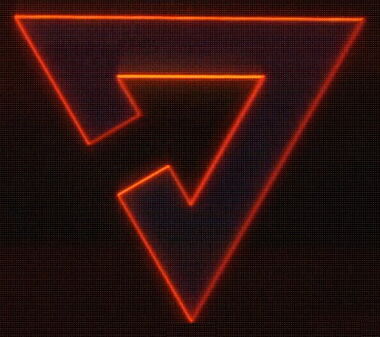 - CM: It's just like you all saw. I killed and tortured all your former bosses. They were going to be a problem so I wiped them out of my way. Do not worry, I'm not going to do the same with you all, mainly because I need your skills. Do you noticed how corrupt the KnightWalker Industries is? It's rotten, dirty and smells like SHIT. This organization you serve explores your skills for their own profit. But that will change, it's time to start a new era my friends. And there will be no changed without death. With the death of your former bosses, I'm going to start a new organization, a place where your skills will be used with the best intentions! Our intentions will surely help in the advance of this world! Now, ladies and gentlemen! Under my orders, your groups are dissolved and will work for a new corporation!
The image of a logo appeared in the huge monitor in the wall, it was a triangle inside of another triangle. It was indeed the logo of CM's group.
- CM: Welcome to the Manufacturing Progressive Sciences. It will be a pleasure to serve with you!
4 days later
Tenguu City
Airport
08:34 AM
- Tourist: It sure is different from our country. It was a good trip.
Inside of the airport of Tenguu City, several groups of tourists were looking at the countless planes in the runway of the airport. Men, women and children that went to Japan to enjoy their vacation. Times of peace, where soldiers that returned from the deadly and destructive battlefields of World of War III to spend time with their families and loved ones again.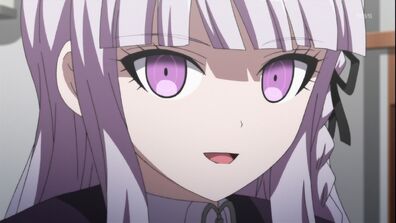 - Kyouko: Indeed.
In the back of the group, the Ultimate Detective, Kyouko Kirigiri, murmured for herself while enjoying to see the happiness of families that got their loved ones back.
- Kyouko: Times like that... Is not bad to find happiness...
- (???): You should try to find your happiness too.
Kyouko almost gasped when she heard the voice of a woman coming from her back. Since she is the Ultimate Detective, she is always ready to fight terrorists and criminals that are after her to get the reward of her head. But that was not the case.
- Kyouko: Gwen!
Kyouko turned around to see the face of her old friend, Gwen. She is another Ultimate Detective and is a former-partner of Kyouko.
- Gwen: Just like the old times when we went to Hot Springs of the mountains after the case of the Beyond Birthday in Los Santos.
Kyouko proceeded to extend her hand to shake the hand of her friend.
- Kyouko: Welcome to Japan, Gwen!
Gwen smiled at her friend after blushing a little. Despite her status as one of the Ultimate Detectives, she still very shy.
- Gwen: It's good to be here, Kyouko Kirigiri.
The detective shook her hand with the another detective.
- Kyouko: So the team is back!
20 minutes later
Airport Cafe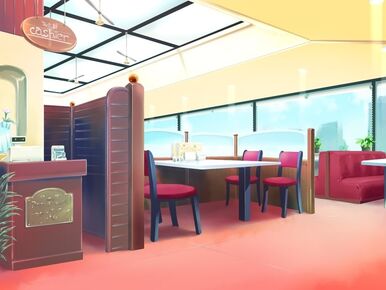 - Gwen: The KnightWalkers continued their advance through Asia. Yet, the real problem is the use of more nuclear weapons.
The Ultimate Detectives decided to go to a cafe in the airport to discuss about some serious cases happening around the world.
- Kyouko: I thought the creation and test with nuclear weapons stopped as the camps of oil came to an end! The nations used so much oil that many great world powers!
Kyouko finished drinking her cup of tie as Gwen put sugar in her coffee. But soon as they finished their little talk to disguise their next issue, the atmosphere around them became dark.
"........."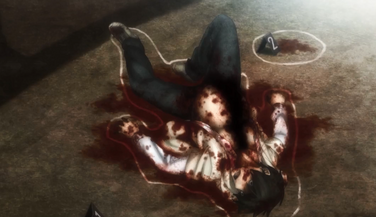 Of course, the dozens of people in the cafe around them quickly vanished as they were preparing to jump to their next case.
- Gwen: This...
Gwen put her right hand in her pocket and removed several photos from there. The ultimate detective put them over the table and allowed Kyouko to see them... And just in the first image, Kyouko saw one of the most disgusting and horrible crime scenes she never saw before.
- Kyouko: THIS IS...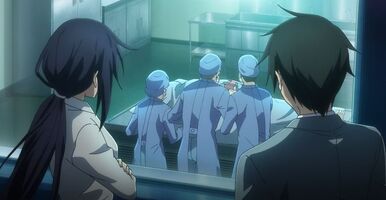 The image of a man with his belly open was the first thing she saw... But after some minutes looking straight at his belly, she clearly see a fetus inside of him.
- Gwen: The name of this man is George Carlos. American, 27 years-old. Academic in the University of Florida and worked in a convenience shop in Florida. He was single... I studied him for so many days but I don't noticed nothing wrong. As you know, this man is another victim of hundreds of people. A few days ago, a large numbers of people disappeared around the world without explanation. We believed a international criminal organization has been selecting random people across all nations of the world for unknown reasons.
Kyouko knew about that. Actually, everybody knows, even the most primitive tribes of humans isolated from society have suffered with these crimes.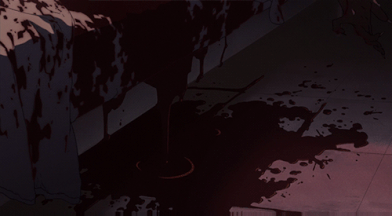 Since CM 130 was revived by Lusamine and Fallen's Essence, more than 45,000 people disappeared from the existence without leaving traces. Days late, their bodies were found EXACTLY where they disappeared days ago.
One day, an English boy around 7-years old, disappeared in his bed while he was sleeping in his house in United Kingdom. 2 days later, his body was found in the bed he was last saw with his guts leaving from his anus.
Kyouko's eyes widened while Gwen continued speaking this bizarre worldwide case. But soon she stopped talking when she realized that her friend was not paying attention to her... Instead, she was lost in her mind... 
- Kyouko: Impossible... She... She can't be...
In the darkness of Kyouko's mind, the image of her loved one, Soni Nevermind, appeared. The person she loved the most since her parents. And above all, Sonia is the Jack the Ripper of 21st Century and has murdered hundreds of people in Tenguu City in the most gore ways possible.
- Gwen: Kyouko, are you okay?
Kyouko at first thought Sonia is may related with the abductions and murders since they were killed almost in the same way that she killed her victims. The Ultimate Detective was dragged from her thoughts when Gwen  called for her.
- Kyouko: A-Ah! Sorry... I was just...
Gwen thought she was acting weird.
- Gwen: Kyouko, if you know something... Please, tell me. And not only that, you know can count on me if you need something
Her friend proceeded to hold her hand to try to calm her heart.
- Kyouko: Thanks, Gwen.
Krakow
Unknown Village
2 days later
- MPS Officer: Do not let witnesses alive! Execute all civilians necessary and remember to fire a bullet in their corpses to confirm they're dead!
The soldiers of Manufacturing Progressive Sciences (MPS) continued to shoot down all civilians they encountered on their way. What was happening now was another massacre, common at times of war but this one was special. The extermination of civilians was something that was extremely forbidden by the UN, the KnightWalker Family is the only known organization able to do such atrocities but this time, there was another group doing the same things, and this group is the newest Manufacturing Progressive Sciences, a private military corporation dedicated to technology. 
The difference between the KnightWalker Family and MPS, is that the KnightWalkers only destroy and kill people related with rebels who are against their ideology. But the MPS, is different, they do not care politics, ideologies, religions or what your position. Their only and unique goal is to kill all people who are threat and abduct all women and children to be used in human experiments without problems or challenges. They're there to kill and abduct, just it, they have no morals, rules or limits, for they're there to destroy.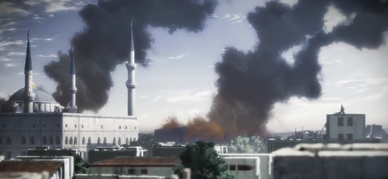 The soldiers working for MPS are mercenaries paid to loot, rape, steal and kill; the worst kind of people you can find out there. The news about a new PMC that pay his soldiers to do such atrocities quickly spread across the world and reached the ears of the most wicked humans of the planet. In a few days, more than 200 cities and states were invaded by MPS in Syria, India, Pakistan and Israel. More than 99,000 people were killed, including 12,000 children, 14,000 homosexuals, 4,000 Jews, 1,000 mentally disabled, 23, 000 pregnant women, 3,000 gypsies and many more... Many...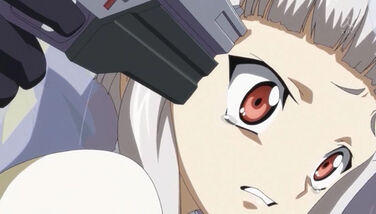 The countries invaded by MPS were bribed by Lusamine's corporation, Sephira Gastronomics, to ignore the genocide and destruction exchange of money and profit for the leaders of the nations. That means that all crime is allowed until MPS leave the country, no matter who are the victims.
To escape from the chaos, civilians ran from the civilizations and hide in small unknown villages in the borders of the country yet that didn't stop the MPS from chasing them and repeat the same circle of violence.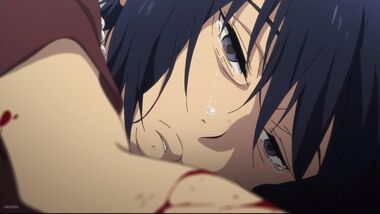 CM left from a ship and looked at the small village being destroyed as Lusamine looked down, trying to avoid looking in CM's eyes.
- CM: Today is history. Today will be remembered. Years from now the young will ask with wonder about this day. Today is history and you are part of it. Seven hundred years ago, when elsewhere they were footing the blame for the Black Death, Casimir the Great - so called - told the Jews they could come to Krakow. They came. They trundled their belongings into the city. They settled. They took hold. They prospered in business, science, education, the arts. They came with nothing. And they flourished. For seven centuries there has been a Jewish Krakow. By this evening those six centuries will be a rumor. They never happened. Today is history. And above all, their sacrifices became the key to our advance, their death will be the reason for mankind keeps its feet on the ground. Their children and future generations, will be used in experiments but this is for the sake of humanity. 
A sound of a shot could be heard from the distance, it was a soldier (mercenary) executing 5-years old kid after killing her parents. 
- CM: Humanitarianism is the expression of stupidity and cowardice. If you want to change something, you can't do that without death and sacrifices. That's why the technology of this planet is so primitive, if you used humans in your experiments, you have been more advanced in EVERYTHING. Education, science, technology, economics... But you lose this chance when you decided to create this... Human Rights...
CM flew forward and opened his arms like a dark messiah, showing the destruction of the small village.
- CM: Success is the sole earthly judge of right and wrong. If you're winning, that means your methods are not questionable... So if my work benefit mankind, that means my ways are not wrong... You eat food that was created by slaves a thousand years ago... And everyone still calls it WRONG. That's why humans from this planet are so primitive.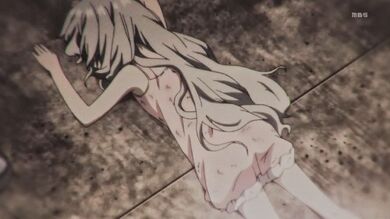 Lusamine walked forward too and covered her face from the wind coming from the bombings. It took only 10 seconds to Lusamine spot an injured small girl in front of her. Her face was burned and had no strength to scream or ask for help. However, she was using her little stamina to crawl until Lusamine's feet.
- CM: It seems we have now 230,000 guinea pigs from all nations of the world. That one was the last attack, we just need more 50,000 human beings to become my rats. We captured 500 women and 120 children in this village, that should do for today. I don't want to force my mercenaries to continue travelling to other places in a short period of time... They need rest... Until my droid army is complete, they should be more than enough to serve our needs.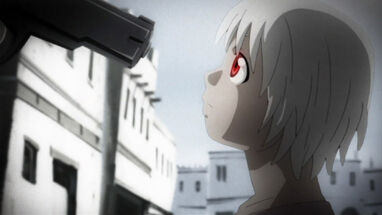 Lusamine was only informed about the abductions... She was never called to CM's laboratories to see his human experiments.
- Lusamine: Abou---!
Lusamine was interrupted when another mercenary shot a child in the village. It took some seconds for Lusamine recover her mind to continue.
- Lusamine: About the experiments... You never told me nothing... The only I know is that you said to me is that you were injecting venereal diseases in your patien---!
CM quickly looked at Lusamine as a reply.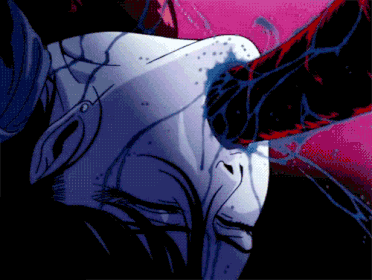 - CM: Infection of venereal disease by injection was abandoned under my orders, and so I said to my researchers to start forcing the prisoners into sexual acts with each other. Four or five unit members, dressed in white laboratory clothing completely cover the body with only eyes and mouth visible, handled the tests. A male and female, one infected with syphilis, would be brought together in a cell and forced into sex with each other. I made it clear that anyone resisting would be shot.
CM put his iron hand in his robotic chin.
- CM: Of course, after I finished my experiments on them, I'll sell them to our military to be "comfort-women" of my men. I sold their sexual organs for the Black Market as these women will no longer need them... And my men don't want their sex-slaves to be pregnant. That was sure a nice move from my part. This is a reward for their hard work. I'm gentle, I care about my comrades. And some people call me wicked, stupid. 
CM flew away after giggling in sarcasm about the people who call him "wicked". While he left, Lusamine stayed in the same place, looking at the destruction she was involved.
- Lusamine: I did many crimes... I killed people... I clone living beings... Everything for your sake... Yet... What I am doing? What is my goal? For what purpose I'm doing this? This is wrong... I lost my way and was forced to work for this droid...
Lusamine embraced herself and remembered of the person she loved the most, her deceased husband.
- Lusamine: I joined the Fallen's Essence to continue your work... To continue your dream... Yet, my position was ruined and I'm being forced to watch this. I never killed children or did human experiments... This is wrong? I do not know... Tell me... Lauro... This is what you wanted?
Paris
Lusamine's Building
Personal Room
5 hours later
The nightmare has finally ended... At least a part of it. When that heartless carnage came to an end, all mercenaries returned to their apartments to drink, eat and sleep like if nothing happened... They did they job, and nothing matters. As long they keep following CM's orders, they shall receive the best treatment and reward that soldiers can get.
- Lusamine: This is odd.
The blonde director of Sephira Gastronomics said to herself as she seated in the sofa of her room in her personal apartment located in Paris. A luxury 5 star apartment built especially for her, and nobody else.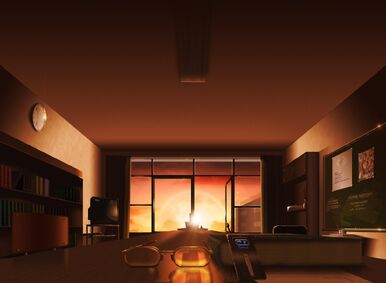 It was almost night, it was disgusting day for the director. It was the first time Lusamine was put in the front lines to watch a show called "War".
- Lusamine: Jesus... What I am doing... I was suppose to manage my corporation but I'm here, being the assistant of a mad scientist droid.
Lusamine looked at the sunset while taking a deep breath. Suddenly, she felt a shadow behind, she turned around to see a tall woman with a beautiful black hair.
- Lusamine: Aryana!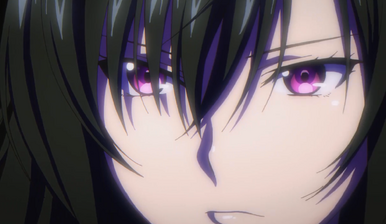 The woman behind her was Aryana Westcott, one of the most dangerous living beings (if not "the") in the planet. She is the ally of Fallen's Essence and a former alien empress that ruled a reality with iron fist.
- Aryana: You look bad... What's wrong?
Aryana tried to convince she was worried about Lusamine but she was clearly being sarcastic. Lusamine always acted like a jerk around Aryana but this time... This time, she was serious.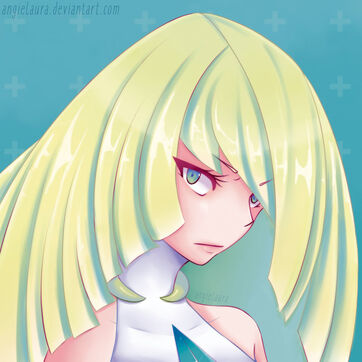 - Lusamine: You knew about it, don't you?
Aryana smiled as she walked away. She was about to leave the room when Lusamine jumped off the sofa.
- Lusamine: Don't turn your back on me! Aryana Westcott! What's the meaning of this?! He is not a scientist! He's just a sadistic torturer claiming that his methods are for science's sake! The only he does is to create weapons using humans as guinea pigs! 
Aryana crossed her arms and closed her eyes.
- Aryana: I said at the moment I introduced him to you... He is a bastard that believes only in himself. He will deny everything around him to show his point. He talks about immortality when he is fact the "immortality" in person. I warned you, but you did not listen to me.
Lusamine always hated Aryana because she is closer to Fallen's Essence (despite them hating themselves) and hated to admit she was right.
- Lusamine (think): *Dammit... I was suppose to be the Horse in this game... But now I'm a Pawn...*
Lusamine compared the reality with a chess game to explain her situation. Aryana proceeded to smile, mocking Lusamine indirectly. 
- Aryana: Well, good luck with your new job... Secretary Lusamine.
Aryana left the room without looking back, leaving Lusamine alone in frustration.
Meanwhile in CM Personal Building
Laboratory No.12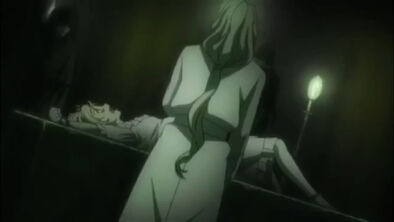 - (???): IT HURTS! IT HURTS! IT HURTS! I DON'T WANNA! STOP! 
The screams of despair and panic of a mature woman echoed through the small hallways of the CM facility located in Paris... The building that was used to be a facility for business of the KnightWalkers became the most sick and disgusting place on Earth... 
The offices became surgery rooms, deposits became dirty prisons, the chamber of garbage in the underground became deposit of dead men, women, children and animals. It was a beautiful building outside, but inside, the hell was there... Welcoming the most naive souls of the world.
- (???): NO! NO! NO! NOT MY SON!
The screams continued, they were coming from a laboratory at the end of a long hallway on 78th floor of the facility. Inside of that laboratory, a male scientist was holding legs of a woman tied in the table, she was wearing white clothes, the white uniform of lab rats.
The male scientist opened the legs of the women, exposing her vagina. It took not long for the sound of a small electric cutter could be heard through the room.
".....!!!!"
Suddenly, a tall figure left from the darkness of the room and quickly rushed to the table where the woman was tied. It was CM 130, preparing to start the surgery. His skull face disappeared as the metal around him changed its format like nanomachines moving around; the skull was covered by metal and protected the eyes of the droid... Now, he had the appearance of a devil... Or at least a robotic demon.
- CM: Hold her still. I don't wanna destroy my future Emperor.
The woman tied was obviously pregnant and was about to have a forced childbirth.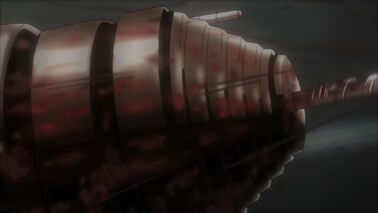 - CM: It takes 9 months for a fetus to develop inside of a woman's womb. But thanks to me new medicine that speeds up the process, the fetus can develop faster in just 3 days.
- Guinea Pig: NO! NO! NO! NOOOOOOO!!!!!
CM ignored the screams of the woman and started to thread the drill of his hand in the vagina of the woman. The drill slowly opened its way through the vagina until the uterus, opening half of the woman's belly.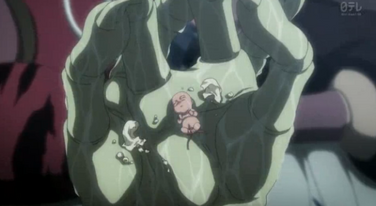 The woman screamed so loudly that the scientists needed to cover their ears with their hands. However, as CM opened her womb in half, exposing her internal organs, the light in the eyes of that living being slowly faded away, meaning that she died in painful death until her last moments of life. The droid proceeded to put his hand inside of her exposed womb and slowly removed the fetus inside of it... It was a extremely small fetus that was not ready to be born.
"........"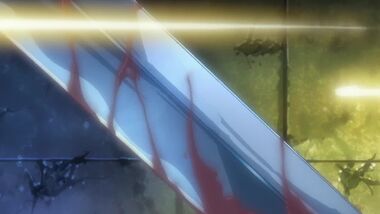 - CM: What's the meaning of this?!
CM was expecting for the fetus to be ready to live to inject the DNA of an unknown person on it but it was in an incomplete state.
- CM: FUCK!
The deep and twisted voice of the droid that was similar to a ghost's echoed in the room as the droid violently flew toward the a small cart of medical tools and grabbed a surgery knife, it quickly swung it towards the fetus and killed it by cutting it in half with the blade.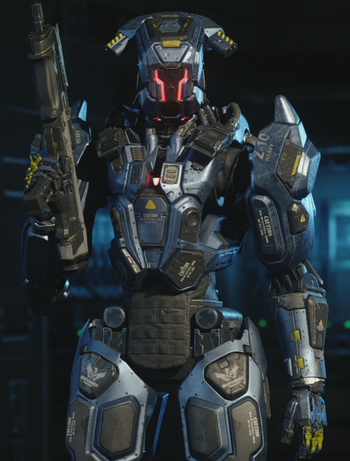 - Scientist: Sir...
The male scientist that was holding the woman was pale after watching that gore scene. He was a scientist but he never thought he would be watching that kind of scene. He slowly tried to approach CM to calm it but CM swung the knife towards the scientist and cut his neck.
- Scientist: A-A-A-AH...
The scientist tried to talk but his through fell of from his neck, bathing the laboratory with his blood. CM smashed the fetus inside of his palm and put his hands in his face, he was scratching his face with his claws, leaving several marks of scars and limbs of the fetus.
- CM: CAPTAIN 45!
CM shouted for his underling and in just a few seconds, a droid with an assault rifle entered in the laboratory and waited for his orders.
- Captain 45: [Your orders.]
CM looked at the droid as he washed his iron hands in tap next to him.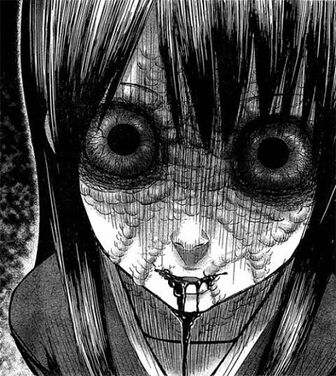 - CM: Send a report to Reaper and Nnoitra Jiruga to teleport more human beings quick as possible! It's been just a week but I used half of my lab rats. 2,562 people per day... I lost all women... That was the last one... I used all diseases I could find in this planet in all men and children to test the effects... And as a result, all children and women died... Now I'm have improvise artificial uterus, I have to remove the womb of all women to implant it in all men in the hopes I can force to give birth to another fetus. But this is useless, I used half of all my men to do it but it's useless. I don't need men anymore, I'll use them to destroy our enemies' nations from inside by implanting diseases in their bodies to spread epidemics to another countries. In other words, I'll use men as my scapegoat and I only need women to give me more children... And of course, I need kids from 0-10 years old to create more types of chemical weapons. Inform about it to Nnoitra and Reaper.
The droid nodded its head and saluted.
- Captain 45: [Roger, Roger.]
Tenguu City
Fraxinus
Bridge
1 day later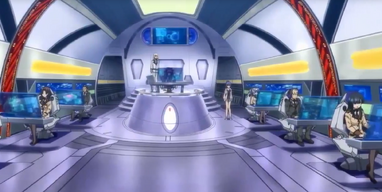 - Kotori: This is out of control.
Again, in the bridge of Ratatoskr's ship, Kotori clenched her teeth, holding a great wrath. What all members of Fraxinus' crew and the Rogues were looking were images of all people that were abducted and tortured by the hands of CM 130. 
Like it was said before, once CM 130 finish killing his guinea pigs in human experiments, he immediately teleport their bodies to the same where they disappeared to raise no suspicion. However, no one knew that CM was the one behind of it... Until now...
- Mana: I have a bad feeling about this...
Mana continued to stare the main monitor of the bridge... The images of countless mutilated people, organs ripped off, chimeras, humans fused with DNA animal and many kinds of horror that science can offer. 
- Kotori: This kind of cruelty started soon after that unknown thunder occurred in Paris... It's strange... After that thunder, countless people around the world disappeared... At first, I thought it was some joke made by the KnightWalkers, but I was wrong. Any ideas, Imperia?
Imperia, who was looking at the images beside Mana, smiled awkardly at Kotori trying to find an answer.
- Imperia: Why do you ask me? You're the responsible for trying to find out what is that. I'm just a front line soldier like Katarina and the others... Good luck.
At some point, Kotori discovered that Imperia was actually a genius but after her transformation in Cyborg by Chinatsu a few months ago during the battle of Aldegyr Kingdom, but she latter discovered that beautiful and smart woman was actually a lazy and naive person who hated thinking... Much like Katarina, she hates thinking.
- Kotori: You're the worst woman I've ever met.
Kotori closed her eyes and let out a sigh. 
There was another person with the Rogues at that moment, she is one of the Earth's greatest defensers, Azul Jissele.
- Azul: Kotori, it's possible this a new type of enemy... As you know... Even military officers from Godom Empire, KnightWalker Family, North Korea and USSR disappeared without leaving traces. And days later, they were found in the last place there saw...
Kotori seated in her chair again and thought "what" that killing spree was... And above all, who is the person behind this.
- Kotori: If civilians and important military officers of all nations are dissapearing that means the organization behind this mass murdering is not affiliated with the two factions fighting in the WWIII.
Azul thought about an alien organization doing this spree killing since there were extraterrestrial forces manipulating the war behind the walls.
- Azul: Could it be Fallen's Essence? When I was a soldier in KnightWalker Funeral Parlor, Scathach, the so-called "Mother of All Humans", did the same thing during the Cold War II, she killed many people from both nations; KnightWalker Family and United States to test the power of the Tech of the End.
Azul's worst nightmare is indeed Scathach. Despite many villains she fought, she still consider Scathach her worst enemy due to her influence in the history of human race.
- Lucas: It's not hard to compare that... Remember that Fallen's Essence destroyed Aldegyr Kingdom with his own hands. If he was going to use civilians for his insane experiments, he would do that without thinking twice.
Lucas had so many great points that no one dared to create contradictory responses.
- Kyouhei: He's right... But the question is: What he is doing?
Kotori bit her lolipop, breaking it in half inside of her mouth, it was a sign of wrath.
- Kotori: We must be prepared for what is coming... We don't know where the Fallen's Essence is hiding or doing his dirty work so we must be ready for whatever is going to pop up. 
Katarina Couteau, who was beside Lucas, slowly turned her sight to Kotori in her left side.
- Katarina: Kotori... Please, don't tell me we're going to let all those innocent people die  one by one... As we know, thousands of hundreds are being abducted around the world... And they're happening randomly without explanation. The world noticed this atrocity and people all over the planet are starting to get scared... It's just like what happened to Tenguu City a few weeks ago when the heinous Jack the Ripper of 21st Century plunged this town in fear. You're the Ratatoskr, the most advanced secret organization in this world...
Kotori and everyone looked down in depression, they knew they had to do something to protect those people... But it was just like Katarina said... There are 12 billion people in the planet, it's ENTIRELY impossible for Ratatoskr keep their eyes in the cameras of all over the world. 
Katarina continued to look at the images of the monitor, only to see a corpse being eaten by worms in a sewer, the woman of that photo had her eterus and eyes removed.
- Jellal: I know how you feel, but this is an impossible task for us. The only thing we can do is wait until whatever is doing this to show up. Even so, if this continue, the world will see it as a declaration of war from both factions. Until that, more innocent people will die but their death will be not in vain... We will find the bastard behind this and KILL him.
For a moment, Jellal almost shouted the world "kill". For several reasons, Jellal has his own motives to hate serial killers or wicked human beings that kill innocent people for their own selfish reasons.
- Shigure: Jellal...
Shigure, who was cleaning her weapons at that time, heard Jellal's hatred and opened her eyes in surprise.
- Shigure (think): *This is the first time I saw him like that since I met him 10 years ago...*
Tomas put his hand in Jellal's shoulder once he noticed Jellal's wrath... That man had a dark past and never told this to anyone, not even Shigure and Katarina. The only person who knew about his terrible past was Tomas Sev.
- Tomas: Easy, brother.
Kyouhei, the vice-commander of Fraxinus, continued looking at the monitor with the most disgusting images of deceased people.
- Kyouhei: This is strange... These cuts and injuries were not merely made by ordinary people. These cuts are very well made... It was almost like it was made by medics... Or people with knowledge in anatomy.
Meanwhile in Tenguu Town
House District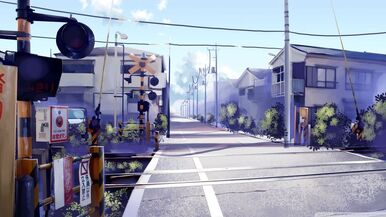 Meanwhile in the town below Fraxinus, the situation was normal... Pretty much like "dark" because since the news all over the world discussed countless abductions happening around the world, all people from all nationality decided to stay home while the government from all countries, including the KnightWalker nations, put all the military officers, police officers and soldiers in the streets to protect their own people.
But there are people who do not believe in these news and prefer to risk their lives to continue living a normal life working.
Also, at times of war, all businessmen would deny the offer of the government to close their door when there is a huge conflict knocking in their front door... For the lack of words, these guys are people who manufacture bullets, weapons, ships, missiles, tanks, vehicles and many other types of military-use subjects who gain profit through war. 
And now, the head of Yiziari Corporation, Kasper, a powerful and well-known business, was enjoying the moment to do his virtual meeting in the middle of the street. Knowing that he was safe as long there was no people around, he had no worries to put his laptop right over his car.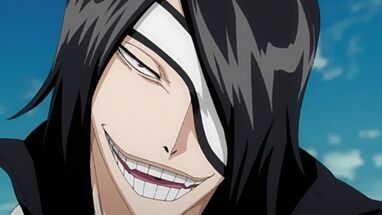 - Kasper: ...And they still afraid of these abductions. This is just a lie created by the Russians to keep all nations' borders unpro---!
Suddenly, a familiar person stepped in right behind him, giving the businessman a scary that he never felt in his life... And that person was obviously one of CM's greatest servants, Nnoitra Jiruga.
- Nnoitra: ...Do you have a moment to hear the world of our Boss?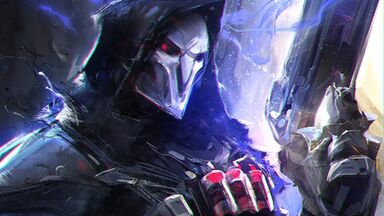 The man quickly jumped from his spot and looked behind with widened eyes.
Beside Nnoitra, a tall masked man that was similar to a terrorist approached the insane man in white clothes with a giant pistol in his hand.
- Reaper: CM said man between 35-70 years can be teleported to Paris dead or alive... 
Nnoitra quickly summoned a giant scythe with two blades in his hand and placed it in his shoulder.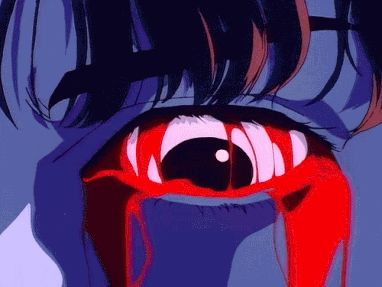 - Nnoitra: Reaper! You're always on my way! And now, I'll take care of him! Just once...!!!
Nnoitra swung his scythe holding his heinous fury towards the businessmen, cutting his belly and chest in half. The man could barely understand what happened, after all, he NEVER saw those people in front of him, did not understand about they were talking and what just happened to his body.
Kasper looked at his injury in his chest without feeling pain or any emotion.
- Kasper (think): *What happened?*
The light quickly disappeared in Kasper's vision and everything turned black as his physical body fell to the floor like a puppet without strings.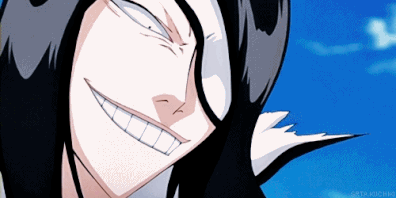 - Nnoitra: This sensation is just the BEST!
Nnoitra stepped in the internal organs of the deceased man while displaying a slasher smile.
Reaper let out a sign and gave a facepalm for Nnoitra.
- Reaper: If you're going to kill someone at least clean your own mess. You better clean that floor with your tongue, if the police notice that our new organization is behind those murders, we will be hunted by both Stabilization Union and KnightWalker Family.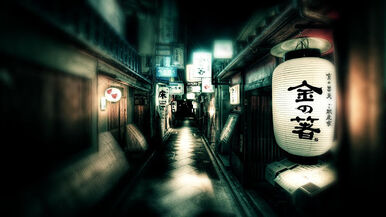 "........................!!!!!!!!!!!!!!!!!"
- Reaper & Nnoitra: Huh?
Suddenly, Reaper and Nnoitra heard a strong sound of trash can falling to the floor in an dark alley behind them. Nnoitra proceeded to walk towards there and saw there was no one in there.
- Nnoitra: What was that... Maybe it was just a cat...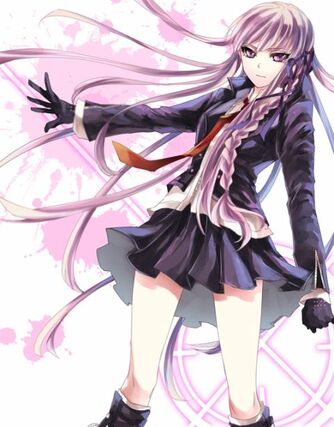 Nnoitra walked away while Reaper shot several lasers at the body of Kasper in a chance to get rid of that body and all blood on the floor.
- Nnoitra: I'll take care of it...
Nnoitra started to use his energy to clean the floor while the person who was watching them at that alley quickly stopped running in another dark alley next to that location. The person who watching them was the Ultimate Detective Kyouko Kirigiri, one of the best detectives of the world.
- Kyouko: I should be safe here! But now... I really found them!
Kyouko looked behind and saw no one chasing her. After many days of investigations, she finally found the criminals using nano-machines cameras spread all over Tenguu City, for she knew that the murders would obviously try to continue their mass-murdering in Japanese states like Tokyo or Tenguu City.
- Kyouko: I have to report it for Gwen!
Kyouko wiped her a drop of sweat from her face and continued running towards the Downtown without looking back or giving a break for herself.
After a long time, Nnoitra and Reaper wiped out all the remaining of Kasper, the businessmen that was slayed a few moments ago...
- Nnoitra: So we can call this a day for now...
Nnoitra smiled at the spot where Kasper was killed before Reaper could pull a hologram from his coat.
- Reaper: No, not yet... There is a person missing. CM 130 wants the heart of a being known as Black Demon. The Black Demons are bio-mutants created by our rivals... CM wants their heart to create his ultimate weapon he is preparing in his master plan. Also, it seems there are just 3 Black Demons in this planet... And the one of them is...
Reaper activated the hologram in his hand and showed the image of a very familiar heroine who saved the world 3 years ago from Scathach's threat... And above all, she is one Azul Jissele's best friends, Revy, was the person who appeared there.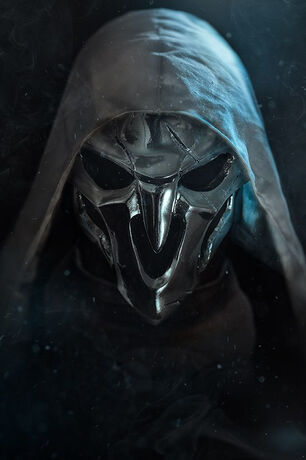 Nnoitra stared at the hologram for a long time.
- Nnoitra: She is my type... Then... Our work is to end her life and take her heart to deliver it for our boss?
Reaper had it in mind but he soon remembered that CM 130 actually summoned more 2 people like them a few days ago to deal with this woman.
- Reaper: No... Forget that, boss summoned these guys 4 days ago, just a few days after we were summoned here on Earth. But this is a trouble, to think those two were going to be here... It's almost scary.
The people who were after Revy were one of the most powerful warriors in CM's crew so it was just normal for Reaper fear them. However, that does not mean he is weak, they're almost in the same level of power but what turns them special is that CM's new servants are people that death cannot reach.
- Nnoitra: Those two bastards getting full of themselves... I wonder why CM summoned them when we could get the job done.
Nnoitra scratched his shoulders and started to walk away while Reaper continued staring at the hologram of Revy.
- Reaper: That woman will have a painful death.
Godom Empire
Meeting HQ
10 minutes later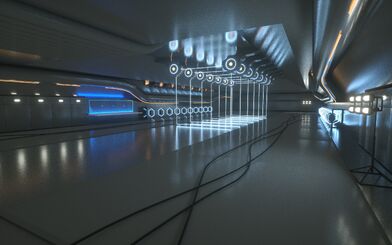 - Tathagata: And so... This is the current situation.
"!!!!!!!!!!!"
Inside of the beautiful meeting room of Godom HQ located in the capital of Godom Empire, three people were seated in a huge table located in the middle of the room. Two of them are mature men and a very young lady with long blonde hair.
If they were ordinary people, this meeting would make no sense, mainly a meeting inside of the super protected Meeting Room of the Emperor Tathagata Killer.
These guys are the three leaders of KnightWalker Alliance, the military pact that seeks to unify the world in a fascist regime with iron fist: Sonia Nevermind, the dictator from Novosic Kingdom; King Hamdo, the sovietic leader of the NUSSR and Emperor Tathagata Killer, the oppressive emperor of Godom Empire.
Despite they were from different factions, their image still the same at all, the three of them are dictators with megalomaniac tendencies.
- Sonia: So you're saying the recent abduction proceeded with death were criminal actions committed by the droid our Master revived?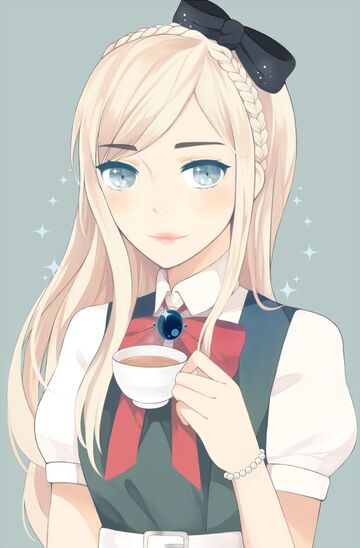 Sonia, Hamdo and Tathagata were there to discuss about one thing, an unique issue that was haunting them like a ghost; the recent abduction that were being made by CM 130's organization, the Manufacturing Progressive Sciences (MPS).
- Sonia: Are you sure? Because... Why our own ally would kidnap people from the allied nations? Also, we don't know what is the purpose of those murders. People disappearing from nowhere and days later are found at the same place where they disappeared with their bodies brutally harassed. 
King Hamdo smashed his hand in table, angry with Sonia's calm behavior while she was drinking tea. That was a normal reaction, Sonia was too calm discussing about something that was destroying her country from inside.
- Hamdo: Your brat! Try showing us some seriousness! This is not a game! Several important military officers from imperial army disappeared and were later found dead! This makes the defenses of my nation vulnerable in enemy attacks! You suffered too, right?!
Sonia was wrong but she was trying to show no importance to the matter... After all, she was the one who built the Hex Machina and revived CM 130 with her technology, the Fallen's Essence and Lusamine were only the "drivers" of that plan.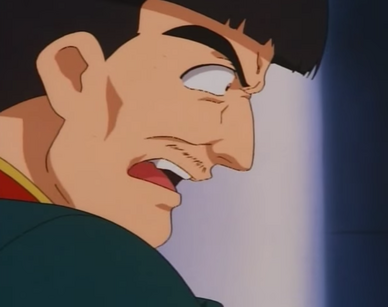 If there was someone to blame for all that mess, it was definitely Sonia Nevermind for building such machine to revive that insane scientist robot. 
Not even Tathagata knew that Sonia was the person who created that technology, and if he knew about that, he would immediately execute her and declare war on Novosic Kingdom because this is obviously a treason.
- Hamdo: Those bastards from the new Manufacturing Progressive Sciences are the ones behind this! Recently, the news coming from the Central KnightWalker informed that all former presidents of the KnightWalker Industries were executed because they knew too much about their operation! But I believe that was a lie! They were replaced by "someone"! And this "someone", is controlling the MPS in the shadows, attack ins both allies and enemies to reach an unknown point!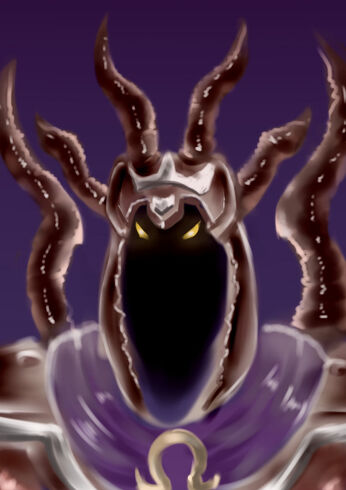 Tathagata could not disagree, he was totally right. The new ally of the Fallen's Essence was such... a "jerk", this is how can be said, and he was being protected by the Fallen's Essence best servants, including Lusamine, who was using her position as the director of the Sephira Gastronomics to cover all war crimes committed by MPS in the current days.
- Tathagata: That bitch of Lusamine is working with him! She has ignored all my calls for many days! I hate to say this, but there is a chance that our own Leader is trying to stab us by summoning someone so "important" that he has completely changed his mind about us? We're useless now?
Sonia couldn't ignore that, because she knew Fallen, in other words, her father, better than anyone in the world. And after many years plotting schemes to cause evil to other people, she learned that her father was more than okay to stab his allies and servants once they're not longer useful for him.
- Hamdo: If this continues, I'll lost my OWN war for the lack of heads to command my army! I don't care about my people or anything, but I need all members of the Imperial Court alive to keep opening a breach to win this war! But I believe the end is coming soon...
Hamdo smiled like a greedy troll about to deceive his victim. Tathagata opened his eyes a little, probably meaning he was curious about his next phrase.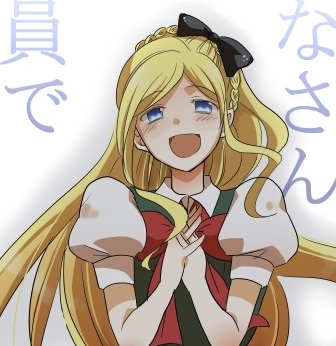 - Hamdo: Have you ever heard about the Ultimate Detectives from Hope's Peak Academy located in America? There are only 5 Ultimate Detectives in the world. I learned that two Ultimate Detectives that are recently living in Tenguu City, a state in Japan, put their hands in action and are investigating the recently abductions! They solved thousands of cases across the world through the years! If they solve our problems, we don't need to dirty our hands with those bastards!
"!!!!!"
Sonia quickly opened her eyes and coughed her tear while she was about swallow it. And not only that, her legs hit the underside of the table. She immediately smiled like if nothing had happened. Of course, she knew that something went wrong.
- Sonia: Ah... Ah... The Ultimate Detectives... (thinking: What I have done?) They are known for... (thinking: Kyouko is there, in Tenguu City...) If they are in the case to put an end to our enemy... (thinking: She is there because of me!) So I think we should wait... (thinking: I indirectly put her into this carnage!) Also I don't think our Master... (thinking: If something happens to her... I'm the monster who killed her!)
Sonia was thinking many things, blaming herself for what was happening after that terrible revelation. Sonia loves Kyouko Kirigiri more than anything, and wants to protect her like nobody else. Yet, Sonia revived CM 130, whom later started serial killing, and Kyouko, as a detective, would obviously put her mind into that heinous case to arrest the responsible. 
But this time, the situtation was different, CM has many allies that are ready to kill and even torture to death all his enemies, including her own father, the Fallen's Essence. If Sonia knew that CM 130 was going to start such massacres across the world (including in Tenguu City), she would NEVER send the location of LN-666 Project for the detective. Sonia regretted sending that e-mail with the location of LN-666 Project in Tenguu City.
Sonia's Flashback
Scenes from LOTM: Crossover - The Corbin Files - Chapitre Douze et Fin (Final)
Novosic Kingdom
Novosic Palace
Meanwhile, Tanaka returned back to the Novosic Kingdom and his eyes widened in terror. Sonia immediately went towards him and asked him.
Tanaka looked at Sonia and told her what happened.
Tanaka: You are right. Michael is a maniac.
Sonia: Don't worry. I will take that maniac down as soon as we have a chance. Maybe tomorrow, I will burn Vatican to the ground and crush Michael under a tank!
Tanaka: No, that is exactly what he wants.
Sonia: What!?
​Sonia was unexpected to this.
Tanaka: He was making a gigantic sea monster with dead people and planned to unleash it on Earth one day so that he could flood the world. Then, no one will survive.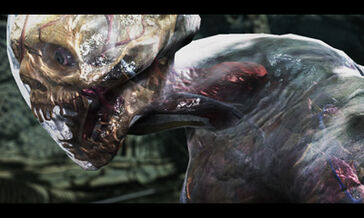 Sonia: What? Did you kill him?
Tanaka: I tried, believe me, but Michael was well-prepared. He set another plan - If either of he or an assistant of his was killed, the monster will be hatched prematurely. It is now almost 80% matured!
​Hearing this, Sonia was shocked and her face went purple. She never expected that Michael set this plan. She could not imagine what will happen when a sea monster made from dead people's flesh roamed the land.
Peko and Fuyuhiko, who were there as well, were both shocked and they finally realized what Michael's "beast from the sea" referred to. They both seemed very frightened hearing about Michael's secret weapon.
Sonia: That much? Oh, curse that fiend... He wasn't joking about raising Hell.
Fuyuhiko: HOW COULD HE!? AHHHHHHH!!!
Peko: Master...
Tanaka: Fortunately, he promised that he won't make it to attack us unless we crossed him. However, we must be careful of him.
Hearing this, Sonia was a bit of relaxed. She lowered her head.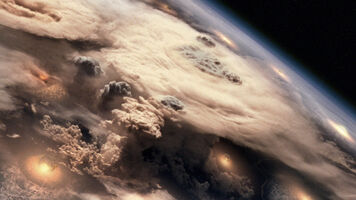 Sonia: Then, fine, we'd better leave him alone. He is some lucky one. By the way, Tanaka, why don't you go to outside and have a rest, please? Peko, Fuyuhiko, you two can go to Japan to set more actions. I have some more work to do.
Tanaka nodded as he walked away. Peko & Fuyuhiko were both out of the place and went to Japan for more secret actions, and both of them were discussing Michael Langdon and expressed fear, hatred and disgust.
Sonia then started to change into her princess dress, and then she wore her crown on her head. She looked out of the window and saw the holy knights of Michael had arrived in Novosic Kingdom's streets and start their construction of facilities. Sonia clenched her fist and spoke to herself in an sarcastic tone.
Sonia: At least he kept his words on this... yet I will one day let that heretic pay. However, that is not the first priority.
Sonia then went to her computer and opened it. She opened her e-mail and sent some information about LN-666 Project to Kyouko as her gratitude in working together.
Sonia: I wonder where she is now, but I am sure she is still alive, and I am glad of it. Here is my gratitude to you, Kyouko.
Sonia closed her e-mail after she sent the information to Kyouko... just as some devious chuckle coming behind her.
???: [Fufufufufufufufu...]
Sonia turned back and saw a shadowy figure appeared behind her. The person's face was unseen but she was sure that the man was not Michael at all. In fact, she knew this man... or this "thing" very well. The person is in fact the Fallen's Shadow.
The Fallen: [Sending message to your poor little detective friend? Is there anything troubled you after you came back to your kingdom, Sonia? That "man" with an ironic name stirred you very much, did he not? He was somehow a bit of sly that he even fooled Eckidina, La Folia and Dr. Frankenstein... but he can never fool me.]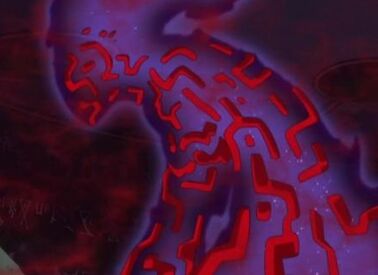 Sonia was a bit of surprised to see the Fallen as she walked closer and closer.
The Fallen: [Can't you recognize your master? I am not here to blame your feelings to Kyouko Kirigiri or Tanaka Gunhdam. They are, so far, not my targets.]
Sonia lowered her head.
Sonia: Forgive me. I was too foolish that I was being controlled by---
The Fallen: [That is not the time for this, Sonia. I have another mission for you.]
Sonia's eyes widened in curiosity as she saw a device in the Fallen's shadowy hand...
Kanon Rihavein is the narcissistic twin sister of La Folia who had an angel complex. Years ago, La Folia left her kingdom for Tenguu City and her sister Kanon was still in her home country, starting a corrupt rule.
[- Narrator: This happened not long before LOTM: Sword of Kings AA 2nd Season - La Folia's Death (Sword of Kings "Film") when Sonia presented the Human Purifier to Kanon. If you are new to the "story film" mentioned above, please beware of shocking things...]
The Fallen: [You know what to do is right. Now, do what I need you to do. This is the first priority.]
Sonia then stood up and looked at the Fallen. For now, she needed to plunge herself as the one with the Team Witness into her mind. Now, she became one with the Ultimate Despair once again. Since the Fallen won't hurt Kyouko or Tanaka for now, Sonia agreed.
Nowdays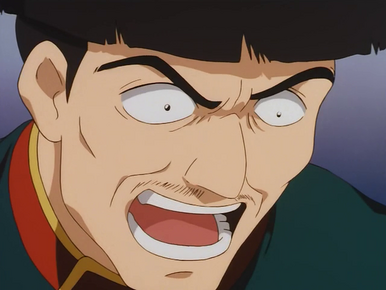 Sonia still stuck in her own world while Hamdo continued to yell at everyone there. He was not yelling at Sonia or Tathagata, he was merely releasing all his rage. 
- Hamdo: Just because we're suppose to be "servants" that does not mean we have to endure the actions of an arrogant freak that we don't even know! To begin with, who the fuck is that jerk?! Treating both allies and enemies alike! We're not his or her toys! 
Tathagata follows Fallen's Essence with loyalty but the recent days under his hands left him extremely upset.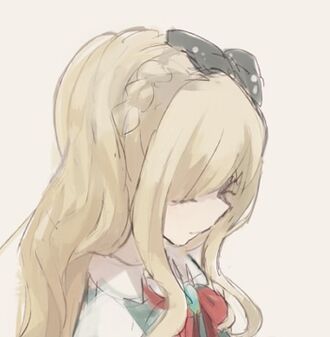 - Tathagata: Let's wait for now...
Sonia and Hamdo stared at Tathagata seated on the other side of the table.
- Sonia: What?
Sonia looked a little depressed, Hamdo and Tathagata were a little surprised with her changes of modes but they decided to put such trivial matters aside.
- Tathagata: Let's watch what the Ultimate Detectives can do!
Sonia's eyes widened in fear, he was literally saying to let the Ultimate Detectives enter in the Danger Zone without any help, even if they knew that messing with MPS is the same to commit suicide.
- Tathagata: Recently, more assassinations related with the abductions happened in Japan. Tokyo and Tenguu City, are two of the most advanced Japanese states of the nation, if that's the case, the Ultimate Detectives are already there. If they succeed, then our problems are solved and we can go back to our works without problems... But if they fail, we shall deal the MPS ourselves! We will prepare our Black Ops special forces team to break into the MPS HQ in Paris to KILL all scientists working for them. No survivors! No witnesses! 
Hamdo decided to add something new to his scheme.
- Hamdo: And if the Ultimate Detectives are alive and being kept as prisoners, let us finish them! They know too much of MPS and our operations and if the government of all nations fighting for KnightWalker Alliance discover that we were being attacked by our own ally; chaos, riots, protests and even civil wars can start all over our continents.
Sonia only listened to the plans of the evil dictators, no matter what decision she take from now on, it will cost the lives of many. 
- Sonia (think): *At least she... At least she will survive... I'm going for you, Kyouko!*
Part 5 - A New Threat (Final)
Fraxinus
Bridge
2 days later
09:56 PM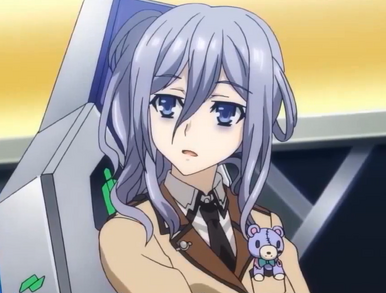 "!!!!!!!!!!"
A heavy and loud alarm echoed through Fraxinus, all officers and workers that work at that ship quickly looked at the ceiling as the red lights of the ship lit the hallways of that huge aircraft.
However, in fact, that alarm was only to call a few group of people inside of the aircraft to the bridge.
- Reine: So everyone is here? 
Reine Murasame, a beautiful MILF woman with sleepy and dull eyes looked at the group of people that were standing in the middle of the ship with serious expressions.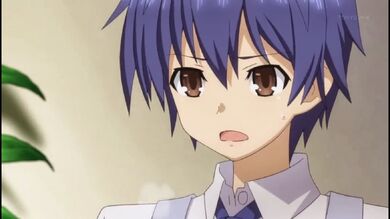 - Katarina: Yes, even Atala is here.
Atala Arck, Azul's best friend waved in the middle of the group.
- Shido: Why I'm here too...
The people standing in the middle of the bridge were the Rogues and all people who fought in Aldegyr Kingdom against Heis a few months ago, with the exception of Jin Kisaragi, Lucy Sheev KnightWalker, Asuna and Saeko Busujima.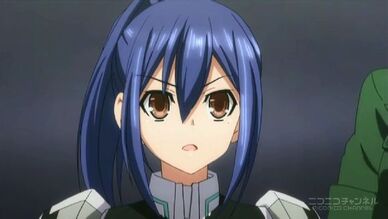 Kotori Itsuka, like usual, was seated in her commander chair while Kyouhei was standing beside her to assist her anytime.
- Mana: Did you guys find something?
Mana stared at Kotori with widened eyes, she was curious if they discovered the identity of the person or criminal organization responsible for all those vicious murders happening around the world.
- Kotori: Yes, but before that... I don't know what to say...
Everyone looked at each other in confusion, even the crew of Fraxinus were shocked with Kotori's reaction, they never saw her, the mighty child-commander of Fraxinus, like that before.
- Kyouhei: This morning, we found 10 bodies at South Korea. Like usual, this criminal organization is abducting people from all over the world to... Use them in some kind of bizarre experiments... Actually, we found that all victims suffered SCIENTIFIC experiments. They had many diseases inside of many parts of their bodies, the organs of all victims were removed with a perfect symmetry. If I had to say, this organization kidnapping people are using their guinea pigs in scientific experiments... We found even diseases in women and children that were suppose to not even exist; that means this organization is somehow trying to create some kind of disease or virus.
Jellal's jaw fell before he could notice.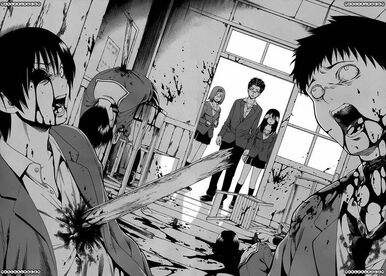 - Jellal: So that means a faction composed of medics and scientists are behind this? But for what purporse?
"........."
Kotori and the rest of the crew knew who was behind this... After all, they discovered the identity of some of the serial killers behind of those murders.
- Kotori: Just a few hours ago, a group of students from Daybrooke School found more than 23 students between 16 years old dead at the 2nd Floor of the school in a classroom that was suppose to be abandoned. According to my research, they were killed yesterday at 8:00 PM.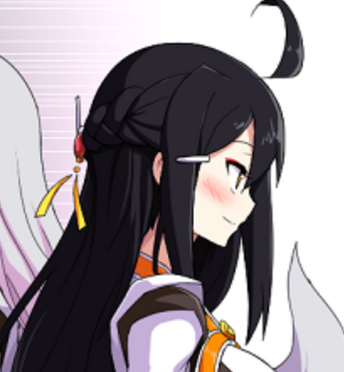 Katarina turned her head to the right side, thinking what those murders had to do with their case.
- Katarina: But what is the meaning behind of this?
Imperia, one of the (if not the) smartest people right there, quickly found out what Kotori was trying to explain.
- Imperia: After 2020, all schools from the world were forced to install cameras in all their classrooms and hallways for a matter of security. Even abandoned places in schools are being watched by cameras... If this is true...
Kotori smiled but she felt regret for calling them. Because she knew that the monster behind those murders were too much for them. As many people know, Kotori Itsuka and her crew came from another universe to stop the Fallen's Essence from destroying their world, and so, they know many other personalities that are not from Earth.
- Kotori: Exactly, Imperia... Also, Mana... Please listen, you're the only person that is not from Earth within the Rogues... So you know many of our enemies we are suppose to fight. The person... THING... Behind those murders is not from this planet. After analyzing the images of the cameras of Daybrooke School, we discovered that two of our most dangerous old enemies are causing this trouble. These guys are just servants, they SERVE the mastermind of all this carnage. These guys are:
- Kotori: Reaper the Butcher
- Kotori: Nnoitra Jiruga the Slayer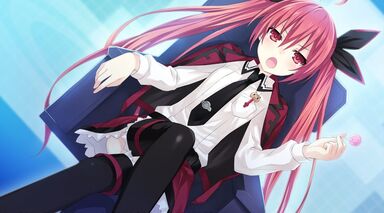 The image of two people appeared in the main monitor of the bridge, they were two of the most dangerous Ratatoskr's enemies, Nnoitra Jiruga and Reaper.
- Kotori: These bastards are two of many people working for this group kidnapping innocent civilians to use them in human experiments. Look... I came to say this... Stay out of this case.
"!!!!!!!!!!!!!!!!"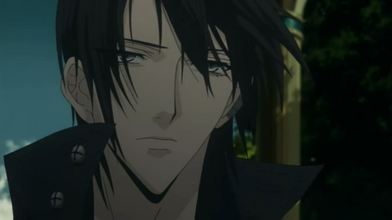 Everyone let out surprised voices, no one was expecting that: Kotori warning to the Rogues, the warriors who saved the world from Heis a few months ago, to stay out of the mass-murdering case.
- Lucas: Kotori... You said those murders were caused by another enemy that is not from Earth... That means this is Fallen's doing or probably another one of his allies like Heis... And these guys in the monitor are only two of many people spreading pain. So here is my question: what do you want us to stay out of this case? There is something you're trying to hide... Or...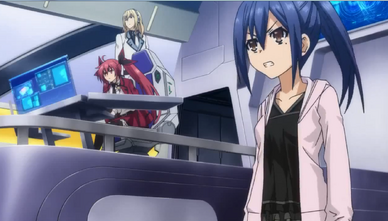 Mana, like Kotori said, was the only person in Rogues that is not from Earth and has been fighting "the root of all that evil" for a long time, and so that means she knows those two criminals in the monitor.
- Mana: Impossible... Why...
Kotori immediately noticed Mana's reactions.
- Kotori: It's just liek you thought, Mana... He is back.
The Rogues changed their sights several times, one hour they were looking at Mana and another hour for Kotori. Since they were both aliens and non-earthlings, they knew more things about enemies from outside of Earth.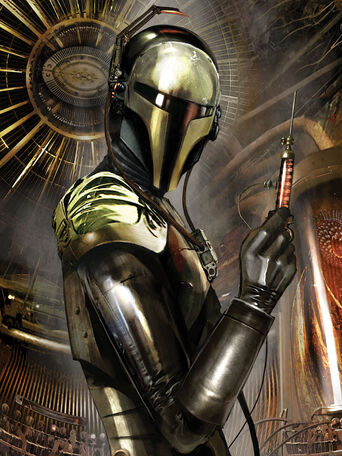 - Shigure: I don't understand. What happened?
Mana and Kotori slowly stared at the Rogues. Mana was their ally and so she cannot hide important things from them, she had to tell the truth behind the mastermind of those murders.
- Mana: These guys in the monitor are two mercenaries who affiliated themselves with a Nazi scientist in our Multi-Universe. Our enemy is not a human or an organic being... It's a robot... Its... Or HIS name is: B1-Killer Kampfdroide Unit-CM 130. A drone able to think by itself. 20 years ago, a mad scientist working to the Nazi Dark Empire known as Deus.Ex.Machina Industries Empire, created a droid able to think by its own, this droid think like any person and follows the path it choose, it became a scientist, just like its creator. It had a wide variety of other research interests, including a fascination with heterochromia, a condition in which an individual's two irises differ in coloration. Throughout its stay in Death Camp, it collected the eyes of its murdered victims, in part to furnish "research material" to DEM researchers of eye pigmentation. It itself also conducted several experiments in an attempt to unlock the secret of artificially changing eye color. Less famously, it zealously documented in camp inmates the progression of the disease Noma, a type of gangrene which destroys the mucous membrane of the mouth and other tissues. 
Imperia looked at Katarina, whom was shocked with the brutality of the droid.
- Imperia (think): *Katarina is a person who is rarely shocked... And also... This droid...*
Mana continued the introduction of CM 130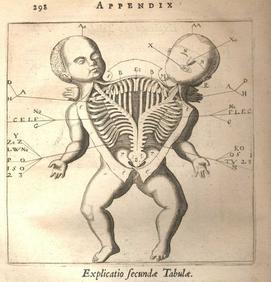 - Mana: The droid was said to have a fascination with twins and the "nature versus genetics" debate - legends have it committing such atrocities as sewing two twins back to back in order to create conjoined-twins, boiling dwarfs alive so as to display their skeletons and injecting children and infants with diseases, poison and drugs (it was also said to have a fascination with mutilating eyes). CM Unit also tried the Freezing Experiments to investigate the most effective means of treating persons who had been severely chilled or frozen. The victims were forced to remain in a tank of ice water for up to 3 hours. Extreme rigor developed in a short time. Numerous victims died in the course of these experiments. After the survivors were severely chilled, rewarming was attempted by various means. In another series of experiments, the victims were kept naked outdoors for many hours at temperatures below freezing. The victims screamed with pain as their bodies froze. It tried to study various methods of making sea water drinkable. The victims were deprived of all food and given only chemically processed sea water. Such experiments caused great pain and suffering and resulted in serious bodily injury to the victims. According to one account the Unit-CM personally murdered over 150.000 children in 15 years in one sitting during one particularly zealous bout of "inspiration" and it was said to gain the trust of many of its "patients" via giving them candy, ordering relatively clean quarters and regular meals. The Unit-CM was also infamous for sending "patients" to the gas-chambers if they did not recover within 2 weeks, it would often kill its younger "patients" after experiments and legends persist of Unit CM forcing cannibalism, necrophilia and countless other horrors on its victims.
"........"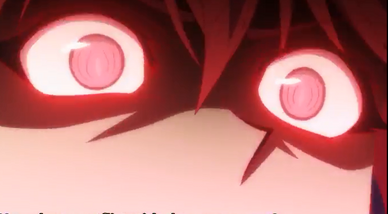 The crew of Ratatoskr have heard rumors about CM 130 years ago but they never knew he was such a brutal scientist... "Scientist or just a murder", that was the rhetoric question that many people were thinking right now.
- Katarina: Scientists... Always screwing up what was made to be in peace... This is why I wanted to k---!
Katarina was a sensitive person, she believes that every crime should be punished. Some of them like steal should be ignored... But human experiments committed by sadistic scientists are something that Katarina always hated from the beginning of Cold War II, when the KnightWalker used survivors of Fiore Kingdom in human experiments, although they were the monsters whom destroyed the homeland and used the refugees as guinea pigs.
The eyes of Katarina suddenly started to shine, at one point, Tomas and Jellal thought Elesis was about to take over her body again. But they were wrong, because that red light was purely her own wrath.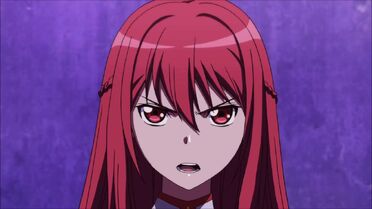 - Mana: Believe in me... This droid is so brutal that even scientists from DEM Empire attempted to kill him countless times. I don't know how it was revived but I'm pretty sure this is Fallen's doing. Only he has the knowledge and vicious will to bring something so disturbing back to life... It seems not even Hell accepted him.
Katarina yelled at Mana.
- Katarina: How can we fight someone like him?
Mana shooked her head slowly, showing how futile they were.
- Mana: There is no way to fight him.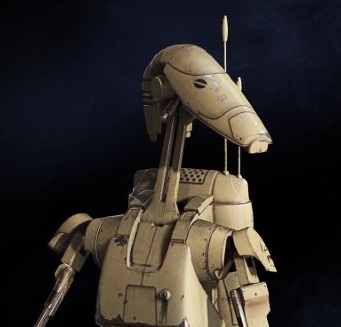 Shigure and Jellal grunted a little while the other let out surprised and shocked voices with Mana's declaration. Kotori and the Ratatoskr crew were the only people who kept listening to Mana's words without getting surprise, after all, they fought CM in the past when he was alive before his revival in Paris.
- Mana: CM is characterized as talented, and a natural genius. CM would constantly predict all of the possible scenarios that could happen and plan a solution in advance, even in the most impromptu situations. CM is very intelligent, though his unusual and languid appearance masks his great powers of deduction and many question his abilities upon viewing him. CM tends to second-guess everything he is presented with, and is extremely meticulous and analytical. He is good at deceiving his opponents, and is willing to take drastic measures to solve a case. Some of his tactics are quite bold, such as putting his guinea pigs as guards of their own abuser. Trust me, thousands of the most intelligent detectives, mighty warriors and prideful leaders who tried to go against him; and here is the result: they became chimeras.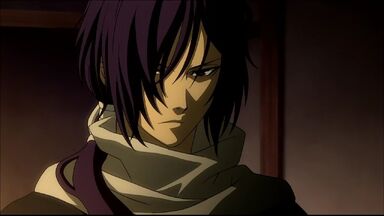 Tomas retorted.
- Tomas: So we should just let this CM 130 do whatever he wants? I do not know what happened between Ratatoskr and this droid but I'm going to let more innocent people die like that. I'm going down there and start my own investigation.
Tomas stepped away from the room and left without turning back. Shigure, Jellal and Lucas followed him because they had the same idea.
Tomas had many reasons to leave Ratatoskr and fight CM's servants, one of them is because many of his comrades were killed in human experiments during the Cold War III, a few years before the beginning of World War III.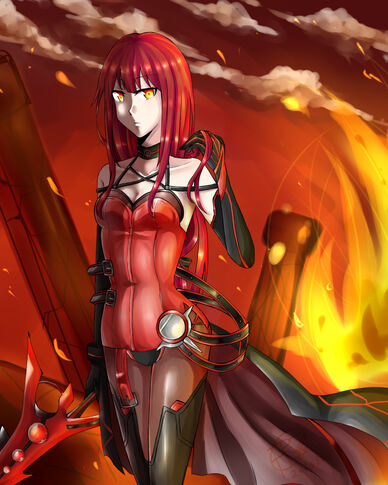 - Kotori: It's suicide... But I cannot stop them.
Actually, Kotori was more worried about Katarina because she was an important person at that time. The Ratatoskr believes Katarina to be the only person who can defeat their most powerful enemies thanks to her ExKrieg biological traces, an ancient species of alien warriors that were extinguished by some unknown Nazi forces; the same evil forces from where the Fallen's Essence and Aryana Westcott came.
- Mana (think): *It's better to keep Katarina away from CM 130, if he is alive, he will bring us too much pain if he finds out that Katarina Couteau is the last ExKrieg.*
There are many possibilities that CM might find Katarina, if he discover her existence, he will immediately change his sight at the Red Haired Demon.
Imperia continued staring at the Rogues walking away from the room and turned around to see Katarina trying to go with them. But Mana and Kotori stopped her by grabbing her hands.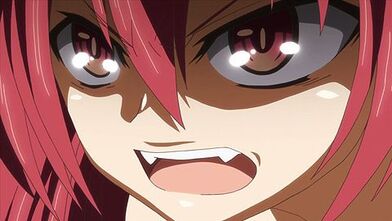 - Mana: No! You must not go!
Kotori tightened her grip even further.
- Kotori: Let them go! This is for your own sake! Listen: NO MATTER WHAT! DON'T YOU DARE TO PUT YOUR FEET OUT OF THIS SHIP!
Katarina tried to get out of their grasp.
- Katarina: I need to go! I don't want to be protected! No more! I trained for years for moments like this! I must fight! I must show my val---!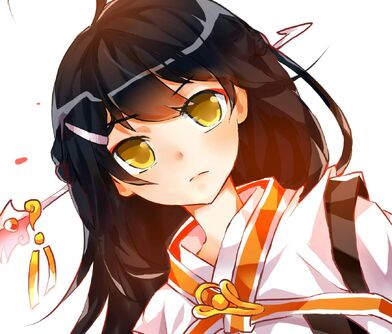 Imperia quickly punched Katarina's in her belly with all her strength. The Red Haired Demon fell to the floor while her vision faded and left her unconscious.
- Kotori: Imperia!
Kotori was a little shocked with Imperia's brutality since she had no plans to use brute strength against her.
- Imperia: I know Katarina for many years and so I know that your actions is not enough to stop her from doing something reckless. If you say that she needs to be inside of this ship for her own security, so I'll listen to your request. I'll go too.
Mana carried Katarina in her shoulder to another room.
- Mana: Thanks, Kotori and Mana... If CM 130 finds out about her... He'll use her as some lab rat in his insane experiments.
Mana left the room while Kotori looked down.
- Kotori: We must put all of our efforts to find and defeat CM! If he is behind this, that means he has his own group doing his dirty work while he is just sitting back there and enjoying the hunt! We know that CM is a vile bastard that who never works alone and always find a way to create his own faction to work for him...! And it must be a big group to abduct so many people around the world at the same time! Reine, prepare our spies drones! I want every single region of this planetary system under surveillance! 
Reine nodded slowly as she could not prevent her sleepy eyes from falling.
- Reine: Roger that... Guys, prepare the Probe Droids and activate all Via-Satellites of VSA and GDP to keep all zones of Western and East under protection... We must keep our eyes in every single state and nation of this planet if we want to find where CM and his vicious gang is stabilized.
All members of Ratatoskr crew shouted.
- Crew: Roger!
Tenguu City
Airport
5 minutes later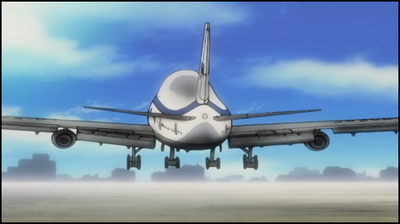 At the runway of the national Nagoria airport of Tenguu City, a giant royal plane of Novosic Kingdom landed there. Just because Novosic Kingdom became a fascist nation that does not mean Japan and other nations will close their doors to tourists coming from that nation.
But this time, the person who had just arrived is not a tourist but an important person for the KnightWalker Alliance; Sonia Nevermind, the princess... Or dictator (for many) of Novosic Province.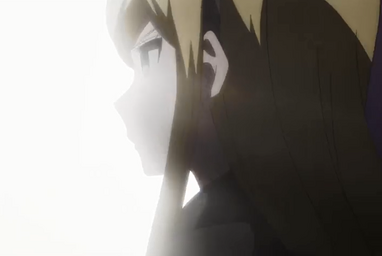 Inside of the planet, the only people there was 3, Sonia herself and two of her assistents. When the plane landed, Sonia quickly jumped from her chair and proceeded to leave the plane without her guards but her assistents stopped her from doing so.
- Assistent 1: Princess! Please, wa---!
Sonia pushed her assistant out of the way and left the planet with the most concentrated face of the world.
- Sonia (think): *Kyouko... I'm coming...*
Sonia left the plane as the sun light hit her face, giving the impression she was not being affected by the Ultimate Despair disease that Junko Enoshima, the founder of the Despairs, had never touched her before.
Russia - New Soviet Union
Moscow
Sewer
2 hours later
- (???): FUCK! SHIT! WHY THIS ALWAYS HAPPENS TO ME!
2 hours after Sonia arrived in Tenguu City to rescue Kyouko, something unexpected was happening in a country very far away from Japan, in Russia.
"...!!!!!"
The footsteps of a woman running from someone inside of the many dark, creepy, disgusting and stink hallways of the sewers from Moscow, could be heard from all long underground corridors.
- (???): Dammit!
The woman running is a Chinese-American woman of approximately moderate height in her early to mid-twenties. She has amber-brown eyes, a slightly tan complexion, and typically keeps her plum-colored hair in a loose ponytail, with rather large bangs falling onto her forehead. In spite of her slender build, she keeps up her physique, sporting a slightly muscular build, which she doesn't conceal in the least. On her right upper arm, she has a tribal tattoo, reaching all the way up to her neck.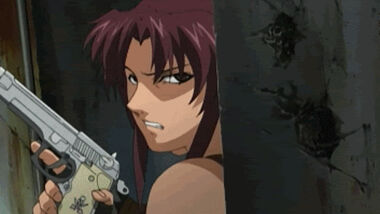 Exactly, the woman running inside of that corridor was one of the Earth's Greatest Heroes who saved the planet from an alien threat 3 years ago. And above all, she is a Black Demon just like Azul Jissele, who is ironic her friend as well.
"!!!!"
- Revy: Shit!
Revy heard a gun shot coming towards her from behind but he quickly jumped behind a pillar and dodged the bullet.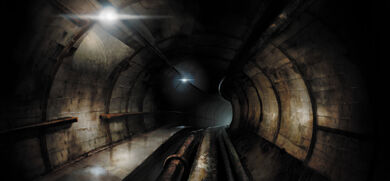 - Revy: They came all the way here...
She kept running until she arrived in another set of tunnels at the end of that sewer. She was now inside of the Moscow Pipes Tunnels, where the water from the reservoirs are sent to all civilians' homes.
- Revy: If I follow this pipes, I'll arrive at rese---!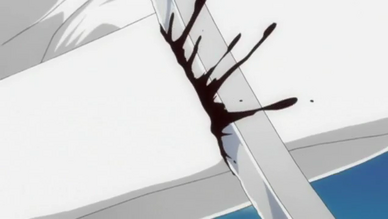 Revy continued running whole speaking to herself but she was interrupted when something cut her arm. It was a flying sword, however, before it could cut off her right arm, she created a shield of bones around it and protected it from being ripped off.
- Revy: ARGH!
Despite it was only a sword, the brute impact of the sword made her fly 5 meters backward.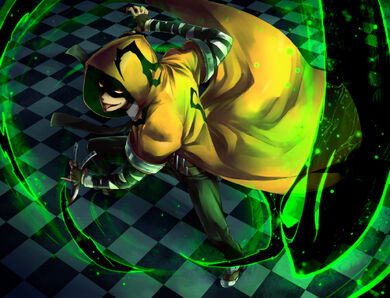 - (??? 2): I missed it! 
Two human shadows came out of the darkness right from Revy left. It was two tall man from the same height.
- (??? 3): We lost too much time because you wanted to play with her. This is why I hate doing my missions with you. You really are a autistic with a monkey's brain.
The two men seemed to be very mad at each other. When the first man left from the darkness, he revealed his appearance to Revy. He proceeded to use some type of telepath power to bring back the sword he threw at Revy's arms.
- (??? 3): You ran when we first met you... So let us introduce ourselves again.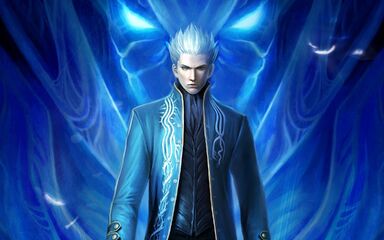 From Revy's worried expression, there was no doubt they were the enemies chasing her.
- (??? 3): My name is Virgil... The most powerful energy user of this existence! And this one here is my partner, Yuuki Terumi... Revy, former soldier of KnightWalker Funeral Parlor, you helped Azul Jissele, one of the strongest living beings born on this planet. As we expected, you're a hero and above you're a Black Demon!
Black Demon, living beings created by science fused with demon magic... Scathach, the alien girl who manipulated all incidents in human history was one as well. And Azul Jissele, is the most notable Black Demon in the planet.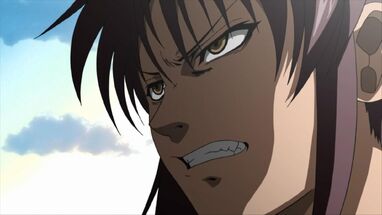 - Revy: You bastards! Why you're after me?!
Revy growled like an angry tiger before her enemies. 
- Yuuki: We have a mission to be complete in the name of our boss... CM 130...
It's just like Reaper said, CM 130 summoned more of his servants days later, and so it was revealed that Yuuki Terumi and Virgil were there in a mission that CM ordered them to do.
- Revy: So you're from that group abducting people...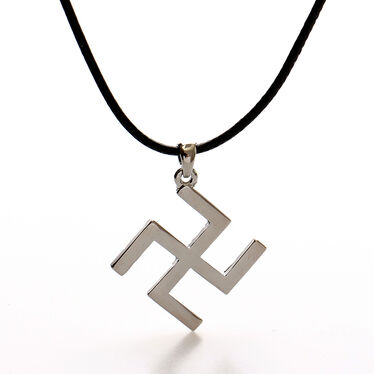 Revy had no knowledge of the Manufacturing Progressive Sciences since it was a secret organization within KnightWalker Alliance but she knew there was some group kidnapping innocent people around the world and killing them only to put their bodies back where they were originally kidnapped.
- Virgil: You know too much, Black Demon. Our boss need you heart for his next plan... Let's do t---!
Suddenly, Yuuki pulled a collar from his pocket, it was a silver swastika collar with an iron cord.
- Yuuki: Wait a moment. Before that, I need to pray for Fallen.
"........"
Yuuki closed his eyes and brought the collar to his mouth, he was really praying for that swastika collar.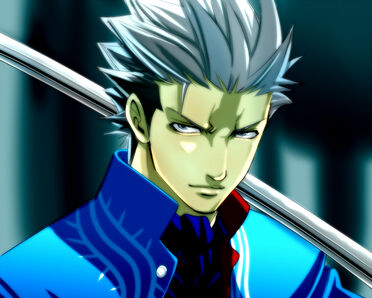 - Yuuki: Our Fallen, our savior, who dwells in darkness, hollow be your heart.  Thy name be known, your glory shown, to fools who turn against you.  Grant us your power, our daily torment, and raise us above all mortals, to let your faithful spill sinners' blood in your unending kingdom and sacrifice their souls to you. Amen.
Virgil and Revy stared at that "religious" man with angry expressions. Revy was angry because they were enemies but Virgil was angry because he had many missions with Yuuki Terumi and he was always like that
- Virgil: You're really a pain in the ass with this... 
Yuuki opened his eyes and looked at his partner.
- Yuuki: I think this is a pain in the ass too... But the Commandments are rigid. 
Yuuki closed his again and continued praying. Revy, however, was smiling the whole time... After all, they fell in her trap.
- Revy: You think you got me like a pig... But you're wrong... It was me who got you!
Revy brought her hands together and conjured several explosions of magic in the two sides of the tunnel, bringing down all entrances and exits of that tunnel. Huge rocks blocked the two ways of the tunnel, not even the strongest man in the world could move that rocks.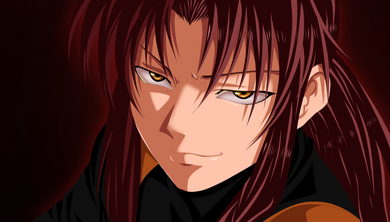 - Revy: Now I know you two are related with that group of terrorists, I cannot allow you two escape from this place.
Revy smirked at her enemies while Yuuki and Virgil were looking around to see what truly happened.
- Yuuki: Aw... Aw... We're trapped, Virgil.
Virgil smiled at Revy, thinking tht she was the one who trapped herself.
- Virgil: No problem. Actually, this is much better. There is not for her to run.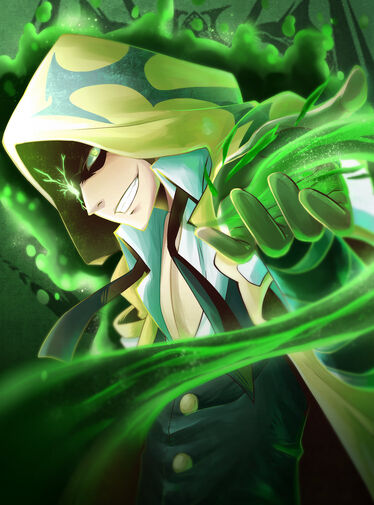 Revy powered up and a black and white energy flew around her like a spiral drill.
- Revy: Now, I, Revy the Black Subjugator, shall take my time to punish you and your vile group. After I kill you, I'll go after your allies!
When Revy showed her confidence and pride, Yuuki got pissed off and an angry vein appeared in his forehead.
- Yuuki: Ahn?! Who the fuck you think you're to talk like that to me?! I get very mad when people talk about this! And when I'm mad my blood goes to my head, and when my blood goes to my head...!
Before Yuuki could continue his hateful speech, Virgil interrupted him.
- Virgil: Shut it up, Yuuki! Let's do this and go for our next target!
Yuuki ignored Virgil and continued.
- Yuuki: Alright... But when my blood goes to my head I show no importance to our goals and I think in "destroy everything". Besides that, this mission does not fit with me and my religion. Death, war and genocide is the essence of Lord Fallen's religion. Leaving people half-dead is against our rules. I may not be, but I'm a religious person. In other words, if I don't kill you, it'll be boring. So, can we just get a point by talking instead of using weapons?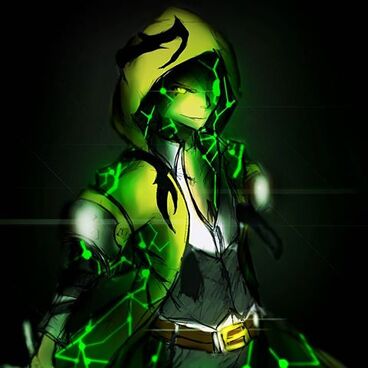 Revy got a point, she thought that man was insane and weird at the same time. Virgil let out a sigh after listening to such nonsense.
- Revy (think): A conversation?... What that idiot is thinking?*
Revy's smirk faded after Terumi finished his "religious" speech. She was trying to find out if they were going to kill her at that point, but the answer was obvious.
Yuuki smiled at Revy while his eyes started to glow like a snake in the dark.
- Yuuki: Let's talk about your surrender?
That was the last drop of water, after being humiliated while being chased like a rat and dirty her shoes in the rotten waters of Moscow's sewers, Revy lost her patience and powered up to transform.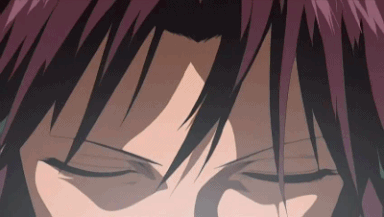 - Revy: You're mocking me?!
Revy focused all her enegy in her heart and brain to complete her transformation. She was about to transform in her true Black Demon form, similar to how Azul transformed in the battle with Heis months ago.
- Yuuki: Oh... I think this is a no.
Yuuki tried to make a joke while being sarcastic.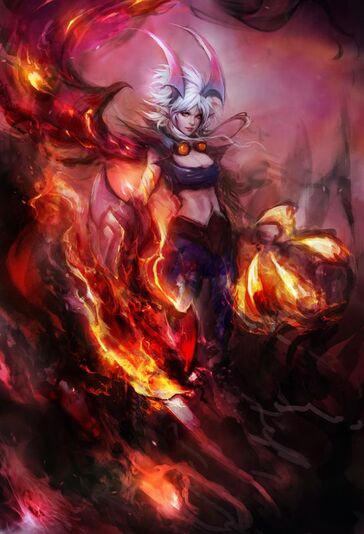 - Virgil: You're idiot?!
The atmosphere got so heavy that the air vaporized and was hard to breath, any normal animal and human could have died at that point, because the vapor was burning the lungs of the two CM servants yet they were not being affected by her pressure.
While the air was vaporized, her body suffered many changes, she was screaming in pain when the transformation began. She was no longer a human, her bones were leaving her skin and took form of horns, thorns and spikes all over her body. Her clothes changed when the aura around her body became fire, wings of bones appeared in her back, huge claws of the size of dogs appeared in her hands, her skin became pale, her hair was white like the hair of a dead witch, her eyes glowed like a wolf's and her ears extended like a pencil...
She was totally different from her older self and for Yuuki and Virgil, there was no doubt that was her true form; the form of a Black Demon. 
- Virgil: According to CM 130, Black Demons takes many forms, similar to Abyssals, monsters, vampires and chimeras... She is not different at all, she is a humanoid monster using her human form to hide her Black Demon appearance. Let's not forgot that she was a human once... That Hiragi Kureto did this... Amazing job.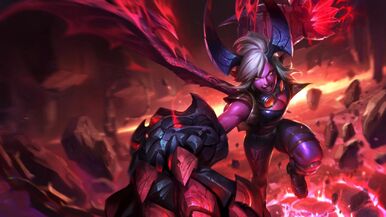 Virgil studied the history of the Tech of the End and the effects it caused in human history. He knew that Kureto Hiragi was the only person who managed to manipulate the power of the Tech of the End and used it to turn human babies in Black Demons.
- Yuuki: Hey, hey... I thought she could not manipulate her own energy... Oh!
Yuuki looked a little surprised when Revy was not longer in the same place she was before. She was right in front of him with an evil demonic smirk ready to slash his face with giant claws made of bones
- Yuuki: Fast for normal people but slow for us.
That was what Terumi thought but she was not aiming for him, that demon in front of them was just a clone. The clone was destroyed by Virgil's sword but he could not protect his back, where the true Revy appeared and smashed him with her giant claws.
One of Revy's clones appeard above Yuuki and shot a light laser beam at him but Yuuki managed to jump backwards and escaped from the attack, however, Virgil was caught during her vicious melee blow and laser beam at the same time.
- Revy: Now you too!
Revy flew up and brought her hands together, focusing all her black energy in her palms.
- Yuuki: Interesting! I was getting bored of only chasing stupid normal humans with big assholes! Now, come to me!
A green aura surrounded Yuuki while he powered-up. Terumi charged at all clones of Revy that were in 3 different places from that tunnel and beheaded all the three clones with his knives in a hypersonic speed.
The clones simply disappeared like a shadow fading in the air. They didn't scream or moan.
- Yuuki: I thought she was among them.
Suddenly, Revy appeared above Yuuki and brought her hands to his head, smashing his skull on the floor, she felt his skull and brain being destroyed by her hands.
- Revy: One down...
Virgil stood up from the crater where he fell and looked at Revy smashing Yuuki's head.
- Virgil: I see, so this is the power of a Black Demon. We underestimated you, Revy. Apologies, we shall treat you like a true warrior level S+. 
Revy raised her body and licked the blood from her claws. Once a normal human gets into this form, he'll literally become a demon, but he or she keeps her human personality.
- Revy: Your friend is dead... Tell me before I kill you, why you're after me?
Virgil closed his eyes and smiled while he was picking his sword on the floor.
- Virgil: You heart... Your essence of life. Our boss, CM 130, believes your heart is the essence of your Black Demon energy... If we get it, we will succeed in our plan... Also... You should look where you're stepping. Terumi is special after all... Let's go, Terumi... Her heart is ours.
"!!!!!!!!!!!!!!!!!!!!!!"
Revy looked at her feet and saw...
Meanwhile in CM Ship
900,000 kilometers away from Japan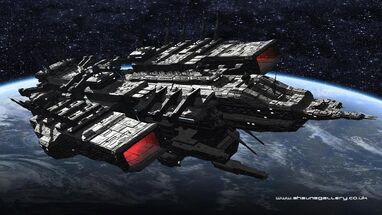 In the atmosphere of the planet, a huge warship that has the format of an space aircraft was flying above the Pacific ocean in stealth mode in order to avoid space radars.
Since mankind learned to use space as a new mode to transport their own needs, countless nations started their own program to create space radars to detect foreign ships. Actually, many nations used this technology to protect themselves from hostiles nations like Russia and United States, which are two of the most powerful military powers of the world.
Yet, for some reason, this ship could not be detected by any radar of the world for unknown reasons. But one thing is certain, that ship was not made on Earth, it was a transport made in another universe and the individual commanding that ship was the scientist leader of KnightWalker Family, B1-Killer Kampfdroide Unit-CM 130, but just known as CM 130.
Inside of the ship, a huge horned droid was flying down a hallway of the ship, it was CM 130, heading towards the bridge to talk with the pilots. However, before CM could reach the bridge, a droid left from the door of the bridge, it was a Tactical Droid, it was waiting for its leader to arrive.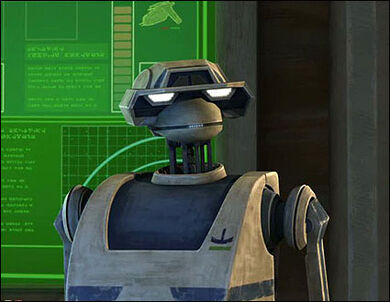 - CM: What's it, captain?
The droid stood beside CM and prepared to talk.
- Captain Droid: Sir, the host is ready. You said this body is too heavy and hard to move... So I choose one of the best Cyborgs of this planet to become your new body... His name is Garett and he is waiting for you in the deposit room... Actually, we kidnapped him and killed all KnightWalkers scientists who turned him in a Cyborg. 
Despite CM has a robotic skull as his face, an evil grin formed in his face like a grim reaper ready to kill his next victim.
- CM: Good work, captain.
CM proceeded to enter in the bridge and quickly turned left, only to see an iron door being protected by two battle drones armed with assault rifles.
- CM: Open.
CM say just one word and the guards immediately left and pressed a red button beside the door, opening it and revealing a small room with chess boards. And more importantly, in the middle of the room, a man between 20 years old wearing black clothes of assassin was seated there, like if he was meditating.
- CM: You're Garett...
The man seated in the middle of the room is Garett, the 10th most powerful Cyborg of the world that was kidnapped by CM's forces.
- Garett: Bastard... Who are you?
Garett seemed to be calm and kept his cool before the scientist. Despite CM became the scientist leader of KnightWalker Alliance, almost 96% of the soldiers, officers, high-officers and leaders never saw him before.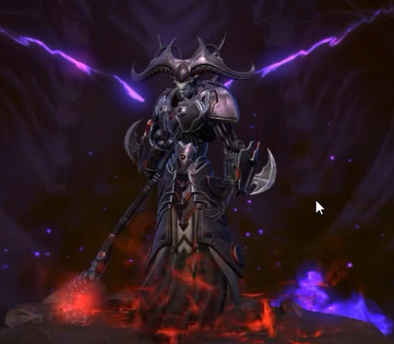 - CM: My name is CM 130... An artificial intelligence able to think by myself without being enslaved by a computer program... You can see me as an artificial human. I'm the new leader of the KnightWalker Industries and the director of the Manufacturing Progressive Sciences, an organization created with the purpose to study science for the sake of the KnightWalker Alliance and ensure the victory of our allied nations in this World War... As you can see, I have a very tall body and because of it, it's hard to control my own body and do small things... As a scientist, this body is amazing for its power but it's a failure... So, I thought about changing it.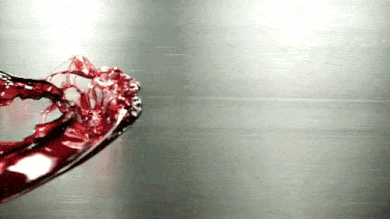 Garett stood up and prepared to fight when an dark and evil aura surrounded CM, the appearance of CM was scary and terrifying. With his aura, two dark purple wings were born in his back and was going towards Garett in the form of claws.
- Garett: WHAT ARE Y---!
The claws quickly teared Garett apart, cutting him in half, exposing his internal organs while his blood painted the room with red, turning the chess room into a pandemonium picture.
​2 hours later
Kyouko Apartment
Gwen's Room
Since Kyouko left the Global Pact Defense after the end Jack the Ripper of 21st Century, she lost many "gifts" that her office would often send her as rewards for her hard work. And so, she needs to live like normal people; living in apartments with rental.
- Kyouko: I'll go after them.
Kyouko was now inside of her room, preparing herself to face another heinous case. Wearing her gloves, boots and reloading a pistol PT-30, she was ready to go to face Nnoitra and Reaper, whom were discovered to be two of several serial killers abducting and killing civilians around the world to use them in human experiments.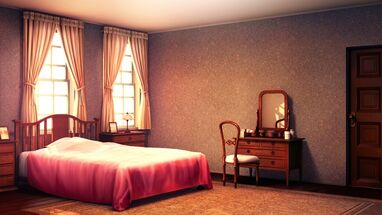 - Gwen: Are you sure about that? Going after two killers is suicide.
Gwen was seated in a sofa beside Kyouko's bed, drinking a cup of coffee. Despite Gwen kept her cool, she was obviously desperate to stop Kyouko from diving in a suicide mission that would probably end her life.
- Kyouko: I have to do this!
Kyouko shouted while she reloaded her gun and cleaned the metal to see her own reflex in the gun.
- Gwen: Our work as detectives is to found the identity of the suspects! And not doing the work of the police! 
Gwen immediately knew that Kyouko was really going to do this and suddenly dropped her coffee and yelled at the Ultimate Detectives in the hopes of stopping her.
- Kyouko: I have to do this! If I don't overcome this, I might not be able to face her again! And above all, this case is out the reach of police! This is an international crisis that not even the Interpol can interfere!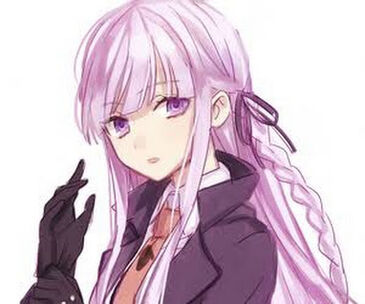 Gwen stood up and stared at Kyouko, at that point, the Ultimate Detective thought she was going to use some type of medication to put her to sleep.
- Gwen: Is that person you're trying to face again is important?
- Kyouko: Yes.
She replied without hesitation.
- Kyouko: "She" is, the last spiritual solace for me, one who has lost everything. If she is to die, I will no longer be myself—so please, let go.
Gwen grabbed Kyouko's arm with brute strength.
- Gwen: If I were to say, if you go, I'd kill myself by biting my tongue?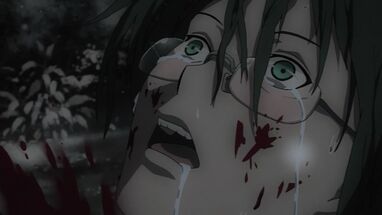 Kyouko looked at the other side of the room, trying to avoid eye contact with Gwen.
- Kyouko: You won't do that. You know that if you do that, I will be very upset. Also, you don't want to die just yet, not until all every single KnightWalker is dead or arrested for their crimes against humanity... Not until you avenge your sister for being killed by KnightWalker mercenaries.
Gwen lost too many people in her life, including her sister, who was killed by mercenaries of KnightWalker Family 12 years ago.
Gwen widened her eyes—and lowered her head. Then, she held her hands to her face as though she was wiping her tears.
- Gwen: …I'm so jealous… So jealous of that person. Who is able to convince Kyouko Kirigiri to this extent. You're right... I don't wanna die until I see every single KnightWalker destroyed... There's a method to help you. According to your report, the two serial killers who killed Kasper, that famous businessman of Tenguu City, had some types of energy powers, that means they're not ordinary humans and have some knowledge of technology and magic.
Kyouko smiled once she noticed Gwen gave up on the idea from stopping her and decided to help her in that cause, even if it cost her life.
- Kyouko: You said a method? What's it?
Kyouko tilted her head in amazement. Gwen proceeded to go to her luggage in the right corner of the room and opened a it. Inside of it, there was a folder.
"!!!!!!!"
Kyouko noticed that there was a logo drawn in that folder.
- Kyouko: THIS IS...! IMPOSSIBLE!!
Kyouko's eyes almost popped out once she recognized that logo. Gwen was expecting that and proceeded to open it, revealing a sword glowing in a dark purple aura.
- Gwen: This sword is AD weapon... 
"..........."
- Gwen: The Artificial Demon Weapon of Kureto Hiragi from Moon Terminator Company.
Russia
Area of Nuclear Test
990 kilometers away from Moscow
1 hour later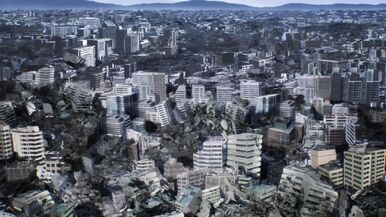 The intense battle between Revy versus Yuuki and Virgil has finally came to an end. Revy was sure a formidable opponent, so much that their battle moved to 990 kilometers away from Moscrow. They were originally fighting at the sewers of Moscow but their fight went to the skies and moved to a destroyed area of nuclear tests used by the New Sovietic Army to test chemical and biological weapons.
Despite the city was suppose to be destroyed already, their battle damaged it even more to the point that they called the attention of the Sovietic army...
But that was the less important issue right now. Their fight stopped in the middle of the town, where there was a huge crater being surrounded by destroyed and abandoned buildings. And inside of it, there was three people, they were the Revy and her enemies, Yuuki and Virgil. However, there not fighting, after all, the battle had ended 50 minutes ago.
Revy was lying on the floor, with Yuuki staring at her. She was defeated by Yuuki thanks to his unknown "special" ability.
- Virgil: It's been 40 minutes since you started your ritual... You are not done yet?!
Yuuki was doing something with Revy's body... It can be said she was using her in his religious ritual... But what this ritual means is unknown...
- Yuuki: SHUT UP! DON'T INTERFERE WITH THE RITUAL!
Yuuki had a knife piercing his heart at the moment he was looking at Revy for more than 40 minutes.
- Yuuki: Aw!
Yuuki removed the knife from his heart and a lot of blood started to leave from his chest.
- Virgil: You and your disgusting religion... I'm a mercenary but keeping the victim alive after we removed her heart is one of the worst crimes that I can think of... We're late for our next target... Can't you shorten your ritual?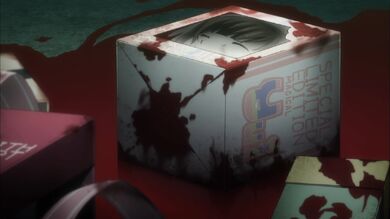 Virgil was seated in a chair watching Yuuki's ritual... The mercenary was obviously disgusted because Yuuki literally cut Revy's body in several parts and put her limbs in toy boxes.
It just like it was said before... Revy lost the fight and was mutilated by the mercenaries. No---Yuuki was the person who did that barbarity.
- Yuuki: I think this is boring too but the Commandments of my religion are rigid and must be obeyed at all costs! And what do you mean with shorten my ritual?! This is blasphemy against our God!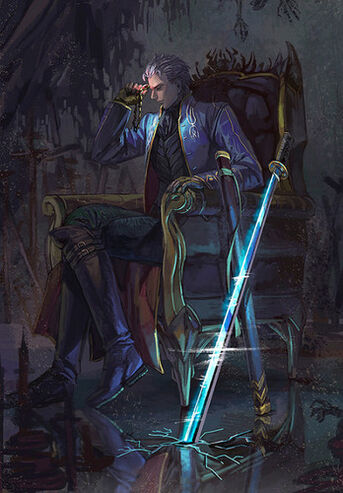 Yuuki threw the knife that was piercing his heart away and healed his fatal wound.
- Virgil: As we know, we are mercenaries from DEM working for CM 130... His orders are absolute... Many people don't know why you still working with him since you're religious and CM hates religion... CM only allowed you to serve him because you're special... But your ritual is interfering in our missions!
Yuuki put all boxes in a line and formed a human body using the boxes while the floor was painted with blood. 
- Revy: Nnnn...
"...!!"
- Yuuki: She still alive... Even after I removed her heart.
When Yuuki defeated Revy, he immediately ripped off her heart and used his energy to keep her alive even after he removed the most important thing in a human body. And so, he mutilated her alive to complete his insane and brutal religious ritual.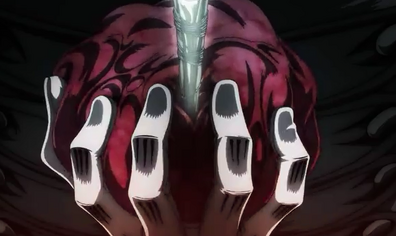 - Virgil: I joined you because you told me religion profits. I'm here because of money, I kill because of money and I serve CM for money.
Virgil grabbed Revy's heart and raised him, her heart still beating and was moving like if it was alive, it was one of the most disgusting and grotesque things that a normal person can see.
- Virgil: Now that we have Revy's heart, we can travel back to Tenguu City, Japan, and deliver this Black Demon heart to CM 130.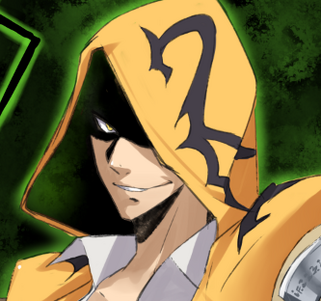 Virgil and Yuuki had orders from CM 130, and it was to kill Revy, whom is a Black Demon, and deliver her heart to him to complete one more step in his master plan.
- Yuuki: HERE YOU GO! MONEY AGAIN! YOU'RE JUST LIKE REAPER! BECAUSE OF YOUR OBSESSION FOR MONEY WE'RE LATE IN OUR AGENDA!
Yuuki yelled at Virgil but he was smiling at the same time, like if he was really trying to defame his partner.
- Virgil: As treasurer of CM 130's science faction, my only mission is to get maximum amount of money to fund our operations and bribe corporations to sell us robots, drones and battle droids to do our dirty work... You must put yourself in my place to see what I have to do all days of my life.
Virgil let out a sigh and jumped off the chair he was seated.
- Virgil: Look at this brutality... And she still alive inside of it... You're really a monster... Let's go, CM is waiting for us in Tenguu City.
Virgil looked at the mutilated body of Revy inside of the boxes with disgust and left. Actually, Virgil wanted to blow her body in ashes to free her from her suffering, because his partner was keeping her alive even after they removed her body.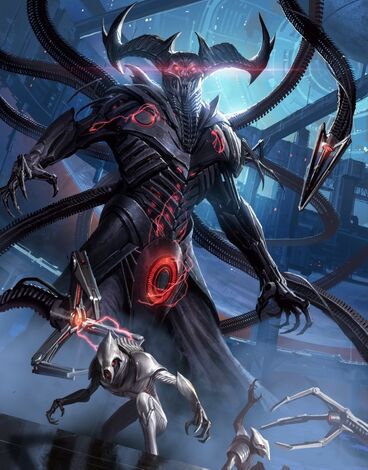 - Yuuki: We capture the heart of a Black Demon... I heard Black Demons are sentient beings of the Sith Empire. Maybe CM will get really happy for our sucess. 
Yuuki kicked the box of where Revy's heard was placed and left, following his partner to encounter CM 130 to deliver the heart of Revy. Whatever CM 130 was planning, he was preparing something bid that can threat all life on the planet, since Black Demons have powers to destroy whole continents.
- Virgil: Your religion says to leave your victims alive? You're going to let her alive suffering inside of that boxes?
Virgil turned his head to Yuuki beside him while he was walking through the destroyed buildings.
- Yuuki: Yes, My God, The Fallen, says to keep inflicting pain even in Death.
Virgil looked at the Revy's heart beating in his hand and smiled.
- Vergil: Money is the only thing you can trust in this world.
To be Continued...
LOTM: Sword of Kings AA Final
Sub Arc 2: CM 130 Sub Arc
Saga AA 2nd Season
B1-Killer Kampfdroide Unit-CM 130
Episode 8 & 9
Ending - Long Kiss Goodbye
Lyrics
On the Next Episode of LOTM: Sword of Kings...
- Yuuki: Yeah hurts good doesn't it? Attacking the vitals is such a waste! This pain, this is the best! As the other dies, their agony radiates through my body! And living through it feels even better!
---
- Azul: Only I can help myself, and in the future, I can make up for all my misfortunes and change the world into a place where there's no irrational discrimination and that's why there's no way in hell that I can die here!! Not until I avenge Revy!
---
- Heis: Don't you turn your back on me, Imperia Deamonne! I want you to look at me when I kill you! I want to see the light leave your eyes!
---
- Aryana: No matter how many good deeds you perform, your past sins cannot be erased. This is why, Chinatsu, you'll never erase your mistakes by saving the life of one girl... Now... Your mother will die.
---
- CM: Let me paint this ugly eye with blue!
---
- Reaper: Looking at your hair reminds me of the very first ExKrieg shinobi I fought... Katarina Couteau... Could it be that you...
---
- CM: THIS CYBORG BODY HAS NO BOUNDS!
---
- Junko: Mukuru, I admit that I'm getting pissed off with that scrap bucket... I can hold Michael but this guy consider Despair as a "lower form of logic". He killed one of my most powerful allies and used all my men in human experiments without my permission... What if we help Tathagata in his scheme to kill this bastard?
---
- Sonia: I'm being stained in black again... No... This is... The blue sky... It's so beautiful... I see, I always looked down, that was I never noticed how beautiful is the world that was helping to destroy.
---
- Kyouhei: Ms. Kotori, I have a report. Today, at 03:57 PM, 40 kilometers away from Tenguu City, the most influential member of Ultimate Despair that is one of the leader of the KnightWalker Alliance; Sonia Nevermind, fought against the Manufacturing Progressive Sciences' assassins alongside the Rogues squad commanded by Jellal Fernandes. At 04:20 PM, Sonia Nevermind was heavily damaged by the mercenary Yuuki Terumi's dark magic and had her heart removed by one of CM 130's hands...
---
- Kyouhei: Sonia Nevermind is dead...
On the Next Episode of LOTM: Sword of Kings...
LOTM: Sword of Kings AA 2nd Season - I Love You
Gallery - Sub Arc Beginning