| | |
| --- | --- |
| | Spoiler Alert: This article/section contains details about future plotlines of LOTM: Sword of Kings described. Do not proceed unless you want to be spoiled. |
| | |
| --- | --- |
| | Spoiler Alert: This article/section contains details about future plotlines of LOTM: Witnesses of Sleepy Hollow described. Do not proceed unless you want to be spoiled. |
Click here to return to Character page
Ara Astaroth (all versions)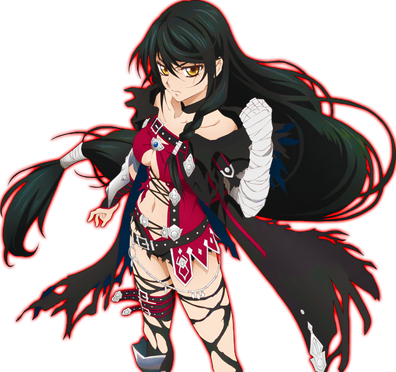 "First there was the collapse of civilization: anarchy, genocide, starvation. Then when it seemed things couldn't get any worse, we got the plague. The Living Death, quickly closing its fist over the entire planet. Then we heard the rumors: that the last scientists were working on a cure that would end the plague and restore the world. Restore it? Why? I like the death! I like the misery! I LIKE THIS WORLD!"
Ara Astaroth is the second daughter of Leohart the Prince of Hell, the only daughter of the Demon Queen Pshica, the older sister of The Morrigan, Dark Couteau and the mother of Tomas Sev as well as the wife of B1-Killer Kampfdroide Unit-CM 130 in the future. She is a Pure-Blooded Devil born as the Princess of Hell and Ruler of the Underworld, Tyrant of Qliphoth, Goddess of Undead Land and the Head of Astaroth Clan. She was fated to rule the Triggers Hell and all forces of Evil of the Multi-Universe, and could have been one of the most dangerous, deadly and powerful demons (stronger than Leohart himself) of all existence once she assumed the throne of Hell, ruling it to a more chaotic and horrifying place where even the most organized Devil and Demon Clans would start wars and fight each other for prestige, destroying Hell and Paradise at the same time, showing that she was not interest in keeping Hell as her realm and desired to turn everything in the reality in ashes. 
Ara was one of the primary antagonists of Saga AA (alongside Eckidina KnightWalker/Diabla the Qliphoth Tyrant, The Fallen's Essence, B1-Killer Kampfdroide Unit-CM 130, Michael Langdon and Aryana Westcott) and was one of the villains with most influence in the story, having created numerous story-plots through her actions and evil deeds that lead many of the main characters to become what they're today, be they heroes or villains. While she's usually presented as a serious and threatening foe that destroyed countless of lives using the dark side of mankind, Ara is also a source of comedy in the story, due to her outrageous beauty and sometimes wise-jerk girl behavior, supported by Ara's sarcastic answers. In the story she was introduced as the true leader of Mafusa Gang, the founder of the Researchers of Divine Hand, the Dark Empress of Astaroth Empire, Queen of Qliphoth, founder of the vicious side of KnightWalker Family as we know today, the Head of Astaroth clan, creator of Satanism on Earth, the current Supreme Mother of Leohart's Cult, the founder of Moon Terminator Company and finally the leader of Knights of Astaroth.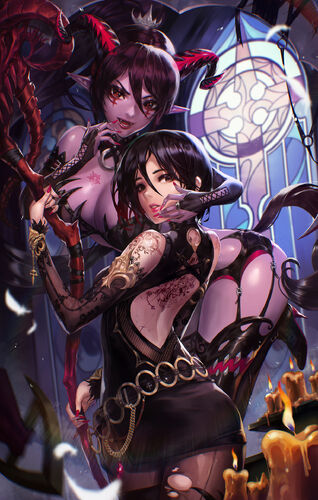 She is the main antagonist of the
Madness Sub Arc
, the Greater Scope Villain of the whole
season 1
', the Greater Scope Villain in
Phoenix Sub Arc
, the Bigger Bad in 
Godom Arc, 
and a major unseen antagonist in
Unit-CM 130 Sub Arc
 of the
second season
of 
LOTM: Sword of Kings Saga AA. 
She is highly to be the Greater Scope of all seasons of 
LOTM: Sword of Kings Triggers Hell Saga
even after her imprisonment, for she is the responsible for making the Hell Realm strong enough to launch a powerful attack against the Paradise and 0th Multi-Universe. Despite being a Arc Villain, she can be considered one of the 20 Arch-Villains of the whole 
LOTM: Sword of Kings
 storyline thanks to her influence during the story on Prime Earth events such as being the first Devil of Triggers Hell to arrive on Earth, giving birth to
Satanism 
and Black Magic on Earth, and thus, starting countless wars plagued by Church against heretics, witches, monsters and demons.
In LOTM: Witnesses of Sleepy Hollow, Ara served as one of the major (if not main) antagonists of the storyline. In her first appearance in Witnesses of Sleepy Hollow, Ara will be the main antagonist of the upcoming spin-off, Prophecy of the Light Lord. In this storyline, the Hexenmeister Community considered Ara as one of the (if not the only) demon appearing on Earth so far that would rival against Moloch, and they were highly alarmed by her actions. It was also revealed that Ara was the one behind Mephisto's actions in Arendelle in order to overthrow her father, making her the Bigger Bad of both Scorched Spin-Off, one of the Bigger Bads in Black Host Saga alongside Zadkiel and the Bigger Bad of Dreyfuss Saga. However, due to her actions that influenced Magic Side, Ara would be considered as a catalyst and, arguably, the true Bigger Bad of LOTM: WoSH storyline.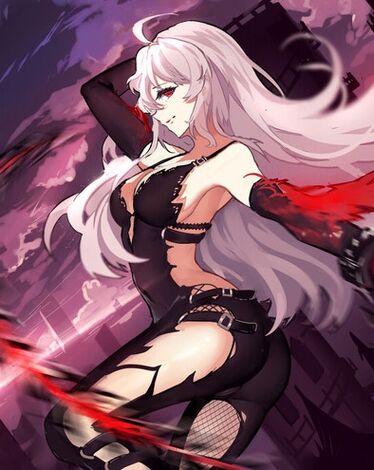 Born from a
cosmic black mass of darkness
inside of the Demon Queen Pshica, Ara was an evil tyrant, shapeshifting Pure-Blooded Devil that has taken over the countless worlds, including all Earths, and has ruled it for countless eons. Ara is highly considered the most dangerous of
Saga AA
as she sent the heroes 2,000 years ahead in the future, where she ruled the Prime Earth and the whole omniverse as her own kingdom and has brought genocides, death, pain, destruction, carnage and turned it into a Hellish world where satanists and High Priests from 
Astaroth Empire
ruled over humans and inferior beings, allowing homicide, robberies, corruption, rape, pedophilia, necrophilia and even cannibalism and thus corrupting mankind and leading it to destruction slowly.
Ara, also known as Anti-Christ of All Anti-Christs, is the true AntiChrist prophesied to kill God in the Holy Bibly of God (non-Christian bibly) and destroy Hell itself, her own kingdom. She is a former member of the Nine Demon Gates and the creator of Black Magic, Curse  and the Black Bibly and by extension the religion of Satanism. She is a ruthless, diabolical, and manipulative Devil Princess who is the archenemy of Scathach, Tomas Sev and Imperia Deamonne, being directly responsible for all tragic events involving the main characters of the story such as Kyouhei Kannazuki, Haruko Couteau, Iruka Couteau, Ichabod Crane, Katarina Couteau (on Prime Earth), Lusamine, Tomas Sev, Suzuya and many more... She is easily one of the most successful villains of the story, as she managed to rule all Earths of the Multi-Universe for centuries, by invading them and using her energy to make all humans kill themselves until no one was left, creating countless Hellish Utopias for her reign, there she would start her own kingdom of death until Leohart the Prince of Hell decided to pass his throne for her, and has been unstoppable for years.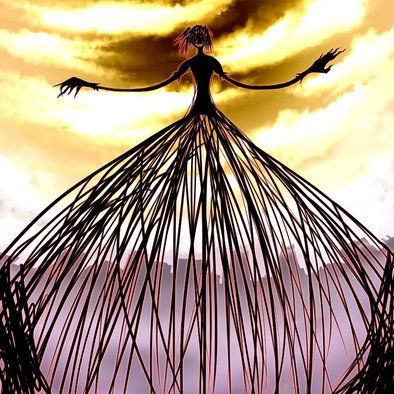 From all villains in Saga AA, Ara is the villainess with the most high-body count, more than Aryana Westcott and The Fallen's Essence body count. She is seen as a shape-shifting agent of fear, darkness and death and ruin who travel to other worlds to spread Leohart's Words to help Triggers Hell expand its territory. She often visits Hell and enjoys bringing madness and suffering to inferior demons (tortured souls are among them). Ara is also a sadomasochist who thrives on cruelty and the effect it has on those who observe it. 
Another curious fact about Ara is that she tends to switch back and forth between being played for laughs, and being a truly threatening villain, this makes Ara the unique type of villain in LOTM: Sword of Kings. She would either do something pettily "villainous" not to be taken too seriously, like telling stories to children to make them like her, or be extremely unsympathetic, like causing genocide and enslaving innocents and even watching her Trolls raping innocent human women to death. What makes Ara one of the most devilish female villains, is that she can easily be a funny villain while showing a controversial scenario, making it somehow black and white and more focused in 'Humorous black humor'.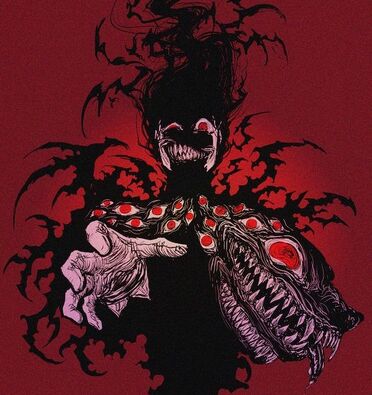 Ara is the eternal arch-enemy of her counterpart, Nu Wa, the Guardian of Heaven and Earth. She is dedicated to consuming the multiverse if not the omniverse, which is the plural of "Multi-Universe", meaning that she was able to consume the souls of all Multi-Universes of existence. Her goal is to bring an end to the annoying creation boasting independence around her, and find peace by becoming the living center of a swirling, infinite torrent of nothingness at the end of all things once she finished her fun of having sexual pleasure, drinking blood and bringing pain upon all living beings, including animals and Gods. To undertake this seemingly overwhelming task, Ara is able to travel across realities at will, a meandering plague upon existence itself. Integrated into her cells are incomprehensible quantum atoms which calculate probabilities forward and backwards in time, in perpetuity, giving her soul and mind an ever changing, evolving map of the multiverse, thanks to this skill, Ara is considered the strongest Devil of history, even more than her father and his masters; Lucifer and Devil.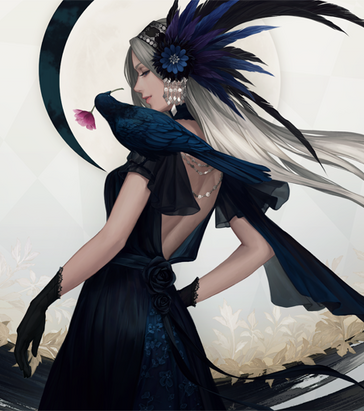 Frequently, Ara will make deals with lesser beings, giving them vast new powers in exchange for their servitude. These minions are sometimes stripped entirely of their free will, but others follow her willingly. Service to Ara, however, is a double edged sword, for it causes insanity and loss of self. And in the end, no matter their intent, Ara's plans ultimately call for their consumption as well.
Originally, she was sent to Prime Earth to open a portal between Hell and Earth to connect it with Leohart's Essence, and so bringing Hell on Earth by using Leohart's Cult as her main supporters, but the main reason behind of this is because the Prime Earth is the Pillar of the Multi-Universe and she wished to bring down the laws of the Multi-Universe to live in a existence filled with nothing but death, where she could have much of sexual pleasure and drink blood for all eternity.
Formerly one of the Enforcer of Nine Demon Gates, and an Inquisitor of Blood Cult, Ara was driven out when it was revealed that she was a Serial Killer, who had performed sick experiments on captured Demons and Angels as a cultist of Blood Cult, genetically altering infants in order to create super soldiers, and murdering others in an effort to unlock the secrets of immortality.  He joined up with the Leohart once her cruelty was discovered, but was expelled, Ara then started recruiting lost sentient children with promises of power to turn them into her servants.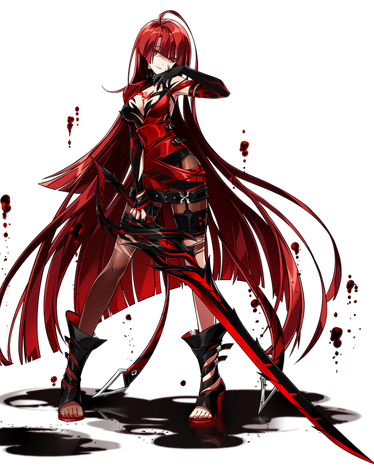 Ara, unlike her fellows folks, she displays signs of "Encephalopathy", meaning that she was a normal living being but had a twisted sense of morality, similar to homosexuality, showing that she was not INSANE or a person with some mental illness and commit all her atrocities for pleasure. In her search of revenge, Ara wiped out God from existence and become the Ruler of the Multi-Universe—where she revealed her true colors by massacring civilians and noncombatants whose only crime was being slaves of Deus.Ex.Machina Industries Empire. Ara frequently displays a tendency to betray and kill those who work with her, including her Sin Archbishops of Leohart's Cult and showed no mercy when En failed to kill the rebel leaders, sending him to Unit-CM 130's laboratory after removing all his powers to be dissected while he is alive. Ara showed resentment towards the Angels and happily tried to have all Fallen Angels of her own Empire executed, despite the Fallen Angels having previously worked with her and her faction for thousand of years.
Ara also crafted the Ara Doctrine, which laid out principles of Astaroth Empire, would repeatedly demonstrate her cruelties as a Empress, upon her promotion to High-Empress, she taxed the subjects of all universes to starvation. During the earliest days of the E.N.D., a bio-technological weapon built to destroy planets, Ara sanctions the obliteration of rebel city NiLaha and claims the victory as her own and said she now have the power of the Gods in her hands. Ara later has the E.N.D. fire on the Astaroth base on Deus Ex Vectron (the former homeland of DEM Empire) to quell rebel activity, killing countless members of the Empire's own men, while also wiping out the remainder of the Resistance.
When Imperia finally defeats her, Ara still made an attempt to summon a giant pentagram around Russia on Prime Earth to suck the souls of many people she could to gain immortality again. Ara's only response to any of her atrocities is a cold, smug sense of satisfaction. Ara was a purely evil devil who would kill first billions, then insurmountable trillions, just to satisfy her raging desire to be the only Goddess of the Multi-Universe, and stands out as the most iconic female villain in the storyline for this very reason. Aside from that, she was a Knight Templar par excellence, Ara exercised cruelty nightmarish even by the standards of the Demons and Devils and is known to be the most cruel Empress of all times. Instead of Idea of Evil, many people thought she was the TRUE incarnation of all evil despite her jerk and comic relief behavior. Ara is also highly considered the most evil CIS Production villain from Magic Side and her appearance in the show proved to be the most disturbing and darkest episodes of all CIS' stories, ever.
---
"#-A" Tropes
0% Approval Rating: Zigzagged between two different classes of her empire. Demons who are not born as Black Demons hates Ara. This is more evident after the foundation of Astaroth Empire, where it's established that the only reason her non-Black Demons follows her is because they're afraid of being tortured or killed. The few people who are loyal to her are the ones who were brainwashed by her scientists. Without the Blackness to brainwash her own people, Ara would be nothing but a pile of centralized hate.
100% Approval Rating: For the Black Demons' classes. While Ara is known for being a Black Demon herself, she only give rights to the people of her own race while other demons suffer at her hand in starvation and abuse of rights. The Black Demons receive her best gifts, praises and jobs in her Empire as military generals, captains and other military ranks.
Abusive Mother: For Tomas Sev after he returned to her arms. When Tomas was born, he did not even passed 1 week with Ara before she threw him a Time Portal to the past to increased the speed of her plans at the past. Later, when he returned to her in the future, she was extremely abusive to him by giving orders to slaughter innocent people to become one of the Black Demons like her and her minions. When Tomas' past self refused to do, she punished him with violent and brutes punishments like exposing to electricity and even ripping off his limbs.
Abusive Precursors: Ara and her empire wait around watching to make sure the omniverse doesn't develop too many intelligent beings capable of creating or controlling energy, including humans, to prevent them from rising against Ara and her rule. Once they decide there are too many, they sweep in and Kill 'em All . They do it with a really snotty attitude, too, which adds insult to injury. The reason why Astaroth Empire is always seen hunting down mortals is because they are not only disgusting and wicked (according to Ara) but are dangerous and their numbers need to be decreased through genocide.
Absolute Xenophobe: She hates humans in all aspects which explains why she acts with rudeness towards all human characters throughout the story.
Abstract Eater: She can eat memories and emotions of other people and make them suffer Laser-Guided Amnesia. 
Accidental Art: Played For Laughs. Ara is fighting Katarina Couteau when she use telekinesis to hold her up and start throwing her against the wall over and over again until a "dick" appeared there, the tip being her long hair and her thin body being the pillar.

- Ara: YOU NAUGHTY WOMAN!
- Katarina: IT WAS YOU WHO DRAW THAT!
(Katarina is threw against the wall again)

Accidental Proposal: Her declaration for Maria. She is deeply interested in her abilities but her message was misunderstood.

- Ara: Oh Maria... If I ever could bring you to my side I would NEVER let you go! You're so badass and STRONG!
- Future Maria: What the...
- Imperia: Lesbian slut...
- Ara: What?

The Ace: To Triggers Hell despite her role as the leader of Revelation of Qliphoth. In a story full of genius and prodigy fighters, Ara may just stand head and shoulders above the rest. Ara was the strongest female demon in the omniverse without training a day in her life. She also has an insane amount of durability thanks to her species extreme survivability and was able to remained sentient after Katarina cut her to bits (only to regenerate later, of course). In Rise of Qliphoth era (2,000 years after the beginning of Saga AA), through training for only four years Ara manages to close the power gap with Isaac Westcott, who had powers beyond godhood. With that said, her own arrogance in her greatness proves to be her Fatal Flaw. She never bothers to learn to control her full power, which leaves her with very poor endurance. If Ara was a little more interested in training her own body and energy, she could have easily won the entire CIS Productions universe for herself without possibility of a good ending...
Achilles' Heel: Ara is very weak to divine magic, as her Made of Evil physiology can be burnt apart easily by the magic of Gods. The formless evil that spawned her was slain by a trio of gods who imbued Sister Mary Eunice's spear artifact thousand years ago with the same energies, allowing it to harm Ara. Unless you have a divine artifact forged by Gods of Light, Ara will not die no matter how many times you cut her head, her limbs or even burn her to ashes. Ara is literally immortal.
Action Mother: Ara regularly (and effortlessly) decimates entire armies, has conquered the entire omniverse, and is the sole being that can fight on par with the Supreme Gods and Balam Alliance's emperors. And she also happens to be the mother of Tomas. She is considered to be the strongest motherly character of the storyline, ever.
Act of True Love: Ara is a devilish and evil Demon Queen that refuses to sell her body to other men and women just for lust... However, CM received the best gift she saved from her True Love; her virginity. If you receive something like this from her, there is no doubt this woman loves you death.
Actually a Doombot: She gets shot in the head, stabbed in various spots, hit by a car, sent to a 100-meter fall, and being bombed. Turns out that they are duplicates of her real body, which is powered by Blackness. Astaroth King and Mina Harker are an example of them.
Adaptational Intelligence: The new script Ara is also far more prone to psychological warfare and careful thought than her old counterpart. As an example in Mina's body, regarding how she chooses who she plans to kill in her debut at Mafusa Gang's Revenge Sub Arc, the old script Ara truly appears to have done a random selection (she listed several reasons why she couldn't decide who was going to get killed), new Ara bounces around during her "random" eenie-meenie-minie-moe game and just so happens to land on Nick Fury (who had quietly stood up to her earlier) after pausing on the last pick. Even Vira agrees that Mina's game was simply a means for her to observe each member of the group and determine who was the logical choice to take out. Her seemingly random choice of Kruls as her second victim supports this interpretation as well, given Kruls has previously interrupted her previously.
Adaptational Jerk-ass: As absolutely amazing as it sounds, Ara manages to get this in Mafusa Gang's Revenge Sub Arc when compared to her future self in Rise of Qliphoth era. In this timeline, Ara exposes the existence of Black Demons to all humanity and almost ending the World War III ijn its state to start a much worse war, the Purge that was a holy war where billions of humans killed each other for thinking this person was possessed by a demon. Without even noticing it, humans were becoming the demons they were hunting themselves. Ara broke the sanity of BILLIONS with words and propaganda while her original counterpart brainwashed them with the Blackness and turned humans in monsters. Worse, during this events, almost 90% of the heroes in the story died in brutal ways that would make even some readers question the sanity of the Writer if it was right to kill your own characters in this way. As an example, when Mina Harker displayed a video of Katarina transforming into Berserker when she was fighting Kanon Rihavein in Aldegyr Kingdom, the entire Japan society, her classmates and even people she once befriended hunted her down and killed her own friends, including Rentaro Satomi who was cut in pieces and burned at stakes like witches... In this timeline, Ara became the worse nightmares of all heroes, and all of this while in the body of a clumsy and cute young woman known as Mina Harker.
Adaptational Sexuality: With Unit-CM 130. In the original script of the story, CM and Ara didn't not even know each other but in the new script they are literally a couple.
Adolf Hitlarious: Her numerous Adolf Hitler's parodies and jokes are just AWESOME!

- Ara: I kinda feel sorry for Hitler. Looking back at some old photos of him, his friends always left him hanging when he went for a high-five.
- Ara: Enough with the jokes me! They make me A-ngRA!
- Ara: So kids, today I'll teach you how to cook humans. First, turn on the volcano...

Adorable Evil Minions: Sure, her army is full of Ugly Demons, Eldrich Abominations, Nightmare Fule creatures, Humanoid Monsters, Lovecraftian Horror Aliens and Hybrids Animals... But let's face it, her army is also full of hotties and sexy women!
Adorkable: When she's not being a monster and an evil tyrant, she can also be seen enthusiastically cleaning, getting stage fright, blushing in embarrassment when being called cute, and other such adorable acts of dorkiness.
Affectionate Nickname: She has hundreds of nicknames for being a God-like figure. She is mostly called as Astaroth King, Astaroth Queen, Astaroth Ruler or Astaroth Princess.
The Ageless: Immortal. That's pretty straightforward. Ara's physical body grow up but it stopped growing at the time she unleashed her true Nosferatus powers. If we were to compare her present body with humans', she would be exactly at her 19-years old and she is 45,000,000,000-years old.
Agents Dating: Ara is a servant of Leohart the Prince of Hell and Unit-CM 130 is a servant of Isaac Ray Peram Westcott, and these two are dating despite they come from different organizations and have different ideologies.
Aggressive Categorism: Like Westcott, she hates all Gods, no matter they race or age, and wants to eradicate them and create a Nazi-like utopia where demons rule on the world.
A God Am I: She is a demon but she constantly invokes her so-called "dearest wishes" by attaining godlike power from Idea of Evil as part of her plan to rewrite the world, after which she'd declare herself as the new world's ruler.
All According to Plan: Everything she does, she's planned for. She even tells this to Kotori. The only time that something doesn't go to her plan is when Katarina proves to be incorruptible in Rise of Qliphoth era, and shortly thereafter, when Tomas saves Katarina.
Allergic to Love: Particularly an emotional one. Every time CM is next to her, she will feel happy and "horny".
All Girls Want Bad Boys: Ara attracted to heartless men and has been searching for people like for a long time but she finally found this "bad boy" that is Unit-CM 130. Even if there men worse than him out there (that is... entirely impossible), she will refuse to show him her love because CM is her true and only love.
All There in the Manual: In CM Sub Arc, Ara was only identified by her title (or in the case of Vira in private, "Mistress"). The name "Ara" was only given Mafusa Gang's Revenge Sub Arc. The name "Ara" is finally used to identify her in Madness Sub Arc.
All Women Are Prudes: Zigzagged. Ara may be a horny demon queen towards CM but aside from that, she really hates sexual and lewd jokes. When being in normal mode, she can be funny and sarcastic but when someone brings sexual content, she can only find it disgusting, mainly if the person is a man. However, at times, she will be very mad with some people around her, most notable Ainz Ooal Gown when he mocks her, and will throw some really bad sexual jokes.

"If you force sex on a prostitute is it rape or shoplifting?"
"I'm going to eviscerate you and use your gastrointestinal tract as a condom while I fornicate with your skull!"
- Ainz: Haha, you failed!

- Ara: Yeah, so did your dad's condom.

Almighty Mom: And that's putting it lightly. No matter how powerful and charismatic Aki Honda and Oriax Wheelahr are, Ara is always a full tier above her, over-stripping them in both power and authority, the former of which they displays consistently through the latter part of the stories (Aki Honda in Mafusa Gang and Oriax Wheelahr in Hell Lords). Even when Oriax rebelled and Tomas were revealed to be her son, she has absolutely no problem putting both her kids (with Oriax being an adoptive kid) back in their place.
Aloof Dark-Haired Girl: Does give off this vibe as she doesn't want people to get close to her. In truth, she hates being alone and this is just another one of her adorkable tendencies. She is mostly this to CM to tease him to leave her alone when in fact she doesn't.
Ambiguous Disorder: She was never very stable to begin with, but in LOTM: Destiny, she shows clear signs of PTSD as a result of her defeat at Katarina's hands and her suffering in Undead Land.
Ambiguously Bi: It was known that she engaged with Unit-CM 130 but also molests many nuns over the course of the story (although she didn't molested them herself) and later Katarina, so she has engaged relationships with both sexes. If you consider watching women being raped by Trolls is a sign of homosexuality.
Ambiguously Evil: Yes she suggested to "reset everything", however with her backstory about her trying to prevent another world war that would destroy all of reality, the Ancient Ones concept being an accident thanks to genetics, and trying to prevent mass panic that would have erupted from said flaw in the system, she stands firm in the Necessarily Evil territory. Ramps up the ambiguity with her performing several Pet the Dog moments one seemingly out of no other reason than she could. Later subverted, when her true colors start showing. The true colors of a monster who just wants to rule everything as she sees. And if this world she desired for doesn't work, she will just destroy everything in the Omniverse via corrupting the Core of Paradise with her own hands.
Ambiguous Situation: In LOTM: Destiny regarding about her true status which became a mystery In-Universe. When Ara was revived thanks to the actions of other Black Demons active in the Living World, Ara was able to escape and contact Shiva, the cult of Cult of Ara that has been worshiping her for million years. When Ara was revived, she immediately infected most of the cultists of Cult of Ara with the Blackness to brainwash them and turn them into true Black Demons. In Saga AA, it's shows that Ara can easily sent her mind and persona to other people if they are infected with the Blackness. At the end of her invasion to New Republic of Deus.Ex.Machina Industries' capital, millions of her cultists were killed and executed by the forces of the New Republic, including her own new body was destroyed by one of her daughters, Isuke Inukai. With her death, Isuke became the new Goddess of Qliphoth as Ara was now officially dead and the title of the Queen needed to be transferred to another person who turned out to be Isuke herself. Yet, not all members of Cult of Ara who were infected by Ara's Blackness died or converted themselves to Isuke, rather the Blackness of Ara continued existing inside of them. And as we can see in her history section, her final scene is when she is seen in the Undead Dimension crying for returning to that boring place... But if the cultists of Ara continued infected with her power, she could have easily transferred her mind to one of their bodies and start another life in the Living World. So was Ara's true fate at the Undead Land even true? And was Ara really Killed Off for Real? Or did she just go back in time or laying dormant in Shiva cultists' mind? If one of those options are true, Ara is alive and might return in a few years to create a new massive plan and found her new empire to counter-attack. Even if Ara is no longer the Queen of Qliphoth and the Blackness, she still has enough power to destroy entire universes alone.
Ambition Is Evil: She will do everything to achieve her goal. Even if she has to backstab her own lover, Unit-CM 130 to destroy the reality.
And Starring: Gets this billing from Unit-CM 130 onward. However, she has been around for very first episode of the story.
And That Little Girl Was Me: It's heavily implied in Madness Sub Arc that Ara served under (and killed) the death-conquering Black Diamond, her best friend and new advisor whose story she tells Tomas to sway him to her side. This is played mostly of the time in the story, mainly in her first appearance in Tenguu City's Festival where she disguised herself as an attractive rich woman.
And There Was Much Rejoicing: The Updated Re-releases of Madness Sub Arcs finale shows several major planets and even universes celebrating her death alongside the Reality Council and other major heroic factions of the story. As it turns out, the planets with a significant Revelation of Qliphoth presence did not take too kindly to this.
And Now You Must Marry Me: Really wants to marry CM because he has resisted her so many times while most men would fall for her in less than a second if she wishes to seduce them. Yet, she saved her virginity for the true man she desires for. Even a psycho like her holds the honor of a woman.
And Your Little Dog, Too!: Her indulging in this is what triggers Tomas to snap out of her brainwashing, leading to him beating Ara while she is busy. First she kills Suzuya, who was no threat to her whatsoever then she declares she's going to do the same to Lucas, Tomas' childhood friend. Tomas promptly free himself from her control and attacks her.
Animal Motifs: Much like her "other" self, dogs. Even without a great reliance on Idea of Evil, Ara gets around this by using various moves that create dogs and hell hounds out of her signature red-and-black ghostly energy.
Antagonist Abilities: Let's see: control power over darkness? Check! Can summon demons and creatures of Hell? Check! Can control zombies and ghouls? Check! Can manipulate a black liquid that brainwash and corrupt people? Check! Use power of death itself? Check! Uses blood magic? Check! Do we need to continue? It's more than obvious she is a VILLAIN!
Antagonist in Mourning: When CM died, she truly felt sorry for him and cried for his death for being her First Love. At times, she went to the giant hole of the meteor that killed him to throw some black flowers inside of it.
The Antichrist: The original Anti-Christ said to be the destroyer of the reality. She wants to rewrite the world according to her image by wiping out all Gods and mortals and create an omniverse where only demons exist and rule while putting all mortals and humans in a state of slavery. Not only is she immensely powerful, but she also manages to exterminate the Supreme God's Paradise and set herself up as ruler of the omniverse through years of plotting and manipulations and ruled it for more than 2,000 years. Word of God even outright says Ara Astaroth is the saga's equivalent of the devil who is sealed in a distant dimension. 
Anti-Humor: Her moments with Moloch in Purgatory. They start first with the "grandson" joke. Moloch simply couldn't follow her in her antics.

- Ara: So my name is Ara Astaroth! And yours is?

- Moloch: You really don't know my name? Pathetic child.
- Ara: You can't expect me to know the name of someone who cover his face with mud (reference to Moloch's black skin)
- Moloch: Ha-Ha-Ha-Ha...

- Ara: I'm going tell you a story, my budda. This is a story of how I ascended beyond the power of the devils and with such young age I'm par with your butt [power].

- Moloch: ............
- Ara (with African voice): One day, I was eating my Ebola and my Ebola was stolen. And then my Ebola was stolen I realized is meaningless, it is all fake! When I lost my Ebola I became th--
- Moloch: The hell you are talking about?
- Ara (with African voice): I was EATING my Ebola and when it was stolen I ascended beyond the DEVIL! This is how I became so powerful.
- Moloch: YOU'RE MOCKING ME?!! BRAT!!

Anything You Can Do, I Can Do Better: This is literally her relationship after Vira fell in love with Zelkron. The two stopped being Boss and Subordinate and became love rivals, always making challenges of whom will win Zelkron for herself.
Arch-Enemy: To the Gods, Ancient Humans and the mages as a whole; the Witch Cult's Libertas as well as their alliance with the Paradise are to kill Ara once and for all. In this end, she becomes a personal enemy of every single character of Saga AA as she the enemy of many villains who had their own plans there.
Arch-nemesis Mother: Tomas is very willing to disown her as her mother by helping the Rogues kill her.
Arc Villain: The most important one in LOTM: Destiny, the Sequel of LOTM: A Draw of Kings. The CIS Universe would have been a very different place if Ara didn't decide to destroy and invade the New Republic's planet and she became the main villain of two story arcs inside of the same saga. It was mainly because of Ara that another Balam Alliance was founded now with 8 differences Dark Empires and that another Multi-Universal War broke out.
Arc Words: "All Shall Be Stained in Black" during the entire Season 2, as it's used by several characters as a way to hint towards her impending arrival in Madness Sub Arc, where her true persona appears on the screen while Mina Harker and Astaroth King were merely parts of her fragment.
Aristocrats Are Evil: She born in the rich clan of Astaroth but was adopted by the wealthy Leohart's clan when she gained his attention.
Armed Legs: She has knives hidden in her shoes.
Arms Dealer: Ara control 100% of all black market in countless planets and use sock puppets like Aki Honda and Black Manta to control her Underworld's business. She not only sell weapons and drugs but slaves, sexual-slaves and even sex-dolls... Creepy... But there is something interesting, she NEVER go and sell animals and plants because they are part of the most beautiful things she loves in the world. Except for dogs, she really hate dogs.
Ascended Extra: There were no hint of her existence in the present until the Eckidina Arc, as part of Mina Harker, and in the next sub arc after Angel Arc she starts making herself known firstly when Heis summoned the Black Army, that was the first hint of her existence in the story. Even so, Ara Astaroth has been messing around from the very beginning of the story more than any other villain, even more than Eckidina KnightWalker. The story first starts her movement at the very FIRST episode where Mafusa Gangsters tried to rape Tadokoro, a High-School student of Raizen High School. Impressive but those guys were part of Ara Astaroth's giant crime empire scattered all over the world.
Asshole Victim: A key reason why her death was so widely celebrated was because her Empire was extremely oppressive by the time she was killed.
A Taste Of Her Own Medicine: She gets herself trolled by different people - the same bunch whose lives she ruined. The first by Future Maria who gets around her Power Of Hate by rewiring her brain to suppress her emotions. This allows her to soundly beat her, only for her to not finish her right then and there. The second by Tomas Sev; while he does feel hatred for Ara, he only trolls her by making her fight a "phantom" of her. Both claim that harming Ara physically would be pointless and that they're going to find the right way to end her existence. She can't do anything but hurl insults back at them for this.
Attack of the 50-Foot Whatever: Her Anti-Christ form is a 100-meters tall monsters composed of 80 tentacles replacing her legs while her upper body becomes a deformed monster body made of Black Tar, making her human traced disappear leaving only a creepy smile with white glowing eyes.
Attractiveness Isolation: Ara is often target of this but it takes further when she went to Tenguu Festival disguised as human. Her good looks attracts mobs of boys and girls to swarm her. To defend herself from this, she adapted a look of self confidence and intimidation so that even though she'll still turn heads and have on lookers constantly, they'll feel too intimidated to approach her.
Author Appeal: Inverted: Per Word of God, Ara is an amalgamation of everything that DestroyerSubjugator90 likes in a woman removing her villainous traces. She is funny, sarcastic, rude, a total tsundere who insults you but don't want to let you go and is clumsy despite her All-Might facade.
Authority Equals Ass kicking: Subverted at first, as she admits that she is not a fighter to Katarina as Mina Harker. However, it proved to be a lie as even Ara in the form a defenseless sexy secretary is just strong physically as she is Demon form. As Mina, she is more than powerful enough to back herself up as the totalitarian director of STAR LABS, easily subjugating allies and enemies alike.
Awesome McCoolname: "Ara" is played with Catalan's language "Now". The name Astaroth was ultimately derived from that of 2nd millennium BCE Phoenician goddess Astarte who related to war and sexuality. If you combine the two you have "War Forever", "War until the Present" or for a more perverted exampled combined with her horny personality towards CM, "I want Sex now".
Ax-Crazy: For obvious reasons, she's very good at hiding it. She's been sadistic and homicidal since her childhood. All this performed with a big smile on her face. Despite being a very composed woman, she has an incredibly warped mind. Her psychotic true nature breaks out on occasion. Her plans even make her sound like the only place that will accommodate her is a padded room, complete with straitjacket.
"B" Tropes
Back from the Dead: In LOTM: Destiny she really manages to escape from her punishment and returned to the Living World but weak than ever. Needless to say, she was killed again but new scripts left her fate totally unknown as it's a mystery if she is alive or dead considering that she had many minions possessed by her evil spirit, giving her a chance to revive any time.
Badass Adorable: Mina Harker is played straight. She is not only strong and intelligent but she's still insanely friendly and cute when she is drunk to the point that Lucas almost fell for her, much to Isis' disappointment.
Badass Boast: Despite being a cruel yet funny character Ara is a badass herself.

"I am not the hero in my own story. I am the bad guy. I have no end in mind that justifies my means. There are no skeletons in my closet, no abusive childhood or inciting misery that might expiate my vile behavior. Nor am I insane. I know the difference between good and evil. And I am fully capable of empathizing with the pain, emotional or physical, of others. No sociopath, I. Rather, I simply prefer bad over good. Wrong over right. Dirty over clean. Sick over healthy. Untrue over true. I think I became like this when I stared at the abyss, but when it stared back, I laughed!"
"All I wanted was to see the most fundamental characteristic of human existence. Savagery! Savagery in its purest, most unadulterated form! But that woman, blinded by love, ruined it. Unending, overwhelming despair... can the stubborn determination of mere humans cause a miracle like this? NO! I'll prove it! I'll prove there's no such thing as miracles! Those of you there with good hearts untainted by darkness! PERISH! Those of you unburdened by guilty consciences... DIE! Those of you who carry love for another in your hearts... PERISH! Tell me, what am I? Light or darkness? Your hope... or your despair?"
"Most men would question the decency of a decision like [mass-murdering your own people]. Some would become paralyzed with despair and regret. Rest assured, I am not most men."
"Perhaps annihilating this scum will break me out of my... malaise."

Badass Bookworm: Ara is a very intelligent woman, oftentimes getting through conflict simply by manipulating others rather than taking action herself. But when she does take action, things aren't pretty. She's also extremely well-versed in the lore of the Black Demons.
Badass Bystander: Was content to observe from afar Oriax Wheelahr during the WWIII, at least until Oriax became a threat to her plans. Then the Queen really hit the fan...
Badass in Charge: The leader of the Revelation of Qliphoth and countless other organizations over the course of the story like Mafusa Gang, Intergang, Knights of Astaroth, Astaroth Empire and the list goes on. During the WWIII and after, she had both sides (Stabilization Union and KnightWalker Alliance) reporting to her, one way or another. When she became the first Empress of Astaroth Empire, she only became more powerful and dangerous.
Badass in a Nice Suit: As Mina Harker. When her troops failed to defeat the Ratatoskr's force, she went to the battle with a suit while her enemies were fully prepared. And guess what? She wins using her own fists. Her sloppy, naive and clumsy personality as Mina takes this to Crouching Moran, Hidden Badass.
Bad Boss: She treats her subordinates, even the loyal ones, as disposable pawns in her grand scheme. She even ditches them without a second thought the moment they outlive their usefulness. And worse, considering they are fanatics for her, they happily receive this treatment with pleasure.
The Bad Girl Wins: The first half of Saga AA is dedicated to showing how she overthrew the Order of Terror and the forces of good, destroyed Ratatoskr, and organized the Astaroth Empire. It's not until the end of Diabla Arc that she finally loses. Even after her death in Madness Sub Arc, her machinations and minions continue active, first with Diabla the Qliphoth Tyrant being a servant of Ara Astaroth. If you think about it, the Fallen's Essence is considered the secondary antagonist of the saga while Ara was indeed the true main antagonist for the whole saga. In both of her timelines, Rise of Qliphoth era and Downfall of the 0th Multi-Universe timeline. In Rise of Qliphoh, she overthrow all villains of the story and set herself as the Ruler of the Omniverse after killing the Supreme God while in the Downfall timeline she destroy mankind and manipulated God into destroying the Prime Earth, turning it in a dead rock of fire and magma. Along with Earth, God also destroyed the entire 0th Multi-Universe in the hope of destroying Ara and her Black Demons... Of course, he failed and the death of quintillions were in vain.
Bad Girl Do the Dirty Work: When her forces prove to be useless, she will go to the battle to do her dirty work with her own hands. However, it depends in how crucial in their mission. 
The Bad Guys Are Cops: The STAR LABS works as an Police Special Forces of Supernatural Activities.
Bad Powers, Bad People: Ara is a very powerful Nosferatus with very strong powers, which she uses to commit evil deeds.
Bad Is Good and Good Is Bad: What people call humanity is wrong for her as "Humanity" is a singular term when there are TRILLIONS of races around the universe and when people call "humanity" as "good" it means we are being selfish as it comes from "Human" word. She has a point.
Baddie Flattery: Ara compliments Maria many times over the course of the story. 
Bait the Dog: The best example of the story after Isaac Westcott and Eckidina KnightWalker. Baits anyone in their moment of need, wins their loyalty with kind words and favors, and in the end, uses and abandons them to die.
Balanced Harem: Oh yeah, she have several types of male after her... From ugly humans, fat men, old women, teenage girls, humanoid creatures, abominations, handsome demons, sexy Pure-Blooded Devils and even gods!
Bastard Understudy: Like many a Demons master/apprentice relationship before her, she was this to Leohart the Prince of Hell and Black Diamond, whom she killed after finally reaching the climax of her grand plan. She also takes steps to defy this trope with her own apprentices in Saga AA, choosing those who were unquestionably loyal to her.
Bathing Beauty: At times, Ara is exposed taking bath for fan service and of course, Played for Laughs:

- Nu Wa: No, my young child. Ara is not a beast. She is the most ruthless, cruel and cold-hearted demon out there. Her depravity is only compared by her bloodlust. Trillions died in her hands.
(The scene changes to Ara taking bath while singing STFU)

Batman Can Breathe in Space: While it's not stated if Ara can breathe, she can survive in a vacuum.
Battle in the Center of the Mind: Gets into one with Elesis in the finale of Madness Sub Arc, trying to tempt her to the Blackness to finally turn her in a mindless Black Demon like Evelynn Astaroth (Mana Takamiya). It should go without saying that she fails.
Beautiful All Along: All her appearances were hotties and attractive to most of the male cast of the story. Even Rentaro Satomi fell for her when he first met Mina Harker. When everyone thought Astaroth King was a man making female clones of himself, it was revealed it was a sexy woman all along, much to Kyouhei's happiness.
Beauty Equals Goodness: Not really good but in the eyes of her followers, Ara is like a motherly figure who wants peace and equality. And above all, she is more beautiful than most Angels and Goddess. So beautiful that makes the Goddess of Beauty, Aphrodite, jealous of Ara (the only reason why Aphrodite joined the Supreme Gods to kill Ara was because she hated to have a "demon scum" more beautiful than her). In truth, she Ara really wants peace but her methods are too brutal and extreme to the point one of her Gospels teach her minions to sacrifice infants in her name. 
Beauty, Brains and Brawn: The Trio-Beautiful Beasts: Ara as the beauty, Scathach as Brains and Aryana Westcott as Brawn.
Because I'm Good at It: Manipulating and exposing the true nature of sentient beings. The Downfall timeline shows exactly how she removed the humanity from all humans without using a single brainwash or lifting one of her fingers.
Because You Were Nice to Me: An inverted romantic example with Unit-CM 130. At first, Ara hated CM but for many days she started to think about him when he was a droid. While most men will treat her with kindness because they want "something" from her, CM literally tried to kill her with medical tools, giving her the thought he was not like most men. She started to love him because of his "kindness". Bizarre.
Better as Friends / Just Friends: A sad example that happens even in real-life. Petelgeuse once confessed his feelings for her but she dumped and said she only sees him as a childhood friend (curiously, when he was killed she did not even remember his name). Poor Petelgeuse got friend zoned.
Beware the Superman: Word of God revealed that the tremendous strength that her clan is known for, is unnatural even to her race. So what do they do with it? Conquer a large part of the universe with it. Ara herself notes that prior to her revival, she had never once trained in her life as she is a natural prodigy.
Biblical Bad Girl: She is based in Astaroth demon, in demonology, is the Great Duke of Hell in the first hierarchy with Beelzebub and Lucifer; he is part of the evil trinity. In bibly, Astaroth is responsible for keeping men lazy and perverted creatures for sexual pleasure.
Big Bad: The definitive main antagonist for the Saga AA, Magic Side and the first half of LOTM: Destiny. Every major conflict in the story is the result of her meticulous planning that was shared with the Fallen's Essence.

In the Saga AA, she manipulates the Fallen's Essence and the New World Order into starting World War III (using their own plan to backstab themselves) in order to arrange her rise to power by using Tom Bucky. She's Millennium Syndicate's superior, who is leading the Mafusas and by extension has an alliance with the original Eckidina KnightWalker, and uses her emergency powers as director of STAR LABS of United States of America to build an army of Cyborgs to Stabilization Union, leading to the WWIII without the Fallen even noticing he was dancing in her palm. This ultimately leads to Katarina's fall to the  Blackness and the execution of The Purgue operation which kills most of the humans. In Rise of Qliphoth era, she establishes the Astaroth Empire itself instead of leading mankind to destruction by letting themselves kill each other.
The main antagonist of the first Saga of LOTM: Destiny. While She doesn't appear in at least first four arcs (the entirety of the story's first season minus her involvement with the Darkness and Krol Barbaro), once she makes her appearance, it's made clear that she harbours ill intent towards the New Republic, and slowly overrides the story's basic Excuse Plot and the Wolf Pack Squad's Curbstomp Battles as well as getting rid of the Comedy Genre story where not even her, the funniest villain of the story, is no longer making jokes like before.

Big Bad Duumvirate: There were doubts at one point, but it's been confirmed; Ara and the Fallen's Essence have been orchestrating everything since before the Cold War II, though Ara's more hands-on by comparison. Even the Imperators (Leohart the Prince of Hell to Ara and The Fallen to The Fallen's Essence), technically being their masters, is revealed to be a Puppet Masters for them; the two kidnapped took parts in Cold War II; Ara helped in the making and fabrication of KnightWalker Cyborgs while the Fallen's Essence sold Alien Crystals to Akrak Couteau to assist her in the production of the Hand of Apocalypse and Hlokoust Cannon.They also orchestrated the Cold War III as well specifically to power Tom Bucky up without even noticing Tom was a puppet of one another. Even if Eckidina then left them to their fates (she was being used by the two but the two ended up getting killed, leaving only Eckidina as Diabla alone in the stage) after they're beaten In-Universe and became the more prominent villain, the two are still active, doing their own thing and biding their time as the heroes ultimately beat her. In the end, though, Ara is the bigger bad between the two, as she takes over the show not long after the Fallen's defeat.
Big Bad Ensemble: The Magic Side have a lot of evil people who oppose each other or don't even know about each other, with complex plans that intersect and are hard to keep track of. Ara shares this mostly with the Fallen's Essence, Eckidina KnightWalker and Unit-CM 130 in Saga AA.
The Big Bad Shuffle: Despite holding this position she works directly to Leohart the Prince of Hell who is the fact the true antagonist of Magic Side and set up the stage where Ara is stepping.
Big Good: A false one she posed this as Mina Harker for the Stabilization Union during the WWIII, while she was also secretly leading the KnightWalker Alliance into a Demonic Purge. Later, she destroyed both alliances by leading the world to a situation impossible to revert.
Big "NO!": Played for Laughs. When she tells that she slipped into a dog's poop

- Ara: I was walking along the street the other day when I slipped in dog shit. A minute later, some guy did exactly the same thing. I said to him, "I just did that." So, he punched me in the face and called me a dirty bitch.
​- Vira: Ugh! I thought Black Demons don't poop!!!! GUYS! ASTAROTH KING ACTUALLY CAN POO--!
- Ara: NOOOOOOO!!!!!

Big Red Devil: Her Shadow Form, though its more of a Big Ivory Devil.
Bitch in Sheep's Clothing: The soft-spoken, clumsy, polite, and noble Mina Harker was simply a role for Ara Astaroth to hide behind — the truth is that she's a Manipulative Bitch.
Big Girl, Little Girl: The big girl to Vira's little girl.
Black Magic: Would a Demon Queen herself use anything else?
Blood Lust: Oh yes. She would bathe in the stuff if she could. She drinks the blood of every dead person in London and has thirty for blood of Gods that makes her more powerful.
Blood Magic: She can use it for other stuff, too. Like summoning familiars. But mostly as a weapon.
Bloody Murder: Ara practically puts her blood through gymnastics using it as a weapon.
Blatant Lies: Hands these out left, right and centre during the WWIII. When she is given emergency powers, Mina "humbly" accepts and vows to lay down those powers when the crisis is over. During the final days of the war, she begins appointing regional governors that answer only to her, but "assures" Kotori and other Loyalists that it's a temporary measure, which will be removed as part of an "immediate return to democracy" once the war is over. Instead, while Elesis is disposing of the KnightWalker leaders, who are now useless to her, Mina announces that the SU will now take over the KA countries, making her the President of Earth with all powers on her forever and the governors still in control.
Bloodbath Villain Origin: Ara was not evil from the beginning. She officially became evil when she slaughtered her entire clan when her unnamed twin sister released from her cage at the Lock Tower where Ara was kept for thousand years without seeing the world outside. At the moment she killed her family and her mother in a horrible bloodbath of meat and bones, she became an Anti-Christ.
Blood Knight: In a very dark way, she loves killing and fighting. Which comes off as hypocritical since she looks down on the ExKriegs for being stupid blood knights who only care about fighting and lack common sense. Her entire downfall on Rise of Qliphoth's future happens because she enjoyed fighting and tormenting the Rogues and the Alliance when she could have turned them into space dust at any time.
Blue and Orange Morality: Katya describes her personality is more than just being cruel and brutal, but rather being abnormal, as in, inhuman. 
Bodyguard Crush: Petelgeuse again. Petelgeuse was her first ally and servant but she never cared about him anyway as when he was killed by the Rogues she easily forgot his name.
Body Horror: Her demonic form as Mina Harker is even more creepy than her Anti-Christ form as it takes form a giant shadow composed by corpses.
Bomb-Throwing Anarchists: Her revolution in Hell to abolish the Clans and Aristocrats families was entirely through violence and destruction in a brutal war that lasted for 1 year between Qliphoth and all Clans of Hell.
Bond Villain Stupidity: While she is without a doubt quite a capable strategist (her decade-long war with the Gods race went quite well for her), her most significant advantage over her adversaries remains that she simply has much more knowledge over the setting than anybody else. The fact alone that she entrusts critical knowledge to people who have declared themselves her sworn enemies (Elesis and Tomas), but also lets them live after that and get away indicates that the woman is not nearly as clever as she likes to paint herself as she let her enemies know everything of her plans and information. Granted, she just does it because she knows she can't be killed that easily and is one of the 5 strongest beings in the Multi-Universe. 
Boobs of Steel: Physically strongest female character of Magic Side in the story and has by far the largest chest of the female's villain cast.
Born Winner: She was born the strongest being in the universe. Without training a day in her life, her power was so unrivaled that only the gods and an Eldritch Abomination surpassed her.
Breakout Villain: At first, Ara was planned to be a mere antagonist of Madness Sub Arc with no story, no background, no personality with exception of her bloodlust and a flat character just put there to be an enemy of the heroes. Later, she received to many updates that she became the most recurring and most influential antagonist of all villains in CIS Universe, staying only behind the Fallen and Sequined Sadist who created the Omniverse.
Breath Weapon: Notably unique use of this trope involving launching hell hounds, swords and even herself from her throat.
British Nazis: As Mina Harker, she is a sexy and clumsy British woman who is the director of STAR LABS, and considering how she has fascists and extremists rules in her own corporation, this tropes fits perfectly with her. In Ara's form, she is mostly a Nazi but not a British.
Broken Ace: After her defeat at Katarina's hands, Ara became mentally broken. She has nightmares about Katarina and suffers from a clear case of PTSD. Her mental status only get worse from her suffering in the Undead Land. 
The Bully: The trait which most sets her apart from the Rogues. They all like a fair, even fight. Ara deliberately taunts and picks on those far weaker than her, and if she catches wind of any actual threats to her, she stomps them out and crushes their morale.
Burn the Orphanage: When STAR LABS took over Sleepy Hollow in 2024, she had dozens of orphanages filled with 400 children and infants burned for being suspicious of being hosts of Black Demons as they were orphans and their suffering for not having parents caused depression and sadness in their hearts, allowing demons to enter in their bodies and feeding from their negative emotions. 
"C" Tropes
The Caligula: While she's the Empress of Astaroth Empire, she never shows concern for her subordinates and even the Empire as long she has a greater interest than ruling over her people, leading to Achyls of the Depravityu getting fed up with her. At the same time, anyone who dares to oppose her ends up under the threat of getting killed by her loyal, if psychopathic, henchmen.
The Cameo: A small fragment of her first We Can Rule Together speech to Tomas can be heard during River's vision in LOTM: The Phoenix on the Sword. This is the only time she's alluded to in the story.
Cannibalism Superpower: Her left hand can absorb powers from things that she eats. This hand works like a demonic mouth of her body and instead of "eating" them with her own mouth, she will use these claws to absorb their lives and memories. She not only gains their powers and memories but gains an extra life for her stock... For example, if she is somehow killed for real she will just use an extra life of her claw to revive.
Cannot Talk to Women: Literally her Rule Number One to CM to prevent him from speaking with another women of his work.
Can't Kill You, Still Need You: Clearly recognizes certain potential, and won't kill those who are outright useful to her or her goals, even if frustrated and in a You Have Failed Me mood. She also believes that this also applies to her as the primary reason why people still follow her.
Can't Take Criticism: Ara refuses to be questioned about her decisions. If someone questions her word, she immediately unleash an intimidating aura. Many of her minions and Generals felt that.
Card-Carrying Villain: Played With. She makes no pretensions about herself or her motives and openly champions the power of Blackness, but she also tells Tomas that Good and Evil are just points of view and seems to regard herself as Above Good and Evil and likely feels that neither of them actually exist, though this only means that she can be as gleefully sadistic as she likes — if good and evil don't exist, then she is free to be as malicious as she likes, and ultimately she's just so cunning, egotistical, and pragmatic that it makes her a very three-dimensional villainess in spite of this.
Casting a Shadow: A carry over from Shadow form.
Catch Phrase: "All Shall be Stained in Black".
Caught the Heart on His Sleeve: CM often will go mad and talks non-sense to CM that she hates him and wants him to die... When he agree that he will leave and never return, she charge towards him and grab his sleeve to stop him from doing so. Many of their moments easily become Heartwarming moment despite their cruel characters.
Cavalier Competitor: The second kind. She constantly toys with her opponents and plays cat-and-mouse games because she's so certain that no one could ever possibly defeat her. All playfulness goes out the window as soon as the tables turn.
Cavalry of the Dead: Ara ate millions of human beings over the course of history of thousand different planets. In the battle of London, she unleashed her Familiars from all eras, from the army of the Ancient Egypt, the Spartans, the Death Persians, the Army of Wallachia, the Royal Army of the Christ! Moreover, she has the ability to summon different Horsemen of Apocalypse from different timelines and eras.
Celibate Hero: A hero to her group of fanatics. It was revealed long ago she was not interested in romance as she considered love a weakness. But when she met CM, she started to feel feelings for him and considered them as lust instead of love as she was in love with his work but soon she discovered it was true love.
Chaos Is Evil: Her ultimate plan is peace for everyone she consider superior but the first step of this grand plan is to unleash total chaos upon the Living World to wipe out Gods and Divine Beings who are a threat to her plans, resulting the end of countless worlds and trillion lives.
Chaotic Evil: By her standards, she is mostly a Lawful Evil as she is the leader of many organizations and use her influence and authority to control all things around her. But most of her plans takes actions through chaos, war and destruction. Not to mention, her world, Astaroth Hell, is a place totally made of death and chaos without laws or order. The only safe place in her world is in Nibiru and Prime Earth, the only two planets that became the capital of her empire and are very well organized and clean.
Character Development: Ara had many of those in her past but in the present, although Ara at her core remains a sadistic, vile individual that relishes destruction but in LOTM: Destiny she had a very critical one that erased her comedy sides and playful tendencies. After her first defeat at the hands of Katarina, she almost went insane (not like she was sane from the beginning) in the Undead Land and lost all her sarcastic and childish side that was most played for laughs for the rest of the story when she showed up. In the sequel, she is way more serious and almost emotionless to the point she looks more like a machine. When she faces Isuke Inukai and Yato Stinger at the Guild Hall of Wolf Pack Squad, she is revealed to be a insane sociopath who ordered her soldiers to cut the members of Wolf Pack Squad and alive and take bath with their blood while devouring their loved one with a sadistic insane grin, something that she never had before as she simply stared at her old works with happiness but not sadistic delight. She lost completely her light side and is now more serious and scary than ever, representing the old traces of most villains played as serious threats.
Chastity Couple: Ara vowed to never have sex until she meet her true love. CM himself was a robot and never had such desires but when she gained his human body he started to feel such biological emotions but never cared about it. So, when Ara finally got over him, the two lost their chastities together.
The Chess-mistress: The Chess-mistress to Magic Side while Scathach and The Fallen's Essence are masterminds of their respective sides. Until Ara's defeat, a chess-game unfolds between Ara and Celica Arfonia that lasts over millions years, with various characters becoming pawns as they make move and counter-move against each other. Everything is geared towards Ara's determination to reach and kill the Supreme God and the Gods' determination to prevent that from happening.

The way she became Empress. She used everybody in the Multi-Universe as her pawns, manipulated into tearing the Multi-Universe and foundations of the Reality Council apart until she could take over completely, wipe out the Gods, and have an unquestioningly loyal army at her command. 
In LOTM: Los Reinas de Corazones, we learn that Ara would cleverly play her underlings against each other to prevent them from forming political alliances that could challenge her rule. This was a tactic used by Adolf Hitler in real life, one of CIS' inspirations for Ara despite the latter has more influence in Isaac Westcott.
The way she corrupted mankind. Ara first planned the entrance of the Republic President Tom Bucky in power so she could allow her entrance in the power of USA as a normal human without causing troubles. Years later, when she managed to enter she founded her organization, the STAR LABS as Mina Harker and paved her way to leadership. Starting her massive plan, Mina had Brazil attacked by her own forces and blocked the country to prevent anyone from entering or leaving it to tell the story. Finally, as Mina, she left from the shadows and revealed the existence and telling all mankind how demons are born. When the existence Black Demons was announced to the world thanks by Mina Harker soon after Brazil was conquered by the Revelation of Qliphoth, which resulted in 350,000,000 people stuck inside of the demonic Brazil country, the STAR LABS with the help of Tom Bucky, the president of USA who was in power thanks to Ara, allowed Mina and her group to take over the SU's nations, starting a purge of demons in most of the countries as the WWIII seemed to be a minor problem. Mina's campaign also reached the KnightWalker Alliance with the Fallen's Essence allowing Eckidina KnightWalker and his allies to start a purge in their countries fearing that Astaroth King would one day unleash an army of demons inside of his regions. In a few couple of months, genocides and purges started all over the globe, resulting in millions getting sacrificed by the military and civilians. These purges were most instigated by religious who considered demons to be heretic and against God. And as a consequence, normal people who were thought to be demons were killed and tortured. All society erupts into global chaos as humanity begins killing each other off in an attempt to eradicate the demons when in fact they were killing themselves. With the help of Mafusa Gang, Mina Harker infected Elesis' Black Tar with the DNA of Black Demons and used Grimoires to open different timelines and dimensions of reality, infecting all oceans of the existence with the Black Tar and turning most of the population of the 0th Multi-Universe into Black Demons or people with abilities of Black Demons. When Elesis questioned the goal of Mina asking her why she didn't use the Black Tar at Prime Earth, she merely answered she wanted to expose the true side of mankind by unleashing total paranoia, making people kill each other for thinking he or she is a demon. For 1 year, mankind destroyed themselves with biological diseases that people believed to be Anti-Demon Matter gas, but ended in turning most in Black Demons just like Mina planned. In this text, Mina managed to corrupt mankind, or for better words, exposing their true self, without lifting a finger of her own... And at the end, she managed to destroy mankind without using her hands to do so...
In Cold War II, she ordered the leadership of Moon Terminator Company as Mina Harker to commission the creation of a Cyborg army together with GDP Council, then kill most of the GDP council and conceal her involvement while replacing the deceased members with spies of Leohart's Cult. All in order to allow the KnightWalker Funeral Parlor to stand a chance against the KnightWalker Family.  Three years later, the mercenary that served as the template for the Cyborg Clones is tasked to assassinate a Peace Foundation's director who would vote against a military act supporting the SU building a standing army. The supposedly very proficient mercenary botches the job and has Ratatoskr on his trail, which leads to the Ratatoskr discovering the Cyborg Clone army as the secret weapon of SU against KA. At this point it looks like a gross oversight on Ara's part, but in fact it's a calculated move which ensures that the GDP are the ones to conveniently discover the army, while they themselves remain convinced it's a coincidence. Since it was ordered by one of their own and they need it right at the moment, the proposition for using the army comes from the GDP, painting them as warmongers and eliminating any suspicions of Ara's involvement, which would have been raised if she had suggested using the Cyborg Clones.

Chick Magnet: Believe it or not but most of the followers of Revelation of Qliphoth are females... The reason? Ara is a figure so known that most women see comfort in her arms.
Child Hater: She hates human children, no matter their age or nationality! She hates them so much that she was willing to put a bullet in the head of the newborn son of Richard Sampson just to prevent him from telling the world about her operation in Sleepy Hollow.
Childhood Friends: With Petelgeuse. They have a boss and subordinate relationship but they know each other since they were children. Petelgeuse became her Guardian when he had the appearance of a 5-year old kid while Ara, who was imprisoned, had the appearance of a 4-year old kid.
Childhood Friends Romance: A one-sided from Petelgeuse's part. The reason why Petelgeuse helped Ara to escape from that prison is because he fell in love with her appearance, voice and yet sad and melancholy personality. However, he soon locked his feelings for her when he noticed she was now too great and beautiful for someone like him, forcing him to go insane and be the psychopath he is nowadays.
Child Prodigy: She was born so powerful that she never had to train a day in her life. Her powers just appeared day after day without reason or explanation. This is courtesy of Idea of Evil.
Chronic Backstabbing Disorder: Has betrayed everyone who placed trust in her when she decides that they're a liability or no longer useful. For people who just joined her power, she will strip them from their immortality and let them live to suffer in depression.
Chronic Villainy: Even if Ara was raised by her mother Phsica with her twin sister, she would have one day become the monster she is now after witnessing how cruel the world is. In an universe filled with war and death, Ara would one day join the world of the darkness to create her own world of peace... In other words, nothing will change even if she wasn't at the Lock Tower.
Cincinnatus: Subverted. As Mina Harker, she is granted emergency powers and pledges to relinquish those powers as soon as the WWIII are over. She never does, nor did she ever actually intend to.
Classic Villain: An Evil Demon Foil of God of Good, who is represented by ambition, greed and war. Also, represents the evil counterpart of the main heroine. Katarina who wants to save the world and Ara who wants to plunge the world in destruction to create a new one where demons will rule, in other words, a Nazi-like utopia where demons will rule as master race.
Clasp Your Hands If You Deceive: Ara tends to do this as Mina Harker and Astaroth King, and when she does it, she shows a bit of her true nature.
Clingy Jealous Girl: Towards Unit-CM 130 (Zelkron) when Vira is around. Despite Vira is her Second-in-command and has took vital parts in her grand scheme, Vira at some point fell in love with Zelkron and tried many attempts to steal him from Ara using his lack of experience with love and sex as an advantage to "do it" with him. When she is like this, she will blush and stutter many times while hugged to Zelkron's arm. Another one of her Adorkable tendencies.
Cloudcuckoolander: Played with. Ara is a mastermind behind countless conflicts and important events that shaped the plot of the storyline... But in truth, when Ara is not serious she is even more stupid and clumsy than Katarina! Heck, her first debut as Ara Astaroth was her accidentally falling to the floor!

- Ara: I presume you're Ratatoskr, right?
- Lucas: This person... is...
- Katya: Ara Astaroth... Astaroth King! The Queen of Qiphoth!
- Ara: I'm the grea--! (falls from the steps and hit her face on the floor making a Roblox death sound)
"........................"
- Katarina: Do you need help?
- Ara: No, thanks.
- Imperia: Sorry, miss! I think we got the wrong person!
- Ara: I-IDIOT! I'M ASTAROTH KING!
- Imperia: No, you're not!

Co-Dragons: She has six. Vira oversees the 13 Multi-Universes, where most of her opposition is located, Achyls of the Depravity is the CO-Empress of 2 omniverses, Black Raven is the Leader of the Death Squad the group responsible for fighting the Alliance, Zelkron (CM) is responsible for the creation of weapons and technology for the empire. Black Tomas is her son and commander of the Imperial Armed Forces, and Petelgeuse Romanee-Conti is her second-in-command in the political sphere.
Cold-Blooded Torture: One of her fetishes. She also goes on a long and detailed list on what she would do to Elesis in order to push her to the brink so she will obey Ara as she desires, like electrocution, rape, cutting off her ears, oxygen deprivation, peeling her nails, ripping out her teeth, and even forcing her to eat her own feces. We get to see the results of her torture in Mafusa Gang's Revenge Sub Arc, Sasha re-experiences them with the QLI-FREAK Chip implanted in her head. Due to Ara's years of torture, Sasha lost her hair, became pale and is thin like Slender Man... When Sasha explains why she tried to left Mafusa Gang to the Rogues, this was the true reason.
Cold Ham: Though typically a Large Ham, in Los Reinas de Corazones she restrains herself when dealing with the Knights of Astaroth's incompetent handling over the invasion of Alliance to important capitals of Nibiru. Her dialogue is what you expect to find in a cheesy villainy speech, but she never raises her voice beyond the low soft one she already has, making her sound more menacing as opposed to just hammy. 
Colony Drop: Can summon asteroids to flatten her opponents. Tomas stopped one just in time during the battle of London, but Ara simply called down a second. Showing how Empowered Badass she is.
The Collector: For worse, nuns... Ara loves kidnapping, collecting them, torturing and watching them being raped to death by her Trolls because they represent everything she needs to destroy.
Colonel Kilgore: Many normal people would call Ara's world as a Hellish dimension of death and chaos... For Ara, this is her home and the world she thinks to be equal to all demons.
Combat Compliment: While she looks down at the Divine Beings for being annoying-pure-of-hearts creatures, she does praise Maria Arzonia during the first part of their battle. She's so impressed that offers Maria a job as one of her top women beside Vira, saying it would be a waste to kill such talent. 
Combat Pragmatist: By the standards of this show, anyway. Most villains from her race are demons and have no reason to live except for fight for fun to feel the near-state of death feeling or feeling the pain of the combat, and the heroes were able to buy time from both of them by promising a better fight if they waited. Ara had none of this, and attempted at every turn to kill her opponents when she wasn't playing with them. She shoots Yuuji Kazami  in the middle of his fight against one of her Black Demons. For Ara, fighting is the same as one of her Cold-Blooded Torture sections where she will have her way with her enemies by making them feel extreme pain.
Combat Sadomasochist: She don't likes fighting but when she is facing powerful opponents capable of putting a heavy dent in her and returning the favor, she will happily receive their attacks while using the best of her abilities. Take Up To Eleven with her reactions throughout tanking Imperia's Cyborgs techniques.
Conceive And Kill: She give birth to Tomas and stayed with him for only a few days before throwing him into a Time Portal to send him to the past so he will one day further her plans in the past but it turns out he grew up beside many good people and was in fact a good-hearted warrior of peace. When she discovered he was alive, she immediately Mind Raped him and brought him to her side as a mindless Black Demon. And later, when he snapped out of her brainwash, she had no problem in killing him for disobeying her.

"If you don't prostate yourself to me then you will DIE WITH THEM! FOOLISH CHILD!"

Conflict Killer: As she (Mina Harker) promised when she became the President of USA and by extension the 1st Chairwoman from Stabilization Union, Mina ended World War III... Only to start the Purge, a conflict even worse than WWIII and later the very Apocalypse of the entire 0th Multi-Universe alongside the destruction of Earth.
Contrasting Sequel Antagonist: This takes two levels, from Ara herself and the next antagonists appearing after her demise.

With the exception of Heis and Kanon Rihavein who are more like the Heavy to the Fallen's Essence Big Bad, the main antagonists of Angel Sub Arc, Ara is the first legitimate Big Bad Knight Templar of the storyline. Unlike previous villains, Ara is the first and only Demon antagonist to be a Knight Templar, who believes what she is doing is for the greater good, in her own distorted morality. Not to mention Ara is the first Demon and Devil character of the CIS Productions as a whole for being a Delusional villains who genuinely believes she is the good person. Ara doesn't follow the typical formula for LOTM: Sword of Kings antagonists who are deeply inspired in the flat yet dangerous antagonists' formula from Dragon Ball Franchise. Unlike most villains who have quickly discerned backgrounds and simple motives like wanting to rule the world/universe like the Fallen's Essence, cause pain for sadism and fun like Aki Honda, destroy everything for the sake of destruction like Eckidina KnightWalker, or grow stronger, to overthrow someone even more powerful like Aryana Westcott, no one knows anything about her or where she comes from, until The Reveal. What was known was that she hates mortals and thinks getting rid of them will create a paradise. This makes her a Well-Intentioned Extremist, which no other Arc Villain or Big Bad has been before. In addition, she is the only demonic character of LOTM: Sword of Kings and its later sequels to be a delusional until the end, a villain who wants peace and a world away from war. This is most notable in Past Moloch from LOTM: Witnesses of Sleepy Hollow who died decades ago before the beginning of LOTM: Sword of Kings as well; Moloch was a Demon King who ruled over United Kingdom of America that wanted to conquer Earth and later the Multi-Universe for sake of dominating, causing pain and evil to all life in order to get powerful enough to destroy the Supreme God.
Her successor... The awful Krol Barbaro who wants death and destruction, in LOTM: Destiny. Krol is evil just as she is but has no motives at all, making him somehow a shameful villain to be her successor, being that typical Dark Lord character. Much like Queel Mal, Krol shares superficial similarities with his predecessor, Ara Astaroth. However Ara was much more Faux Affably Evil than Krol, was a blatant sadist and responded to failures by killing his underlings or allies. Krol, on the other hand, lacks the late Ara's rudeness and more overtly evil qualities, and instead of mocking and belittling his enemies, Krol is graciously polite and even shows genuine admiration and respect towards courageous and noble foes; resulting in a villain who appears to be Affably Evil. In fact, he has more in common with Celica Arfonia than Ara by dispensing wisdom, showing what seems to be a genuine concern for his apprentice and being much more of a teacher to Queen Mal than Ara was to Tomas or Oriax. Furthermore, Ara was a master planner and really only died at the very end because she slightly miscalculated the effect for turning Tomas in a Full Black Demon in the future, giving him power of Time Travel that allowed the Rogues tor return from the future with enough strength and information to kill her, and thus was a bit too unprepared for Option C) and was a sneeze away from victory; Krol, meanwhile, has to rely on overwhelming force and the incompetence of his opponents to get anywhere, and once he has to make a real calculation and interpretation of what he feels from the Blackness, i.e. how well Queel Mal will take to being pressured into killing Yato, he bungles it badly and gets turned into a Disc-One Final Boss for his trouble. Krol indeed represented a true threat to the heroes and was the most evil villain of LOTM: Destiny but he could be more if he just smart as Ara was. Until the end, he was more like a Wannabe Big Bad rather than being Villain Legacy character to Ara's name. Even villains after Ara like Leohart the Prince of Hell who wanted to destroy turn the Living World into a new Hell for his reign had flat motives compared to Ara's true wish for peace. Luckily, it was Krol there and not Ara for the Wolf Pack Squad to face. The reason why Ara lost again in LOTM: Destiny is because she lost all her powers and was weaker than Fallen's Essence at the time of Saga AA 5 billion years ago!

Control Freak: No one can argue her will and words. If they do? Chop their hands off. No one can open their mouth to doubt her. If they do? Arrest them. Nobody can question her orders. If they do? Execute them. Once you join Revelation of Qliphoth or Astaroth Empire you must read the manual of the organization which has only one line: "the only thing you have to do is follow Ara's orders and keep your mouth shut. Welcome to Revelation of Qliphoth."
Con Woman: Ara, in many ways, is one. She cons everyone (Eckidina, Elesis, Katarina, Tom Bucky, the Stabilization Union, KnightWalker Alliance, the Global Pact Defese, the Witch Cult, Katya, Yuri Barnes, Leohart, the Fallen's Essence, Iscariot, and Aki Honda) in order to get what she wants: the death of all Gods and control of the omniverse. When she tries to con Katarina once again, however, it all falls apart.
The Conqueror/Multiversal Conqueror: She is the Empress of Astaroth Empire and rule over thousand universes with QUINTILLIONS under her control! When Astaroth Empire was founded, she conquered the entire omniverse, the world of all fiction, in less than 2,000 years by forming alliances with many other empire scattered across the existence. When there is a reality not under the influence, she will immediately invade that reality to steal their resource and enslave their people.
Consummate Liar: When she doesn't reveal her true colors, she's a pretty effective liar. Even people who have seen her true colors have been fooled by her.
Contemplate Our Navels: She sometimes slips into this when she describes why she's seeking peace.
Corporate Warfare: Her company STAR LABS is The Rival to the Manufacturing Progressive Sciences, and counters their actual private army with an army of numerous droids, soldiers and Black Demons.
Corrupt Corporate Executive: Of STAR LABS. She's basically the CEO/managing director, and is currently looking to rewrite the laws of Multi-Universe to her liking.
The Corrupter: Turns every single human who joins her side into pawns... until they realize just how horrible she is or until someone they love is manages to save them from her brainwash.
Corrupt Politician: As Mina Harker, she got elected to the office of Supreme USA Presidency legally. All the power she acquired afterwards was gathered not so legally...
Covert Pervert: Ara has multiplies dreams of being rather intimate with her crush, CM, but she's generally too shy to admit it to anyone. However, she develops a Literal Split Personality sprung from her carnal desires (as part of her reproductive demonic system), who is most pointedly not afraid to admit it that she wants to "screw him" badly.
Crazy-Prepared: Her Curse Seals of the Blackness turn out to be Soul Jars. All of them. Not only can she use them to resurrect herself in case if she Killed Off For Real— though she needs outside help for this — but they even double as Sinister Surveillance, since she can see and hear everything all of the victims do all the time, allowing her to remain up-to-date with the plot. Presumably, this only works when she is Only Mostly Dead and not when she is alive and kicking. This ability caused some confusion in the plot related to her true fate in LOTM: Destiny. See Ambiguous Situation above.
Create Your Own Hero: The reason why mages, wizards, magicians and witches exist in Prime Earth is because Ara brought the knowledge of magic to Earth and allowed humans to take their different understand of magic in their religions. If this is mostly true, Scathach only took part in the development of human race and not in the religious part, meaning that Ara is the main central point of all heroic organizations users of magic. Not to mention, religion is the vital part that Yuri Barnes was trying to prevent as religious differences kills most than political differences. 
Creepy Child: Ara showed rather troubling behavior when she was younger, such as ripping off the heads of her dolls and cutting herself with her nails.
Creepy Monotone: She starts speaking in a constant soft tone once she transforms into Anti-Christ form which is a form of a 100-meters monster with thousand of black tentacles... For better words, it is an Eldrich Abomination and her soft voice only makes this even more creepier.
Crouching Moron, Hidden Badass: At this point... It's useless to mention it.
Cruelty to Animals: Ara hates animals, mostly dogs and birds which is considered kind ironic as her signature attacks are made of canines Hell hounds. Despite she hates animals, she loves cats more than anything. Her love comes from her early days when she found a small kitten dying in the streets of the 794th Earth and took it with her. Ara had millions dogs killed in her reign in the power of SU but made sure to punish anyone who dared to abuse a cat.
Crush Blush: Has one every time CM is around her.
Crutch Character: An extremely rare villain example. Because of how overwhelmingly powerful she is, most of her soldiers tend to rely on her strength to protect them and deter anyone from rebelling against the empire. Black Raven calls out most of Leohart's Cult members died for relaxing with Ara and growing complacent and content while he fought on the front lines growing stronger. While the Leohart's Cult Sin Archbishops within Ara's army are only as strong as Asmodeus, they are weak in comparison to the show standard considering Asmodeus was killed by Katarina during the events of Unit-CM 130 Sub Arc when she was merely an ExKrieg using 5% of her power.
Cry Cute: She had one when she discovered CM was alive and kicking. Until now, it is considered the most cute scene of her when she is displaying a little of kindness inside of her. 
Cult of Personality: Ara has trillions of these out there. Countless demos and mortal worship her like a Goddess and are willing to kill themselves for her sake.
Cultured Badass: The most powerful Black Demon of all times, the mastermind behind the Purge, and hides her true face so well that she fooled the Fallen's Essence for over decades. Also a huge admirer of the arts and a writer of dark magic books.
Curb-Stomp Battle: There's a reason why the demons, who look out only for themselves and value strength and survival above all else, see her as their leader: no one on the Multi-Universe stands a chance against her. When she fully awakens as the new Demon Queen of Hell, she's more than capable of causing various large-scale natural catastrophes to simultaneously occur around the universe — all without lifting a finger. In her battle with Katya, Katya is the only one who gets any serious injuries while she remains unharmed, with the fight ultimately ending in her favor.
Cursed with Awesome: The curse of the Ankhseram Black Magic. It is basically a Black Art that allows Ara to kill any living thing she desires. This Magic seems to be uncontrollable at times, causing it to burst out randomly, killing anything within a certain radius around her. However, when Ara forgets the value of, and no longer cares about, a human life, she can fully control this Magic. Certain Magic Items can protect people from Ankhseram Black Magic, such as Imperia's staff. This Magic also appears, contrary to the nature of the Black Arts, unable to be learned, as Ara only gained this curse-like Magic by upsetting the ancient God Ankhseram, who apparently bestowed this upon Ara due to her invading his realm and sending most of his people to her Realm to be abused, tortured and killed.
Cute And Psycho: Ara is usually a cheerful girl with a great and funny personality that would make most men liking to be around her presence for being so funny and has a positive personality most of the time... But when something she worked so hard goes wrong she loses her temper and becomes even more insane than Vira for 5 minutes before returning to her normal state. Her personality switches over to bat-shit insane. As a matter of fact, she comes complete with a twisted conception of right and wrong.
Cute Clumsy Girl: Mina Harker is this trope reincarnated!
Cute Monster Girl: Mostly of the time, Ara is seen in human form but when she in her Half-Demon state, more precisely, her state as human with traces of her Black Demon form, she still cute as ever! Better! She still sexy as ever to the point that Zelkron actually reacted to her devil tail.
The Cynic: She perceives the world as a dark place where there will always be winners and losers, and as being impossible to improve. However, she rejects the ultimate conclusion that nothing matters - if this world is hopeless, then she'll create a new one. And if her new world fails too, she will destroy the Omniverse so she can have peace in an empty space of nothingness.
"D" Tropes
Daddy's Little Villain: Idea of Evil is somehow her father as it was the creature that impregnated Pshica and gave birth to her by using its DNA. Years later, when Ara was powerful enough to be a considerable ally, the Idea of Evil contacted her and made her into servant just like Leohart... But as always, Ara is not reliable to people who consider her as some kind of ally or servant and was betrayed when she decided to create an organic heart of Idea of Evil to control it and its power.
Dark Action Girl: She is not only a Demon Queen with the appearance of one of the youngest villainess of the story but is also capable Diabolical Mastermind that spent billions of her lifetime in scheming a grand plan to overthrow the Gods and spent centuries to take a diabolical plan to make all humans from 900 Parallel Earths into killing each other without her direct influence. In addition to that, she is one of the strongest female characters in the Multi-Universe as a whole and lost only twice in her life; the first to Supreme God and later to the combined forces of the Rogues.
Dark and Troubled Past: Ara was abandoned by her mother simply because Leohart ordered one of them to be under watch as he was suspicious that black tar in the forest of Astaroth territory is what impregnated Pshica. For this, he decided to throw Ara as a newborn infant inside of the Lock Tower without being able to leave or look the world outside. Katarina was alone for only 10 years... Ara was alone for 603,000 years and never had parents to begin with. Ara is somehow as heroine in the wrong side but her cruelty and ruthless character makes her monster in all points.
Dark Is Evil: Her clothes are related to black and her powers have the disgusting and creepy appearance of black and red living shadows.
Dark Messiah: The cultists, demons, monsters and all demonic species taking part of the Revelation of Qliphoth fit in this one. Even some mortals that were brainwashed to join her cause see her as Goddess of Darkness or Goddess of the Dead rather than seeing her as a demon. The relationship between Ara and her demons actually goes further than a simple relationship between boss and subordinate, they are so fanatic for her they are willing to commit suicide, commit all kind of atrocities and even cutting their own limbs to feel her pain.
Dark Mistress: To Unit-CM 130, or better, Zelkron. Despite being his lover, she is way stronger than him and is his superior. Unlike other fictional examples, the female is usually the subordinate of the male while she follows him around, in Ara's case she was after Zelkron but he was made into her servant against his will until Ara broke his will with lust.
The Dark Side Will Make You Forget: Originally, Ara just wanted the gods to be more involved with mortal affairs so they would stop misusing the knowledge giving to them by the gods. At worse, she wanted the gods to stop protecting mortals since they're not worth it and leave them to die by the hands of demons. However, over the course of her life she noticed Gods were useless as did nothing but to delight the pleasure of their realms (just like Isaac Westcott) and sought to destroy all Gods. By the time Ara reaches Paradise for the second time and other Gods' worlds, she wipes out all the gods in the future timeline, is clearly insane, and sees herself as the one true goddess of the omnivers.. Whatever nobility in her goals are long gone.
Dash Attack: Her Snakebite move.
D-Cup Distress: Downplayed, especially since Ara's bust is only ever referred to indirectly, but she does get noticeably defensive and snippy (even for her) whenever the size of her breasts is mentioned.
Deader Than Dead: Future Ara from Rise of Qliphoth era and Downfall of the 0th Multi-Universe timeline, after the Rogues travels back to the past and kills her past self, erasing her from future of history.
Deal with the Devil: The Devil to the victims. Just like Satan and other demons, Ara is an evil entity capable of sealing pacts with other people seeking for immortality, power, fame, money and pleasure but of course she will always ask something in exchange and it is not their souls but their sanity or the souls of their loved ones.
Deadpan Snarker: Retains a impeccably polite tone while dishing out the snark.
Death Is Cheap: The heroes have managed to kill her plenty of times in Astaroth King and Mina Harker form. However, due to her godlike status, she comes back every single time. Even if they kill her in her true body, the lives she consumed will replace the one the heroes killed. In total, Ara has 604,000,000,000,000 lives inside of her, making it impossible to kill her without uses of Divine Artifacts.
Deconstructed Character Archetype: 

Of Smug Super, Arrogant Empress, and World's Strongest Woman. She was born as powerful as she is, allowing her to become the most powerful being in the universe without even trying. As a result, she never bothered to hone her power through training, firmly convinced that she outclasses everyone else and always will. When the Supreme God comes along and she's forced to go all out for the first time in her life, this bites her in the ass; since she never bothered to train, Ara can't control her full power, has no endurance for a prolonged fight with someone her equal, and when simply crushing her enemies with her raw power proves ineffective, she has no response aside from simply blowing up the planet she's standing on since she can survive in a vacuum. Ara is strong, very powerful but when facing stronger enemies she cannot make a match because her body is not used to face stronger opponents.
She also provides a deconstruction of Determinator. While her will to live and continue fighting is certainly impressive, her downfall is primarily because she refused to accept her defeat at Katarina's hands.

Defector from Decadence: Ara's extremist view of mortals led her to transcend into a Knight Templar. As her disgust for the mortals grew, so did her urge to eliminate them from existence. Eventually, Ara abandons the Astral Beings' non-intervention philosophy and takes an active role in eliminating all mortals from the lower realms.
Defiant to the End: When she is finally defeated, she screams at Katarina that a woman of her power should be doing something about the problem like she was trying to do. When sentenced for her crimes at Afterlife by the Judges of Tartarus, she smiles smugly and suggests the Underworld nor the Astral World have no moral authority to judge her at all as she once ruled over them but due to her tyranny that even oppressed demons, the Tartarus' Judges are so intimidated by her calm they increase his sentence... to Eternity while her first sentence was to be stuck 590 sixtillion years in the Undead Land. It doesn't cow Ara at all at first but 5 billion years later, she finally lost her cool and almost went insane there.
Deflector Shield: Ara invented some Curses that create shields around her body at the locations she specifies. If she is attacked at that location, the shield automatically activates, deflecting the attack. When Katarina tried to ambush her with a strike to the back of the neck, Ara told her she shouldn't have chosen such an obvious target - as the weak spot of every living creature, it was a no-brainer to set up protection to prevent someone doing what Katarina tried. 
Defrosting Ice Queen: It starts pretty early on once she meets Unit-CM 130, and through her interactions with him, Ara starts growing less emotionless and cold, culminating in her giving him a nickname, Zelkron, that would late be his real name once she turned into a Black Demon, to reflect her increasing willingness to soften herself up. While still ruthless, cruel and evil she mellows out considerably and becomes a full fledged lover to CM but she still just cold and rude to most of human characters. CM or Zelkron is a such lucky bastard.
Delicate Is Beautiful: Her appearance is indeed delicate and fragile, passing the feeling you can break her body with one hug but she is actually more tough than you think.
Despotism Justifies the Means: Only cares about staying in power as "Goddess of the new world" as well as staying on the position of Queen of Qliphoth by all means, even if it includes to cut off the limbs of her own subordinates and sent children to suicidal missions or even destroying entire universes. And to keep her post she'll slaughter entire worlds to so.
Destructive Savior: She thinks she's this. She has to destroy parts of the Multi-Universe in order to eliminate the pests known as mortals, but it's all for the greater good in her mind. Still, she limits her destruction to the countries instead of blowing up entire planets with her demons. She then dispatch trillions if not quintillions of Black Demons to countless worlds spread across the existence to devour and make the mortals suffer slowly instead of causing Quick Death with the destruction of their planets.
Determinator: She's described to be an invincible force of evil and will stop at nothing to get what she wants, not even Chronos the God of Time would end her existence.
Determined Widow: In LOTM: Destiny. At the time of the sequel story, Zelkron was sealed inside of a dimension by the Supreme God as he was immortal and could transfer his memories to other bodies. When she had returned from the dead, she was way more of a determinator to get revenge in Katarina.
Devil, but No God: Many people believed Ara was a Devil in person once she took over the Stabilization Union... The suffering in Earth was so terrible and cruel that mankind stopped believing in God as the world had now ended and nothing happened. The Devil existed but God was never there.
Devil in Plain Sight: Despite being in Mina Harker human form, Mina decorated her office in such a way that, if one paid close attention and investigated hard enough, it would be immediately apparent that she was a demon as she had MANY demonic artifacts in her office. Her walls and furniture were primarily a Satanic-inspired red (though the justification was that the same color of red was one of the Mina false family's trademark colors), littered with satanic artifacts and statuary, one of which contained her demonic sword. Her statues of the Qliphoth's Kings are particularly notable. However, one could think it was just an excuse to put it there as she was an expert in studying demons and were collecting those to material experiments and study.
Diabolical Mastermind: See The Chess-mistress above. She orchestrated the first trilogy's conflict as a means to gain absolute power (along with the gratitude and love of the world's people) in the Stabilization Union.
Did You Just Romance Cthulhu?: Unit-CM 130 is a heartless monster who dissected people alive, froze children to death, forced people to rape their loved ones and other many horrible things... Yet, Ara fell in love with this machine and the two actually formed a family. CM is part of this trope as well.
Dimension Mistress: She got the entire cosmos in her hand and rules over all omniverse and 98% of all universes are under her control!
Diplomatic Impunity: While in control of Sleepy Hollow as director of STAR LABS, she was free to enslave, slaughter and use the civilians as tests subjects of her human experiments of Black Demons. When Richard Sampson arrived and threatened to tell the world what she was doing there, she mentioned nothing would happen as GDP was covering her traces. When she became the President of SU, it went From Bad To Worse as she was purging the entire world and nothing could stop her, nor religion nor policy.
Didn't See That Coming: After the heroes managed to return from the future. When Ara sent the Rogues to the future, it took only 10 seconds for them to return from the future before she could slaughter the rest of the heroes right there. When she asked why they returned so fast, Imperia explained in the future they took 2 months to return while in the present they returned in 10 seconds because they choose exactly that time to return to the past.
Did You Just Scam Cthulhu?: Her desire to overthrow the Gods and the Supreme God of the Multi-Universe is to put herself "above the gods" themselves and rule the omniverse as the only and true goddess of all.
Disappeared Mother: She was absent throughout the entire life of her sons and daughters, most notable Tomas Sev and Isuke Inukai. And didn't even seem to be aware of their existence in the past until she found Tomas in the past.
Disc-One Final Boss: Despite being the main villain to half of Saga AA without being noticed until Unit-CM 130's Sub Arc, Ara was not the main villain of the story as a whole nor in LOTM: Destiny. She was defeated at what is called the "half-way point" of the story, better, the story is not even at its half and she was killed only in the first half of Saga AA but kept a strong presence even after her death in Saga AA with her minions active like ever. Later, the Fallen's Essence truly replaces Ara and appears to be connected to everything after her death since she was the only one who was indeed a threat to his plans. Later, when Diabla the Qliphoth Tyrant came to life, once again Ara took the role as the Greater-Scope Villain and started to be connected with the plot once again as Diabla is a direct Demon Queen of Qliphoth.

In LOTM: Destiny, she was played as the first true threat of the storyline and received the attention of all Multi-Universe again when the Cult of Ara finally exposed themselves to the world and made her presence be aware by most of the New Republic. Once Ara shows up, she has one important hero from the Wolf Pack Squad killed, 40 planets of the New Republic destroyed and the capital of the Republic completely burned down to the point that the New Balam Alliance was founded and took advantage of Ara's attack that left the Republic weak. When Ara was defeated, the villains that she created herself finally decided to step in. From a different point of view, Ara set up the stage of the storyline as a whole in only 2 Arcs.

Dishing Out Dirt: Can disappear through walls and trees.
Disproportionate Retribution: If you manage to punch, or worse kick her, you had better kill her or even knock her out, and quick, because if she has a chance to recover, she will retaliate with a Rasputinian Death.

After one of Shiva's cultists tells Ara to go back to Hell and leave Katarina alone Ara shot him to a cripple until he apologizes. Then, he is forced to be Ara's training partner, going through six weeks of endless torture, which destroys the cultists' sanity and turns him into a monster no different from Ara.

Dissonant Serenity: There's literally nothing that will make her faint grin and calm expression fade, not even when forcefully awakening a Black Demon inside of Elesis, nor ordering the beheading of a wannabe usurper.
The Dog Bites Back: Leohart is the main responsible for breaking Ara's sanity by throwing her as an infant in a cage inside of the Lock Tower in Astaroth's territory. Years later, when she was free thanks to her sister's naive thinking, Leohart saw potential in her and tried to control Ara by making the demon girl into his Enforcer while ordering her around like a dog... Years later, he was brutally killed by her, disposed of his throne in Hell and having his name and reputation defiled... Yet it was a great karma.
The Dog Was the Mastermind: Not shown in screen until her official appearance in The Will of Qliphoth but Ratatoskr was most aware she was the director of STAR LABS and had no real authority in the government just like Ratatoskr but they soon discovered it was Mina Harker who was controlling Tom Bucky as her puppet.
Dominatrix: A sexy and attractive "S" example. Ara is not normal (as many known) so her fetishes are kind twisted yet enjoyable by masoquists. During the "H" time, Zelkron, one of the evil villains of the story is easily dominated by her in bed and suffer serious BSDM injuries.
The Don: She runs an extensive criminal empire dedicated to contract killing, genocide and slavery, has extended her reach to other the universes to increase her wealth and power over resources and the masses, and employs a lot of mobsters, enforcers, Elite Mooks, thugs, minions, bounty hunters, assassins, dictators and interplanetary gangsters at her disposal.
Don't Make Me Destroy You: Before she unleashed half of her power, she offers Maria the chance to come work for her, saying it would be a shame to destroy such talent. When Maria says no, Ara is quite sad about it, saying what a complete waste it is, along with how stupid the Spirit Guides were for not remaining her faithful servants. This caused some doubts in Maria as Ara had actually a few Angels and Divine Beings as servants. Currently, the most notable is Kruel Rose who is a Spirituum.
The Dragon: To Leohart the Prince of Hell and Triggers Hell as a whole. She is the strongest female demon of Hell and is the second strongest demon in all Hellish dimensions, only after Leohart himself. She serves Leohart as his Enforcer every time that his Elite Army fails him and is somehow considered his dog until she decides to backstab him.
Dragon-in-Chief: It's believed by many residents of the United States that Tom Bucky is the one with ruling authority and that Mina Harker is simply a secretary and leader of the STAR LABS, a military organization obeying to his will. In reality, Mina is the reason for the corruption within his nation and has been The Woman Behind the Man at least since the time of the current Tom's brother. Although many citizens despise the ruling of their country, those that know the ruling system are well aware that it is Mina and not the Tom, who is the mastermind of their pain.
Dragon with an Agenda: She's implied to be concocting a plot to overthrow Leohart for a long time. It turns out this happens again when she becomes the Dragon of Idea of Evil and betrays it just like she did to Leohart.
The Dreaded: If the reverence her flunkies give her when she's not present is any indication, even some Black Demons appearing before her debut show their loyalty and fear when they fail her. The Witch Cult mages were quickly cowed into submission by her when she first appeared and are initially dismissive of Katya's proposal to assassinate her. We find out in the Unit-CM 130's Sub Arc finale just why everyone's so terrified of her... In just two episodes, under her manipulation the Revelation of Qliphoth took out THREE major important characters of the screen: the first being Millian Gravik, the second Mana Takamiya and the third Jin Kisaragi. Despite the Unit-CM 130 was the central figure of evil of the arc, Ara quickly replaced the diabolical organization of MPS out of the highlights and showed how dangerous are the Black Demons. In later episodes, she even managed to corrupt the main heroine of the story and brought her to the Dark Side, breaking the Rogues apart and destroying the entire world in just one arc. 
Dreaming of Things to Come: Her ability to have prophetic dreams allowed her to undermine Tomas' true identity as her son.
Driven to Villainy: Witnessing many wars when she was locked inside of the Lock Tower, is what leads to her becoming the Big Bad to rewrite the world and creating a reality without conflicts.
Drunk on the Dark Side: As Ara began going through powerful transformations of Idea of Evil's Godhood, she began to feel more and more invincible until at last she discards his Curses power entirely, thinking it's no longer needed. Ara was quite incorrect.
Dump Them All: All people who confessed their love for her were ignored and had their feelings denied... Absolutely everyone.
Dystopia Justifies the Means: Subverted. The entire world of humans and all mortals could be reduced to uniform misery and despair, but she'd rather it present some occasional beauty, hope, and peace... so that she can crush it like a bug because she wants to see them suffering due to her hatred for mortals and non-humans.
"E" Tropes
Eldritch Abomination: Her other unnatural forms, which can take on the form of a mass of seething shadows with too many red eyes, among many. She's even called an abomination on several occasions.
Emotionless Girl: Subverted. Ara was once cold and emotionless to the point she had no facial expressions nor knew how to express feelings but everything changed when she met Unit-CM 130 for the first time and started to smile, cry and express her emotions like humans do.
The Empress: After ascending to power, she is more often referred to as "the Empress" in-universe than "Emperor Ara" or "Astaroth King".
Enemy Summoner: She summons a bird-like Eldritch Abomination called the Wall of Light to use as a minion to shock entire areas, this ability is used by Heis during the battle of LOTM: Sword of Kings AA 2nd Season - A Place to Return (Sub Arc Finale).
Enemy to All Living Things: She was this to all mortals of the omniverse but soon when she discovered her world of peace failed as demons continued engaging war with each other, Ara decided to destroy the existence using the Idea of Evil's powers to destroy the core of Paradise. Now, she officially becomes the enemy of every single living being of all dimensions, including demons.
Enemy Mine: She helped Moloch during the corruption of Lord Helio. In the past, Lord Helio was a comrade-at-arms of Ichabod Crane named Carmichael Clearness, who was rumored to be killed in war. Instead, Carmichael survived and worked with Katrina Crane and Gabriel Van Tassel together in order to seek out the mastermind behind the Horseman of Death, who was, unknown to Carmichael, Lady Van Tassel. However, Lord Helio later fell into a trap set by Ara Astaroth who worked with Moloch in a temporarily partnership. Both Ara and Melancholia turned Carmichael into the Light Lord, but he tried to resist their control and escaped from the evil forces, being hunted by Ara and the Qliphoth demons.
Enemy Within: Considering the Blackness is a part of her, she is inside of almost 98% of all people on Earth, feeding from their sins and negative emotions that still increasing during WWIII for taking many of their loved ones away. With the Blackness growing stronger, the entrance of Black Demons inside of human bodies also increased, turning many people into insane monsters worse than demons but it should be noted that some humans were not under Ara's control, some of the were so monstrous that made demons look like saints. This is often brought in topic in LOTM: Sword of Kings about the true human nature. Heis and Kanon Rihavein were the first ones to bring this up.
Enfante Terrible: As a little girl, she's an adorable loner girl but even Petelgeuse says that there's something missing inside of her as she smiles while watching her sister being raped by trolls on the middle of hundreds of corpses.
Entitled to Have You: CM fits perfectly her criteria for a lover, which is why Ara has decided CM has to be hers without even considering CM's opinion in the matter. However, she also tells him that his wishes for them to be lovers, rather than for him to be a mere possession of hers, as he's one of the few men she truly respects.
Enthralling Siren: Ara is just as evil as she is beautiful. Her voice is known for being the voice more brilliant than an Angel's and can easily seduce men and women just with her tone of voice instead of using brainwash to make people into her servants. Once she starts singing, mortals and humans who are listening to her, be they next or even listening her song in a radio or TV thousand kilometers away, become monsters called Chiropteans, blood-suckers creatures similar to gargoyles.
| | |
| --- | --- |
Epic Fail: When Ara spots Nu Wa she screams out her name with a Slasher Smile... and Nu Wa tells her to shut up and wait her turn as she will be busy dealing with the Qliphoth Tree raising on the middle of Argentina's country, rendering Ara speechless with a comedic expression stuck on her face before she face palm herself.

- Ara: NU WA! I WAS WAITING FOR YOU FOR CENTURIES!! NU WA!!
- Nu Wa: Quiet yourself, kiddu! I'll come to take you later! For now the Qliphoth Tree is more important!
(Ara stares at Nu Wa as she flies away towards the Death Tree and facepalm herself)
- Ara: Who the hell do you think I am to be taken care of later?

Establishing Character Moment: This one works better with Ara Astaroth's true persona. After the failure of her army to defend the Infinity Clock, she is visited by some elder Hell Lords in her HQ and is ordered by them to turn them into Black Demons but she entirely mocks their old appearance and is beaten by them in front of every single cultists and demon loyal to her. Later, Ara stand up and smiles at them with creepy smile while black blood covers her face. Minutes later, Ara is seen contacting the Iscariot and Ratatoskr's meeting while displaying the Stupid Evil Hell Lords tied up and being devoured by ghouls while she continues her introduction!
Eternal Love: Towards Unit-CM 130, also known as Zelkron for her.
Even Evil Has Loved Ones: Two of them but it turns out to be a Subverted.

She cares for her son Tomas, and loses her calm when he deny her existence as his mother... for all of one panel. After a few seconds of Ocular Gushers, she abruptly moves on and considers having another child in the future as she a child that can't obey her is useless. Even Vira is really unnerved by it.
She is deeply in love with CM, so much that she spend days and years thinking in him to the point of masturbating while thinking in him... After all that love crap, she backstab Zelkron when she decides to cast aside her feelings for her dreams to destroy the omniverse as the world she originally planned didn't work. Ara, until the end, proved to be the monster she always was, finally casting aside the only thing that kept her "humanity". But as we know, CM was far from being a saint himself.

Even the Girls Want Her: Many of them but the most notable are Heis and possible Achyls of the Depravity, can attest to that. In Phoenix's Sub Arc, it was revealed that the one of the Arc Villain, who happens to be a Psycho Lesbian, has a HUGE crush on Ara, The Will of the Abyss, and even once tried to force herself on Ara when they were young. Ara naturally fought her off.
Everyone Calls Him "Barkeep": She's never referred to by her first name by anyone except the hero cast who has no respect for her whatsoever.
Everyone Can See It: Her feelings towards Zelkron becomes more and more than obvious to all her empire since he was the only man who had her presence and spent days and weeks inside of his laboratory watching her inhuman experiments.
Everybody Hates Hades: As the Goddess of Death, she is hated by 100% of mortal population of the omniverse thanks to her cruelty and tyranny in wiping out quintillion innocents for the mere facts of being mortals.
Evil All Along: Mina Harker. People seemed her as some heroine who tried to save mankind to end World War III and stop the demons' invasion to Earth but in truth her good goals were actually evil all along. Just like she promised she hunted demons all over the world but it resulted in millions killing each other for thinking they were demons. The plans of good intentions were actually malicious from the beginning.
Evil Brit: As Mina Harker, she's the head of a company based in Sleepy Hollow, and holds the title of "Harker" based in the name of Mina Harker from Dracula's novel. She's also the emerging Big Bad of Mafusa Gang's Revenge Sub Arc.
Evil Cannot Comprehend Good: Downplayed example as Ara can grasp the concept about caring for others and when first trying woe CM she offers to allow any family or friends (if he ever had) he has to life in comfort. Nonetheless, later, Black Tomas attempts to convince her to use her influence to better the Astaroth Empire from within by appealing to the good side of her he's seen: He tries to explain how the drastic class gap could keep people who loved each other apart, but her obsession with Social Darwinist philosophy causes her immediate response to be that she can't comprehend something like that. 
Evil Colonialist: Her Astaroth Empire is always searching for more universes to invade and conquer in order to find more slaves and natural resources.
Evil Counterpart: To Celica Arfonia and the Supreme God.
Evil Debt Collector: Obviously. As a Demon Queen, she has contracts and pact with almost trillion mortals who wish to become demons or gain money, power, fame and among other things that satisfy the humans' wicked desires... But you must always remember, she will have something in exchange and when these people forget or refuses to pay his or her debt, she will let you live but you will suffer all kinds of physical and psychological tortures, from electric shock, rape, forced to eat your own limbs... And many more. When you compare other demons with Ara, they are like heroes compared to her.
Evil Diva: A rare example. Ara is actually a good singer and she is said to have a soft and beautiful voice while singing opera, pop, funk and even classic. Rumors said men fall for her just be listening to her voice. In addition, her voice can turn mortals who are listening to her musics, into Chiropteans creatures.
Eviler Than Thou: The Fallen's Essence soon discover the world never belonged to him in the hard way... Soon, the Balam Alliance discovered Ara was way more powerful than everyone of their ranks!
Evil Feels Good: Part of being full on evil and the major dominance of Blackness.
Evil Former Friend: She shares a history with Eckidina KnightWalker as they were similar in many points and both could not help themselves but to laugh from each other's jokes. Yet, Eckidina is just everyone, a pawn while Eckidina is using Ara to gain more power and let her kill herself fighting Aryana Westcott and the Fallen's Essence.
Evil Genius: Since she was a child, she was a brilliant young girl with many talents for magic. She is also one of the youngest people of Hell to hold an immense power thanks to her intelligence and power, even the Prime ShockWaveTX describe her as person with skills that normal demons can't have. Not to mention she always has strategies for her plans, turning her into one of the smartest character of the story.
Evil Gloating: She has some cool ones that explains a little of her complex personality.

"All I wanted was to see the most fundamental characteristic of human existence. Savagery! Savagery in its purest, most unadulterated form! But that woman, blinded by love, ruined it. Unending, overwhelming despair... can the stubborn determination of mere humans cause a miracle like this? NO! I'll prove it! I'll prove there's no such thing as miracles! Those of you there with good hearts untainted by darkness! PERISH! Those of you unburdened by guilty consciences... DIE! Those of you who carry love for another in your hearts... PERISH! Tell me, what am I? Light or darkness? Your hope... or your despair?"
"I want to hurt you. Because of you I will have to gather all my children back into their cages and break their spirits all over again."
"These boys are now our soldiers! They belong to me now! If you try to get them back, your whole village will burn! If you ask for help, I will cut out your tongues! If you go against me, I will feed you your intestines! Hear me, believe me, and fear me!"

Evil Is Bigger: Her Anti-Christ form is bigger, but mostly because she prefers to in human size in her standard form.
Evil Is Cool: Invoked by Sephiria Arks KnightWalker in LOTM: Destiny. When Dante and the Wolf Pack Squad ask who was the worse threat she fought, she mentioned both Diabla the Qliphoth Tyrant and Ara Astaroth. Sephiria describes Ara as looking like Goddess of Evil who had a demon claw, beautiful long black hair, red glowing eyes and an amazing body. Dante is dismayed that Ara sounds much cooler than Queen Mal.

- Sephiria: If I have to say it... I think Ara was way stronger than Diabla but she was more dangerous in her own way. Ara was like Goddess of Darkness and Death who had the body of a Goddess of Beauty. She was much like a Fallen Angel with the personality of a Reaper.
- Dante: Wow! Ara sounds like cooler than Yato's mother!

Evil Is Easy: Evil comes easily to her. She loves all kinds of atrocities, without regard to the people or places effected by them. She notes that her cruel methods make her goals more easily attainable and that she does not like using violence to attain her desires.
Evil is Hammy: Ara is not always hammy, but whenever she's in the middle of one of her evil speeches, or gloating, her ham factor shoots through the roof.
Evil Is Not Pacifist: Despises the very concept of human peace as she believes peace can only exist through war and violence.
Evil Is Petty: She's a psychotic lunatic that desires to see the world burn, but even with her grandiose ambitions that doesn't mean she won't try to get under your skin. At which point she even planned on using the prospect of rape as a Jack Bauer Interrogation Technique just to be cruel to Elesis.
Evil Makes You Monstrous: Ara's true appearance is came literally from a horror film.
Evil Laugh: Anytime Ara is entertained, or is impressed with the antics of her enemies, that great fanged maw opens up with peals of maniacal laughter.
Evil Mentor: To Vira before she went insane "I can teach you things you need to know in order to save Katarina. Oh, and you'll have to kill a bunch of kids for me too, but never mind that now..."
Evil Old Folks: Ara is thousands and billion of years old, and is a being powerful enough to conquer the universe alone.
Evil Orphan: She killed her mother Phsica years before Leohart could adopt her, making a Self-Made Orphan.
Evil Overlooker: Many of Ara's [Velvet's] are chosen by how dark it is to represent better the nature of who the heroes are dealing with.
Evil Overlord: Also, a poster girl for this one. Ara (as opposed to her alter ego Mina Harker, a Villain with Good Publicity). A Dark Demon Queen who doubles as ruler of a Multi-Universal empire, and well versed in manipulating Blackness and black magic.
Evil Parents Want Good Kids: She is evil and a destroyer of worlds who wish the total genocide of all Gods and mortals of the existence but she still want a kid who will obey her blindly to continue her legacy if she dies at some point. Obviously, no one followed her in her insane mission for "peace".
Evil Plan: Omniversal Conqueror variety — which succeeded for over two decades before her demise. A secondary plan is her continuing search for a better son to continue her legacy. She desires to destroy the current world to rewrite the laws of reality and create a new world of peace where demons will rule while all Divine Beings and mortals will be enslaved, tortured and killed for the advance of her empire forever. If her world of peace fails, she will destroy the omniverse to find peace in an empty and infinite dimension of emptiness.
The Evil Princess: Ara is the adopted daughter of Leohart the Prince of Hell and is currently the Second-in-Command of Triggers Hell, making her the daughter of the King of Hell as his name "Prince of Hell" is only a title.
Evil Red Head: She is this one while possessing Elesis and Katarina's body. It's useless to mention she makes Katarina and Elesis look even more attractive.
Evil Sounds Deep: Her Astaroth counterpart has an incredible deep and hot voice of a mature woman while Ara's true voice is way more thin similar to Katarina's voice but more cold and less-cheerful.
Evil Wears Black: Mina Harker wears a black office lady outfit, Astaroth King wears a black ad tight dress and Ara Astaroth wears red and black torn clothes.
Exact Words: Why yes, Katya, Ara as Mina is unarmed... but she does have access to the Blackness, as Katya very painfully discovers.
Extra Eyes: Ara develops tons of these during transformations, turning her forms the scariest demonic forms of the storyline ever. Astaroth King's Shadow is known for being this as seen in the image above.
Explaining Your Power to the Enemy: She explains to Future Maria how her transformations work, namely how her different forms are Power Limiters and not enhancements. She also tells Katarina how much of her power she's currently using. Given how overwhelmingly powerful she is, it makes little difference.
Expy: Ara's powers and personality is based in numerous characters. For appearance she is was based in Velvet Crowe from "Tales of Berseria" as Ara Astaroth, Alucard's Shadow from "Hellsing" as Shadow Form, Female Slayer from "Dungeon and Fighter" as Idea of Evil's Goddess, Redeemer from "Dungeon and Fighter" as Astaroth King, Bloody Queen from "Elsword" while controlling Elesis and Katarina. 

Bill Cipher: He is a cunning, eccentric, insane, psychopathic, and physically irreverent demon who finds most things amusing. He's outrageous and outlandish, as well as a quick talker and thinker. Though he may come across as simply annoying, he shouldn't be underestimated; for when he is angered, he's a force to be reckoned with as he will unleash his near-omnipotent powers on those unfortunate enough to make him angry. When accused of being insane, Bill proudly agrees with the statement. Bill is not one who believes in rules. Instead, he follows his own selfish philosophy which means doing whatever he wants without care for the consequences. He thinks of laws and physics as senseless and displays an irresistible urge to break those rules down by causing absolute chaos however he can. The lives he ruins hold no merit to him and he finds amusement in tormenting and turning people's worlds upside-down. He also sees reality as an "illusion," and values its destruction.

Ara is just like him but unlike Bill she has an even more twisted sense of humor and unlike him who is a Card-Carrying Villain by definitive trace, Ara is a Knight Templar who believes in a world of peace between demons. She is just hot-headed like him and hates being called insane every time people accuse her to be mad.

Alucard: The main inspiration for her powers is indeed Alucard from Hellsing series. Aside from the common vampire powers (Superhuman Strength, Speed, Reflexes, Immortality, spreading his condition to others) Alucard can also levitate, pass through walls, manipulate shadows, shapeshift, telepathically manipulate people (though he needs eye contact for that) and heal from as little as ashes.

Almost 95% of Ara's abilities is inspired in Alucard's powers like her Shadow form and Life Eating skills but unlike Alucard who has to drink the blood of his victim to gain his or her life and memories, Ara can simply absorb them by using her Azarath Claws.

King Hamdo: The inspiration to her organization as a whole. Hamdo is the insane and psychopath dictator of Hellywood and has the mind of 10-year child with sadistic tendencies. Hamdo is so insane that he is willing to rape Lala-Ru only to torture her for not telling the location of the Water Pendant (as the world where he came from lacks water and he need this element to move Hellywood that is a flying fortress). In addition, Hamdo's army invades entire countries and villages to take their men to serve in his army while women and kids becomes sex-slaves of his army.

Ara did not use any attributes of Hamdo's personality but his way of ruling Hellywood is what turns Ara in a dangerous Caligula example. The Revelation of Qliphoth is a extremist organization made of Black Demons that invades planets to steal their resources, turn men into Black Demons, rape and devour children and uses women as livestock.

Emperor Palpatine: Scheming, powerful, and evil to the core, Darth Sidious restored the Sith and destroyed the Jedi Order. Living a double life, Sidious was in fact Palpatine, a Naboo Senator and phantom menace. He slowly manipulated the political system of the Galactic Republic until he was named Supreme Chancellor -- and eventually Emperor -- ruling the galaxy through fear and tyranny.

Ara's plan in turning Stabilization Union into a a tyrannical government to allow her Black Demons to devour and increase their numbers is what was inspired in Palpatine's grand plan to turn the Galactic Republic into Galactic Empire.
Aside from turning the Republic into the Empire, Ara also gained the attribute of Palpatine in ruling over their respective universes. Palpatine controlled and ruled the galaxy for at least 20 years while Ara had total control over the omniverse for 2,000 years until her downfall.

The Black King (Chain Chronicle): The Black King wished to rule the continent of Yggdra. He and his Black Army declared war on the Holy King and was successful as the Black King killed him and overthrew his kingdom. At one point, thanks to Black King's machinations, he managed to turn the main hero of the story into a demon just like him using what he call Black Element, an element of evil that is slowly consuming land and turning everything in black.

Ara's Blackness is deeply inspired in the Black King's black matter but is showed to be a way more developed and complex than the Black King's black matter as it only corrupts people and destroy organic lives while the Blackness not only corrupts people but turns people against each other, create horrible nightmares in reality and can create even entire realms like Qliphoth. 
Ara's manipulation into corrupting Katarina is also inspired in Black King's. Yuri, the main hero of the story turns into a demon when the Black Matter inside of him dominate over him for accidentally impaling his best friend thanks to the Black Matter's illusions. This is exactly how Katarina is corrupted but Azul is the target.

Negan: Negan has a unique personality. He has a penchant for provocation and power games. The stronger the resistance to his will, the more he seems to enjoy the test of wills. With insight rarely associated to violent antagonists, Negan appears to both observe and appreciate the concerns and intentions of his opposite numbers. This gives him a serious psychological advantage in most contest of wills, as he is able to anticipate and preempt an enemy's plans. He is a very intelligent, logical, clever and brilliant strategist. While he can be very intimidating, dangerous and brutal, he is also strangely charismatic and has a twisted sense of humor, and with this humor comes frequent cursing. Also, while he can be very casual and jolly when speaking to an ally or enemy, he has a temper that can frighten just about anybody. Despite being a violent, sadistic, and murderous sociopath, he does have a compassionate and insightful side to him that comes out at times: this is shown when he makes fun of Carl's damaged eye and when Carl begins to cry, Negan quickly apologizes to the poor boy.

Ara is just as him in personality. Ara is a mistress in mind games and loves to break people by destroying what they loved the most when they decided to rebel against. Such as when Negan brutally murdered Gleen and Abraham with Lucille, smashing their heads in the most horrible way for killing many of his guys instead of killing everyone of Rick's group to avenge his men. When Ara captured Maria and many of her Arzonia Family, she was willing to put everyone on the floor and let Maria decide who Unit-CM 130 was going to murder but the former refused to do so and Matt Butcher was brutally killed by CM while Maria and the others were forced to watch. 
She is also intelligent and rather sarcastic in almost everything she say to the point that her minion doubt if she is being serious or being sarcastic and funny. At the same time, she is brutal and dangerous to both allies and enemies alike as she is capable of doing the most extreme and painful punishments to those who don't follow her rules.

The Major: The Major is the supreme commander of the Millennium Organization and seeks to plunge the world into an endless state of war. A former first lieutenant of the SS, Adolf Hitler issued a special order (#666) placing him in charge of a top-secret project, the main focus of which was the perfection of an artificial vampirization process. The success of this project would allow the Nazis to utilize vampires in battle and turn the tide of the war in their favor. The operation was attacked and shut down by a young Walter Dorneaz and Alucard in Warsaw, Poland, in 1944. However, the defeat proved to be only a minor setback, as the Major and his subordinates managed to escape to South America unharmed. There they resumed their research. Although other Nazi officers with higher ranks accompanied Millennium to their South American hideout and attempted to exert their authority, the vampire officers loyal to the Major quickly executed them. Depending on the translation used, the Major is a either the sub-commander or the founder of Millennium, as well as the leader of a Werewolf special force.

Ara Astaroth was put in charge of Qliphoth to lead a demonic project called Blackness by Leohart to lead Triggers Hell to victory against the Paradise but it turns out Ara soon planned to backstab him and used the Blackness to her own purposes to plunge the omniverse in chaos in order to destroy it and rewrite the world. Not to mention, Ara loves war between humans as she consider them bugs but admits their war is what makes her stronger so she has a very deep love for war and destruction mush like the Major.

Ragyo Kiryuin: Ragyō is a character bathed in luxury, and it shows in her overall presentation and attitude. She is vain and proud, and boasts her power and status abundantly. According to Rei Hōōmaru, her character and morals are at the very least questionable. Ragyō, like her daughter, is strangely willing to indulge the whims of her inferiors, and is quite personable with those loyal to her, and is similarly ruthless towards her enemies. However, she is individualistically cruel and sadistic, brutalizing and maniacally taunting Satsuki and tearing Ryūko's heart out simply to make a point. She enjoys domination and control, lusting for power over the world in order to give it to the Life Fibers.

Her motherly example. Ara is a rich demon woman who leads a vast and powerful organization manipulating the Blackness and seeks to use it to destroy all mortals by making them fight each other until no one is left. Ara considers humans inferiors to demons and believes them to be just livestock of demons just like Ragyo thinks of humans as slaves of the Life Fibers and both are the worse example of mother in the story as Ragyo lead her newborn infant to death and molested her daughters while Ara showed no care for her children and turned them into mindless machines to follow her commands while stripping them from their memories and persona. Once they were fated to die at some point, Ara was willing to discard them and planned to give birth to another child in the future.

Medusa Gorgon: Medusa is an incredibly sinister and evil individual, as well as a very powerful witch. Her greatest skill is her ability to manipulate almost anyone, due to her unbelievably high skills in acting. In her true personality, Medusa has a view of the entire world as a place of stasis, where nothing evolves or changes. She hates this so much that she went to the extent of resurrecting Kishin Asura in order to make the world mold back into "motion". She also takes incredible pleasure in others' pain when she is the one causing it, and when her experiments are working. She is so sinister that she can even subject her own child, Crona, to unimaginably torturous punishments, like locking them in a dark room for many days without food or water whenever they fails to do what she commands them to do, and gives them terrifying orders such as to devour many human souls. She is easily angered by those who create a road block in her experiments or in the "evolution" of the world, and usually tries to eliminate these problems.

Another motherly adopted example towards Aki Honda. Like Medusa who adopted Crona and abused him (or her) constantly to the point of breaking his (her) sanity. At one point, Medusa tried to make Crona kill a baby dragon but he (she) refused as it was too innocent, Medusa then threw Crona in dark room for days without water or food. Ara was this towards Aki Honda (but much cruel than Medusa) and forced her to go under extreme and dangerous training that resulted in the young child losing some parts of her limbs but Ara replaced with artificial limbs. When Aki Honda failed in killing a puppy, Ara beat her up and had some bones of her body broken until she lost her sanity and finally killed the puppy.

Aku: Aku is the main antagonist of the Samurai Jack series. He is a ruthless, diabolical, and manipulative demon who is the arch-nemesis of Samurai Jack. He is easily one of the most successful cartoon villains, as he managed to rule the world, and was unstoppable for years, as it took Samurai Jack 50+ years to defeat him. He is also the fragment of a black virus that is the true ultimate evil. Aku tends to switch back and forth between being played for laughs, and being a truly threatening villain. He would either do something pettily "villainous" not to be taken too seriously, like telling stories to children to make them like him instead of Jack, or be extremely terrifying and dangerous, like causing genocide and enslaving innocents, depending on the episode. In the first four seasons of Samurai Jack, he was voiced by the late legendary Japanese actor, Mako Iwamatsu, who also voiced Happy Cat. In the fifth and final season, he was voiced by Greg Baldwin, who also voiced Frank Fontaine.

90% of Ara's character was inspired in Aku, including her personality and even actions in sending the hero(es) to the future thousand years ahead where her and she conquered the world and ruled it with iron fist. Ara, unlike Aku, who conquered the galaxy and turned it in a place of war crime, Ara conquered the entire omniverse and just like turned the entire omniverse into a punching doll to demon criminals, dictators, gangsters, terrorists and caused the 95% of all planets of the omniverse, reducing all life to 81%. 
Ara, just like Aku who sent Samurai Jack to the future, sent the Rogues 2,000 ahead on the future where she ruled it with iron fist. When they arrived there, both heroes from SoK and Samurai Jack discovered how Ara and Aku made the world suffer for causing countless genocides, slavery and mass murder of billions.
Her funny and serious mood is deeply inspired in Aku who is a ruthless demon that caused much suffering and death across the galaxy but yet at times he is played not so seriously and is considered to be the funniest character of the series. Ara is just LIKE him, she is a villainess that caused the most damage to the hero and villain cast of CIS Productions as a whole for turning two timelines into cataclysmatic events and was responsible for thousand wars and centillions of deaths yet she is the funniest character of the story and is played for laughs most of the time; combined with Bill Cipher and Negan's personality.
Their weakness and powers are the same. Aku is a lovecraftian monster who can takes many sizes, shapes using the black matter of the Evil Entity that created him (Idea of Evil created Ara and the Black Mass created Aku). Despite Ara's human form her body is composed by liquid Blackness that allows her to take infinite forms of animals, people, monsters, aliens, demons and othe entities. And just like Aku, Ara is immortal and can only be killed by divine artifacts forged by Gods as the two are Made of Evil.
The fate of their children. As Ashi was the daughter of Aku from the future and helped Jack to destroy the Past Aku, she disappeared from existence as without Aku she would never have existed to begin with. The same happens to Tomas, despite he was sent to the past, he was still born in the future and the death of Past Ara caused the Future Ara to cease from existing. This caused Tomas to vanish from existence as well like the Dystopia world that Ara and Aku created in the future.

Extreme Omnivore: As her Black Demon forms, she can eat literally anything. From people, animals, vehicles, houses and even buildings depending in the size of her transformation.
Eye Scream: In the Rogues' retaliation against her, Katya has managed to injure her when she was off-guard, causing her an injury she could not heal. When she noticed Katya was using a Divine Arttifact forged by Gods, Ara started to feel scared for the first time in billion years.
Eyes Do Not Belong There: Eyes do not go in the chest! Or in shadowy tentacles! Or... any way Ara uses them, really.
"F" Tropes
The Faceless: Until her debut as Ara Astaroth, her face was usually covered by shadows. Mina Harker and Astaroth King had a straight introduction.
Face of an Angel, Mind of a Demon: Ara is this trope incarnated. Not only her appearance but her voice is from an Angel and her powers are from a Demon. She is the most beautiful demon woman in Hell, has thousand of Goddess jealous to the point that even Aphrodite the Goddess of Beauty is scared that someone might take her title. Despite her seductive appearance and voice, her powers, mind, ideals and true soul form are from a genuine Evil Devil. If she was only a demon with the appearance and voice of an Angel than she will continue to be an Good-Hearted Angel as even some demons can be more friendly, loving and caring than most Angels but Ara makes other Devils look like Angels in comparison to how cruel and devilish she is.
Face Stealer: Her shape shifting abilities allows her to change the size and appearance of her body as she wish. So it is not odd to see Ara changing her appearance based in the faces of the people she met before.
Face Your Fears: She seemingly believes this to be what one must do in order to realise one's potential. The Blackness she uses to infect people are bring this up to infected victims. These people will constantly have terrible and scary illusions that seem to be more real than real life and will try to break your mind like schizophrenia as seen in Tomas' case when he was tormented by his fears of letting young children die in the battlefields of KnightWalker Family and caused them to become Cyborgs.
Failed a Spot Check: Katarina causes Mina Harker to angrily react when telling her a Japanese joke that insults her status, the only problem? STAR LABS is stationed in America, so they wouldn't know or understand this joke.
Fangs Are Evil: In her Anti-Christ form her jaws are lined with fangs, illustrating how monstrous she has literally become.
Fatal Flaw: Katarina is quick to surmise that Future Ara's overconfidence in her powers and immortality is what will do to her. True to form, she died the very same day on the past.
The Fatalist: The Past Ara is very well aware that she is ruling the omniverse in the future thanks to her Time Skip. When the heroes dare to speak something that she will lose or die, she will simply no matter what they do they cannot revert the future that is coming for them. The episode "The Future that is Astaroth" has this on the title..
Falsely Reformed Villain: For an instance but it almost worked. When Tomas snapped out of her brainwash and tried to bring her with him to Hell as Earth was a place to good for Black Demons like them. For just 30 seconds, she cried and and asked if she could be truly loved... But it was just for a moment before she impaled him.
Famous Last Words: She had several according to each of her persona killed.

Ara Astaroth (future; not killed): "Ohh... I done goofy."
Ara Astaroth (first death; killed by Katarina and Tomas): "Those are the words of a defeated woman!! A victor must speak not of the current state of the world, but of how it should rightfully be!! And I a---!"
Ara Astaroth (second death; killed by Isuke Inukai in the future): "Cower in awe! Recoil in despair! Cry your heart out! Because my essence will live! I won't die you know! Someday I'm gonna get out and come after you. Teeth! That's all I'll need to bite your throat to death. Teeth!"
- Astaroth King (betrayed by a redeemed Oriax): "You were always trash..."

- Oriax: "A mortal trash... Teacher."

- Mina Harker (beheaded by Katya): "Fufufu. You think you can stop this? Brazil fell for the Black Demons even if I don't tell the world the existence of Black Demons they will continue to kill each other... And now, Kotori Itsuka. You will die and be sent to the Lake of Fire... Because nowadays that bullshit of being good and evil is use--"
- Shadow (killed by Elesis): "Impossible!  No one in millions years broke my brainwash... Fufufu! I see! Life is really fu--!"

Fantastic Racism: Considers mortals to be products of a bygone era and would sooner have her dead for it since it's her Berserk Button.
Fantastic Romance: Really, it's just that fantastic that Ara and CM, two heartless and two of the most evil beings that existed in the history of the existence, could actually love each other.
Faux Affably Evil: In the waning days of the SU, she has a tendency to be charming and friendly in spite of her intentions to screw everyone over. As the President of SU, she doesn't particularly bother to hide the fact that she's a Manipulative Bitch, but on occasion is genuinely polite to her subjects, provided that they don't fail her, and occasionally gives off a mockingly concerned tone of voice.
Femme Fatalons: Her nails are shown to be quite long and pointed at the tips.
Fiction 500: Is explicitly stated to be the single wealthiest person in the Triggers Hell thanks to the wealth of Astaroth clan.

In Earth, she is the managing director of one of the largest private military international companies in the world, the only company able to produce weapons to fight against Demons, as well as having her own private Anti-Magic army. Her weapons are sold to every country on the planet. Reading this, is very easy to say that Ara as Mina Harker is a extremely rich person. And money is something that is never lacking in her pocket.
As the Empress of Astaroth Empire, she has control of every single planet in the omniverse and run a empire of crime of mobsters and terrorists that work directly for her with trillions if not quintillion slaves and men working for her profit. 

Fighting a Shadow: A recurring problem fighting her in Shadow form: she's still an incorporeal entity in another dimension, so no matter how badly damaged the body she's using is, Ara herself isn't hurt. She loses this when she assumes physical form, but she also becomes nigh-omnipotent and can only be killed by Divine Artifacts forged by Gods, so it doesn't help much.
The Fighting Narcissist: Not exactly narcissist to her beauty but for her status as the Empress of the Omniverse. The Past Ara lacks any narcissism as she consider herself to be a mere dog since she is a servant of Leohart at that time. But the years she ruled over the omniverse turned in a sociopathic narcissist who believes herself to be superior to all living things. Her words cannot be questioned, her acts cannot be brought to topic as she knows exactly what she do and the list goes on... In addition, the Future Ara also has overconfidence in her abilities and so she will never go seriously against her enemies as she thinks she is unbeatable.
Final Boss: She's the last villain the Rogues face in Madness Sub Arc as soon as they defeated a brainwashed-Black Demon Maria Arzonia.
Final Boss, New Dimension: Ara created six dimensions on her own power, in fact: Genesis (which connects to the other five), lava (how she starts the fight), ice (to freeze Katarina and Tomas the first time they nearly touch her), sand (throws Gaius into it to separate him from Katya), gravity (which even affects her), and acid (which Maria and Matt unintentionally opened while trying to retrieve Imperia from the aforementioned sand dimension, but Ara never actually uses it herself).
Final Solution: She wants to kill the all mortals of existencew because she believes they are all equal and evil by nature and plans to create a world where demons will rule as Gods... Considering she is no better than the mortals she claim to be evil.
First Love: CM was her true and only love.
Flechette Storm: She can fire her individual hairs as a barrage of needles, which, coupled with her Devil Eeyes, allows her to strike and disrupt people's energy points from long range.
Foe-Tossing Charge: Shown in the London, where her running into the Witch Cult forces opposing her sent dozens of them flying.
Foil: From all heroes and villains in this story, she is this so Supreme God himself who is almost seen as a Good Male Countepart of her person. They have many similar traces despite all their differences.

Ara is born extremely powerful, didn't need to train a day in her life, and is a Demon Woman, while God whose real name is

Spectra

, was born in a rich class but suffered his entire as the son of a ruthless Goddess, and had to work for his power since he had no God-like powers like the ones of his mother. Spectra is very polite and well educated, while Ara is somewhat educated and polite as well but can be somewhat rude and Book Dumb. Ara thrives on spreading despair and corrupting others with her influence. Spectra inspires hope and tends to bring out the better angels within people.
Ara is sloppy, clumsy and funny while Spectra is far more serious and composed, giving the atmosphere of an experienced mature man. Ara is a Chesmistress and plan long schemes to destroy her enemies and conquer what she wants while the Spectra don't rely in his intelligence but entirely in God-like powers. Ara is Queen of a dimension full of demons and followe her blindly by fear, love or fanatism while Spectra is the King of Paradise and has people who follow him by faith and with good intentions to make the world a better place for everyone unlike Ara's group that wants to make the world a place only for demons.
Ara hates all mortals and gods while Spectra loves all mortals and even have friends who are demons, showing that he does not hate demons. Ara control powers of darkness and death while Spectra controls power of light and life. Spectra has white hair showing his bright personality while Ara has dark hair showing her dark and evil personality. Both suffered in their childhoods but followed different paths (Spectra followed the path of life and good while Ara followed the path of darkness and death). 
Ara loves killing people while Spectra hates even killing Pure-Blooded Devils. Spectra never engage in a relationship despite his feelings for some of his female angels, Ara engaged in love with a ruthless psychopath but choose him as her only and true man. Ara rules through fear and iron fist while Spectra rules through love and harmony. Ara is a Blood Knight who loves beating the weak but dislikes combat at the same time, Spectra hates fighting and protects the weak with his high-power. 

Forceful Kiss: She steals a kiss from CM twice. Although the first time was because she wanted to know if she was living in an illusion when she had her own doubts if it was truly CM as she saw him dying 18 years ago. Nevertheless, Petelgeuse and all women and men that have a crush in Ara weren't happy when they discovered the existence of CM. This caused in the poor-bastard to suffer many assassination attempts from Ara's underlings.
Forgot About Her Powers: Not forgotten, so much as self-limited. Ever since her introduction, Ara has revealed to be able to use an incredible amount of techniques, including, but not limited, to creating massive walls of fire, using Devil's Eyes in more than one form, using the Blackness and its derivative techniques (Energy Absorption, and a stronger variation of Death Beam), summoning meteors, using massively powerful Black Tar Release techniques, and the list goes on. Even when she becomes the Idea of Evil's Goddess, she focuses only on using the Truthseeker Orbs instead of any other techniques, even if it would help her in the fight. Yet she only uses each technique once... simply so she can drag out the fights, and make things more interesting/fun for herself (if her opponent is beating her up, she will enjoy the pain of her fight and not go hard against him or her) even fighting against a Worthy Opponent - namely an Eight Gates Katya - doesn't have her drop her self-rule.
Forgotten Phlebotinum: She apparently has an acid dimension in her stock, but the audience only sees it when Maria and Matt unintentionally open it.
A Form You Are Comfortable With: Due to the trillions of souls inside her causing a lack of a definite gender, she can change her appearance at will. To quote the woman herself, "Trappings of mortal form mean nothing to me."
For the Evulz: Even Ara has reasons when she kidnap nuns and makes her servants rape them to death; it's because it helps her to remind nuns represent exactly what she needs to destroy; the disgusting concept of humanity and faith. However, there are times she does things for the mere fact of causing random pain and suffering in mortals to watch them suffering because she hates them so much she can't simply pass by and don't see their faces twisted in despair. Outside her lust for power and twisted sense of peace, about half of what she does to human characters is out of extreme sadism, such as corrupting Katarina and leaving her friends shocked with the impact of having the most friendly and powerful member of their team that turned out to be The Heart as soon she became a Black Demon the Rogues almost fell apart. Ara then kills the Iscariot priests after they give her the Divine Artifacts that can kill her and fully intends to destroy planets where religions is the main governmental type once she gets what she wants. She even laughs like a lunatic as she blows up Prime Earth in the future, declaring it to be magnificent.
For Want of a Nail: While clashing with the Rogues' team's all-out attack, Ara finds herself imagining how would her life have turned out if she decided to stay with her mother instead of ruling Qliphoth... But soon, she thought it would be boring.
Founder of the Kingdom: Co-founded the Qliphoth with Leohart and she is the one who gave the realm the name "Qliphoth". This is almost universally forgotten or voluntarily ignored by Oriax's time, given Qliphoth is almost considered a "small city" of Hell so one ever goes there... Little did they know Ara turned that realm in a flying fortress in the size of an universe.
Four-Star Badass: She's one of the highest-ranking Triggers Hell military leaders, the Princess of Hell, Leader of Astaroth clan, Queen and Creator of Qliphoth, Empress of Astaroth Empire, Goddess of Leohart's Cult and by extension one of the strongest female demons of existence and can fight one-on-one with Gods. Not to mention she killed the 4 strongest beings in existence alone using brains and brawl! The Supreme God, Isaac Westcott, Leohart the Prince of Hell and Darth Hades!
Freak Out!: It happened to her after she discovered the Rogues were in possession of the Spear of Virtue given by Sister Mary Eunice during the events of Corbin Files. In a sense, it was Eunice who indirectly killed Ara Astaroth and saved the omniverse. If she decided to stay with the spear, the heroes were fated to die and the Rise of Qliphoth era's timeline was inevitable.
Freudian Excuse: Strongly averted despite her past where she was imprisoned in a tower for thousand years. Unlike her apprentices who are for the most part products of circumstance (being either Fallen Heroes or Tykebombs), she has no tragic event or circumstance in her past that drove her to The Dark Side. Even you mention her past where she stayed in a tower for 600,000 years, nothing can explain what she did to the omniverse. She simply is, and always has been a horrible person.
From a Single Cell: Every 'death' she was supposed to have is one of her souls being taken away. And since she has over quintillions, this is the main reason why she's so damned hard to kill or even remotely injure. If even the tiniest bit of Ara is left behind, she'll be able to regenerate and come back just as strong and vengeful as before. 
Front Line General: When she isn't beating a retreat, she's usually leading from the front. However, this happens only when she is present in the battlefield. If the heroes think they are winning over her royal army, you can only close your ass and run away before Ara herself decides to step in like a 500 Level Game Boss fighting Level 2 Newbies in a MMORPG game.
From Bad to Worse: No matter how bad things are already, Ara will always try to make it worse, such as the conflicts between the Rogues and MPS in Unit-CM 130 Sub Arc. The world almost fell apart when Akrak Couteau fired the Hands of Apocalypse and killed 50,000,000 in countless natural disasters. The entrance of Qliphoth only made things worse to Ratatoskr. Every time Ara and her group starts to get involved with the plot, you can expect several important characters to die very fast, showing how dangerous she and her faction as Knight of Cerberus.
From Nobody to Nightmare: While she wasn't considered a villain because of her innocence when she was a child. She was considered nothing but a normal demon until the day she oficially killed her entire clan.
The Fundamentalist: Her goal is the complete genocide of mortals and anyone who dares to critize or oppose her is a fool. She clearly refers Ratatoskr as a bunch of greenhorns for fighting against her wish that is the for the greater good of the demons.
"G" Tropes
The Gadfly: She loves taunting and saying obscene names to Maria because she is the only one who reacts negatively when talks something bad about her. This is more evident when she and Zelkron captures Maria and her friends and are about to torture her to make her fall to the Dark Side.

- Ara: Now, Little Honey... If you refuse to talk with me... I'M GOING NIGGA MODE! What do you think we should torture this little ass piece of shi--!
(Maria jumps a little on the ground)
- Ara: What?
- Maria: N-Nothing...
- Ara: Okay... So tell me the best method to take all bitchin' little shit out of your as--!
(Maria jumps a little on the ground for listening to her dirty and obscene words)
- Ara: .........................
- Matt: Eh...
- Droids: ...............
- Zelkron: ......................
- Sumireko: ......................
- Maria: ..........................
- Ara: You &%$%@#$
- Maria: !!!!!!!!!!!!!!!!!!!!
(Ara let out a Mind Rape Smile)
(- Narrator: Rest vanished... That was the worse night in Maria's life... Is it?)

Galactic Conqueror: Ara is the consummate example of this trope, though she did it through pure cunning rather than outright force. She got voted into absolute power, after masterminding a civil war after trillions years of peace (in which she was secretly the leader of both sides), resulting in her receiving popular support for her authoritarian reforms. By the time she declared herself Empress of the Omniverse, she already had absolute control of the existence, even claiming herself to be the Supreme Goddess of Paradise.
Gambit Pileup: Ara is a Chessmistress and a Manipulative Bitch. Her trope Diabolical Mastermind is also limited to her manipulation into turning the Earth into a Hell without using a single finger of her own... Here you can see all her schemes.

Her rise to power in Global Pact Defense is one predicated on an insane amount of planning, serving as The Chessmistress, being a Manipulative Bitch that relies on Playing Both Sides, operating with a number of Batman Gambits, and coming up with quick alternatives should a wrench be thrown into her plans.

Specifically it required that she become a high ranking senator and military officer in Global Pact Defense, and a Demon Queen of Qliphoth, use her Astaroth King identity to set up a proxy conflict on Brazil to ensure that she would become the President of Stabilization Union when her predecessor seemed too weak to take action (Tom Bucky), then to recruit a fallen rebel diplomat from KnightWalker Funeral Parlor to spearhead the creation of the Cyborg Army and create an override system to ensure that they would kill the Black Demons only to create a façade she is actually fighting the demons as she promised, to cause enough political unrest behind the scenes to lead to the creation of the Anti-Demon movement and have that fallen rebel become its public face, to gain emergency powers in time to mobilize the Cyborg Army against the savage humans killing millions around. Have the Triggers Hell start the 22-year construction process on a galaxy destroying E.N.D. superweapon, to carry out a war while maintaining the façade of being a kindly and clumsy woman when in truth she is working with the diabolical Triggers Hell and Nine Demon Gates from the very beginning, justifying the deaths of thousands of all members of GDP Council by what appeared to be an attempt to overthrow the SU, bumping off all of the above collaborators so they wouldn't spill any information, and declaring that the SU will merge the fallen KA and the entire world will become an Empire to be more efficient, with her as the leader, and finally dissolving the all governments of the world upon the completion of the Astaroth Empire seized from the Revelation of Qliphoth so she could have absolute power with no bureaucracy and instantly blow up anyone's country, planet and universes who disagrees with her. It all worked, and she ruled as Empress of the omniverse for 2,000 years.

The foundation of KnightWalker Family takes this as well. 

Ara had one of the notable roles in the history of the KnightWalker Family, if not the most notable. In 1780, the KnightWalker had total control over Germany and Switzerland, however, a group of KnightWalkers lead by a megalomaniac known as Jude KnightWalker (the great-great-grandfather of Juria KnightWalker) tried a coup d'etat in the government, starting a civil war between two factions for power. However, no one actually knew that Ara was the person financing the civil war with the first biological in the history of mankind and was guiding Jude KnightWalker in his conquest. One day, Ara secretely possessed Jude to givbe a speech to the Holy Knights (this is how Jude called his faction) to prepare for the Holy War (the civil war). Ara tells Jude that the speech was very gaudy but Jude ignored and yelled at her saying that he needed the powers of a God which she promised him. In the first day of their meeting, Ara promised Jude the power of a Demon by making him drink the blood of a Qliphoth demon and this is the only reason why Jude joined her. After showing Jude and his most powerful allies the corpse of the Qliphoth demon, she explains to Jude and his allies about demons existing and not being only objects of folklore, and handing them the demon's blood to drink, informs them about its power-enhancing qualities. After they hesitate, and then drink it, she is seen smirking, and then commenting that just one between 10 is compatible to the blood when more than 9 of the KnightWalker Separatists, being incompatible, explodes and Jude survives, turning him into a Neo-Demon, a half demon with blood manipulation and illusion control. And so, with devil-like powers, millions joined Jude's cause for considering him superior over humans and treated him like a God figure, increasing the scale of war to continent-level conflict where even civilians from both sides were forced to join the military to fight each other in a war that they were not even related with. Ara then gave the Legitime KnightWalkers (the victims of Jude's coup), biological weapons by forming a contract with them to win the war, without knowing that Ara was actually controlling both side of the war. 0 years later, at the end of the war, the biological weapons that Ara gave to the Legitime KnightWalkers proved to be far superior than their fire-weapons and launched an attack in the capital of the Separatists. With Europe divided by its first most deadly war, many countries colonized by Legitime KnightWalkers were forced to invade the West Germany, the territory of the separatists. However, Jude with his demon-like powers, managed to summon whole armies made of blood demons and managed to turn the table of the war to his will. When everyone thought the war was over, Jude, alone, managed to recover his lost territories and all Legitime KnightWalkers were defeated. This was known as the most supernatural events of mankind but for Ara's sake, she killed every single separatists and legitime KnightWalkers who knew about Jude's true power and had to summon a pentagram around Europe to destroy the memories of all humans who saw the blood demon and so demons became just monsters of foklore and mythology again. Despite she erased the memories of all humans, some traces of the black demons were left behind and soon became the symbol of ear by church, where the Catholic Church used the rest of blood demons as the prove they were true to bring more people to their arms. Jude KnightWalker, 50 years later, found his death when the blood demon inside of him proved to be too strong, killing him from inside while Ara watched his death with pleasure, saying that he made his part very well done and it was time to say goodbye for a person who knows too much about her is fated to never live for so long. Despite this, Jude had two sons, who later would become the Legitime KnightWalkers by wiping out the true heirs. 230 years later, Juria KnightWalker, the former leader of KnightWalker would born and so his daughter, Eckidina KnightWalker.

Her invasion to the world of the Gods.

Ara thought about destroying the world of the Gods for everything they done to her on the past, mainly because they destroyed many of her worlds that she once conquered. The opportunity presented itself when she forms a partnership with the Fenrir, the wolf who is the son of Loki said to cause the Ragnarok, who desired Gods' destruction like her, planning their invasion during the Divine Exams, an exam where new Gods test their abilities to become supreme rulers in the future. Prior to the commencement of the second part of the Divine Exams, Ara murdered a team of Nordic Gods to impersonate its leader Shiore and infiltrate the Divine Beings. Using a demon summon to separate the warrior Cu Chullaain from his team, the disguised Ara subjected Cu Chullain to his Killing Intent with the youth unable to fight due to the fear instilled into him. However, the fear subsided with Nezha's timely appearance and convincing Cu Chullaain to muster his courage before Ara interferes with the God seal while knocking him out for the duration of the fight. After being subjected to Cu Chullaain's Dragon Fire Technique as it partially burned off her disguise, Ara expresses pride in Cu's abilities before branding her target with her Cursed Seal of 72 Pillars and taking her leave. As she sends the Two Spiritys as sacrificial lambs to test Cu, having a disguised Petelgese accompany Cu's team to witness him use the curse seal's power, Ara is confronted by Loki himself as she tells him that the World of the Gods will continue the exams under threat of her retaliation if they cancel it. Of course, Loki liked the idea but he refused to work with a demon and said he was going to watch her burn that planet to ashes. During the preliminary rounds of the Divine Exams, Ara disguised herself as the leader of her team to watch Cu's performance against Baco and more obsessive upon seeing him suppress the Cursed Seal with sheer will. After Nezha was able to seal away the mark on Cu, Ara confronted him. She made no attempt to hide her envy of Nezha's immortality, and noted before leaving that Cu will eventually come to her seeking power. Eventually, on the day of the final round matches, with all attack preparations complete, Ara murdered the Zeus and assumed his identity to sit next to Odin to oversee the proceedings. However, the World Crush began, Ara makes her move to kill her archenemy, Odin. Having the Sin Archbishops discard the guises of the Zeus' bodyguards, Ara has them erect a barrier to hold the other Gods back to prevent any interference. Having regretting letting Ara escape years earlier, Odin agrees to battle the Pure-Blooded Devil. Exhilarated that she could finally fight the Gods of all Gods, Ara used Reincarnation to summon his deceased brother Hiruga. During the fight, Ara reveals to Odin the fruits of her labour from mastering Reincarnation is to all Gods and turn them into her eternal undead servants who will obey her blindly and said she was going to make them kill their own people that they once fought to protect. Horrified on how far Ara has truly went, Odin resolves to stop Ara with the Dead Demon Consuming Seal, sealing away the soul os his brother before going after Ara herself. Not wishing to join the Odin's brother soul in being trapped within the Ankhseram's stomach, Ara stabbed Odin through the back of his chest with her Claw of Azarath before the weakened Odin resolves to only seal the part of Ara's soul within her heart, where her abilities are being saved. Ara's energy then goes wild and she lost control of most of her abilities. Cursing the dying Odin for cursing her with Ankhseram Black Magic. Ara is carried off by Sin Archbishops with the invasion halted.

The Society of the Souls takes this to another level! Damn, Ara!

When Nemesis is brought back to Soul Society with the Hōgyoku concealed within her body, Ara manipulates everyone into an elaborate conspiracy by killing all the members of Core Council and beginning to move Nemesis' execution date up, incriminating her for forming a pact with Ara Astaroth, leading to the Great Cataclysm. She begins to plant suspicion within the Paradise, initially speaking of the possibility of a conspiracy with the Goddess Awilix, and tries to use her subordinate, Ravana's intrusion in repelling Sunna and the rebel Gods who were against this execution to orchestrate suspicion among the gathered Gods, especially the young and naive Guardian Jing Wei who witnesses a conversation between the two personally. Later, Ara goes to the hero's mansion, Thor and kills him and then disguises herself as Thor and uses her Illusion's ability to trick everyone into believing she has been killed, and has Ravana lead everyone to believe that Ravana himself is the murderer. Ara (in Thor disguise) sets up Thor's lieutenant, Neith, to believe he was killed by Jing Wei, her childhood friend, to get her out of the way. Because of the nature of Nemesis' sentence and execution method, the Paradise splits into factions and the Gods begin to fight among themselves. During the turmoil, Ravana executes the overt aspects of the plan, which begins to be revealed when Nike, the Goddess of Victory begins to suspect there is something wrong with Thor's supposedly dead body. Using a camera fly, Ara watches Sunna fighting Skadi, the Goddess of Winther, in order to rescue Nemesis from her execution. At this moment, Ravana approaches Ara and wonders if Sunna is an ally of Nu Wa and probably know about her hand into this war. When Sunna defeats Skadi, Ravana becomes disappointed, but Ara tells him there is nothing to worry about. Stating everything is going according to her plan, Ara says it all begins now. Ara reveals herself by nearly killing Thor's lieutenant and defeating Jing Wei. Commenting on how nice it is to see ice at this time of year, Ara is stopped by Nike, who has figured out something is wrong with Thor's corpse doll, only for Ara to bring out Thor's corpse doll and disclose to Nike, her illusion abilities. This allows Nike to deduce the ritual for being affected by the hypnosis, after which Ara reveals that Loki, has always been her subordinate since her invasion to the world of Gods. Ara has Ravana bring the two of them to Sōkyoku Hill, where Loki had brought Sunna and Nemesis to her. When Ara asks Sunna to put Nemesis down, Sunna refuses and says that she is going to end Ara right there. Commenting on Sunna's stubbornness, Ara says that it is acceptable if Sunna wishes to hold on to Nemesis, but she will have to leave the arms she is holding her with behind. Drawing her sword, Ara attacks Sunna, but Sunna is able to deny the attack in time to dodge Ara's attack, leaving only her right arm damaged. Applauding her ability to dodge, Ara expresses happiness with the improvements in Sunna's skill because she was one of Ara's subordinates in the past during the Great Cataclysm. Telling Sunna she does not want things to be harder because while she finds it difficult to hold back her strength, Ara states she finds it unbearable for a subordinate to die. Challenging this assertion, Sunna asks Ara why she killed Neith. When Ara states it was an act of compassion because she using Thor's appearance he has trained Neith so she could not live without him, Sunna says Ara is not will be never the person that Thor was, prompting Ara to state she was the same person, but neither Sunna nor anyone else had realized what she was. When Suna attacks Ara with his Blazer Weapon, Ara blocks it with her bare hand and easily cuts the segments of the blade apart while also cutting up Sunna. When Sunna refuses to give up Nemesis, Ara prepares to kill her, only to be stopped by Nu Wa. Turning around, Ara prepares to draw her Dark Sword in order to finish Nemesis herself, but is stopped by Awilix. When she is threatened with death Awilix if she moves, Ara calls Awilix a nostalgic face and notes how not even Awilix will be able to come after hrr while fighting the hypnotized Gatekeepers. As other Gods like Nezha and Raijin arrive to assist them, Ravan is restrained by Nike and apologizes for being unable to help Ara. As they are surrounded by every God of the omniverse still capable of moving, Ara smiles and says it is time. Realizing something is wrong, Awilix runs away. When Ara, Ravana and Loku are bathed in light, the Supreme Gods calls the others off and reveals Ara, Ravana and Loki became completely untouchable the moment they were covered in this light, called a Negacio, a separate world created by Pure-Blooded Devils when rescuing one of their own which transports them to Hell. As Ara and her allies ascended to the skies, Ara announces her goal to stand atop of the omniverse in the other worlds and take the place of the absent gods, something no one has ever done before. Before finally ascending into the portal created by the the Revelation of Qliphoth's arrival, she bids farewell to all of the Gods and Guardians present and tells Sunna and Nuwa they were very interesting. She later is seen holding the Matrix, the key that can create and destroy universes according to the wish of the god using, she says that she stolen it from the Supreme God's throne and is now ready to start her own world.

Gambit Roulette: In Oriax's history, she was the true mastermind behind Mio's death, since all of the abductors were under the command of Ara and Mio herself had seal on her heart in order to she couldn't kill herself so Oriax had to watch her be murdered by Kurumi Tokisaki not knowing she likely chose it. The entire thing was planned to destroy Oriax's idealism and turn her evil. The fact that Mio committed suicide via Kurumi was a happy coincidence to Ara.
Game Face: Sports an epic one when she senses Nu Wa's energy.
Genius Bruiser: Given that she was the one who came up with the Eye of the Moon, she definitely qualifies. Taken a step further with her manipulation of Oriax.
Genius Loci: Inverted. Ara's final enemies refer to Ara's body an entire "castle" or "kingdom" of souls. When her final restraint comes off, they say she has "opened" up the gates of her castle, becoming vulnerable. When she starts to draw the souls back in, Katya says she is "rebuilding her castle, brick by brick." And when she finishes it, it will impossible to kill her again. You might take billion years trying to kill her as each stab you give in her heart is one of her souls being taken away from her body.
Generation Xerox: Most notably with Queen Mal with both of them torn between their families and with their Rivals, and how every time they went to extreme lengths to acquire power to defeat said rivals and desire for world peace through particularly violent and self righteous methods and desire for personal reward without considering how others might feel and react. Queen Mal represents Ara better in LOTM: Destiny than Krol Barbaro.
Genocide Backfire: She attempted to exterminate everyone who was not demons, and thus made further oppressive laws against Mortals to prevent the rises of new rebel cells like the Alliance.  It backfired, as the mortals ended up returning and rose against her tyranny.
Genocide from the Inside: Ara as Mina Harker pass the image of being a human while plotting to kill all humans using themselves instead of using her hands to kill them.
The Ghost:

Ara is not in Firenza Junior and Unit-CM 130 Sub Arc at all. She gets several mentions from Rindou Ozu, Alice Ozu, the Fallen's Essence, Plaisir, Melancholia and Vira, and is often dangled over the latter's head as a threat should she and her Infinit Clock's pointer not meet demands. 
Ara Astaroth is this most to the next arcs of Los Reina de Corázones. At the time of the time skip where Maria Arzonia had already become the new Supreme General of the Alliance, Ara did not appear anywhere except for a few flashbacks of her appearance in Saga AA and the first Sub Arc of the story. Instead, she was controlling most of the threats being sent to fight the Alliance while she held the post of Greater-Scope Villain.

Giggling Villain: When Ara is not angry or serious, she is a composed woman who holds her loud voice. Instead of Laughing Mad as she always do when she fighting or about to fullfil a goal, she giggles like an anime girl.
The Gift: She was born PERFECT for any women! Her power is extremely high to the point she never had to train in her entire to increase her energy as it simply continues to rise all day. She is extremely intelligent and smart as she manipulated universal and galactic conflicts without using brainwash to do so. She is so beautiful that makes even the Goddess of the Multi-Universe jealous. She is a genius in creating Grimoires, spells, creator of demonic artifacts, a writter of black magic books and a artist of Hellish architectures. Her voice is so seductive that she can sing like an Angel and seduce all men around her... Shall we continue? No? Okay!
Glorious Leader: Two years into the World War III, the Stabilization Union under her command was a military dictatorship in all but name, and Ara had a supermajority in the American Senate who did everything she said (to the point where she could legitimately boast that she's the United States itself). Although her rise to power had been planned out in meticulous detail (with a healthy dose of Xanatos Speed Chess for any sudden changes in circumstances) before anyone noticed her, and her closest political allies knew she was a Demon long before she made herself President. 
Glowing Eyes of Doom: Ara has glowing red eyes, as do many of the other demons. As MIna Harker, her eyes are glowing purple.
Goddess-Empress: She's the absolute ruler of the Omniverse and has all the power to go with it. She is only the Goddess of Death, Goddess of Darkness and Qliphoth but the Empress of Astaroth Empire.
God Guise: Her powers are god-like and her dedication to death is very real, but she ultimately is unrelated to the Thanatos, Hades or other death gods deity that she takes her names from.
A God I Am: She is a Demon Queen but she declares herself as the Goddess of the Omniverse due to how perfect she is. This is should be narcissism but this is just the facts. And worse, after billion years of plotting, she actually became the only and true Goddess of the omniverse.
God Is Evil: She considers all Gods to be lazy. Perverted bastards who love to get the most attractive mortals women from the Living World to have sex. Let their people die of hunger while living in delight in their riches of their people... And the worse is that she is right. Half of all Gods in the Multi-Universe are like Zeus from the Greek mythology and shows no care for anyone but themselves. Even the Supreme God is aware of that but hates to admit Ara is right.
God Is Flawed: One of her biggest problems is that she believes this is averted. While she wholeheartedly believes that mortals and humans constantly abuse of their rights and turn the universe in hellish places (like what the Balam Alliance is currently doing) she also doesn't agree with Leohart in that the gods can also make mistakes and in some ways are even more flawed, however, that does not mean Leohart doesn't hate Gods much like Ara do. More importantly, this aversion blinds her to the fact the she is no exception to the rule either, and it eventually leads her to conclude that while the Gods have made mistakes, it is up to her, who recognizes that, to fix them by whatever means necessary, including murdering mortals and gods alike. At this point, she whole view of Gods changed and she saw them as fat bastards, slutty sexual Goddess and perverted people with God-like powers like Zeus. And the worse part of it is that she half-correct.
God of Evil: Played with. She is Made of Evil as the Blackness inside of her a piece of power of Idea of Evil. Even so, she is not completely made of evil as Idea of Evil thought. Actually, she thinks like a normal person and her Made of Evil is only legends about her, told billions years after her death. Despite that, she still the Goddess of Death and Darkness.
The Gods Must Be Lazy: Her view on the Gods' non-interference policy in regards to mortals. Since mortals never seem to learn their lessons and keep destroying the beauty of the creation, Ara believes that said policy actually hurts The Multiverse. Eventually, she decides to stop being lazy, and do what she feels is necessary to protect the universe... by slaughtering anyone, mortal or god, that gets in her way or interferes with her plans.
Go-Karting with Bowser: She, like everyone else, appears in the MAD Volumes with other characters. As it should be because she is the funniest character of the story. Adding her to the MADs only makes her steal the highlights for herself.
Gone Horribly Right: Her interference with Black Demons genetics helped create the Jikininki and she tried to control them. It worked out for a while until Evelynn teams up with the Raven Born and the remaining Jikininki out of her control to initiate Last Libertas, a final battle against the Astaroth Empire and the Alliance in the future.
Good Colors, Evil Colors: Wears all black, indicating her evil personality. This was also hotly debate. Katarina Couteau, Imperia Deamonne also wears black and red, in other words, the color of the "evil", indicating their Anti-Heroic personality. But the truth is... compared to Ara Astaroth and Mina Harker, these girls are practically a hero instead of Anti-Heroes.
Good Girl Gone Bad: Her wish for peace and harmony between demons are true but her extremistic visions that even demons can't be friendly with each other caused her to hate Gods, Demons and mortals alike, seeing them not different from each other. It was not like she was a "good girl" from the beginning but she wasn't evil from the start as it was because of Leohart who threw her in a cage that increased her process of corruption. At one point, Sephiria Arks KnightWalker tried to give her some humanity because of her goals for peace, seeing that she is just like Ratatoskr but is playing on another side. This brings the "Justice Have Many Faces" thing again to the story.
Good Is Boring: She is very aware she can give the Multi-Universe peace by using democratic methods like ceasing the hostility between Paradise and Hell as well as helping to destroy Balam Alliance... But guess what? She took 45,000,000,000 years planning an extreme and violent revolutionary scheme to destroy all Gods and mortals and offer peace to the omniverse. Think in how many TRILLIONS, SIXTILLIONS, OCTILLIONS years she would take to create a peaceful existence using "All-Loving Hero" methods.
Good Thing You Can Heal: Because Ara's primary form is not her true form, her usual tactic is to let her opponents perforate her utterly... and then regenerate and get right back up again. If Ara wasn't a true Nosferatus and really fast regenerator, she'd be dust with how many times she's been blown to bits.
Graceful Loser: Averted when her Faux Affably Evil goes straight out of the window when her plans are ruined. She is usually a woman who accepts her defeat when nothing important is on the line and has no Sore Excuses for her defeat while planning another move to strike her enemies.
Grand Theft Me: She hates possessing other people to do her biddings because she prefer to turn people to her side and make them serve her but one of her abilities allow her to possess the mind of other people and brainwash them, stealing their bodies, minds and souls.
Gratuitous English: After seeing Elesis' resolve especially from her breaking her mind control, there's only one thing she can say:
Greater-Scope Villain: Despite she is the Big Bad of Magic Side as a whole, she has a hand in almost everything happening the stories related to magic. To start with, Ara was the person who brought magic to Prime Earth and it was her taught humans how to use Black Arts and Curses. Only this small piece of "knowledge" started the Magic Side plot to Saga AA as a whole and events of LOTM: Witnesses of Sleepy Hollow.

Ara is one of the reasons for the whole plot of the story of Oriax's arc, being the one who began the Eye of the Moon plan along with manipulating and twisting Oriax into her successor. Ara is indirectly responsible for almost every bad deed to happen within the context of Helll Lords's actions and also being responsible for the demons having a tarnished reputation even more than they already were, indirectly fueling her descendants future.
She is this to LOTM: Sword of Kings Spin-Off - Rise of the Blue Haired Heroine as a whole shared with Scathach. The reason why Kali came to Earth 1,000,000 years ago was because Ara Astaroth mudered her twin sister in the battle of Sister planet. After killing her twin sister before her eyes, Kali fell in depression and had to return to the Sith homeworld with malfuction (the Zoyineian Black Demons are artificial humans in the body of Androids). However, centuries later, Kali would impregnant herself with the help of an unknown male Sith and give birth to Scathach to end her loneliness. With Scathach born, the setting of Rise of the Blue Haired Heroine started. Ara is indirectly the person who ignited the settings of the spin-off thousand years ago.
Several episodes of Madness Sub Arc before her introduction with events and villains who operate outside of her plans. Most notable is the Phoenix Sub arc.

400 years ago, in the Fire Village, a ceremony to seal the two Phoenix Stones, a magic artifict that can grants immortality, gets interrupted as it is attacked by Ara's group of demonic troops who kill every person. During the attack, a wounded village chief teleports himself and the young Mash (the female protagonist of Phoenix Sub Arc) to a safe place where he tells her to bring the Phoenix Stone to Kalard in the Boundary Forest (now, known as Godom Empire), dying shortly after. Back at the destroyed village, two demons retrieve the other Phoenix Stone and give it to their leader. After receiving the old man's instructions, Mash starts running for her life until she falls unconscious.
Aside from accidentally setting off the crisis of Veronica's rebellion, she remains completely uninvolved in the events right up until Klarion becomes an actual threat to her plans. Also, during the Terror Special she entrusted Kruel Rose with taking over the leadership of the Researchers of Divine Hand because she recognized that Kruel had fallen completely and was curious to see what she'd do.

In Pre-Destiny. Even after her death, her influence on all remnants demons still lived for billion years. Worse, even after her death, her minions just continued coming up like if she was back in command like she was when she was alive and kickin'. With the time, without leadership, the Revelation of Qliphoth fell apart as the Anti-Demon organizations started to rise everywhere. Despite their defeat, trillions cults continued active for billion years until the unique Cult of Ara brought her name back to life.
While her only appearances on Los Reina De Corázones after the prelude arc have been in a HollowNet broadcast and a holographic conversation with Black Raven (and we don't even get to see her hologram), she's directly responsible for the Astaroth Empire's actions and all the misery they've brought to the protagonists, from sending Mask of Astaroth and Vira to deal with Maria's rebellion to all chaos and war the Alliance and all humans have been facing to survive. By the Extra Arc where, she knows who they are and discover Maria still alive, and finally ordered her Dragon Achyls of the Depravity to deal with them... Until the last sub arc, where she will close off the story with a confrontation between her and Maria.
Became one in LOTM: The Phoenix on the Sword as a whole even after her death to Magic Side while Isaac Ray Peram Westcott, also known as The Fallen, is this to the Tech Side. Sure, she's still the chief antagonist, but a lot of antagonists have more involvement than herself in the plot such as Killer Zero and Lapis. On the other hand we have the River's Inner Self later revealed to be his Evil Counterpart, who serve as a more psychological threat to River. So yeah, Ara never directly acts against River and his squad. Even so, most of the demonic threats they face in this story are demons who once served Qliphoth or are on the run as the New Republic starts to hunt them down everywhere.
Of the entire first half of Madness Sub Arc. Turns out that Ara, mistress of the Grimoire Heart, is behind half the events before the Time Skip, with her servant, Vira, manipulating Arc Villains King Hamdo and Travon from Holy Eye of Order, and Zhou Xiuying forming the United Freedom being a mentor to Felix Drake. However, Ara doesn't become a Big Bad herself until the Malevolence Part of Madness Sub Arc. After that, Ara is directly interacting with the story and characters.
Ara is this to Aki Honda during Season 1 of Saga AA before becoming the Big Bad herself in the later arcs. Despite never coming into contact with the protagonists until much later in the story, her transformation of the Mafusa Gang into psychotic killers-for-hire and her decision to ultimately let Aki Honda and Tomoo die sets the entire LOTM: Sword of Kings into motion as if she decided to help Aki Honda and Tomoo from the start when Eckidina hired them to invade Tenguu City, Katarina would be dead by now and the story would have ended right there. The biggest being that she's the reason why Maria Arzonia was so tormented by her family as they were direct members of Ara's Mafusa. Most of the events where Mafusa is somehow involved, she will always have the greatest hand over them. Not to mention, she is this to Season 1 as a while she shares it with the Fallen's Essence who was behind Eckidina KnightWalker's actions. Despite the KnightWalker Family was biggest threat at the time, the Mafusa Gang was a direct threat to the protagonists, resulting in Ara start messing around with the protagonist from the time of LOTM: Sword of Kings AA - The Animal Killers. But considering Ara had already founded her crime empire on Earth and almost 90% of all criminals, thugs, gangsters, traffickers, terrorists, serial killers, mercenariesl, assassins and bounty hunters of the world were part of it, she literally made her influence aware on the very episode of the story.
She takes this role to the entire LOTM: Witnesses of Sleepy Hollow alongside Moloch, despite unlike Moloch, Ara's threat is much more insidious. Serving as one of the Bigger Bads in the storyline, Ara is the key person who broke the innocence of a then 11-year-old Ichabod Crane by possessing his father, Lord Crane, to murder his mother, Lady Crane within an iron lady inside a torture chamber, breaking Ichabod's innocence and turned him into a man once only believed in reason. Ara's attempt was not for sheer fun, but for trying to break Ichabod's mind so that he would never seek out his destiny as one of the Two Witnesses. She also erased Ichabod's memory of his mother's death but never try to interfere when Ichabod had this sad past remembered and felt haunted. Beside this, Ara is also the mistress of Jobe as well as the one who manipulated Malcolm Dreyfuss to sell his soul before putting his former friend, Ansel, into her torture for many years.

She is also this to Scorched spin-off. It was also revealed that Ara was also the one who gave Blackheart his intellegence and made him a tool to invade the Kingdom of Arendelle and gain the Sapphire of Ice so that she could have another artifact to overthrow her father, Leohart the Prince of Hell, but after the betrayal of Blackheart and his defeat at the hands of Elsa the Snow Queen, she put him into torture chamber and made him an unintellegent demon once again, forcing him to suffer a fate worse than death. Even with her plan of manipulating Blackheart failed, Ara managed to deduce the real identity of Hexenmeister Leader (who is in fact, Vizeran Devir), the real identity of Fire Elsa (who is in fact, Vanifer), and the real identities of the Twin Gaolers (who are in fact,Dragonia Dragonfruit as a whole, also known as the Will of Grand Grimoire, with

his soul spilt into halves and merged with the Grand Grimoire's remaining pages

), before anyone else. However, with no attempt to interfere, Ara manipulated all of them to destroy Arendelle and allow Michael to gain the remaining pages of the Grand Grimoire. Once, Ara and Moloch fought against each other within Purgatory, and it ended in a tie. Ara formed a partnership with Moloch but never trusted him, so she made Malcolm Dreyfuss a spy to Moloch's side. However, she quickly tried to dethrone him as soon as she found out that Dreyfuss was playing with both sides in order to take the Prime Earth for himself as its immortal leader. She soon manipulated Lara Thomas to meet with Ichabod once she travelled across the time, making her and Ichabod to come to Qliphoth to visit her before granting Ichabod a new Philosopher's Stone, only in an attempt to claim his soul for Jobe and enslave him for eternity, trying to corrupt him like she corrupted Dreyfuss before. However, Ara soon revealed her true nature and vowed to destroy Lara one day, since she reminded her so much like her deceased predecessor, Abbie Mills, and would became a thorn in Ara's shoes if she just let Lara go away. 

As if it was not enough, even after Ara's death in LOTM: Destiny her influence still there. It's been 4 years since her death, and people are still fighting against demons and other evil artifacts she made back billion years ago. Even if her cults are being destroyed one by one since her attack to New Republic's capital, her demons are everywhere and they just don't stop coming. Not to mention, it was Ara who set the world of LOTM: Destiny in fire. Thanks to her attack to the capital of the New Republic, the New Balam Alliance took advantage that the Republic was weak and expanded their goals and interest to all Multi-Universes, officially starting a new Cataclysmatic War with a new Balam Alliance. From this point, rest assured, the entire story will focus in this new conflict.

Greed: She's really obsessed about her concept of peace and greed is one of the Seven Deadly Sins she represents as a Demon Queen.
"H" Tropes
Half the Woman She Used to Be: At the finale of Mafusa Gang's Revenge Sub Arc, Katya cut Mina Harker in half while she was distracted with Kotori Itsuka just a few minutes before she could give her long speech to the entire world about the existence of Black Demons.
Hannibal Lecture: She does this in a style of a Motive Rant. After Nu Wa calls her a murderer she cruelly points out that Nu Wa is responsible for everything, mainly for creating the Rise of Qliphoth era. If Nu Wa decided to not return in time during the Downfall of the 0th Multi-Universe timeline, she would have never caused this damage to the Multi-Universe and Omniverse as Earth was destroyed and her plans were ruined by the Supreme God. Nu Wa does not take this well.
Has a Type: Invoked and enforced in a list she made regarding the parameters for her One True Love.

They must be younger than her, so she it will be easy to dominate them in body, mind and soul... Yet, she still looves when they resist, making her advances more aggressive and attractive.
They must be ruthless monsters. A person without sense of empathy, kindness and humanity as they are cruel enough to understand why she is doing all those horrible things instead of fighting her back like the odd heroes do. A complete monster without knowledge of "humanity". More importantly, they need to be "M" or "S" to fit in her "aggressive BDSM desires".
They have to be idealists. A person with determinated goals and a dream to accomplish using all methods necessary. From murder, torture and manipulation to genocide. With this, she will have someone who is just like her and will help her in her cause. A person without cause and determination to fight something for is a idiot and an unworthy person of living.
Must be brave enough to face other creatures like beasts, vampires, monsters, demons and among other living beings not-natural. The courage of males before the danger makes her deeply happy.
Have a cold personality with no emotions like she used to be so. Once they are under her cares, she will break their ice and make them laugh, smile and feel other emotions until they are just like her. A tactic to make them even more in love with her (it's beautiful actually).
It doesn't mind if this person is particularly fat, thin, small, high, pale, ugly or even a cyborg, android, robot (as long it isn't mortal or human).
Guess who fits all criteria?

Hates Being Alone: A Tsundere trace. She often says she wants to be alone because people next to her are annoying. But when it comes to CM, she hates when he obey her order and leaves, leaving her alone by herself. It's bizarre but a heartwarming moment when he returns to her arms.
Hates Being Touched: She can bear with humans touching her hands (if you touch her beside her hands, you can consider yourself dead... courtesy of CM) but Divine Beings like Gods, Angels, Spirits and among other are disgusting. And amazingly enough, if divine beings touch her they are corrupted by her Blackness like Maria Arzonia learned in the hard way.
Hates Everyone Equally: In Ara's eyes, humans are vermin and Gods are an eyesore. After she gains her power of Idea of Evil, she discover the world she created to be peaceful for demons failed because the latter cannot feel empathy for themselves and continue to be in war and conflict in planets far away from Ara's eyes. She starts to see demons are abominations and not worthy of existing.
Hate Sink: While Ara is portrayed as a very cool and badass Nosferatus despite being a manipulative sociopath responsible for the death of all heroes, genocide of all Gods and the foundation of the Astaroth Empire, her actions in LOTM: Los Reina De Corázones and Madness Sub Arc amplifies her actions to be more monstrous and despicable rather than being just a manipulative bitch, reminding all readers that Ara is still an unsympathetic, irredeemable monster deep down. Given the misery and destruction Ara has unleashed upon the omniverse, it would seem damn near impossible to find her likeable in any way. Although this ended up backfiring horribly, as Ara is one of the most reconized and popular villains of the story thanks to her sarcastic and funny personality.
Hair-Trigger Temper: Ara is very hot-headed despite her calm and cold behavior. She have a very composed character but she has limits. She can bear with the failure of her underlings for 5 times, after their last chance, she loses her temper and will brutally destroy everything around her or kill anyone next to her. This, however, becomes one of the few things that Zelkron really loves in her person.
Healing Factor: Ara can quickly recover from any damage caused to her. However, divine magically powered objects like Sister Mary Eunice's spear are very disruptive to her healing factor.
Heartbroken Badass: After CM is killed by a meteorite 18 years ago, she cried for weeks until blood came out of her eyes. She often visited his grave to throw some black flowers when others just went there to spit in his grave for all pain and suffering he caused to millions; the only flower between millions of rocks. It becomes a Tear Jerk moment when shown in Kiss of Death episode.
The Heavy: Despite her post as leader of Revelation of Qliphoth she works for Leohart the Prince of Hell. However, she and her forces are the most frequent opponent to the heroes from Magic Side as a whole, as the leader of their Evil Counterparts. Ara is the Dragon of Triggers Hell attacking on the front lines but is also a Big Bad herself while controlling the events of the battlefields behind the curtains. Ara is usually the one who is given authority over the missions Triggers Hell sets against Gods and she proves herself a powerful and very intelligent opponent, making it clear she is the real threat for the heroes to defeat. Leohart, however, is more dangerous. He is just smart and manipulative as Ara but unlike the Demon Queen, he does not hold his power in battle and go with all of his abilities in the very beginning of the fight.
He Is Not My Boyfriend!!!: Even before they could be together, people of her faction started to get suspucious about the man she was visiting often that turned out to be Unit-CM 130. Almost completely in denial about her feelings for CM, even unto herself — more so when she makes him chocolate on the middle of World War III, all the while insisting that it's just "obligatory chocolate", and after imagining herself becoming married to CM and eventually pregnant in the future. Right, Ara, you just keep saying that to yourself...
Hellish Pupils: When angry, Ara's pupils are slitted like a cat's, drawing attention to her emotionless lack of humanity compared to other demons. Nothing leaves the girls more excited than that.
Hell on Earth: In both timelines, she manages to turn Earth into a living hell. The first making the humans themselves destroy their own civilization and in the second by using her own army to convert Earth into a new Hell of heat, magma and fire for demons to slaughter, devour and torture all humans with their heart's content.
Heterosexual Life-Partners: She gets along well with Vira despite the latter saying they're not comrades, but more kindred spirits. They live in the mansion and have tea like two old-friends. Almost hateful to Petelgeuse as he is with Ara much time than Vira is.
Hero Killer: There is absolutely no one in the entire CIS Productions to have murdered all heroes of the all storylines yet. In her two timelines, Ara murdered ALL heroes of the existence until no one except the people they protected existed to oppose her dictatorship. The number of Gods and do-gooders who have fallen to her hand or to her Empire are innumerable in the scale of billions. Even without the timelines, she already have a high-body count of heroes killed by her own hands or her allies working directly to her: people like Maeve, Rindou, Roy Mustang, Richard Sampson, Chinatsu, Eugen Katsuragi, Sasha, Kalus, Jin Kisaragi, Gravik Millian, Shigure Yukimi and worse of all... Azul Jissele.
Hero's Evil Predecessor: She is the predecessor and mother of Isuke Inukai, the only of her daughters that managed to find redemption and all powers of Isuke came from Ara and her Blackness power.
Hey, You!: At first, she purposely refused to call her apprentice by her name, Oriax Wheelahr, resorting instead to the sneering alias "Werecat", which shows her disdain for her reluctance to drink blood and embrace her new demon nature in full. 
Hidden Agenda Villain: Ara never had plans to serve no one else but herself, as Idea of Evil and Leohart discover in the hard way.

Ara never used the power and prestige that Leohart gave to her for sheer fun like other demons would use to escape from their boredom. Ara used all her authority to slowly form a 45-billion years plan to overthrow Leohart while passing the image of a loyal and strong servant. Behind her façade of being "Good Girl of the Daddy", Ara was actually a Manipulative Bitch who used the power he gave to her to destroy his allies one by one, covering her tracks, building her massive army of Qliphoth, conquesting million planets to start her empire and then let the time pass as her powers continued increasing without needing of a training. Everytime Triggers Hell or a demon affiliated to their faction discovered what she was planning, they were immediately killed before they could say something about Ara's intentions.
This also happens with Idea of Evil. From the very start, it was more than obvious that Ara didn't plan to serve anyone but Idea of Evil was so confident she would never betray it as itself was the source of her powers and existence. If Idea of Evil died, Ara would cease to exist alongside all the things she worked so hard build... It was wrong, Ara always find a way to get what she wants, even if she had to use her own body in painful experiments to study and learn how to manipulate her DNA to control Idea of Evil. She is aware if it dies, she will die too so it's useless to kill it. Instead of killing it, Ara planned to control it like Idea is doing now; like a Hoist by His Own Petard. Ara, with all her knowledge and help of her intelligent lover, Zelkron, managed to use Ara's DNA and Blackness from the Black Battery Matter to create an artificial heart to Idea of Evil. When she showed it to Idea of Evil, it immediately tried to kill her but was stopped when Ara threatned to stab it as that heart only belongs to it; meaning even if Idea of Evil dies, she will continue living and kickin'. Later, she uses Idea of Evil to give all its powers of the darkness and became Idea of Evil Goddess.

Hijacking Cthulhu: After she creates an Artificial Heart for Idea of Evil and threats to destroy it to end its life, Ara absorbs its power and becomes a Goddess of Darkness literally... 
Historical Rap Sheet: The reasons why vampires, unicorns, harpies, monsters, werewolves, sea monsters and all creatures of the mythology and legends exist is because Ara brought them to Earth. If this is true, all sightings of demons, evil spirits and even Chupa-Cabras exist because she was the person who summoned them on Earth, making the existence of religions and Urban Legends possible. In addition, most of the real-life cursed objects were made by her or by Prophets guided by her will.
Hoist by Her Own Petard:

Ara unintentionally rendered Katarina immortal by sending her forward in time, so Ara has to physically defeat her somehow if she wants peace; simply waiting for her to die isn't an option. The reason why Katarina still alive even 5 billion years later in LOTM: Destiny is not because of her ExKrieg and Abyssal energy but because of Ara's interference in her growing process. Actually, ExKriegs and Abyssals are not immortals despite the time they live. Abyssals can live for 500 million years and ExKriegs can live for 1,000 years...
Awakening Tomas' powers allowed him to use her abilities against her when he regained control of his body - including her time travel power, which she uses to take the Rogues back in time and destroy past Ara, erasing her from existence.
Visiting the Cult of Ara in the first place and leaving behind her essence to make Shiva pregnant of her Blackness is what caused Isuke Inukai to be born - the one who would successfully kill her for real and steal all her powers and Blackness, making Ara nothing but a Pure-Blooded Devil with no powers from Qliphoth.
On a grander scale, her efforts in killing all mortals is what lead to the rise of the Alliance; an organization that caused her to lose her sleepy many times and even caused her to go sick due to stress as the Empress of Astaroth Empire.

Holier Than Thou: She believes that she knows better than the gods since she's willing to fix their mistake by killing all the mortals in the omniverse since they're too prideful to admit their failure.
Holy Burns Evil: All Gods' divinely-forged weapons causes her horrible pain with even the slightest cuts and ultimately completely might destroy her in the end. She's also shown to be vulnerable to other divine powers and forces, such as the Water Goddess Neith and Nu Wa's gems.
Hope Crusher: She thrives on this!

Ara believes that the current reality is cruel and "There is no such thing as hope", and to prove her point to others (and herself) she strives to push others across the Despair Event Horizon to break their will and convince them that her plan is the right thing for the omniverse.

- Sephiria: Maria will become the bridge that leads us to peace! And I will be a support, holding the bridge up! [...] It doesn't matter if I'm scattered to the wind! I will stop y
- Ara: You called me the darkness, didn't you? Then I will make you wilt... I will take your little rainbow bridge and its seven colors and plunge it all into darkness! When my illusion ends, so will your life.

She could easily destroy all the world's time portals whenever she wants to prevent the Rogues from the past return to their timeline, but she usually waits until the Rogues are about to use one before doing the deed, just to torment the heroes to crush their hopes. 
Ara while fighting is this as well. She didn't just want to defeat her opponents, she wants them to die terrified knowing that they never stood a chance of defeating her. Sh does this first by going easy on them without unleashing her true power at all--actually, she don't use almost nothing of her power to deal with them. She toys with her enemies by letting them throw everything they have against her and showing the heroes that their power can't match her before torturing them to death. She even toys with Maria before using half of her First Release to slowly beat Maria into a pulp.

Hot as Hell: The sexiest teenage demon in the Underworld and Afterlife! 
Hot God: She is not only the hottiest devil in Hell and Qliphoth but is known for being more beautiful than most goddess out there. When she becomes the Goddess of Idea of Evil, her beauty only burst even more as the Goddess of Darkness!
Hot Scientist: Mina Harker is not only the director of STAR LABS but a scientist who study and make researchs of demonic artifacts. She is more like Scientist of Magic.
Horny Devils: A Pure-Blooded Devil who is also naughty Empress and Goddess towards her True Love. Ara's feelings are not love but total lust for the person she loves the most. Despite being a devil, she has the honor of a delicated woman and will never have interaction with other men except for the true man she choose.
How Do I Shot Web?: Even though Ara was quite powerful after stealing Idea of Evil's energy, she had little idea how to properly use all of Idea's abilities. Even later, as her power continues to grow, she rips a hole in reality out of nowhere while she was speaking with Vira. When Vira asks her what exactly she just did, Ara shrugs and says she has no idea: her power has grown beyond her own understanding of it. Of course, she happy to see it but at the same time scared of her own power.
How the Mighty Have Fallen: At first, Ara loved to see the new Future Maria who was a ruthless extremist rebel who was willing to kill allies and even children to get revenge in Ara. However, in their final battle, she expresses this sentiment when she's ready to kill Future Maria, calling her the last of the proud Guide Spirits race, and how pitiful her death is.
Humanoid Abomination: Ara looks like a sexy Fallen Angel with perfect body sizes in all her forms. It turns out she's actually something far, far more horrifying, being at the very least a Mind Hive of millions of undead souls, all slaved to a single once-human mind. She freely shifts through the most horrific forms at will, with her "true form" being essentially a planet-swallowing ocean of blood with wailing human and animal corpses rising half-formed from its depths and potentially becoming an independent army. 
Humans Are Bastards: Despite the demons are easily the most evil race of the Multi-Universe due to their cruel and sadistic minds, Ara still see humans as more evil because unlike the demons, they were born in the Living World, a place that is not Hell but yet they decided to become beings like demons themselves. And unlike demons who limit their capacity to a single person, humans go much further and destroy entire civilizations, planets and even galaxies to satisfy their disgusting business and wicked desires. She hates them so much that she just don't consider flawed or monsters but the true "destruction" of all creation.
Humans Are Flawed: The core of her beliefs but is not only humans but all mortals. She views mortals as the gods' sole failure amidst all of their creations, and she must wipe them out to create a "beautiful utopia" where demons will rule.
Humans Are the Real Monsters: There are two between Ara's ideology. Humans and mortals: "soulless beings that are cruel, barbaric but even some of them can good people but doesn't matter. They are evil and deserved to be destroyed"; they are the true villains. Demons: "gentle and correct beings who fight against evil beings who seek to destroy their race like the Gods"; Ara is a genocidal sociopathic, a ruthless dictator warmonger, mass murder of children and women, a delusional fascist, a brutal sadistic torturer, a manipulative liar, cold-hearted and an animal and child abuser... From a very logical point of view, Ara is exactly what she consider humans and mortals to be yet she consider them as the true "evil force" behind the destruction of the universe.
Hunter of Her Own Kind: After the rise of her empire, she started a hunt to all Pure-Blooded Devils. She seems to hate most other devils nowadays, especially those who kill For the Evulz. Overall, in Ara's personal opinion, only true Pure-Blooded with idealistic thinking and dreams for a better future deserve to exist.
Hypocrite: She looks down on mortals and thinks they all deserve to be destroyed, yet have many humans and mortals turned into Black Demons and Jikininki. The irony seems to be lost on her at least until Future Ara openly mentions it while talking outside her mansion. She also murders all the Supreme Demons of Hell in the different universes, which killed all the Demon Kings and Queens of the existence. So while she's preaching about how the demons are righteous but their creation like Hell dimensions, she has no problem killing even them to further her goals. 
Hypocrite Has a Point: Her idea of dealing with the constant violence and division among mortals is to wipe them all out. There are indeed many mortal characters, including Eckidina KnightWalker, Aki Honda, Lady Van Tassel, Akrak Couteau, Isaac Ray Peram Westcott, Darth Hades, Ellen Mira Mathers and all mortal villains of the story, who were able to continue their destructive actions because of the gods' non-intervention policy. Even Nu Wa agrees that there is much evil in the hearts of mortals, but she also believes that they have the potential to grow and learn from their mistakes and form new hopes instead of causing more pain using their old methods. Ara finds the latter idea to be incomprehensible and she is right... Thousand wars and genocides over the course of the years didn't change nothing even in 2036. This is played even more sad when humans continue to be doing the same doing of the past in Real-Life.
Hypocritical Humor: Ara holds a great hatred for Catholics, considering them a bunch of "dumbasses" and their stupid faith that does not exist. Considering she is a person with 5% of approval as a Goddess between mortals (with the few ones trying to get power and immortality from her), this is rather ironic as she is the person with the goal of an insane delusional tyrant.
"I" Tropes
I Am a Monster: Which she will gleefully tell you. This was Played For Laughs when Lucious compared her to Edward Cullen. Played with his iconic meme quote "I am dangerous! Bella!"

- Ara: WHO DO YOU THINK YOU ARE?! ​
- Lucious: A vampire-hunter!
- Ara: Oh great but do I have the face of Edward Cullen?

I Am the Noun: Given how much power she gained as the only and central figure of authority in Stabilization Union, she states herself to be the Stabilization Union itself, and the scary part is that, given how much behind-the-scenes control she has, she's right.
I Call It "Vera": She calls her claw as "Azarath".
Iconic Sequel Character: The most iconic villain to Season 2 as a whole because the heroes were caught in her insane plans for more than 4 Arcs of the entire season while the Fallen's Essence only served as Big Bad Wannabe most of the time despite his extremely intelligent and cunning character. He was the true mastermind behind World War III and one of the most devilish villains to appear in the story but when compared to Ara, he does represent nothing of a threat.
Iconic Outfit: Her black vest and torn clothes.
Icon of Rebellion: Ara serves as the figurehead of the rebel Revelation of Qliphoth that are dissatisfied with the current situation of the Multi-Universe while the mortals destroy everything and Gods can only watch without doing nothing.
I Control My Minions Through...: Ara is a big fan of controlling her flunkies through fear as she sees love and tolerance as useless to keep her minions in line. She's orders of magnitude more powerful than the rest of her subordinates put together and a sadist that has no problem killing them. So they have little choice but to obey her or have a nice Blackness Jelly installed inside of their brain to become a brainwashed psychopaths.
I Did What I Had to Do: How she justifies killing all the gods and devils in the future timeline. Since they wouldn't understand her ideals, she had no choice but to kill them so they wouldn't stop her.
Idol Singer: She is not only an opera singer but can sing Miku Hatsune's perfect songs in Japanese. This happens often in MAD Volumes. To make it better, her fans are all villains of the story swinging lights tubs in her concert!
If I Can't Have You...: She offer Tomas to return to her side because this man will be her legacy even after death. Once she destroy the Omniverse, he will help her to create a new one and rewrite the existence with good-hearted people who will never cause conflicts and wars again. But naturally he rejected her then she says he will die with his pathetic friends.
If It's You, It's Okay: A romantic example towards CM [Zelkron]. While humans and even her minions are forbidden from touching any part of her body that is are not her hands. Well, CM has a "special" permission to touch her anywhere... Basically "ANYWHERE"!
I Lied: When Katya complains that she has given a Motive Rant twice and accuses her of lying the second time, Mina points out that if Katya thinks she's lying this time, then she shouldn't assume that she wasn't actually lying the first time?
Ill Girl: Zigzagged. The stress and pain of ruling Astaroth Empire while leading with the Alliance's constant attacks caused her to go sick many times, proving that she is not so Invencible after all and still vunerable to biological diseases. But... If she power up a little, the virus will quickly cease to exist like if nothing had happened.
Imperial Stormtrooper Marksmanship Academy: The reason why Ara hates fire guns. She is a bad shooter and cannot even hit targets 5 meters away from her. When she tried to pull a You Have Failed Me by shooting one of her subordinates, despite the man standing still a few feet away, she was unable to hit her even once. But who needs guns when you can destroy planets with one finger?
Immortals Fear Death: When she's about to be erased after living over 45 billion years, Ara is terrified as she knows exacly that Leohart cursed her and she is going to the Undead Land, a white and black dimension without colors, sounds, people and limits. In other words, it's boring place that no one deserves to go. It's the first, and naturally last, time she shows any fear. In her second death, she simply tries to avoid it while burning in wrath.
Immune to Bullets: Best shown when the Alliance tries to assassinate her with a sniper rifle. They uses a special, super-powerful bullet given to them by the now deceased-Kyoko Kirigiri, but while it manages to knock Ara down, she's completely unhurt.
Implacable Woman: She will stop at nothing to hunt the Rogues down, even through dimensions.
Inexplicably Awesome: For centuries, no one knew why Ara was so powerful. Her power was so unrivaled that it takes a legend to defeat her and every villain afterwards trained billion and even trillion years to reach their current power level while she didn't have to do nothing. It's not until the Idea of Evil revealed itself and was said it was the source of power of Ara.
In Love with Your Carnage: The reason why she fell for CM is because of how cruel, ruthless and cold he was. Watching him cruelly opening babies alive was simply fantastic for her.
Insistent Terminology: She is to be referred to as Nosferatus, Pure-Blooded Devil or a Goddess of Evil herself. Only Katarina keeps calling her a Demon without that much of stand up to her name. Demons are only... demons. Calling Ara as one of them is the same to lower her name. She doesn't mind although but her minions don't take that easy.
Instant Awesome: Just Add Dragons!: Using Idea of Evil's cells, Ara can summon a Black Dragon made of Blackness and bones.
Instant Expert: It took her only a few seconds to fully master Katarina Couteau's body despite the fact that it was previously stated that no one is able to resist ExKrieg energy with the first attempt. This, however, lead her to become the Red Moon Tyrant.
Insufferable Genius: Ara is the self-proclaimed "genius" due to her ability to grow stronger without training, extreme beauty and high-intelligence, and considers all who are against her wishes as "incompetent fools". But considering she is all of this, she has enough moral to brag herself as much as she wants.
In Their Own Image: Regardless of all of her Motive Rants about justice, it's clear that this is the endgame of each version of Ara, Mina Harker and Astaroth King included; by wiping out all mortal life, she'll create her own vision of paradise. It's especially blatant with Mina Harker, Astaroth King and Ara Astaroth; they constantly go on about how they're doing justice and making a new world of peace and since she is the only Pure-Blooded Devil and Demon who dared to create this world, it basically translates to her new world being "by us, for me." 
Irrational Hatred: Towards humans, so much that she wants to eradicate all of them.
Ironic Hell: Her claws of Azarath not only devour the physical body but their souls as well. While their bodies serves as her Undead Army when summoned, the souls are like her extra lives and are taken away when she is "killed". However, it was later revealed in the story that her claw is a actually a Dimensional Creator that summons the worst fears of her victims inside of it. When shown in Madness Sub Arc, Phyllis is wrapped in a cocoon and unable to do anything but watch as the Angels of Ara's Hell, cute and small chibis of CM dancing and even a mini-cute Frieza from Dragon Ball, who was used as reference to create that Hell, singing "No More Monkeys On the Bed". For a raging Sadist like Phyllis who goes above and beyond to make people suffer, it's quite fitting. All people stay like this until Ara dies and their souls are taken away instead of her own. 
Irony:

Ara sent Tomas to the past to further her plans but it turns out he became a good person and was one of the most dangerous threats to her plans to the Past Ara. Later, when she finally had him back to her side, he uses his powers she gave to him to send the heroes back to the past. This resulted in Tomas defeating Past Ara with the help of the heroes.
She committing her entire army to a full-scale invasion of New Republic actually ends up saving the Multi-Universe but starting a new war at the same time. Not only was her army defeated by the New Republic's defenders, she ruthlessly kills them for their failure by extracting their souls and devouring them, leaving only Shiva alive who is killed later. With Ara's final death, all the planets that remained under her Revelation of Qliphoth empire control are now free. In a larger sense, Shiva's attempts to bring the Revelation of Qliphoth back to its former glory by resurrecting Ara actually help put the final nail in its casket as she was more interested in killing Katarina and then disappear from existence since the plan she worked so hard build took 40,000,000,000 years and she don't want to take that time to start another one.

Interplay of Sex and Violence: Many of her subordinates. They are excited by her resolve and determination, and they always impales and kill their victims in the most brutal ways while she watches, and even ask if it 'excited' her. Murder does not excite her although and she finds it more than disgusting. 
In-Series Nickname: Astaroth King, Queen of Death, Empress of Darkness usually. The Iscariots used "the black plague" on her once. Demon, Monster, Hawk of Darkness or Devil seem to be popular ones, too.
Insult Backfire: A very awesome Kick the Son of a Bitch with the deceased Phyllis Peach who was sent to Limbo but was caught accidentally caught by Ara on the entrance to Afterlife. Due to Ara's interference, Phyllis stayed between the Time and Space between the Living World and Afterlife. While there, Phyllis asked where was she but Ara simply decided to absorb her with no real intentions.

- Phyllis: Stay away! You're a monster! 
- Ara: People keep telling me that.

Invincible Villain: Zigzagged, which is a surprise given the character. Ara has a massive number of lives (read: everyone who she's killed and drained the blood from) to stave off death. When these lives are all currently released as familiars, however, she's as vulnerable as any other Black Demon.
I Shall Taunt You: Ara, like many of Devils and Demons, is often seen using intimidation, threats and taunting to weaken her opponents.
Is That a Threat?: Delivers this line when Kotori Itsuka sent an armed force to destroy STAR LABS and attack the GDP's HQ while officialy ending their contract with Global Pact Defense.
It Amused Me: Destroying the last Time Portal of Astaroth Future just before the Rogues enter on it and return to the past. Seeing Katarina and the others going mad to the point of insanity was incredible for her.
It's All About Me: Other people are just a means to an end for her. Moreover, Ara had such an inflated sense of self that upon her death, her plan was that the remnants of the Revelation of Qliphoth were to be destroyed because they failed her. Yes, it was Ara that caused the Gods to haunt down all her minions for failing her overall. In LOTM: The Phoenix on the Sword this is played straight when the New Republic is seen haunting down Black Demons in countless planets and universes.
I Was Just Joking: Although she is the Big Bad and an Hate Sink, she's still playful and childish, especially with CM and for better, Maria Arzonia who is usually target of her antics. Her constant joking leaves many characters furious, and her excuse is always "I was joking".
I Want Them Alive: Played with. She seems to favor this option for only the strongest and "badass" prisoners and enemies she comes across like Maria Arzonia and Katarina Couteau, trying to break them so she can employ them as her own soldiers instead of killing them and wasting their talents.
"J" Tropes
Jerkass: Even though she demonstrates a sophisticated and rational attitude, it is most likely just a facade, she is racist, cruel, sadistic and genocidal. There is also the fact that she is possibly the most evil villainess of the story, even more than Diabla the Qliphoth Tyrant, Eckidina KnightWalker and Kim Sung-Hae.
Jack the Ripoff: All people infected by the Blackness' Syndrome! In Mafusa Gang's Sub Arc Special Episode: Syndrome of Blackness, Mina turns the Blackness in a psychiatric disease and infect a village of survivors of WWIII in China. It can cause anxiety and paranoia which can force the person to commit strange and violent acts, including suicide and murder. The symptoms of this disease are an amalgamation of real symptoms, including clawing out one's throat due to the sensation of insects crawling under their skin. Such a sensation is a real symptom called formication. At times, the Blackness can even create the illusions of maggots inside of people's skin, forcing them to cut themselves to squeeze them. While infected by the disease, everyone is doing this trope, trying to keep their true intentions unknown by making their crimes look like the result of Astaroth's curse.
Jerkass Gods: Ara holds nothing but contempt for all mortal lifeforms. It makes one wonder why we see several religious cults that worships her out of genuine devotion instead of fear.
Jerkass Has a Point: Her primary goal is the total genocide of humanity for considering them as evil beings. And over the course of the story what we see? We see many humans played as ruthless bastards, heartless scientists who dissect children alive, domestic abusers, torturer of animals, killer of babies and children, rapists who abuses women and kill them, genocidal dictators and warmongers. That only shows how humans were played as beings worse than Black Demons.
Jerk With A Heart Of Jerk: The only time Mina comes across as being sympathetic in a superficial regard is when she rescues a corrupted Katarina — which is subsequently undone by the fact that she views Katarina as expendable if it means she can have a more powerful apprentice. It also works to her benefit that she's crippled and stuck in Katarina's demonic skin. Katarina is still strong enough to be the best enforcer she could ask for, but will never be able to realize her full potential and directly challenge Mina's authority.
Join or Die: She asks Tomas to join her again for her goal be more "pleasant". Tomas, of course, refuses and claims to be a member of the Rogues and not her son. Hearing this, Ara said she will die with them.
The Juggernaut: Towards the end Madness Sub Arc, Ara just mows down any attempt to stop her, getting stronger in the process. Even Katarina and the Rogues developing a Story-Breaker Power cannot stop Ara while she destroy planets after planets; she has to be sealed and imprisoned instead.
Justice Will Prevail: She believes that she will and must succeed in her goals since she is doing the Justice that Gods never dared to do. Future Ara takes it a step further and declares herself as justice itself. Which is why she is shocked when the Rogues finds the power to overcome her.
Just Toying with Them: When she fought Katarina and Lucas for the first time, she opened the fight by pinning them against the wall with the telekinesis, which they were unable to escape, until she let go of them. She didn't break out the sword because she had to, she did it because she wanted to.
"K"  Tropes
Karma Houdini Warranty: She finally gets her comeuppance at the end of Madness Sub Arc after escaping her defeat for billion years. True, she lost twice to Gods and was beaten by the Supreme God one time but for her, we all know that wasn't a punishment.
Keet: From all other girls in the Trio-Beautiful Beasts, Ara is known for being the most energetic and cute while Scathach is more emotionless and cold and Aryana is rude and narcissistic. Aside from her energetic personality, she is clumsy, funny and cheerful most of the time.
Kick the Dog: She has delivered many of these of the course of the story... So many that you can see almost of Kick the Dogs 5 or 10 times in the same section of her History page. But yet, the most notable moment of ALL was when she corrupted Katarina and turned her against Imperia and all her friends. At the end of Madness Sub Arc, Ara as Mina had a corrupted Katarina slaughtering all her friends, including her crush, Rentaro Satomi while under the control of Ara. Despite she was considered to be under "control", Ara had humans mutilating and brutally torturing Kotori while she was ALIVE only to break Katarina's fragile mind about the flaws of humans. This caused Katarina to lose her path, morale and faith in humans, thus turning her in Red Moon Tyrant. At the end of the episode, Katarina fought Imperia in an epic battle as the last living beings of the Earth. Once Katarina defeated Imperia, you can see the two speaking with each other about the past on the top of a rock above the red sea filled with corpses and bloody with the sky filled with pieces of the destroyed moon. When Katarina turned to see why Imperia was in silence, she noticed she was already dead and slowly turned Katarina back to normal while she yelled at the horizon with corpses of Imperia in her hands... 
Kick the Morality Pet: One of Ara's few human traces was when she really cared about Black Demons that are her own race but as soon she discovered they were same trash of the mortals, she immediately abandoned her will and dreams to protect them and considered in wiping them out before she could destroy Paradise and the Omniverse in the process.
Kick Them While They Are Down: Mina orders a corrupted Mana to execute the disarmed Karma Maxwell after Evelynn defeated him. After a moment of hesitation on Evelynn's part, Mina commands her to do it -— slipping into her Ara's voice in the process —- and Evelynn beheads Karma. 
Kick the Son of a Bitch: She had many of them during the Rise of Qliphoth era, first sending an invasion force to Sith Empire and brutally defeating Darth Hades in an epic battle. Then comes to Leohart where she uses his own artifacts to seal him away and later defeating Isaac Westcott by sealing his away considering only ExKriegs can kill Abyssals. Yet, the most notable goes to Phyllis Peach who was accidentally caught by Ara when her soul was being sent to Limbo. It was just randomly, Ara saw her soul passing her and grabbed it while giving Peach a physical body and later absorbing her while she screamed in despair... For someone who did so many cruel things, Ara did not even seem to know her and just left walking like she was taking a trip between the Living Word and Afterlife.
Kill All Humans: Naturally, her main goal is to destroy all mortals and humans of the existence for considering them as the true evil bastards of reality. No exceptions.
Killed Off for Real:

Inevitably so in the end of her arc, where Tomas and Katarina manages to travel back to the past and finally destroy Ara before she ever comes to power and rule the Omniverse.
She later received this again in LOTM: Destiny when Isuke Inukai discovered she could control Ara's powers just like Tomas did billion years ago. Controlled by wrath for killing Dante, Isuke dragged Ara's new body on the floor while pressing her head against the wall, destroying her face completely and sending her soul back to Undead Land.

Killing Intent: Her is so strong that it can induce visions of their gruesome death into weaker opponents.
Kill 'em All: She does this to Prime Earth's humans, most of the Gods, and every other planet she destroyed.
Kill the Ones You Love: Ara killed the only person she loved the most in the entire existence, Future Unit-CM 130 (Zelkron) when she discovered her feelings for is what is keeping her from going 100% and enter in Anti-Christ form. When he discovered that, he accepted it as long Ara could protect the world they worked so hard so built.
Kill the Cutie: Oh boy, many of them considering some girls are indeed cute. Not only girls but even children died in her hands, including Yuuji's newborn baby and even Richard's baby. Ara has no restritions to kill mortals and humans, even if they are fetus inside of the womb of their mothers, she will happily destroy them due to her repulsive hatred towards them.
Kill The Gods: In the future timeline, Ara murdered all the gods in the multiverse so she alone can rule as the 'supreme god' and promote her view of justice, which is to wipe out all mortals.
Klingon Promotion: She has this in her History. The reason why she helped Leohart so hard in his plans for thousand years was because she was desperate to gain Qliphoth for herself as its new Queen to fullfil her plans and goals.
The Klutz: She behaved like this as part of her Obfuscating Stupidity.
Kneel Before Zod: Ara has the tendency to make everyone who are her enemies to bow down before her to show weak they are. Once they are defeated, she will step in your head until it expodes.
Knight of Cerebus: A very contraversial example. The story where she comes from is already full of violence, serious plots, battles for the lives of billions, dark interactions and obscure Crapsack World where a world war is wrecking havoc the entire planet and taking the lives of billions in cruel ways. Not to mention, she is a Laughably Evil villain who is known for being the funniest villain of CIS Productions as a whole. But in truth, se's introduced by causing more than two Apocalypses not only on Earth but in the entire multiverse and murdering 99% of all of CIS Productions' heroes and villains cast in the process of her major plans. Despite being funny, her arrival marks the darkest tone that CIS' stories has ever reached with almost every single episode she appeared having no happy ending and some important character dying alongside thousand women and children alongside them. Her first appearance in CM Sub Arc started showing how the Revelation of Qliphoth was even more dangerous than the Manufacturing Progressive Sciences in scale of power and cruelty. She makes it more clear in LOTM: Los Reinas de Corazones where she shows the most darkest moments of all storylines yet; first putting enjoyable and loving characters like Matt Butcher and Magilou under cruel tortures, killing them in painful ways and breaking the sanity of good-hearted heroes that had real good intentions. Moreover, once she starts meddling with the protagonists, the story progressively becomes more than just a race to seal the defeat KnightWalker Alliance and save Earth but a quest where the entire omniverse was in danger. To make an example, not even the Balam Alliance represented an omniversal-threat but Multi-Universal-threat. The ending of her sub arcs also marks one of the darkest chapters in the Saga AA since Unit-CM 130's introduction to the story.

This also takes two stages. When she and her minions start take actions against the protagonists, she reveals various plot threads that has been foreshadowed since the beginning (the First Spirit, the creation of Earth, the arrival of magic on the planet) as well as new ones (Inverse Spirits), and things get more serious than fighting the Fallen's Essence, Unit-CM 130 and Eckidina KnightWalkers. This continues up until Malevolence Sub Arc, when she finally sent a small force to UK and completely destroy the country leaving only ghouls and zombies alive. Not only things get From Bad to Worse pretty fast, she even shows us episodes before the invasion of UK how easily she can end the plot by simply killing Katarina and the Rogues in the middle of their everyday life at Fraxinus, as well as ending the poor lives of the Ratatoskr's members using just one finger of her hands or sending a random enemy to face them.

Knight Templar: She is a black-hearted villain who has caused mass genocide to countless planets before she even arrived on Earth. At the same time, she truly believes that she's carrying out the Justice by getting rid of all the mortals, who are the sole failure of the gods (while killing all gods on her way). She even mourns for the mass destruction of Earth, saying how sad the planet looks. Despite her misguided view of her own good intentions, all mages of the story, even Melancholia in her previous appearances in flashbacks in Saga AA, calls Ara's aura cold and evil just like other Card-Carrying Villains of CIS' stories. One of the few motivations Ara has besides a sociopathic lust for power and control is that she genuinely believes that a Demon-run government is in the Multi-Universe's best interest because mortals are evil and destroy its beauty. Even the Supreme God, praises her strong sense of justice but condemns her lack of compassion, saying that their duty should be to guide mortals and help them improve themselves instead of killing them. At one point, the Supreme God even tried to bring her to his side believing she should not follow this dark path but stay by his side. In the end, her desire to create a "perfect" universe leads her to commit multiversal genocide on both the mortals and the gods who would stop her.
Knowledge Broker: Very knowledgeable, may potentially know all the answers to the greatest mysteries. Every deal she has made so far has been leveraged with information only she could provide or acquire. She's often suggested that knowledge is the key to true power.
Kubrick Stare: Will often give these alongside a Psychotic Smirk.
"L" Tropes
Lack of Empathy: Most, if not all, of the Black Demons under her command express unwavering loyalty towards her to the point of fanatism and are willing to cut themselves for her. She still treats them like disposable pawns considering Qliphoth can rise 50,000,000 demons per day.
Lady of Black Magic: Ara is aloof, graceful, raven-haired, and a very powerful Demon Queen adept in several magics. Not to mention, she is the person who created Black Magic and helped in the development of Curses. No matter how you deny, all characters using magic, be they heroes or villains, are using her creation as their weapons. From LOTM: SoK to LOTM: WoSH.
Lady Drunk: Ara, Astaroth King and the Red Moon Tyrant HATES acoholic beverages but Mina Harker just love it. Every time she appears she is seen drunk while saying a lot of nonsenses and being funny most of time. Later, it becomes one of her Adorkable tendencies.
Ladykiller in Love: A perfect example of a true villainous love relationship. Ara is genocidal and cruel Female Casanova that has killed billions and scored millions men under her feet but is never showing any real affection for any of them simply because they are simple, flat, boring and are after her body or her power to gain immortality and fame. However, during her life, one of these men was immune to her charms and treated her in bad ways, rudeness and even tried to kill her because he wanted her to stay away from him. Maybe she initially hates this man because of his hateful and different ideologies from hers... But then comes to appreciate him since he is different from all millions men she met before and understand her more than anyone else. Ara falls in deep love with this thing but he still hates her but over time begins to treat her with "brutal-kindness". When this man was killed, she fell in depression and vowed to never engage with other men even if she finds someone who was very similar to him. In the end, no matter how cruel, barbarian, evil and sadistic Ara can be, she still a woman who is puts her love in first plan and will value the person she loves the most even if she has to wait 902 quintillions years to meet him again. Ara still an example a true woman.
Large Ham: As a part of her Adolf Hitler's Downfall parody: "Bring me Carissa! CARRISA! CARRISA!! CARRISA!!!"
Late-Arrival Spoiler: Particularly for more recent Mafusa Gang's Revenge Sub Arc. Let's face it, we've known her true nature from the very beginning without the necessity to read her page.
Last Episode, New Character: In the final episode of Tales of a Lost Hero Part 2, Ara oficially appeared in screen, not as a Shadow or in a flashback but in meat and bones. She is first seen saying "All shall be stained in Black" to a group of humanoid demons in the darkness whil her red eyes were glowing with some satanic runes in her pupils.
Laughably Evil: She's a pretty funny girl, whenever she isn't performing any genocide, slavery, or treachery. Varies depending on the episode, there are some that present her as legitimately evil and a threatening figure. Or sometimes a bit of both. It's implied in part to be a result of having no other character trait besides pure evil - including any sense of restraint, which results in her being very whimsical, too self-absorbed to care about appropriateness and will hold grudges very easily. She is just evil as she is funny and is considered the funniest character of all CIS Productions.
Laughing Mad: She loves laughing maniacally when she watch her enemies suffering. The reason however is not because she is amused but laughs to break their sanity and morale so they will succumb to their darkness.
Lawful Evil: Her true alignment... And quite hard to say but a Type 1 and Type 2. As a young girl Ara is shown to already have dictatorial tendencies after growing up as a prisioner and seeing the corruption and bureaucratic inefficiency of the late "democracy". As the leader of Qliphoth, she chokes the shit out of anyone in her way and has no tolerance for incompetence, but she crucially never kills for her own amusement while in duty. At the same time, she rules with iron fist and will execute any traitor who oppose her demonic revolution in wiping out the mortals.
The Leader: Oh boy... Of many! Many! During her billion years of planning she had to create organizations as sock puppets of the Revelation of Qliphoth act in her name while working for her group as mortal organizations. The list is large that we can spent a day putting them in a list. However, the most notable of them is indeed Qliphoth, the Revelation of Qliphoth and Astaroth Empire.
Leave No Survivors: Her Burn, Rape and Pillage orders are most finished with this. When invading a village, town, planet and even a solar system, Ara does not hold herself and orders her minions to wipe out all life on sight since they represent no threat and help to further her plans. 
Leitmotif: Ara has several of them. Over the months, her music was updated over and over to express better her character. Currently, her main song is Isaac that entirely represents her darkness and how serious the story has become since her appearance.
Letting Her Hair Down: Ara's black hair is already long enough to beat all other femela characters of the story, defeating even Katarina in Hair Combat. Despite that, her hair is tied by some braids. When her hair is completely down while she is taking a shower, one must control himself...
Let No Crisis Go to Waste: In the Saga AA, Mina uses fear of the KnightWalker movement and WWIII (which she secretly influenced to her side) to gain authority.
Let's You and Him Fight: She sets up such a fight between Imperia and Red Moon Tyrant who is actually Katarina Couteau being controlled by the Blackness. This is the first time that the story went to such dark path and it ended in Imperia being killed while Katarina saw her body and began to cry on the horizon of a destroyed Earth.
Lies to Children: When children are kidnapped from their families, they are forced to under extreme and painful trainings to become strong, skilled and fanatical cultists of Ara that will follow her commands without questioning much of the true nature of their mission. Ara's cultists fill their minds with lies saying mankind is evil and that their parents abandoned them so they would never have to feel empathy for living beings, thus turning them into mindless killing-machines.
A Lighter Shade of Black: During the Rise of Qliphoth era, Ara literally fought and faced every single Big Bad of the story in battle. Ara is a fascist dictator who holds that We Have Reserves and once left a group of her own be damned by the Gods during her invasion to the Realm of Gods. That said, she's better than all Balam Alliance's dictators who are psychopaths who reduced the life in the Multi-Universe in 43% in less than a billion years and caused the destruction of billions universes, trillions planets and centillions of lives as well as erradicating entire galaxies and solar systems... No matter how Ara was good fighting the Dark Emperors, she still like them and is actually even worse as they only aimed to conquer the Multi-Universe while Ara literally put the entire omniverse under her foot.
Light Feminine and Dark Feminine: Vira and Ara. Despite the two have similar Evil Powers, Vira is mostly seen dressed with orange dress and white clothes while having the apperance of a living woman while Ara is more gothic and dark.
Lightning Bruiser: She's fast and strong enough to Curb-Stomp Battle almost everyone she faces.
Like a God to Me: Some revered her as the "Goddess of Darkness" for her power while mortals considered her to be "Goddess of Evil" for her cruelty and inhumanity.
Little "No": In sharp contrast to her usual expressive and theatrical behavior, Ara lets out a yelp when she sees the Rogues jump back into the past.
Living Forever Is Awesome: She lived for 45 billion years! For a Pure-Blooded Devil, this age is only natural age of a young demon who had just entered in their teenage years. Even so, she plans to live forever so she can keep ruling over her Utopia until one day when her son is ready to take she can die alongside her lover and watch his work from another dimension.
Lotus-Eater Machine: While under the control of Ara's Black Tar and Blackness, a new evil persona take control of her victims bodies while the true self in sealed deep inside of his or her mind, trapped in an ill that places the them in worlds where their greatest dreams came true:

Katarina sees her family together and happy while AKI HONDA is her childhood friends. Some illusions like Eugen Katsuragi and even Akrak Couteau were added and were shown to be living in a normal life in a Japanese house on the peaceful lands of Japan.
Katya is in a world where humans and demons exist happily and teachs young children magic to save lives and not kill demons.
Gaius Phoenix is reunited with his deceased father and living peacefully as sword masters in the mountains of Japan.
Shigure Yukimi is living with Kamina and Sayaka Kirasaka while eating her favorite foods. In her illusion, it was revealed she was a animal caretaker and was regrouped with Tauros (a child who became an Artificial Demon Gear thanks to the Moon Terminator Company's experiments). But in this world, he is a human and travels with her across the world.
Sephiria Arks KnightWalker is living happily alongside Eckidina KnightWalker, Juria KnightWalker and Kiry KnightWalker as directors of a company that helps people in need and helps in the restoration of fallen countries that were destroyed by dictatorships.
Kyouhei Kannazuki is having illusions with his clan. In his world, he and his brother Kalus continued in the clan serving as Guardians of the Fire Element in the distant and beautiful lands of West Asia.
Magilou is married with Karma Maxwell and pregnant of her first son while they travel to Argentina to live a normal life in the camps, away from the chaotic world of the Urban areas.
Azul Jissele is walking with Atala and King Lucas and Queen Liza in a camp of flowers while her adoptive mother in real world, Maria Jissele is alive and is actually her teacher.
Lucas Kellan is married with an unknown woman while showing his son to his parents while they were in his old house in Brazil.
Mana Takamiya continued living in her homeworld in her peaceful village and was about to get engaged with a young boy she loved deeply.
Tomas Sev is returning from his work while Cassie Cage and his daughter is waiting for him in their home. It was revealed he was working as a businessman and not as a soldier.
Lucy Sheev KnightWalker is a medic that travels around the world with her brother, Toshiro Hitsugaya, healing people with her Meta-Humans powers and taking care of poor children.
Maria Arzonia is living with her entire family together in a small house with her biological father and mother... This becomes even more beautiful when the illusions included Arzonia Brothers and Guinevere Arzonia as gentle people and not a ruthless bastards. Vento of the Front in this world is her uncle and not a motherly figure, although.
This takes another level when Imperia Deamonne is in the palace of Aldegyr Kingdom as La Folia Rihavein with Kanon Rihavein, Lusamine and her parents... And better, it was not a clone but herself.
After reading of these, no wonder why all people under the control of Ara continued there sealed in their own illusions (without trying to resist her control) while their evil persona took over their bodies and became Jikininki to live in their real-lives yet disgusting world filled with war, death and despair where there is no salvation only more darkness and cruelty to be discovered--Change the real Crapsack World for a False Utopia.

Lovecraftian Superpower: A trait she inherited from the Idea of Evil. Any kind of body horror, physical manipulation, shapeshifting, and dark magic is at her disposal as she is the embodiment of evil. The bit of herself she gave to the Cult of Ara, when drunk by Shiva, caused her to become pregnant and give birth to seven daughters, all of which carried Ara's essence inside her. Ara is able to take direct control of them and, by adding some more of her power, turn them into Humanoid Abominations. She can also form multiple eyes, limbs, tentacles, and mouths, turn herself into shadows, insects, bats or mist, and manifest her Hellhound familiar as an extension of her body. And that's before she goes all-out. Other abilities that would definitely fall into the eldritch would be how she takes and keeps the souls of others inside herself by drinking their blood and then able to summon them later as undead slaves while using their souls as Extra Lives ready to go once she is killed.
Love Freak: She's pretty damn obsessed with Unit-CM 130, which makes her simultaneously Cute and Psycho and a Yandere when other women get close to him. Heck, she even have it towards Michael Langdon and Petelgeuse who are men and heterosexual people, merely for working next to him.
Love Is a Weakness: The reason why she hates Ratatoskr is because of their kindness and peaceful methods. Ara believes benevolence and peaceful methods will only lead people to their defeat which is why she uses brutal methods to achieve her dreams. If she believed love would work, then she was never evil to begin with. This straight lampshaded at the final battle between the Rogues and Future Ara. When she notices Tomas has control over her powers and knows how to use them, Ara immediately recognized him as true threat and decided to go into Anti-Christ form to destroy them all before they could reach but due to her love for CM that made her weak, she had to kill him so her Pure Evil nature will take over again and she will be able to transform. 
Love Redeems: Subverted. Even Imperia realized that she can't be changed from her current standpoint, because she isn't just a product of society or her time; she really is insane and nothing will change that. But over time, she notices her love form CM needs to go if she wants to defeat the Rogues and save her world the being erased by them on the past. In the end, her love for CM didn't save her from being a Complete Monster that she is now.
Luke, I Am Your Father: After fighting the Future Tomas Ara notices that he had the Blackness inside of him. After taking control over his mind and he easily broke her chains of command, she feels a familiar feeling coming from him and notices this man is her "baby" tasked to help the Past Ara further her plans.
Luminescent Blush: When CM was dead, mostly. Every time someone mentioned him next to her she would blush and get red like a tomato. Once she discovered he was alive, she lost this since she can always see him again and again as long he is alive.
Lust Object: Played with. There almost no men in the story that is don't seen trying to get over her on her side. Even Mafusa Gangsters like Tomoo, Vipéra, Black Manta, Tom Bucky, ABSOLUTELY EVERYONE wants to get a chance with her. Some really love her and just some want to sleep with her somehow. If Ara wasn't a Pure-Blooded Devil, there is no doubt she would have been raped by most of the male villain cast. One of the few male characters that only see her as their Mistress instead of a sex or love object is indeed Black Raven, Michael Langdon and Abyss Zurg. Even some male heroic characters like Lucas Kellan, Jellal Fernandes and Kyouhei Kannazuki fell for her but not in Lustful ways but somehow a Love in First Sight. Crauz later reveal Ara was "Fapping Material" to Vipéra. Of course, Ara reacts to it and almost has bad vision of men around her, no wonder why she choose Unit-CM 130 to be her man, who is a man who never showed interest in her appearance but in her personality and ideologies.
"M" Tropes
Machiavelli Was Wrong: Her tactics to put oppression and fear on the mortal population. In battle, she was certain that using the slaves as bait would allow her troops to destroy the Alliance's squads. It backfired, because the general outrage over being abused constantly by Astaroth Empire, the slaves turned back on Astaroth Empire as how they should have done centuries ago and join the Alliance to overthrow her army that is now surrounded in all sides.
Made of Evil: Zigzagged. She's a fragment of an Eldritch Abomination known as Idea of Evil who roamed across the cosmos since from the beginning of creation. Ara's substance is flexible, strong, pitch-black, capable of re-sealing after most injuries, and has an extremely horrible effect when taken internally. It's Evil, indeed, but Ara herself proves to not be made of evil completely as she can talk, have human feelings like happiness, sadness, depression, sexual excitment, admiration, sadism, worry, anger and among all others feelings that human can feel. She even displays love for Unit-CM 130, making her even more human than most villains in the story.
Made of Iron: After Katarina both shreds her with a Pillar of Agony and stabs her in the gut, Ara is still standing, and even casually chats for a bit. She also blocks a blow from Maria's fire sword with one arm before grabbing it and breaking it with just one hand, much to Maria's shock.
Mad Scientist: Mina Harker is not only the director of STAR LABS but an scientist of magic that study the supernatural. And it turns out she is not batshit insane but a Hot Scientist as well.
Made of Plasticine: It's surprisingly easy to rip her to shreds. The hard part is making her stay shredded.
Mad Eye: As the fight goes on with the Rogues from the past, Ara slowly lose her cool and her insanity breaks out, turning her more violent and mad to the point her eyes were becoming black mixed with red, showing her true colors behind her Mask of Sanity.
The Mad Hatter: She admits that she's a lunatic, but enjoys letting everyone know it to scare them for a cheap laugh. And of course, while she declares herself mad that doesn't mean she consider herself to be evil like other Demons and Devils that appeared before her like Vira, Asmodeus, Moloch and Michael Langdon. She consider herself to be insane but at the same time claims this is why she is able to be free from the chains of what hold her from doing nothing to save the beautiful creation.
Madness Mantra: "(Now) Do you understand my pain? My sorrow? My sadness? This is how I feel when I see mortals and humans like you destroying this beautiful world!"
Major Injury Underreaction: Despite having half her body crushed under a fruit of Qliphoth during the battle of Argentina, she's extremely calm... Her entire body was crushed on the floor but she simply transformed into a shadow and was healed again like if nothing had happened.
Make It Look Like an Accident: When the Emperor Tathagata Killer  states that King Hamdo committed suicide out of despair at losing his nation to STAR LABS due to the invasion of Black Demons, Mina's thought bubbles say "if by suicide, you mean forcing poison down his throat and then loudly proclaiming he was poisoned, why not?"
Make Me Wanna Shout: Ara can use loud screams powerful enough to damage the landscape as a form of attack.
Make Way for the New Villains: The new Big Bads of LOTM: Destiny are there because she was the one made path for them to join the battle. After invading the New Republic's capital and destroying 40 planets related to their military forces, it made them weak, so weak that New Balam Alliance took this chance to group up and form one single Dark Empire to overthrow the New Republic. With this, the new villains of the story appeared and Ara was replaced.
Manipulative Bitch: She takes many levels of this! God! She may tell you the horrible truth, including her role in it, and still bend you to her will.

Ara is the puppetmaster behind the curtain, pulling the strings of all the characters in the story of Saga AA, even more than the Fallen's Essence that was an Unwillingly Pawn from the beginning despite his incredible mastermind character. Her manipulativeness is evident throughout the saga. From coordinating and eventually betraying the Tom Bucky as the attack of Qliphoth to Brazi as an excuse to replace the incompetent Tom Bucky as President of USA and Stabilization Union, to setting up the various commerce guilds in the world to take on the KA as an excuse to access emergency powers and have her demons attacking KA countries to make themselves surrender to Mina's STAR LABS and later to getting Katarina Couteau to kill Oriax and Sasha to replace her as her apprentice, and then promising to save her lives from Rentaro Satomi from certain death with her knowledge of the darkness so she would turn her back on humanity soon after she exposed the true dark side of humans to poor Katarina as soon as she witnessed humans (and they were civilians acting by their own) mutilating Kotori alive... Those are just a few of the manipulative things she's done.
Demon-ness notwithstanding, she managed to shape the omniverse in her image, had manipulated every major event for the past 40 billion years or so, and had kept everyone assured of her respectability and trustworthiness while doing so. As she declared herself ruler-for-life (and was applauded by the GDP Senate for doing so) she could justifiably claim to have earned it. And her start to political prominence was over a seemingly minor trade dispute. Which she started. It helps she's motivated by pure ambition.
Particularly regarding the poor Tomas, if you ever thought she truly loved him. If she decided to create Tomas herself instead of sending him to the past, he would nothing more than a Puppet Prince in her empire whom would become a scum after living in power and authority of Ara's empire. At one point, she mentions that she intended to drive her into the same depravity of humans by getting him to drink, eat until he gets fat, have him endless sex with many sex-slaves and continue to enjoy his disgusting life until Ara dies. So that even if Ara herself dies at one point, Tomas will more than likely cause the downfall of Astaroth Empire by leaving the high-ranks of Astaroth Empire destroy themselves for power and the few mortals left will finally die with the lack of food and water. When she referred Tomas to continue her "legacy", she meant that no one should rule the omniverse beside her. Tomas will be simply the final character in her stage to close the curtains of the show by leaving her empire die in war and destruction until no demon and human is alive. ARA STILL THE WORLD'S GREATEST MOTHER!
Ara at first seemed to be just a lazy, clumsy and idiot girl that was seen as a spoiled brat being adopted by Leohart himself. How come then she is in command of Revelation of Qliphoth with CENTILLIONS demons serving her with fanatism and extreme loyalty? She simply manipulated them and won their respect. Many of her soldiers would gladly go on suicide missions or even commit suicide for her. One can understand that many would do anything in return for eternal life, but Ara can make men and women who has eternal life obey her. Some have suggested that they might be brainwashed but it's stated quite clearly that these men and women who are mortals are volunteers and are acting on their own free will. The cultists of Ara are mostly humans and they know exactly Ara hates them but as long they can serve someone so powerful and beautiful, they don't care if they are treated like trash. When one of her "superiors" confronted Ara about his plans and why she had disobeyed their orders Ara provoked him and was hit. All of the present SOLDIERS, ZOMBIES, VAMPIRES, GHOULS, BLACK DEMONS, EVIL SPIRITS, HYBRID MONSTERS, HUMANOID ABOMINATIONS AND MONSTERS responded with pointing their guns at him for threatening their beloved Queen, Empress and their Eternal Princess. None of them ever questioned Ara's actions or plans.
Ara is also directly responsible for the deaths of a vast number of people, she prefers to have conversations with anyone that interests her and, very politely, talk them into committing acts of mass murder or just killing themselves. In fact it's rare for Ara to leave a room without leaving someone Mind Raped to the point of temporary paralysis. She's just that evil and do that For the Evulz... But if you think she does it simply because she loves being evil you're wrong. She does it because she absolutely HATES humans and loves to seem them killing themselves to expose the true monsters they are. She got everyone in a peaceful little town in the countryside into a state where just a little push would turn the place into a veritable warzone by torturing and murdering the heir of the rival Clan of the village, causing the two clans to kill themselves. She also once sent a boy looking for his mom into a red light district, telling him in the kindest voice imaginable that if no one claims him, it means no one in the world loves him. The heroes only catch up to the poor kid seconds before he was about to jump off a bridge. It's one of her most despicable acts in the story, which is saying a lot. All the kids she talked into playing a suicidal 'game'; apparently just for the heck of it. She hates human children for being the future generation so much that instead of killing them, show them the true Hell by showing them the dark side of the life.
The Many Deaths of You: Ara goes through a lot of deaths over the course of the story until Katarina and Tomas Killed Her Off For Real using the Spear of Virtue of Sister Mary Eunice at the final battle of Madness Sub Arc.
Marshmallow Hell: Hugs CM's face into her chest so she might "awake" something inside of him. If it may love or lust, both doesn't matter as long she can have him.
Mascot Villain: Like Sonia Nevermind before her, Ara is the face of all evil in Magic Side for the Saga AA as well as the new face of fear in the world who later would show to be one of the most Badass and Laughable Evil antagonist of all story.
Mask of Sanity: While she mostly acts calm and confident, it's obvious by her Slasher Smiles and Motive Rants that she has long fallen off the deep end. She is just insane as Vira, her loyal Right-Hand who is known for being the most crazy and mad woman of the entire Revelation of Qliphoth but unlike Vira who has no control over her insanity, Ara easily controls her inner insanity and keeps a façade of a funny, composed and delicated woman.
Master of Disguise: She can easily take forms of other people using her pitch-black liquid that her body is composed of. But she prefer a much more gruesome way, since she tears off the faces of her victims to wear over her body. 
Master of Illusion: Ara is an expert on this. See Lotus-Eater Machine for better details.
Meaningful Name: The name "Ara" (Latin: "The Altar") is a southern constellation situated between Scorpius and Triangulum Australe. Ara was one of the 48 Greek constellations described by the 2nd century astronomer Ptolemy, and it remains one of the 88 modern constellations defined by the International Astronomical Union. The orange supergiant Beta Arae is the brightest star in the constellation, with an apparent magnitude of 2.85—marginally brighter than the blue-white Alpha Arae. Seven star systems host planets. The sunlike star Mu Arae hosts four planets, while Gliese 676 is a binary red dwarf system with four planets. The Milky Way crosses the northwestern part of Ara. The constellation is also known as Ara Black.
Meaningless Villain Victory: Courtesy of Nu Wa and Tomas from both timelines. Ara is the first villain in the story to win in every single goal, the first causing humans to destroy themselves in paranoia for thinking humans were being manipulated and possessed by Black Demons and later rising her empire in the second timeline where she ruled the omniverse for 2,000 years. However, the two timelines comes to an end; the first timeline was altered by Nu Wa who came to Earth 500 years later and returned in in time, leading the timeline to the past to the day before Mina could expose the existence of Black Demons. The second was altered when Tomas used his Time Portal to travel back to the past when Ara sent them to the future, unable to stop her in the past. However, it Backfired. Tomas and the others returned from the future and destroyed the Past Ara before she could rise her empire in the past... She did her best, indeed. But many overpowered heroes that herself created was her downfall.
Meaningful Name: Her "Ara" name means "the Altar" in Latin. The Altar is a southern constellation situated between Scorpius and Triangulum Australe. Ara was one of the 48 Greek constellations described by the 2nd century astronomer Ptolemy, and it remains one of the 88 modern constellations defined by the International Astronomical Union. The orange supergiant Beta Arae is the brightest star in the constellation, with an apparent magnitude of 2.85—marginally brighter than the blue-white Alpha Arae. Seven star systems host planets. The sunlike star Mu Arae hosts four planets, while Gliese 676 is a binary red dwarf system with four planets. The Milky Way crosses the northwestern part of Ara. The constellation is also known as Ara Black.
Meganekko: As Mina Harker, she uses glasses to give more attractiveness to her Hot Scientist and Clumsy Secretery character!
The Mentally Disturbed: We all know she wasn't sane from the begining. Even with her Mask of Sanity façade, some traces of her insanity can be seen. Ambiguous Disorder is in play, but Ara shows signs of some serious mental and emotional problems (mood swings, fits of violent rage, lack of empathy, keeping the ashes of dead enemies, and talking to CM's grave like he there listening to her(however, this is considered at time a religious trace in Japanese's lands where living people talk with deceased loved ones in their graves after offering something for the dead)).
Mental World: She can do this with the Devil Eye that creates a false mental world where time pass slower than the real world's.
Meta Origin: Most supernatural things in the story stem from her in some way.
Military Mage: While she is largely preoccupied with being a Sorcerous Overlady, she also uses her powers for military intelligence, basing her military strategies on what she has foreseen with her black clairvoyance.
Mind Manipulation: She can hypnotize people with a glance.
Mind Rape: She did this with several people in her empire, including countless humans who were turned into Jikininki. Actually, she even mentions she hates brainwashing people because they want to serve her with their hearts and not by mind-control. One example is Mana's brutal mental torture inflicted by the Astaroth King. It's so debilitating, she can no longer sync with her real body, and eventually falls into a catatonic depression. Its effect and execution make it one of the cruelest examples ever, as it forces her to relive her whole Dark and Troubled Past which includes her brother going mad after witnessing Aryana Westcott's forces destroying, burning and raping all people of their village. This incident caused her brother being unable to recognize Mana and shunning her to favor a Creepy Doll, Mana herself hearing the people talk about her and her brothers lives, their new father was cheating on their adoptive mother with her mother's doctor, her brother trying to strangle Mana, and Mana finding her mother's hanging corpse (alongside the doll) in the very day when she was chosen by New Conglomerate to become a Wizard. Then it moves onto Mana's present-day issues, many of which stems from said past, namely her immense sense of self-loathing and all of the numerous insecurities she hides behind her energetic and thunderous exterior. All of it culminates in the Ara's Blackness aligning all of Mana's ideas of her present and memories of her past to create such an absolutely overwhelming and crushing sense of despair and dread in her, that she loses the will to live to a degree where even her vital signs starts to give out. 
Mind over Matter: She has no trouble tossing around the platforms in the GDP chamber (each the size of a large truck), and can even toss around Oriax (whom have strong telekinetic and demonic abilities herself) like they she was a doll. Speaks to the great power she can wield.
Mini Dress Of Power: Part of Astaroth King's Iconic Outfit that is tight black-mini dress similar to a BDSM's nun.
Minored In Asskicking: Her most favorite weapon is her mind, to which she owes her rise rather than her physical power that still even more powerful, but she prefers having others do her dirty work rather than getting personally involved after making a perfect plan for her minions to do her work. She detests physical combat in general but when the fights comes, she can't hold herself and will enjoy her battle as long her enemies show to be worthy enemies. When she does finally whip out her claws and fangs though, she shows herself to be possibly the most potent combatant in the story in both physical and magical combat. Not even 90 gods could win against her! If she was more like Aryana Westcott who has little of thinking and prefer combat, the omniverse would be already destroyed without her being able to manipulate others to make the world slowly dark through her machinations. In addtion, when her enemies are weaker she will have all her way with them and bully them with all her heart's content.
Misanthrope Supreme: Despises all of mankind, be they men, women, children or even infants. Worse, she feels she is doing the right thing in killing billion of innocent lives.
Mismatched Eyes: After she loses her sanity during her fight with the Rogues, her eyes at time changes their colors out of nowhere and return to normal as Ara insanely attacks the heroes. Her eyes were painted with black backgrounds and red pupils while blood veins appeared in the borders of her eyes. This was inspired the eyes of Ghouls from Tokyo Ghoul series.
Missing Mom: Ara never met her mother because when she was just a newborn infant, Leohart took her away and locked her inside of a Lock Tower to study her. The reason behind is this is because Pshica, the Demon Queen that gave birth to Ara was impregnated by some black tar liquid in the forests of Astaroth terriroty. Not even when Ara met Pshica face-to-face when she was free, she recognized her as her mother for never seeing her face before. 

She turns out to be this one as well for Tomas Sev. Since from his birth, Tomas never saw Ara's face because he was under the cares of Vira (whom tried to kill him as a baby). After her harsh decision, she threw him in a Time Portal and sent him to the past where Past Ara was no aware he would come from the future. This caused Tomas to be rised by a village where she never met his true mother and father.

The Mole: If only Ratatoskr and Witch Cult had realized that the Astaroth King — their sworn enemy — was hiding amongst the politicians they were working for...
Mole in Charge: After she becomes the leader of the Stabilization Union and later the KnightWalker Alliance once they surrounded themselves to her thanks to the constant Black Demon attacks.
Monster Protection Racket: Her overarching plan in the past two timelines is this trope on a planet and later omniversal scale, and by the time she's found out, it's too late to stop her. Ratatoskr took to long to discover the existence of Mina Harker and her relationship with Revelation of Qliphoth, causing them to become enemies of the state and in Rise of Qliphoth era Ara was already too powerful to be defeated.
Monument of Humiliation and Defeat: As Empress of Astaroth Empire, she takes up permanent residence in the former Supreme God Temple in Paradise... Exactly where he killed the Supreme God, the person created the Multi-Universe and was defeated by herself. Never in history a God suffered such humiliation.
Mood-Swinger: She swings between stoic and dispassionate, and murderous, sadistic, and giddy. When fighting the heroes, she laughs when Katarina hits her in the stomach and smiles as she pummels her, but then becomes stoic when he's ready to kill her enemies instead of enjoying the pain of the combat. This is also a trait she inherited from her grandmother, Sequined Sadist, although worse as she seems to continuously cycle between her usual calm attitude to Ax-Crazy, the latter part especially after Katarina toss one of her energy balls back at her. As the battle wears on and she still fails to kill her enemies, the entity starts losing more and more of her calmness until she's screaming all her lines. This is more evident that she is such Evil Counterpart of Maria Arzonia.
Mook Horror Show: After her treason against Hell, rest assured if you have to fight her in the future... Heaven and Hell will help you if you have to fight her... Because it's more than clear you will make it through alive.
Mook Maker: A prominent ability that Ara keeps on using since gaining since she became a Nosferatus. She can summon all types of monsters to serve her, from skeletons, Black Demons, zombies, vampires, ghouls, ghosts, evil spirits, sea monsters, shadows, mutated insects, hybrid animals and variant of alien monsters... And she has no limits to summon them, they're infinite.
Moral Myopia: Ara considers Nu Wa a sinner due to her history of time travel which is forbidden by the gods. She declares that since Nu Wa's actions made the Rise of Qliphoth era's existence possible to begin with, she was essentially responsible for killing all the gods and mortals of the omniverse. This is, of course, coming from someone who murdered all the other gods in the omniverse, which is also likely forbidden, and even murdered her own masters to advance her goals. He also killed mortals, something that only the Gods of Destruction and Gods of Death are allowed to do, while she is a Pure-Blooded Devil.
Moral Sociopathy: She's selfish and cruel, but otherwise she sincerely believes all of the things she does genuinely are for the "greater good" of the demons' race and for peace to the existence.
More Than Mind Control: A master of this. Ara hates to use Mind Manipulation like mentioned above so she prefer using the own dark feelings of her victims to serve her.

- Ara: To control people's hearts, you have to use the darkness within them. Oriax was just too easily influenced... I used you, Oriax. And it was so EASY! HAHAHAHAHA!
More Teeth than the Osmond Family: Her smiles would do an Anglerfish proud...  But in Astaroth King's pig form takes this Up to Eleven.
Morphic Resonance: She always has the same black color-scheme in every form she takes.
A Mother to Her Men: Zigzagged, surprisingly, considering her infamous sadism and cruelty. She will torture them as punishment for major screw ups, but it's light compared to what she does to enemies. In fact, when Vira asked her point blank what they should do if confronted by her One True Love, Ara unhesitatingly told her that if their lives were in danger, they had permission to kill him (although she privately admitted that she'd prefer to add CM as a subordinate rather than be faced with the scenario of killing him). At one point in a flashback, she even explains to Moloch that soldiers will do anything for a commander they respect, and this is why Qliphoth is the best Devilish dimension of all. That being said, she has no hesitation when it comes to killing her minions and trapping them in a blizzard in the final battle, but those same men, women ande demons show up to mourn her death in the epilogue of Madness Sub Arc. Odd enough, she is not above using them and later leaving them to die once they are not useful. She might keep her motherly figure façade just when they are still of some use for her.
Motive Decay: Not so much in the future of Rise of Qliphoth era where she still thinks she's the good girl saving the omniverse from mortals and repenting for the gods' mistake. In the past, however, where Tomas and the Rogues managed to return to the past and fought her in the most dangerous and deadly fight of the story tet, she doesn't care anymore about killing mortals for the good of the omniverse. She just wants to be the supreme ruler of everything and wipe out anything that isn't herself. By the end, she's willing to destroy the universe to be rid of Katarina and the others.
Motive Rant: When she is not fighting the heroes or mocking them, she spends most of her time ranting about how mortals are evil and needs to be wiped out, and how humans are the worst type of mortal since they have a lot knowledge, but no spiritual guidance and are known for being more greed than normal. But unlike Kanon Rihavein who literally used this in every single one of her lines, Ara mostly use it in the hopes she will break one of the heroes to make them doubt their ideals, goals, dreams and make them question if what they are doing is the true justice for the Multi-Universe. And she did it to Katarina, she corrupted the MAIN HEROINE of the story not with actions but with words followed by a tragic change of events where she accidentally impaled Azul under the illusions of Vira and later showed how evil humans are when she exposed the truth of the Black Demons, showing the most savage, cruel and darkest side of mankinds when they brutally mutilated Kotori in pieces (and they were civilians) while Katarina watched.
Mrs. Exposition: SHE IS AN ENDLESS BARREL OF EXPOSITION.

She exposes the truth behind the demons to all humanity, something that all magic-users of the history planned to leave in secret from normal humans.
She reveals herself to the author of all pain of Couteau family, first saying Haruko Couteau had a Aranic pact with her to escape from poverty and had Iruka Couteau and Haruko killed in a car accident for not being their debt and for adopting Katarina as their daughter.
She revealed to be the woman who created the Artificial Demon Gears, being the Greater-Scope Villain of all pain and destruction in Cold War II alongside Scathach sharing this role.
It was her who brought the light and dark magic to Earth to teach humans how to serve her (but it ended up a some not serving her and forming pact with other demonic entities).
It was her who caused Lord Helio to be such sadistic and insane man, revealing it to Future Selina who still not aware why she was such person in the past.
And the list goes on... Try thinking in all 70% of all cruelty happening in Saga AA, she had a hand in almost everything.

Ms. Fanservice: Ara in accompanied by a number of these in all her appearances. Even her singer form that looks like a Ojou-Sama has a cut in her dress that expose her long and attractive legs with thighhighs. Astaroth King take this to a porn level and add her wearing a tight BDSM dress used by nuns in adult films. Perhaps the most notably are her underboobs in her barely there outfit. Ara also had several moments where she is seen naked in her baths under the censorship of steam. Many a Male Gaze is dedicated to Ara to the point she is discovered to be a Lust Object of the male mortals worshipping her.
Ms. Robinson: Ara is in her early billions and she tries to make CM who is in his teens fall for her (indeed Ara is actually 45-billion years old but for demons this is the natural age of a teenage while Unit-CM 130 has only 25 years of life but has the mind of an adult). She even states that she prefers younger men... Oh and the reason for that is because she want to be the dominant partner in the relationship as she stated.
Mugging the Monster: Initially, Katarina, Imperia, Maria, Yuri, Katya and all other heroes are far too overconfident about the idea of facing Astaroth using the Power of Friendship and Love, believing her to simply be a Big Bad Wannabe who can be easily defeated in numbers (like Akrak Couteau), an enemy who's powerful but not overwhelming compared with the power of all their friends together (like Heis), or, as Katya theorizes, a fictional boogeywoman created by the Revelation of Qliphoth to intimidate people when in truth she is just another mere demon that can be beaten after a few days and weeks of training (like Michael Langdon whom had his power level already outdated by Katarina and the Rogues' new villains). And then they go to battle. Guess how it ended? The entire Earth destroyed, their Multi-Universe plunged in destruction and the entire omniverse under Ara's rule. Guess the power of Friendship and Love didn't work this time.
Murder Is the Best Solution: The murder of billion innocents to make her goals easier to accomplish? YES!
Muscles Are Meaningless: The story itself thrive on this. In this story, muscles are useless and even a small skeleton with mana can destroy a fat human like paper. Ara is no different. Despite her delicate and fragile appearance, she can destroy mountains with one finger and can easily cut the skies with one swing of her arms.
Multiversal Conqueror: Ara and her ambitions aren't limited to just one universe, one timeline, one planet, one galaxy, one multiverse, one Multi-Universe or one dimension: she want the entire OMNIVERSE free of mortals. And worse, she did it and ruled it for 2,000 years. To this end, she slaughtered all the other gods so no one could stand in her way. This gets them called out as hypocrites by Future Maria as she demon who hates gods yet declare herself as Goddess of Death and Darkness, yet she still claim to be good and promoting justice.
Mutual Kill: Not intentional, actually but killing Past Ara caused the Future Ara in Rise of Qliphoth era to be destroyed and vanished of existence. This caused Tomas Sev, the son of Future Ara to disappear alongside his mother from the future.
My Girl Is a Slut: More like: "My Supreme General is a Slut". Ara absolutely loves Vira despite not in a romantic way but for being her best servant to ever show her face. Vira is indeed not only strong but intelligent as much as Ara HERSELF but her sexual psychotic behaviors at times really piss her off.
Mysterious Backer: Portrays herself as one in Unit-CM 130 where she is mentioned numerous times by the Zero Numbers, Witch Cult, Global Pact Defense and among others.
Mystical White Hair: Retains a silver long hair as Idea of Evil's Goddess and is a Physical Goddess of the highest caliber.
"N" Tropes
Narcissist: While most women would brag themselves (if they were in her place) because she is beautiful, powerful and is known by trillions, Ara views herself highly because she thinks she is the only one who knows the truth behind all creation and life and is violent to criticisms that suggest otherwise. Even with all her power and attractive appearance, she completely ignores them and takes only her dreams and ideals as superior. She is very much alike Heis but her level of narcissism is higher since the latter has limited goals to humans only while Ara's dreams involve to all life and creation.
Names to Run Away from Really Fast: She's the Queen of Qliphoth, Princess of Blackness, Empress of Death and Goddess of Evil... and the mere mention of her name around Fraxinus, Paradise, New World Order and Arzonia Family really scares everyone.
A Nazi by Any Other Name: Considering how the Astaroth Empire has several fascist parallels with Nazi Germany, Ara is a stand-in for Adolf Hitler in a female demonic version. Unlike DEM Empire that is played straight as nazis who claim black and homosexual people as inferiors, Ara see all people who are not demons as inferiors.
Near Villain Victory: Not on her both timelines where she had two meaningless victories. But in the past itself where she destroyed Prime Earth during her fight the Rogues after they returned from the future. She killed all hero and villain cast in the past again by destroying the entire planet but was defeated in another planet when they were teleported away. In the end, she is defeated by Katarina's Spear of Virtue.
Necessarily Evil: She's not happy about how much damage she does to the omniverse to kill all the mortals, expressing sorrow as she overlooks the destroyed Prime Earth. Nevertheless, she continues her attack on humanity so she can create a beautiful paradise. She's also not entirely pleased that she murdered all the Pure-Blooded Devils in the future timeline, but says it had to be done since the devils would've tried to stop her since they don't understand her ideals of "peace" when they all are Card-Carrying Villains.
Necromancy: Being the Goddess of Death, this is kind of expected. Her battlestyle evokes a lot of death themes, primarily skulls and darkness, and will-o-wisps.
Nerves of Steel: A villainous example. Ara is not bothered by things that would make a grown woman cower in fear, nor facing the Supreme God who created all life and creation nor teasing Moloch who is one of the scariest Demon Kings alive.
Never My Fault: When the Rogues confronts her for destroying most of humanity, Ara claims that Humans Are Bastards and that they need to die to start a utopia. She later blames Nu Wa for her own rampage, stating that the existence of Astaroth Hell would not have been possible without Nu Wa going back in time and starting the Stable Time Loop that created this Hell.
Nice Job Fixing It, Villain!: Torturing Katarina is what prompts Black Tomas to make a Heel–Face Turn and disobey her commands. Even before that, telling Katarina that she should kill Tomas prompts a brief "My God, What Have I Done?" moment in her, which leads to Katarina's Kirk Summation and starts Black Tomas' Heel–Face Turn.
Nightmare Face: Her final transformation leads to a monster's face breaking out of her own skin, so the skin of her true face peels to one side while a black and empty appears on the middle with no facial expressions except for widen open white glowing eyes and a white-glowing mouth in the format of a Rape Grin.
Nightmare Fetishist: Apart from her love attitude to war, combat and violence used to good intentions, she compliments Future Maria extravagantly for killing hundreds of demons and mortals alike to get her revenge and her idealist vision of freeing the world from Astaroth's control.
Nightmare Fuel Station Attendant: Yes she is funny and sarcastic... But what does that mean when her actions and true nature immediately turn the plot darker? Countless named characters died in sad and cruel deaths, many Tear Jerker moments appeared one after another during her appearances. Many Nightmare Fuel moments destroyed the entire concept of comedy in the story (except for Ara who just continued there) and her powers are full of brutal, terrifying attacks that are a sight to behold. Her actions as Empress of Astaroth Empire during story completely seal the deal.
Nigh Invulnerable: She has extraordinary regenerative powers, being able to build herself back up from a pool of blood. Ara's invulnerability is directly tied to her familiars (undead creatures created from the life stolen from the people whose blood she has drank). She stores them within the fruits of Qliphoth, and there are trillions of them (due to her advanced age and particular bloodlust); while her familiars are contained within herself she possesses their collective life, making her very difficult to permanently injure. When she summons her familiars, she personally becomes more vulnerable, although she can recover from injury by deferring damage to the familiars, at the cost of gradually destroying them.
Ninja Pirate Zombie Robot: Well... Due to how extended her power is, she had many roles and forms during the story. Ara is a Pure-Blooded Devil, a Eldrich Abomination, a Queen of Death, the Empress of Darkness, the Princess of Evil, an Evil Overlady, a God-Empress, a Galactic Conqueror, a Multiversal Conqueror, a Sorcerous Overlord, and The Don rolled up into one!
No Sympathy: For Aki Honda, her own daughter that rised to be a drug dealer. Due to Aki's psychopathy, she disobeyed her orders and used all the power she had to slaughter innocent people, rape women and children, steal from poor before killing them, burning down houses with families inside... All of horrible and disgusting you can imagine. When Aki Honda was sent to Limbo, she met Ara there in the form of Astaroth King and brutally humilliated her by showing all her sins and denying her love for her daughter. Actually, even if you were the most pure person in the existence, she would never show sympathy for you simply because you're a mortal or a human.
Not Good with Rejection: Ara does not take it well when Tomas refuses her offer to rule the omniverse together and immediately claimed him to be her enemy and will die alongside his friends.
Not Hyperbole: When Ara says she'll use any tool at her disposal she is not exaggerating. At all.
Not So Stoic: She starts to lose her nickname of 'Ice Queen' given by her minions when she met Unit-CM 130 in Death Camp. Previously, she was cold and emotionless, almost never showing a single emotion but her time with him made her laugh and comfortable around his person. Her encounter with CM was the biggest Character Development yet.
Nothing Can Stop Us Now!: Literally her reaction when she defeated Isaac Westcott after sealing him away. With the Supreme God, Darth Hades, Leohart the Prince of Hell and Isaac Westcott defeated, there was no one left to stop her and her ambitions except for weak mortals trying to resist the rise of her empire.
No Historical Figures Were Harmed: Though Ara was initially conceived as the LOTM: SoK's counterpart to Genghis Khan, she is also based on quite a few historical figures. It originally was stated that she was based on Caligula, but traits of Adolf Hitler also made their way into the character. Her personality as a Mina Harker under the control of SU seem to mirror the personality of Julius Caesar and Vladimir Lenin, while her complex Gambit Pileup as Ara Astaroth is reminiscent of Napoleon Bonaparte.
Non-Action Big Bad: Subverted, it may come off like this at first, with her minions and apprentices doing most of her dirty work, but when cornered or in a vital mission, she is surprisingly skilled in all camps of combat; physical attacks, heavy defenses, amazing control of black magic, incredible uses of curses and has immortality.
No Name Given: Mina Harker was just a fragment of Ara's soul so it was not her real name. Astaroth King was also only a part of her enegy but was originally just referred to as "Astaroth King" by the heroes for thinking Astaroth King [Queen] was the true source of evil all demons on the world. But later, her real name was revealed to be Ara Astaroth when she was introduced officially to the story. At times, Gaius Phoenix will say: "Ara", obviously referring to Ara's true name but it was never mentioned of whom he was talking about.
Non-Answer: She's a master of this, which is arguably the key to her success in mind games. Rarely does Ara explicitly promise anyone anything, allowing her victims to assume she has through skilful deflection and silence. By the time they realize this, it's too late to do anything.
No-Sell: She seems to be immune to nearly everything the good guys throw at her until the huge stuff starts coming out and the Spear of Virtue came out.
Not Distracted by the Sexy: Inverted. A male example towards her. Lucas tried to get on her with romantic words in the hopes she will fall her him (like most women do) so hopefully she will give up on her plans to be with him. It's unknown what Lucas was thinking when he thought it would work on her...
Nothing Is Scarier: Since the events of LOTM: Witnesses of Sleepy Hollows ended almost 2 decades ago prior the beginning of LOTM: Sword of Kings, the world lacked demonic and magical threats since the malevolent KnightWalker Family appeared and took over the stage of the villains for many years... And then, the Revelation of Qliphoth appeared and revealed be cruel demons, cold-hearted monsters who killed millions on screen, brutally murdered children and babies, destroyed Brazil completely, killed the most high-numbers of named characters and caused suffering and misery to countless worlds; revealing them to be the most dangerous example of Knight of Cerberus of the story so far as they made even more damage than United Kingdom of America in the past, where they did not show up until the beginning of World War III... So what's their leader like? It's a "he" or a "she"? It's a scary, malevolent, cold-hearted and wicked Demon King just like Moloch who conquered the entire world in the past? It's a monster seated in his throne drinking blood of demons? It's a tall horned demon with black skin and deep voice just like Moloch? No! It's a clumsy secretery, sloppy idiot, a cute teenage, a sexy fragile demon, delicated and funny woman! She doesn't look scary at all and don't seem to be that threat as Moloch was! And then, no one survived.
Not So Different:... From the mortals and humans she claim to be evil. Ara do EXACTLY what the most cruelest and devilish mortals do but doesn't seem to complain her own attitudes. This is why she is a Complete Monster at best, she is everything that she hates.
Not-So-Harmless Villain: As the heroes learned in the hard way with Mina Harker. When the heroes met her for the first during their assault to GDP HQ, they thought she still harmless like she Akrak Couteau was for being a human without powers and had to relay in her guards to protect herself... They were very wrong... Very wrong.
Not-So-Well-Intentioned Extremist: She claims that she wants to purge the world of mankind for being a cruel and failed race to create a world where demons will rule in peace without wars, conflicts and fights with mortals. Curiously, over the story, Ara showed to be even more sinister and cruel by unleashing all kind of disgusting and brutal crimes that humans and mortals can evoke upon the world. Not to mention that Ara is willing to use even the members of her own race as pawns just like she do to humans, manipulating and discarding them like garbage just like she always did. She also seems to be more focused in becoming an Goddess to give her powers of a Goddess to rule the omniverse with absolute power over life and death, and change the concept of life and creation according to her own image, thus ruling over reality like its new Goddess. She often speaks about bringing justice to the humans and how her acts are a necessary evil to bring peace to the universe. However, her claims fall short when the first thing she does after winning is murdering all benvolent gods out of spite. Not to mention the fact that she slaughtered all of the other Pure-Blooded Devils in the future to prevent them from interfering with her plans, her own natural race.
"O" Tropes
Obfuscating Disability: She deliberately makes herself appear weak and frail to her enemies by turning her body into a more sexy and non-muscular female body to make the impression she is not a fighter at all. But in truth, she's among the most skilled and powerful demons in the Multi-Universe.
Obfuscating Stupidity: Don't let her stupid, idiot and clumsy side make a fool of you. This woman is indeed all of these but that doesn't mean she is dumb and will be easily manipulated by other people. She is not only smart enough to manipulate people in their own game but can easily fool people with sloppy side into thinking she is just a Stupid Evil and Butt-Monkey when in fact she can kill them at the same second.
Obvious Judas: Idea of Evil should have seen it coming. She betrayed every single superior she worked with to gain power and authority, what made it think she would stay quiet and follow its commands forever?
Obviously Evil: Astaroth King and Ara Astaroth make it more clear as they are corrupt, uncaring, has a pale white skin, treats her subordinates as disposable pawns, as well has a godhood delusional with genocidal thoughts. Compared with other antagonists like the Fallen's Essence or Eckidina KnightWalker that are more than obvious they are evil only by appearance, Ara has a goal that is not selfish as it involves peace for her race but that doesn't mean her plans are a direct threat to all intelligent living beings.
Office Lady: Mina Harker is this, with glasses and black tightenings!
Office Romance: Ara often go to CM's laboratory to tease and mess with him so he will give some attention. When he finally get upset, he will stab her but at the same time "rape" her... Odd but this is what they call "romance"... Eh...
Official Couple: Normal in all stories where readers often want go ship other characters with one another, this often take a burst when the story shows some Ship Tease at time but Ara herself has an official relationship with Unit-CM 130, also known as Zelkron. Despite all the obstacles, she will be shipped with Vira, Imperia and even Future Maria due to her obsession with the latter.
Offing the Offspring: After Tomas breaks out of her control, she attempts to kill him for choosing his friends whom he consider as his true family instead of her, but fails when he uses her own powers against her.
Offscreen Moment of Awesome: Her entire quest for power while defeating the entire Balam Alliance was off-screen and can only be read in her official page. The reason behind this is because the Balam Alliance was only mentioned so far in Saga AA and only a few scenes of the emperors appeared so far to introduce them to the story. The story of LOTM: Los Reina de Corázones will entirely have a time skip after Ara completely dominated Earth while the next saga of the story will jump decades after the end of the first saga, ignoring the many battles Ara had with the Dark Emperors.
Off with His Head!: This has happened so often that it seems that it is one of his favorite fetishes in killing people. The most notable of them all was when The Will of the Abyss and Izanami returned to her after Klarion's betrayal. Thinking she was going to forgive them, they had their heads chopped off by Ara instead.
Oh, Crap!: He is only scared/surprised three times in the saga. The first time is when Nu Wa briefly overpowers her during the fight of Argentina. The second time is when Tomas Sev breaks out of her brainwash and notices he has her powers to return back in time. And the third was when Katarina showed her the Spear of Virtue with enough god-like mana to destroy her.
Ojou: Ara herself is a femenine women with aspects of a gothic but her Singer form takes the Ojou further, putting her as delicated, polite and sophisticated woman with long silver-hair! In this form, her voice has several tones of RUSSIAN with a seductive voice of a "experienced French woman".
Older Than They Look: Played with in all her three forms. Ara Astaroth, Astaroth King and Mina Harker are actually 45-billion years old! But in all her forms she has the appearance of a woman around 19 and 21-years old. She's described as being to very young by many characters but her intelligence and skills that surpass other older demons make them think she is actually much older than all of them together.
Omnicidal Maniac: Played with, she claims to plunge the whole world into a endless state of chaos, death and destruction but this is not the only thing that she really wants like other demonic entites like Moloch, Michael Langdon and Melancholia. Her goal in itself is to turn the whole world into a "hell" to wipe out all mortals of the existence and later rebuilt the world in a "utopia" where her race will rule and live without wars and conflicts according to her own vision.
One Bad Mother: Not even Tomas was safe from her cruelty, she had equal about torturing and killing her children if they disobeyed her and was willing to kill them at the same time they said "no" to her. 
Onee-sama: While Vira calls her as Astaroth King or Princess most of time, she often calls her as "Onee-Sama" for being a older sister-figure to her when they are alone. But unlike how Vira acts in a sexual way towards Katarina, she say this to Ara as a form of respect.
One True Love: Towards CM, she never fell in love with another man and never will. CM is the only person worthy of her and will live and die together with him in all eternity.
One Woman Army: As Celica herself estimated, she is worth no less than 604,000 Pure-Blooded Devils, 200 Gods, 330,000,000 demons and 60,000,000,000 mortal soldiers. She can even create her own army of black-made soldiers. Later, Future Maria together with the Rogues amasses 100,000 soldiers to defeat her in the final battle, and Aea manages to kill at least 99% of them, leaving only Maria, the top-officers of the Alliance and the Rogues themselves. In her Level 0 form. Every soul she has consumed, including Phyllis Peach and other deceased members of Order of Flourish (only those who had "dark souls" using magic as these type of people go to Limbo where they are judged by Astaroth King if they will go to Hell, Qliphoth or even be absorbed her Azarath Claw), are summoned to fight. By the events of the story, she has thousands to millions of souls. Do the math.
The Only One Allowed to Defeat You: To Spectra the Supreme God, whom considers her archenemy. This becomes so highlighted that it soon becomes a Foe Hay.
O.O.C. Is Serious Business: She's so good at Xanatos Speed Chess and Xanatos Gambits, that it takes something truly shocking to unnerve her. Some examples include learning of Oriax's survival, failing to break Nu Wa, gaining awareness of Tomas' freedom of her control, and seeing Maria's refusal to pull a Face–Heel Turn.
Operation: Jealousy: Basically her rivalry with Vira. Instead of acting like boss and subordinate, Ara spent years fighting Vira in combat duels and missions to give Vira a little of jealousy to break her morale.... Much Michael Langdon's disappointment; mainly when this man is Zelkron himself.
The Ophelia: She's the Ms. Fanservice of the story, but at the same time she's utterly insane.
Opt Out: He leaves the Vira o fight the Arzonia Family having decided to go fight the Rogues.
Oral Fixation: It goes without saying really, considering the whole demon thing...
Orcus on Her Throne: She's got an Empire to micromanage and plots to set in motion; she has her minions do the in-person chasing after of Rebels. Only in the past timeline though, she's very active 2,000 years ago before the foundation of Astaroth Empire. In the sense of CIS modeling Astaroth Empire after Rome, in the PT, she's Octavian/Augustus while in the OT, she's Tiberius with Vira as Sejanus and Achyls of the Depravity as Pilate.
Order Is Not Good: Zigzagged. She claims the order of Gods likes to oppress freedom and not even look at people individually, causing people to fight and destroy themselves while the gods simply watch and ignore the suffering of their people. Ara's order is different, she wish to destroy all mortals but at the same time her order is truly peaceful for demons and wants them to stop fighting and causing more suffering.
Order Versus Chaos: This is one of the main aspects that defines Ara Astaroth as the Evil Counterpart of Supreme God. While Spectra is someone who tries to bring peace and order without causing harm to innocent people, Ara is someone who tries bring about the end of humanity through chaos and destruction.
Our Demons Are Different: Ara is an unearthly and unholy being spawned from a primordial darkness while other demons born directly from Triggers Hell are simply born from demonic's DNA.
Out-Gambitted: Did this to Idea of Evil while manipulating it in its own game like mentioned in Obfuscating Stupidity. Ara knew that Idea of Evil was going to use her for own resurrection and she knew that it placed a seal on her heart which prevented her from becoming an Goddess with the same power level of it. So he goaded Unit-CM 130 i into stabbing her in the heart to remove the seal and study the seal to create an Artificial Heart for Idea of Evil using the Black Power Battery in order to threat Idea of Evil and controls its power.
Overarching Villain: Mind you, to both LOTM: Witnesses of Sleepy Hollow and LOTM: Sword of Kings AA - Raizen School Arc.

In Saga AA, she first appeared in Sub Arc 2 of season 2 of Saga AA. However, even though she was off screen in the stories, she was the one running things in the Season 1 as a whole alongside the Fallen's Essence. The Mafusa Gang are a direct threat to the main characters are by addition they are a group serving her directly, meaning that Ara's first hand on the story was placed by her group of criminals and thugs. Considering Aki Honda was rised by Ara, it is more than obvious Ara is the true person who killed Eugen Katsuragi for allowing a psychopath like Aki Honda to possess such power.
In LOTM: WoSH that is more focused in magic and fantasy, she is related to 100% to the genre happening the story as Ara herself was the woman who brought light and dark magic to Earth, allowing the entrance of demons, hellish creatures and supernatural monsters. Even the existence of grimories and magical books wrote down by countless mages in real-life exist because she was the Demon Queen who guided them. The only direct movement she had in the story itself was her involvement with the death of Ichabod Crane's mother that caused him to suffer from constant nightmares about the death of his mother. Aside from that, she had no direct contant with Ichabod Crane and the rest of the heroes and villains in the story but the fact that she set the stage for the story is impossible to deny.

Overlord Jr.: Despite her tall and teenage figure, compared to other demons appearing in the story like Moloch, Leohart the Prince of Hell and even Asmodeus who is a Demon King older than Ara serving her, Ara is actually quite young compared to these men, having born 700 sixtillion years after them!
"P" Tropes
Pass the Popcorn: She's more than happy to sit back and watch the Maria as Painlash Overlord go on a rampage against the Rogues. 
The Paragon Always Rebels: To Triggers Hell. She used to work for them as the Dragon of Leohart the Prince of Hell until she built her own empire in secret. At the time they discovered it, it was too late to stop her and her immense army of centilions.
The Paranoic: Like any dictator in real life. Due to how much damage the Alliance had caused to her empire she began to live in a state of stress until her paranoia exploded and she ordered her army to wreck havoc her own towns to search for rebels.
Parental Substitute: Oriax (who has no biological father) looked up to Ara for years and saw her as a mother figure, and this continues (in a rather twisted way) after she reveals herself as a Black Demon and converts Oriax to her side, throwing her humanity away. She was this for Vira as well, having lost her sanity, Vira considered Ara as her mother for taking care of her but like any twisted psychopath she planned to overthrow Ara to express her love for her.
The Path of Inspiration: She is quite a muse whom iis an inspiration to many demons and even some mortals who treat her as the only true goddess to exist since she interacts with her people while other gods simply watched the mortals from distance.
Patricide: She killed her adoptive father, Leohart the Prince of Hell who turns out to be one of the main villains of the story overall. This was fixed when the Rogues destroyed her in the past, and the Demon King came back to life.
Pay Evil unto Evil: She wholeheartedly believes in this philosophy since she views mortals as Always Chaotic Evil and a mistake by the gods who just watch over them rather than punishing them. This gives her the belief that it is her duty to wipe out all the mortals from the omniverse, even if she knows that her actions are evil as she is destroying creation and life on the way. She specifically kills off the Earthlings in the slowest, cruelest way possible as a 'special' punishment for Nu Wa breaking the time taboo in returning to the past to undone her Downfall tinelone.
People Puppets: In both examples. She not only treat her family and subordinates like puppets to be discarted once they become useless but also is an expert in turning people into her mindless slaves by brainwashing them or corrupting them with words.
Permanent Elected Official: As a result of the "emergency powers" she was given at the start of the Purge, she can remain in office indefinitely. Even the KnightWalker Alliance and many members of the New World Order are disturbed by this but continued watching over Mina Harker to see if she was going to be a threat to their [New World Order] plans.
Percussive Therapy: Ara doesn't kill personnel willy-nilly like her predecessor did [the Fallen's Essence]: Whenever she succumbs to anger, she instead whips out her claws and vents her frustration on a nearby piece of hardware (console, etc.), slicing it to charred ribbons. The staff are apparently familiar with this, as two globins can tell just from the sound that they should leave instead of investigating further. However, she will not hesitate in killing her minions if they stand too nearby.
Personality Powers: A very creative example. Ara hates reality due to how cruel it is and aims to create a new world. One of her powers allow her to literally do so by teleporting all or part of her body (as well as other people) to an alternate dimension.
The Pessimist: "This world is completely worthless... there is nothing left in it but misery." She thinks she is living in a Crapsack World (with a fair amount of justification, it must be said considering the world In-Universe) and resents how This Is Reality is in effect with regards to heroes, ie. that very often heroes actually fail Basically, she isn't a nihilist, given her idealism. She just thinks that the world she lives in is a nihilistic mess, and has an unusual approach regarding how to improve it.
The Philosopher: Even more than Heis but she doesn't compare herself to mortals like the former do. To generalize: "We live in a Crapsack World", "Humans Are Bastards" and "No such thing as hope."
Physical Goddess: Like her father Leohart, she was incredibly powerful. Unlike him, she was also variously worshipped as a goddess or considered a demon. She was also the only person who had Blackness at first, which put her way above the rest of demons in general. Aside from the common demon powers (Superhuman Strength, Speed, Reflexes, Immortality, spreading her condition to others) Ara can also levitate, pass through walls, manipulate shadows, shapeshift, telepathically manipulate people (though she needs eye contact for that) and heal from as little as ashes. In addition, she is an immortal, divine demon with immense magical powers, and she can only be killed by the power of other literal Gods like Ra, Odin and Rama. No wonder why all gods fell before her.
Pitiful Worms: She outright describes the mortals as "mere bugs" at one point and consider them as worms destroying and eating the beautiful green of the universe. She has good reasons to say that looking back at Prime Earth and see that humans destroyed 45% of the planet with nuclear weapons.
Playing Both Sides: How she arranged for the Purge to begin before she became president of Stabilization Union. She was actually playing THREE sides, with all of them being the SU, KA and the Black Demons attacking people across the world. She had the three sides reporting to her.
Poisonous Friend: Often refers to Oriax as her "friend," even for some time after Oriax took up the mantle of Qliphoth apprentice. While she's not completely insincere, it's an understatement to say she had a very negative influence on Oriax's life.
Polite Villain, Rude Heroes: Zigzagged. Katarina and the main heroes can quite rude and arrogant. Imperia for example will treat you like trash and Katarina will see you as a bug. Ara, however, will treat you like a familiar and start polite conversations but obviously, in her mind, she is even rude than all heroes together.
Politically Incorrect Villain: Her idea of saving the universe is plotting a Final Solution for all mortal-kind, plus her insults towards Katarina, Nu Wa and the Rogues carry some heavy racist undertones. She even mocks some small gods for being born like "animals" and has no limits in her tongue when messing with somebody. Her goals of peace are indeed admirable but what leaves from her mouth is literally the inverse of what she plans.
The Power of Hate: She's a huge advocate of this, to the point where she even commends other people for being hateful to join her side and discover the true power of hate and darkness. The Blackness is deeply based in the Dark Side of Star Wars franchise so it's not actually a surprise.
Power Limiter: Ara's monstrous powers are kept in check by a series of four magical gates, called the Control Art Restriction Keys. Ara has some access to these via the "Satan Approval", but Idea of Evil itself must authorize their level of use for the most part when Ara thinks in use her 100% (that happens once in a life).
Praetorian Guard: Despite the strenght of Ara, she is always accompanied her Dragon and guards, beautiful yet intimidating as they are a Female Squad of bodyguards.
Pragmatic Villainy: She chooses to slowly wipe out all mortals instead of just blowing up their planet, unlike many previous villains in the story do like Aryana Westcott. It quickly becomes apparent why she's going about it this way: she has no desire to harm the creation and in fact enjoys its beauty, so just blowing planets up wholesale wouldn't be productive to her goals. That and she wants to punish the humans in particular since Nu Wa broke the time law.
Pre-Ass-Kicking One-Liner: "Okay... Okay..." If she repeats "Okay" twice or more, you can consider yourself dead.
Predecessor Villain: While she's long gone by the time LOTM: A Draw of Kings, LOTM: The Phoenix on the Sword and LOTM: Destiny rolls around, the effect she had on the entire omniverse is still present to a great degree, and the Revelation of Qliphoth Empire she left behind is still functioning in some capacity to a universal-threat. Her minions and people who were deeply in love with her continued alive and kickin' for 5 billion years! They only came to an end when Ara herself put them into a dangerous situation where they attacked the New Republic and had their butts burned back. It was more than obvious Ara did that with real intentions of putting her cult to an ending as all she wanted was revenge on Katarina so she could die in peace.
Prepare to Die: Zigzagged. She say this mostly to all people who refuses her offers and deny her. She does not take rejection politely due to how many billion years people never learned to say "no" to her. This a Spoiled Brat tendency but it is what most of the villains in the story do. She will however let them live if they are still of use for her to prevent any consequences later.
President Evil: The evil and manipulative president of United States at the beginning of Downfall timeline and holds 1st Seat of all nations in Stabilization Union as Mina Harker.
Pride: A key Fatal Flaw of her, however, her is very different from other villains. In Ara's case, her pride is centered around being unable to see or admit that she may be wrong and isn't perfect despite being a goddess and devil. After she gets into her mind that mortals need to be destroyed for the greater good, nothing the heroes tells her can sway her and everything becomes confirm bias. Her pride also makes her believe that she can't believe in anyone but herself.
Principles Zealot: She is a full believer in 'justice' that cites that all forms of evil must be struck down. Since mortals are all evil by nature, they must be destroyed for justice to prevail while she is clearly enjoying it with pure sadism and fun of watching them being tortured, killed, raped and burned alive... Everybody else sees her as a smug hypocrite, putting the word 'justice' as an excuse for her cruelty.
Property of Love: She sees Maria as this but not in a romantic example. The way she views her archenemy, is almost like she plans to tame her as her pet that she gets to keep and show off to people as a sort of trophy with her dragging Future Maria like some dog.
Psychic Link: One of her main abilities when her victims are possessed by the Blackness. Once the mortals and even immortal beings are infected by the Blackness they are constantly tormented by Ara while she mentally abuse their minds.
Psycho Electro: Due to her being a demon, she has no control over elemental powers but she has knowledge of at least 5 abilities with the use of lightning. It turns out to be her favorite method of torture as this is painful and doesn't kill her victims right away.
Psycho Lesbian: A complete mystery as Ara herself declares that she is not lesbian and her hobby of watching nuns are only for self-fun and not for sexual intentions. Around the time that Vira appeared in her army, many people said rumors about that Vira enters in her room and stay there for hours after the two leave talking like two old friends. But is stated that Ara see Vira as a sister and the latter see Ara as a mother rather than a sexual-partner.
Psychological Projection: See Hypocrite, but in short, for all that she condemns mortals for being warlike, destructive, all about conflict, and sinful with disrespect to everything justice and creation stand for, the only one who's as twisted as Ara says the mortals are is Ara herself and the twisted Black Demons under her command.
Psychopathic Womanchild: For an ancient and powerful demonic overlord, Ara is ultimately rather childish and immature. This is one of her flaws as she looks like a stupid kid when she making jokes of everything around her. Aside from her comedic personality she is acts like an angry kid everytime that something (extremely important) does not go well. She can pretty much control her wrath in minor things but extremely vital and important missions are too delicated for her to handle it calmly; obviously

She also payfully chooses which one of Maria's group members she wants to kill in a game of eeny meeny miny mo while taunting them with petty insults. Her process of coercing Maria's partnership also involves her bullying the woman by forcing her to get her machete off the roof in a zombie infested Blackness-fog area like a bully throwing a toy on a high place. What made that worse is that Maria was on the middle of a Black aura, resulting in her not being able to use her powers nor regeneration. When she hits Acqua of the Back  with her claw and dislodges his eye, Ara's taunt of "I just popped your skull so hard, your eyeball just popped out, and it is gross as shit!" sounds like a bully gloating to the poor kid she just beat up.

Psychotic Love Triangle: The most dangerous examples in all CIS PRODUCTIONS!! Ara is a pure monster woman who conquered the omniverse, destroyed two timelines, has the blood of centillions in her hands and killed all heroic cast of the story leaving only 7 or 5 of them alive. Unit-CM 130 is the most evil male villain of the story who dissected babies alive, killed entire races with his own hands in painful human experiments and even forced family to engage in sexual relationships (while they were infected with lethal diseases). Vira is a psychotic slut woman who rapes and kill all women she takes interest, orders the genocide and destruction of entire planets with alien plagues, destroy entire civilizations in diseases that turn people insane and even has an incest complex in her sister, Katarina Couteau...; Now, Ara and Vira are deeply in love with CM and the combination of those three might be the true thing that will end the omniverse instead of Idea of Evil and Sequined Sadist.
Psychotic Smirk: Due to how serious she is most of the time (only being funny when speaking to someone), she is rarely seen smirking like Eckidina and others do but she will always display one when seeing her enemies suffering from mental abuse rather than physical torture.
Pungeon Master: A dark example. She makes cruel Puns regarding the ones she killed (specifically, Matt and Sumireko) such as them receiving the "Spirit Award" for their "efforts" and calling the weapon she used to kill them as a "Vampire Bat"... Maria is not happy about it.
Punch! Punch! Punch! Uh Oh...: She likes to let opponents literally rip her to pieces, apparently just to see the look on their faces when the pieces melt back together. However, they got scared only of knowing she still alive after so many stabs and shots.
A Pupil of Mine Until She Turned to Evil: Served her own master (father) faithfully for many years, ultimately killing him and becoming far worse than he was. Granted, her father Leohart was also evil.

Subverted since Ara was always evil, and killing her master didn't involve any change in moral alignment whatsoever, being just normal Pure-Blooded Devil behavior.

Put the "Laughter" in "Slaughter": Laughs like a loon when she's blowing up a planet filled with many potential fighters that could destroy her, including her own demons who are begging her to not get them caught in the crossfire. The even admits she hates blowing up planets for causing the destruction of creation but the way how they screams is just "funny" for her like Roblox Death Scream meme... Yes, this is how she sees the screams of people dying.
Pyro Maniac: Ara played this trope in the darkest way possible. She's a monstrous arsonist who enjoys destruction and murder of mortals through fire-related tortures and murder in all ways. To replace the infamous Gas Chamber of Nazi Germany, she used VULCANOS to execute mortals as their bodies takes 10 minutes to melt until they die completely... 
"Q" Tropes
Quickly Demoted Leader: It took Ara only 500,000,000 years to be promoted to leader of Qliphoth by Leohart himself... Okay, this is VERY long but in the point of view of a demon it means nothing. Like humans see 4 years, the demons will consider 500 million years as nothing. Normally, it takes billions years to be promoted to such position.
"R" Tropes
Rage Against the Heavens: This is pretty much her modus operandi, with it becoming gradually more evident in the Deicide event. She wants to remove the Supreme God, and place herself as the only and true Goddess. 
Rape Is a Special Kind of Evil: Ara is willing to use all kinds of brutal sexual tortures against humans and Gods alike if gain something from it, much to the public's shock as the story as it was once thought the Magic Side of the story would never show any kind of such genre. Ara leaves thousands of her globins and demons to gangbang all mortals and goddess they defeat... They are so abused they simply DIE on the process... Geez...
Rape, Pillage, and Burn: Pratically, Ara is not on the control of her army, Vira is actually the person in charge but Vira's orders mostly come from her. And her orders when invading a planet full of wicked and disgusting humans or mortals? Kill, steal, torture, burn, cut their heads, devour them, eat their babies, rape their women and impale them... This is pretty much how the Astaroth Empire gained territories over the years.
Rapunzel Hair: Par course for the story, Ara's hair reaches down to her knees.
Real After All: For most of Saga AA, the Rogues' group assumes that Astaroth is a fictional boogeyman the the Qliphoth forces cooked up in order to strike terror into unsuspecting victims. The finale of Mafusa Gang's Revenge introduces her as a very real threat.
Reality Warper: She aims to rewrite the laws of reality with the her powers and use the Blackness to convert the current omniverse into a new Hell of beauty and peace for demons. She can even cuts open a gash in the very fabric of time itself, allowing her to summon foes from alternate timelines to attack the heroes in place of her clones. 
Really 700 Years Old: Despiite her look, Ara is actually 45,000,000,000-years old and is older than our universes itself... But Ara's Black Essence (as a sapient being) has existed for billions and even trillions of years older than her (around 403 trillions). Though the primordial darkness she was spawned from is far more ancient than her.
Reasonable Authority Figure: When she was President of USA, she listened to other members of the council, believed her allies, and was willing to do what had to be done to stop the Black Demons. This was all a ploy to make people trust her and believe she was a good ruler long enough before she could make herself the Anti-Christ herself.
Red and Black and Evil All Over: Her signature color. She wears dark and red clothing and is known as "Queen of Darkness" or "Empress of Blackness" by her enemies. Most of ther forms are also related to black but Mina has white and Astaroth King has grey replacing the red.
Redemption Rejection: Once Tomas broke out her brainwash, he lecture Ara on her actions and give her a Last-Second Chance, begging her to stop what she's doing and revive everyone she've killed. Instead, Ara later says it's impossible to revive all lives lost during her invasion to the omniverse since she destroyed Paradise and Hell, causing a disturbance in the Afterlife and it resulted all trillion, sixtillion, centillions of souls being stuck between life and death. After she reveals this, she immediately sliced her son, refusing his offer.
Red Baron: She is known and feared by her In-Series Nickname, Astaroth King or Astaroth Queen.
Red Eyes! Take Warning: Subverted. Ara already have red eyes but are just usually red... When she gets angry they will glow like blood shining... Take warning...
Religion of Evil: Ara is a Pure-Blooded Devil with the DNA of a Black Demon and is not a goddess at all but her cult worships her, a ruthless mass murderer, as a goddess. Over the centuries was getting even more popular among satanists and replaced Satan as their dark messiah... Her cults go further to kill babies and pregnant women in her enemy to send their souls to her Azarath claw so she will get stronger with pure of infants.
Reluctant Fanservice Girl: Downplayed. While she's not too bothered by her state of dress, she does gets rather annoyed when a guy points it out.
Remember When You Blew Up a Sun?: She often brags about how she can destroy planets effortlessly and how easy it was to wipe out the world of the gods without going past her first form. Which makes her humiliation and defeat at the hands of the Rogues sting all the more. Katarina even delivers this stinger immediately after standing still and taking one of Ara's death beams to the face.

"Funny... You can destroy whole universes but you can't kill two or five disgusting mortals."

Retcon: Originally, she was unquestionably the strongest being in the Multi-Universe to the point absolutely no one in the stories up to that point came remotely close to her power and had never been defeated or even having to use anything past her second form in battle. Later story arcs added Darth Hades, Leohart the Prince of Hell and The Fallen who showed to be stronger than Ara in her Final Form. You can still say she is the strongest Black Demon character in the story at the time.
Ret Gone: The Rogues are taken back to the past by Tomas and kills Past Ara, altering history so Future Ara and her reign of terror never existed. This caused the most twisted timeline of all Multi-Universe to be erased and wiping out people who were born in the future. At their final moments, Future Maria even apologies to her men for sending the Rogues to the past because they knew if they somehow managed to kill Ara in the past, their timeline would be erased alongside their existences (notable: people born in the future of Ara will NEVER come back to exist)... Even so, it was them asked apologies for not being of good use in their battle. The death of the future people in Astaroth Empire was another Tear Jerk to the story.
The Reveal: Considering many people already knew Mina Harker was Astaroth in several ways, there was no reveal there but a specific moment of her between Tomas reveals he is her long lost son.
Revenge: Her entire motive in returning in LOTM: Destiny was revenge on Katarina. She was so frustated with her defeat that she had no plans of what to do afterwards. Her solo objective was to kill Katarina then commit suicide to erase her very existence, so she can rest in peace.
The Right Hand of Doom: Ara's left arm is usually covered in straps. If she releases it the arm turns into an enormous spiky hand like it belonged to a giant werewolf.
The Right of a Superior Species: How she views her actions. Ara is firmly convinced that everything she does is justified because she's a Demon Queen and is doing what gods never did, and she passes judgement on the mortals despite being just as bad, if not worse than them.
The Rival: To Katya for more than 1000 years... But in truth, Ara never used her full strength against Katya and Witch Cult and it was later revealed how easily Ara can destroy the Witch Cult in a normal day.
Roaring Rampage of Revenge: As soon as she's resurrected, the first thing on her mental to-do list is to murder Katarina for destroying her plans, empire and for killing her. And just like last time she came back for revenge, she gets disintegrated for it.
Romantic Two-Girl Friendship: She appeared to have this with Vira in the past while nowadays they are more like a family of one mother and a sister. The two even 'jokingly' said if they were the other gender they'd fall in love with the other... Of course, Vira has no problem to have her way with Ara even if she is a woman. She is a Psycho Lesbian after all.
Rousing Speech: A remarkable villainous example, her speech can really increase the morale of her men to another level.
Royal Brat: Not a spoiled child but her age makes other see herself as a child. Among the demons race, having onlt 45,000,000,000 is the age of a kid... Meaning billions years after her birth she still a child by the standards of Devils and demons.
Royals Who Actually Do Something: She is consider the princess of her empire and is the most active of her clan making her the official face of the hellish empire. Even if she is an Orcus on Her Throne most of time, she isn't afraid to get her hands dirty, especially when pissed.
Running Both Sides: After she became President of USA and SU she had all three sides of the war reporting to her; the SU, the Revelation of Qliphoth and even the KA.
"S" Tropes
Sadist: She openly admits that she enjoys killing mortals for the heck of it and clearly likes inflicting both physical and psychological pain. She clearly enjoys her genocide and Cold-Blooded Torture. She also known for being a masochist, although in non-sexual way; he's not only enjoy inflicting pains towards her victims, but also enjoys some kind of retaliation from her enemies.
Satanic Archetype: Ara, the Big Bad of the Saga AA, has many Satanic traits, and Word of God confirms Old Scratch to be the primary inspiration for the character (along with Richard Nixon). Actually, "Satanic" a too little for her, she has her own type; Aranic Archtype! She's a Consummate Liar and Wicked Cultured Woman of Wealth and Taste who deceives numerous genuinely good people into following her in a scheme that ultimately ends with her gaining control of the government to usher in (what she claims will be) a utopia (admittedly, this last part is more The Antichrist's area of expertise, but we all know who that guy reports to). In addition, the order she gives to wipe out all with the power to oppose her? Order 777, inspired in the number of God just to humiliate him and other Gods. Not to mention that she represents the evil and impure Spiritual forces in Qliphoth tree from Jewish mysticism and is the evil counterpart of Kabbalah, the tree of life.
Schmuck Bait: Ara distributed lots of "magic" around the world - time portals, wishing wells, secret magical or technological weapons. They're always Schmuck Bait.
Sdrawkcab Name: Inverted. Even if you invert her name "Ara", it will just look and sound the same... No point in doing it.
Sealed Army in a Can: Her Level Zero allows her to unleash all captive souls within her as her ffamiliars. Since the number of people she has devoured number in the trillions, her force is accordingly massive.
Sealed Inside a Person-Shaped Can: She has become the vessel of the Idea of Evil and thus, the third God of the Blackness with Sequined Sadist being the first and the strongest.
Secret Identity Identity: Probably the very incarnation. Until the debut of Ara Astaroth herself, the heroes found themselves in a circle where they always ended in a corner where Astaroth appeared in new form; first it was the Shadow form (it was the wrong person), then Mina Harker (it was the wrong person), then comes Astaroth Queen (it was the wrong person), and then finally comes Ara herself. When Ara is doing business with less savory characters (such as the KnightWalkers and bounty hunters) behind the public's eye as Mina Harker, she uses her Shadow form to contact them. 
Self-Made Woman: Despite all her evils, Ara did a great job rising to power. Came from no great background on Hell, being locked her entire life in a cage, apprenticed to a Demon King in secret, and from there, gradually made her way up the ladder of society. Using her shadow influence to move the Qliphoth into action, rising from Princess of Hell to Queen of Qliphoth and Hell, she then engineered a war to get emergency powers in Earth, and once the war finished, used her popularity to become President of SU. Say what you will, but she really worked well at promoting herself to the pinnacle of power unlike Eckidina and Leohart who had it on their hands since the time they came into existence.
Serial Killer: She became this was she escaped from her prison in the Lock Tower. She had to survive in Hell by joining the Black Cult and murdering nobles and aristocrats of Astaroth territory. It was said she killed at least 308 nobles with the help of other cultists.
Screw the Rules, I Have Connections!: She is the queen of Qliphoth so there are no rules in the universe that stop her from doing something. However, she tends to use her position as STAR LABS director to scare off anyone who is interrupting her in any of her evil plans. And because of that, Mina Harker is a person of very few words, and she hates to repeat the same thing twice.
Screw the Rules, I Make Them!: The rules of Triggers Hell, she broke them all but she still got away with it. No, better, she rewrote them according to her own image.
Shadow Archetype: Serves as one for Wáng, who has a different concept of life due to disagreements in philosophies. While Wáng planned to create a world for the mages without causing deaths and suffering, Ara claimed the Living World belongs to the demons and wish to destroy everyone living in it to create their world.
Shameless Fanservice Girl: Towards Unit-CM 130 (Zelkron), she can use as many cosplay as he wants (he never ask for it actually) and can be even be seen naked in front of him but will never act with shame of her naughty actions. As such, As Long It's You, It's Okay.
Shapeshifter Default Form: Ara chooses to appear in her standard orm most of the time. If she chooses, she can take on other forms, such as that of a young girl. With her restrictions released, she becomes an amorphous mass that can form whatever she needs, such as dogs that have her guns coming out of their mouths.
She's Got Legs: As her barely-there short reveals, she's got some very shapely legs and thighs to go with her impressive chest size.
She Is the King: Played with Astaroth Queen... In-Universe, she is both referred as Astaroth Queen or Astaroth King most of time. Even Katya is confused with the true identity of Astaroth as her minions make it sound she is a woman when referring to her as a "King".
Ship Tease: Oh... Why not? 

Her love and admiration for Maria Arzonia can be seen almost as a homosexual attraction as she always mentions how incredible, awesome and cool she is when her minions mention her name. She can be even seen blushing when thinking about her.
An obvious one with Vira who is her subordinate; the latter even tried to have sexual relationships with Ara but was rejected. Until then, the two survived in many Ship Teases where they acted like two Yuri Sisters, such as giving them food on the mouth of each other and even sleeping together in the same bed, without sexual contanct, although.
She has a very deep one with Gaius Phoenix who once joined the organization because he was in love with her. After he left for witnessing her crimes, she tried to seduce him many times with words to bring him back, making it seem like she don't want him to go away...
She is this to Katarina as well, who fell in love lust with her thanks to her ExKrieg DNA and incredible femenine body while displaying the might of a true sadistic warrior. She even kidnapped Katarina and dressed her as a nun only to have her way with her before brutally torturing and mutilating her to death.
To Achyls of the Depravity who is Imperia Deamonne herself. The two share the same personality and traits, but the difference Achyls is less cheerful and sarcastic... The two even said they would fall in love with each other if they were a different sex as they are VERY similar.
A Foe Yay with Wáng... Not in a romantic way but still a Ship Tease at best for being the Goddess of Mana World.
Why not every single female character in this story? Ara sees to be a playground for women and men to go try their chance with her. 

Shoot the Dangerous Minion: During the Civil War, Ara grows wary of the speed of Black Raven's progress, and ordered Vira to kill him, before he grew strong enough to aid Vira or other Black Demons if the traitors turned against her. But in the end, it was Maria who finished off Raven.
Shrouded in Myth: Prior to Mafusa Gang's Revenge Sub Arc, when she reveals herself to Ratatoskr, no one outside of the Revelation of Qliphoth had any definitive proof that she even existed at all. Some even speculated that she was nothing more than a fictional boogeyman made up by the Revelation of Qliphoth, an imaginable god-like entity to put their faith into.
Shut Up, Kirk!: When the Supreme God asks Ara why she's doing this, Ara responds by telling him to shut up and tries to kill him since he knows nothing about her and everything she worked so hard do build without having Creation powers like he have.
Signature Move: Loves to her Azarath Claw an awful lot to suck the souls of her enemies while keeping it inside of their bodies just to make them suffer.
Silly Rabbit, Idealism Is for Kids!: Her response to the "Will of Humans".

- Ara: "You can't defeat power with will. Only strength is necessary to change the world."

Single-Target Sexuality: She never loved anyone but Unit-CM 130; the whole reason she built Astaroth Empire on Earth instead of turning it in a dead rock was because he wanted it alive so he could use the living beings of Earth as his guinea pigs.
Single Woman Seeks Good Man: More like Single Woman Seeks Bad Man. She's primarily searching for her One True Love and she gave a list to the Leohart with the traits she wanted. One of them is that he cannot have been raised in Hell or any other capital related to Triggers Hell and another that he must be cold as ice. This just happens to be Unit-CM 130.
Sinister Scythe: The weapon of choice of Astaroth Queen... A very badass one with very detail colors and diamonds of death.
Slasher Smile: Oh yeah! Why not? You can find her giving one of the these when seeing her enemies being killed in front of their loved ones.
Slave Collar: Cuchullain was initially depicted as a young and promising warrior to his people and a true threat to the Revelation of Qliphoth. The next time we see him Ara had quickly defeated his army and subjugated him into a docile boy with her as the dominant master tightly placing a slave collar around his neck just to emphasize her authority over him.
Slavery Is a Special Kind of Evil: She is a depraved monster who has enslaved entire nations and races. She doesn't care if her slaves die of fatigue or thirst, and much like other evil things she has done, this one is played in the darkest way possible in her empire to the point you will not get any moment of laugh at this. It's not like all her crimes were Played for Laughs anyway.
Smarter Than You Look: At first glance, you may be given the impression that she's just a cruel thug considering her clothes are all torn and her young look may make her looks like as some mindless anarchist, but she is a genuinely credible Genius Bruiser who has led her minions very well, if not in an evil way.
Smitten Teenage Girl: Not a teenager, but she definitely acts like this around CM.
Smug Snake: Despite having several savvy moments and being very smart and cunning, she firmly falls into this thanks to her arrogance. She relies on her raw power so much that she has nothing to fall back on once that proves to be ineffective outside of destroying the planet she's standing (something Aryana Westcott would do without thinking twice) on since she can survive in space. She is also lazy, using her men to do all the work for her and literally doing nothing until they were all dead. 
Smug Super: One of the well-known contenders for the story postergirl of this trope. Having spent who knows how many years unchallenged in her might and authority has made her Drunk with Power. As such, the very idea of someone actually being stronger than her is absolutely inconceivable for her to imagine and at the same time, it's what deep down, she fears the most.
Social Darwinist: An extreme example, she believes it only natural for the weak to die. Indeed, she even states she cannot understand "the feelings of the weak", and once all her generals are either dead or defected, while she does promise to avenge them, she shows very little to no remorse over them, stating they were just too weak.
The Social Expert: She can accurately predict the actions and motivations of virtually anyone she encounters. Also she can manipulate them, either by subtly corrupting their own goals or simply imposing her own beliefs on them. This is best seen in the existence of STAR LABS, its wildly-differing members working together because they believed the organisation would further their own ends when in actuality, they were mere tools that Ara as Mina Harker used to achieve her plans. She was also able to use whole countries to her advantage, so she used the overall stability and suspicion between the countries to increase her own power by providing criminal factions as the mercenaries carrying out orders and receiving remuneration for work performed.
The Sociopath: Ara is not only insane, she is cunning, ruthless, and manipulative — enabling her to be the perfect avatar of the Pure-Blooded Devils. Lack of Empathy? Check. Manipulates people like chesspieces and only emitting shallow emotions? Check. Experiences extreme rage and is uplifted when hurting enemies? Check. She is also completely uncaring of the rest of her organization, she uses underhanded means for assessing how far she is from achieving her own goal, which amounts to the creation of Hell on Earth.
Soft-Spoken Sadist: Incredible so. Unlike all other villains like Vira Hermes who is a homicidal maniac who has no composure when her crazy-side breaks out and Eckidina KnightWalker who is a insane psychotic teenage girl who loses her cool when she is torturing someone, Ara is fully capable of causing pain in other people with losing her clarity and calm.
Sorcerous Overlady: Not only possessing unlimited political power within the Astaroth Empire, Ara also possesses demonic powers rooted in the deepest, most arcane arts of the Blackness, powers that very few who came before her could even dream of mastering.
Spare Body Parts: Can easily replace body parts lost in battle.
Sphere of Destruction: Most of her attacks are sphere made of blood and black/red energy.
The Starscream: In respect to Leohart the Prince of Hell; notice her smile when she tells about Leohart being killed by his apprentice (Daughter). Then again, she is a Black Demon, so backstabbing is par for the course to them.
Stereotype Flip: Hailing from the peaceful land of Astaroth Territory and later being locked in a tower for thousand years, she became a genocidal omniversal tyrant and in the front running for the Omniverse's "most evil person who ever lived" award... Sure, she worked for 45 billion years to win this place, so she kinda deserved it.
Straw Nihilist: Not at first but becomes one when she became the Goddess of Idea of Evil. She claims that the world is a lie and will never be perfect like she always wished... So the only thing she have to do is to destroy this wicked omniverse with all creation and life.

This take Up to Eleven in LOTM: Destiny where she simply doesn't care to life at all, she has no interest in other people, creating  a new plan or finding a new path to rise to power, because, seriously, she worked 45,000,000,000 years in a master plan to overthrow all gods so taking another billion years would pretty much suck, right? In this level, she just want to get revenge on Katarina and disappear from existence after knowing her killer is dead.

Stripperific: Her Ara Astaroth's outfit is pretty ridiculous all things considered compared to Astaroth Queen and Mina Harker who are pretty well dressed in their own manners while Ara wear torn clothes for someone with such high-socials standard.
Stronger Sibling: Compared to her unnamed sister who was still so weak that she couldn't fight a few Trolls back, Ara was already powerful enough to take a town alone.
Story-Breaker Power: Just like Nu Wa and Wáng, she can perform the Shunp (Teleport of the Gods), one of the most powerful techniques since she can teleport anywhere she can sense energy and avoid powerful attacks, even from people who can teleport too. Her Adaptive Ability is also a good candidate for this title for she can almost passively grow stronger as she fights, which means she can regain the advantage against superior opponents if the fight drags on long enough. Something which gives the heroes no end of trouble.
Strong and Skilled: Even in her introduction, she already had a copiously large arsenal of different attacks and techniques, but after Character Development kicks in, Ara is not only one of the three strongest demons in the omniverse, but also has a reasonable amount of secondary skills (analytical skills, energy control and stamina, energy sensing, and an amount of mental discipline) backing her power.
Submissive Badass: Subverted. She is the most powerful Black Demon in existence, but takes orders from Leohart and later Idea of Evil. Yet, she betray them all at one point.
Subverted Innocence: Let's just say that, in real world terms, people idealistic, kindhearted, and clearsighted enough to perceive all the horrible parts of the world and wishing for a kinder, more just, and utopian world (which is a perfectly valid viewpoint), do not tend to be mass-murdering baby-killers. They tend to be among the genuinely nicest of humanity but considering she is a demon, humans are not really an argument to compare with her.
Superpower Lottery: Aside from the common demons powers (Superhuman Strength, Speed, Reflexes, Immortality, spreading her condition to others) Ara can also levitate, pass through walls, manipulate shadows, shapeshift, telepathically manipulate people (though she needs eye contact for that) and heal from as little as ashes.
Super Senses: The Devil eye can see energy as well as slow the user's perception of reality, allowing them more time to react.
Super Strength: She snapped an arm off of its shoulder with just the grip of her fingers, and blocked a giant ass sword with her forearm... Or better, she can cut people and even gods in half like paper with one finger!
The Svengali: To Katarina, manipulating her in order to be an asset to her plan and eliminating enemies for her... These enemies, however, are her own friends she vowed to protect!
The Syndicate: It is revealed that Ara's regime welcomes outlaws, bandits, gangsters and evil organizations. Interestingly, most of the antagonists have connections to Ara, from lowly thugs to ruthless mobsters, assassins and slave drivers. To worse examples, genocidal tyrants, dictatorships, serial killers of children, rapists of women and infants...
"T" Tropes
Take Over the World: She didn't just take over a world, she took over the omniverse — and she took several measures to make sure she got that far.
Taking the Bullet: Most likely how her Healing Factor seems to work. Her body taps into the collected souls of everyone whose blood and souls she drank, transferring any wounds she's taken to them. When Control Art Restriction System Level Zero is released, they all pour out of her into a massive army for her to command, but it also leaves her without her regenerative abilities.
Taking You with Me: She has no desire to have the Revelation of Qliphoth outlive her. Her contingency plan, should she ever die, is to have her loyalists not only destroy the World of Gods, but the Revelation of Qliphoth as well for failing to protect her.
Talking Is a Free Action: She loves her speeches, and when someone actually tries to subvert this trope, she lampshades it by criticizing them for interrupting her, and considering that her response to someone interrupting one of her speeches normally consists of her promptly cutting down the fool for speaking out of turn, it might as well be.
Tautological Templar: She acknowledges that the heroes may find her actions cruel, but nonetheless states that she's doing what must be done, and that it's her duty to wipe out all mortals and correct the gods' mistakes. It takes a whole new level when it's revealed that she personally murdered her fellow devils to carry out her plan, which she justifies to Future Maria by claiming that the other devils would never understand her ideals for peace when they are all a bunch of Card-Carrying monsters.
The Tease: Less so compared to Imperia, but still present. She's rather playful, with an occasional flirtatious streak (saying she'd marry Vira if she were a guy being a standout case), and very much enjoys making people sexually uncomfortable in ally and enemy organoization. While the story plays it up more by having her shoot a pair of seductive-looking glances at Gaius and Lucas, in Astaroth Future, she especially gets a kick out of teasing Maria saying she will let the latter kill her if she uses that "strength" and "hatred" against her on the bed.
Teeth-Clenched Teamwork: She clearly has zero affinity or respect for Moloch, and the feeling is mutual. While Ara shows some "false honor" for Moloch for being the master of Leohart she is probably thinking this of him while speaking like a true lady.

"LOOK AT THIS UGLY DUDE! YOU SHOULD DIE AND REBORN AGAIN TO GAIN A NEW VOICE!"

Tempting Fate: As Idea of Evil Goddess, she spends most of her existence declaring herself the Top Goddess of all creation. The moment the actual Top God sees what she's done, Ara is Deader Than Dead.
Teens Are Monsters: For the standard of demons' age, Ara still only a teenage around 18 or 19 years old; the same age of Katarina and Imperia. Even if she lived for 45,000,000,000 years, she still a kid near many other Pure-Blooded Devils that lived for trillions--quintillions years.
Teleportation: She can teleport herself anywhere she wants, and can teleport others into an alternate dimension that seems to exist within her Azarath claw.
Tell Me How You Fight: While she spends most of her time calm and composed, her fight scenes reveal her wild and cruel side. In her fights, she can easily lose control of her temper, more than usual, and will get angry if she continues to fail in killing her enemies, or for the very best, she will laugh insanely as her body is destroyed to pieces and dust.
Territorial Smurfette: Invoked. Ara doesn't like Vira, another charming Vamp woman who uses sexual charms to lure in the unwary Zelkron, with the major difference being that Vira doesn't torture him afterwards in BDSM fetishes.
There Is No Kill Like Overkill: She dispatched her entire armada of tens thousands of Black Demons to London only to kill Ratatoskr while taking advantage of their location to take over United Kingdom like she did to Brazil. She even ordered her forces to shoot down all civilians of the coutnry in sight just to make the Rogues leave from their hiding place.
They Just Dont Get It: Towards Ratatoskr. She claims all her enemies who are trying to stop her plan are greenhorns who do not know what they are doing and of course, they don't get she is fighting for the "greater good". And the worse part is that she is right, considering mortals would one day destroy the Multi-Universe. [DEM Empire and Sith Empire in special]
They Look Just Like Everyone Else!: In a story where 99% of all girls are beautiful and attractive, Ara is not that much of different considering all women are sexy and have more than beautiful faces but bodies. To represent the side of the women in Qliphoth, Vira did it first.
Third-Person Person: When she's being especially hammy.

"Shall we begin?  The Great Ara will take her time to make you suffer."

This Is Unforgivable!: Touching her without her permission, speaking her name without permission and turning against her after vowing total loyalty and respect. 
This Is Your Brain on Evil: If you think tha Ara is capable of maintaining her sanity after she conquered the omniverse for 2,000... Are you sure you're not evil? She only got worse.
Time to Unlock More True Potential: The entire reason she wanted to backstab Idea of Evil was because she desired to win its god-like powers over all darkness and evil without the necessity to train more to increase her energy. Not only this but to declare herself as the official Top Goddess of the omniverse.
Tom the Dark Lord: Let's face it, while Astaroth truly sounds like a menacing name, "Ara", compared to "Astaroth Queen" and "Mina Harker", sounds too innocent to be the name of a genocidal tyrant.
Toppled Statue: On the world conquered by Ara and her army, the crowds go as far as toppling a ridiculously oversized statue of the Demon Queen as a way of celebrating news of her demise. Of course, not only this but thousands of statues showing her might were destroyed as well.
Totalitarian Utilitarian: Ara's goal is to abolish war and conflicts by destroying all mortals and gods and creating a world for demons only. To achieve this, she commits numerous acts of war, unleash total chaos upon thousand worlds, corrupt children to make them into her mindless servants, use their souls to achieve godhood by torturing and raping them, kidnaps children and forces painful humans experiments in their bodies to turn them in her dispensable child soldiers, Mind Rape thousands of people in her organization to act like psychotic mercenaries, uses Cold-Blooded Torture in everyone who tries to oppose her. Yeah.
Took a Level in Jerkass: Amazingly enough, Idea of Evil's Goddess Ara is even more of an ass. She regularly calls the Alliance as monkeys, going as far to call a Selina and Albert as Rotten Fruits at one point. She refers to Maria as a pet and calls the entire Alliance as pathetic. Probably the worse burn comes when she mockingly calls Katarina, the Bald Haired Heroine, of course Played for Laughs considering Katarina still has her long scarlet hair.
Too Powerful to Live: Even by LOTM: Sword of kings standards, where villains getting killed is the typical outcome. But for Ara, even if it were possible, simply sending her to the Afterlife would not have been enough since she RULES over Qliphoth and Limbo, two dimensions of Afterlife. Her physical existence had to be erased from existence entirely to ensure her soul would be sealed in the Undead Land.
Top Goddess: After she becomes the Idea of Evil's Goddess, she is really one of the last Gods standing on the face of the Omniverse, being the second stronges of all Gods. Of course, Sequined Sadist still pretty much active in another omniverse and watches over her "grand-daughter" to make sure she will still in her place and not lift a finger against her... Even so, if Ara decided to mess with Sequined, she would be pretty much dead alongside all the omniverse as we know it.
Torture Technician: Ara is the most cruel demon sadistic of the story and knows many forms of torture. Ara loves to torture people and her hobby seems to be finding new ways to make them suffer. The capital of Nibiru Planet has a industrial scale torture chamber that she takes direct charge of whenever she's around; at one point upon seeing a vat full of people boiling alive, she demanded the water temperature be lowered simply to make them suffer longer.
Touch of Death: She can extract a person's soul using her Azarath claw just by touching their skin. Once one of her fingers touch you, it's already too late.
Tragic Villain: Ultimately a subversion. Despite her tragic background that pushed her to villainy, she used went much further of what her story proposed. First by invading planets, killing babies and children in vulcanos, killing innocent men and women to steal their souls, destroying entire planets and committing genocide of benevolent Gods... What exactly turns her sympathetic anyway?
Tranquil Fury: The first time she confronts the Rogues' group personally she greets them in a positive, joking manner before giving them a Hannibal Lecture. She only raises her voice once, when Lucas does the same to her, but even then isn't that harsh with her. Compared to her original character in the old script, she is much more animated and loud.
Trash Talk: Interesting, Ara doesn't do this often except to Future Maria. She barely acknowledges the Rogues' existence and she sees Maria as her one and only Worthy Opponent. In Astaroth Future, however, she talks crap to everyone, especially Selina Strawberry.
Trauma Button: In LOTM: Destiny, due to her defeat at Katarina's hands and her experience in Undead Land, any kind of mercy, cruel or otherwise, will trigger an attack of PTSD. When she sees Yato choose to spare Isuke Inukai, Ara is immediately reminded of Katarina and Tomas' Cruel Mercy towards her back on their fight 5 billion years ago and has a massive Freak Out!.
Treacherous Advisor: She was acting as a kindly and cheerful figure for Katarina Couteau while trying to corrupt her even more, listening to what she had to say, encouraging her bloodlust and offering her full support. However, her true motives were to turn her against Ratatoskr and her friends.
Troll: At this point... It's useless to mention.
Tsundere: One of her many adorkable traces. She was this to Unit-CM 130 before they engage in a romantic relationship, she often denied his love for him and would use excuses like "I'm love with you work" just to stay beside him in his laboratory. She fully admits she loves him after the Rise of Qliphoth era in her weeding cerimony.
Tyrant Takes the Helm: As Mina Harker, she openly seizes the power that she'd been consolidating up until then.
"U" Tropes
Underboobs: Her outfit bares quite a bit of cleavage.
Undignified Death: Her death is not full of disgrace like Aki Honda and Crauz suffered but in her two deaths she always cursed those who finished off her. The methods she died however is worth of a warrior's death at the battlefield.
The Unfettered: She will not back down from obtaining her goals, the world be damned. Murdering her entire family, her lover, attacking her own empire, her closest friend and plunge the entire universe in a war with them against an army of Black Demons and Zombies mean nothing. It is revealed that she plans to use corrupt the Core of Paradise to end reality so that these events will not mean anything. 
Unskilled, but Strong: Shee is never shown to train, the strain on her body is too great to remain at full strength for long, and she can't even sense power levels, which by the Saga AA pretty much everyone outside her army could do — but before Katarina became an ExKrieg and fully merged with Elesis, she still outclassed just about everyone in the universe in sheer power.
Unstoppable Rage: Zigzags between this and Tranquil Fury due to her Mood-Swinger tendencies.
Unsportsmanlike Gloating: Every time Ara defeats someone, she spends her time throwing this in the face of her opponent to show them how superior she is to them. And this ultimately leads to her fall.
Unreliable Expositor: She delivers a lot of exposition, and quite a bit of it is suspect.
Unwitting Instigator of Doom: For LOTM: Destiny and LOTM: The Phoenix on the Sword. In the main story (and the rest of the story) she is a very witting one and is directly connected to most of the bad incidents in the story.
Unwitting Pawn: Despite ALL things you saw above, all cruelty, all plots, all plans and all influences in the story, she still a pawn in Sequined's plans: the person who created the omniverse and all creation and life.
Uriah Gambit: One of the major reasons Mina orchestrated the Purge and manipulated it to continue for as long as it did was to reduce the mages' numbers.
The Usurper: Literally. She betrayed every single person she served to after disposing them from from their post and taking their role in their own organizations. From Leohart the Prince of Hell, Idea of Evil, Tom Bucky, Spectra (in Limbo). The only person she could not usurp was Sequined Sadist.
Utopia Justifies the Means: Zig-Zagging. This is her "genuine" goal, but others considered it egoistical to impose her views of peace on the world, while Ara was defending her vision as the right thing for her race. With the reveal, it's pointed out she is doing things in self service while also considering it a benefit for demons as a whole, mortals be damned on the process.
"V" Tropes
Villain Ball: Ara's Chessmistress gaming skills are way off over billion years after she takes over the Qliphoth. Despite her use of the same deceptive tactics and serendipity that led to the destruction of the Gods, rivals and the creation of the Astaroth Empire, Ara centers only on protection of the Qliphoth realm, ignoring the historical tendency for demons to change allegiances like they change their socks and not always to your advantage.
Villain Episode: Both "Kiss of Death" and "Ara Astaroth" are episodes completely centered on her as the Villain Protagonist.
Villain Forgot to Level Grind: Played Straight, at first. Ara was naturally so powerful that she never needed to train... so she didn't. This did come back to bite her in the ass, as the Rogues eventually overcame her because the strain of using 100% of their power. Had she bothered to train while at full strength, her battle with the Rogues could have turned out very differently.
The Villain Makes the Plot: There are dozens of villains in the story that are involved in the lives of billions thanks to their machinations but if it weren't for Ara, absolutely nothing bad would have ever happened on Earth before World War III. Actually, if it wasn't for Ara, Katarina would have never lost her parents and would never meet La Folia. This would cause her grow up as a normal child and allow the Fallen's Essence win his long-dearest with.
Villain Respect: Though she takes every opportunity she can to make Maria miserable and torture her, she admits that she has respect for her. Ara remembers how Maria said she would kill her, clearly hating her for murdering her family, but she has swallowed that hatred and put her pride aside, submitting to her and going out to gather supplies for her to keep her roup safe, saying how all of that takes guts.
Villains Blend in Better: Ratatoskr and Witch Cult were unable to sense that the Ara had returned due to Ara' masquerade as Mina Harker, later President Harker, with Kotori only suspicious of her because she was a politician. By the time the heroes learned the truth, it was too late.
Villain Override: Can do this to Tomas, and anyone who has her essence. Isuke Inukai was conceived by the Shiva after she drank the essence of her that she gave the Cult.
Villainous Crush: Needless to say, Unit-CM 130.

Villainous Demotivator: Her minions know they have two options: Victory or termination. Several have mentioned being told they couldn't come back unless they were successful.

Villainous Friendship: Most notable Black Diamond that is one of the strongest members of DEM Empire.
Villainous Legacy: The Cult of Ara is obsessed with reinstating the Empire she forged. Actually, Ara's legacy continued alive for billion years, with millions organizations popping out in her name.
Villainous Valor: Deconstructed. As noted above, Ara's will to live and overall determination are admirable, but her defeats are always the results of her complete refusal to give up and fight another day.
Villain Protagonist: Is the Big Bad of the story, but gets just as much focus and development as the heroes.
Villains Out Shopping: The MAD volumes of her arcs are only dedicated to her making crazy things outside of her work with other notable villains.
Villain Takes an Interest: Alongside Eugen for Maria. Ara wants Maria to join her empire and replace Vira at her side.
Villain with Good Publicity: Ara is not only trusted, but appears to be loved by many, if not most, in Qliphoth. This girl has been sneakily plotting for over a century, and apparently arranged things so that everyone who discovered her evil plan was banished from Hell before they could reveal her. Not to mention, she is the Empress of Qliphoth and is seen as a salvior by all Black Demons.
Violently Protective Girlfriend: Ara is extremely jealous of CM when other girls approach him. She takes this Up to Eleven and not only kill the women who dared to get close to him but punish CM physically by breaking his bones and muscles.
Virtue Is Weakness: She has nothing but disgust and contempt for Katarina for showing mercy to Aki Honda, and even goes so far as to mock her for it point-blank. She says that the Rogues choosing not to kill any of her mooks actually makes her sick considering they killed hundreds before.
Visionary Villain: She have clear goal and plan to achieve the utopia which she envision.
Voice of the Legion: When giving her speech to the world about the Black Demons as Mina Harker, she speaks with a very demonic voice at the ending of the recording. Nobody actually cared considering that might be an error of the camera.
Voluntary Shapeshifting: Apart from the obvious, she herself states that 'trappings of a mortal' don't apply to her and can appear as anything - bats, a dog with multiple eyes, her true form, a boy...
"W" Tropes
We Can Rule Together: Offers this to Katarina. 
We Have Reserves: She has absolutely no concern for the lives of her men, to the point that she takes virtually any excuse she can to kill them herself. The reason? Demons are much like humans and it takes resources to feed them.
Wicked Cultured: She mostly acts like a lady and sophisticated princess but nonetheless, she's just an sadistic sociopath.
Wishful Projection: Ara sees CM as the ideal individual she nonetheless has under her thumb.
With Great Power Comes Great Insanity: It is heavily implied that she transforms to decrease her overall power because she is almost incapable of controlling herself in later forms. At the time she is in her Anti-Christ form she now looks like a savage wild beast.
White Hair, Black Heart: Her Goddess of Evil after devouring Idea of Evil's energy turns her hair into silver but her personality still cruel as ever.
World's Best Warrior: Acknowledged as the most formidable and feared warrior in the Triggers Hell behind Leohart himself.
World's Most Beautiful Woman: ...............................................
World's Strongest Woman: At the time of her introduction, she was the undisputed strongest being in the omniverse, with no one in the series coming anywhere close to her level. This is later retconed with the introduction of the Aryana Westcott's true power, Darth Hades, Leohart the Prince of Hell and the Fallen all of whom have been around for eons and are far stronger than Ara. However, all of those mentioned above were thought to be a myth by people. So Ara, at the very least, was the strongest active Devil in the 0th Multi-Universe.
Would Be Rude to Say "Genocide": She constantly uses the word "purge" as the pretense for "death", "cataclysm" and "genocide".
Would Harm a Senior: Ruthlessly cuts down the defenseless people, and her own father. Ara puts old people as her secondary targets mainly because they are already useless and can no longer work in her new world.
Would Hit a Girl: She has no problems with raping or even killing women to advance her plans. No matter her age, a girl is just like another any livestock in her palm.
Would Hurt a Child: Ara was perfectly fine with performing potentially lethal experiments on infants and children. She also don't show sympathy for mortals children and gave global orders her forces to make them dig their own graves before shooting them down.
Would You Like to Hear How They Died?: After incapacitating Katarina, Ara lies to Lucas, claiming that Katarina died begging for mercy and crying like a baby.
"X" Tropes
"Y" Tropes
"Z" Tropes