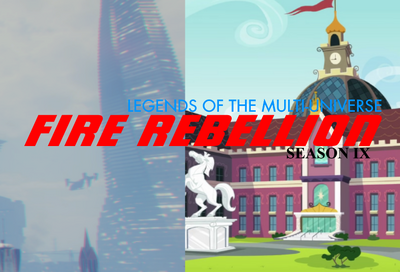 LOTM: Fire Rebellion: Season 9
(Stylized as 
LOTM: Fire Rebellion: Season IX
) is an upcoming in LOTM's 
Fire Rebellion Storyline
, written by Coolautiz and 22kingdomheartsfan.
It'll be the ninth season in the storyline and the first of the Fourth Era. It began February 2016 and ended March 2016.
Plot
Set five years after the end of Season 8, Freeze and his team has settled down after Agent Michigan's retirement. After receiving threats from the Gem Homeworld, and attacks from the Space pirate Divatox, the heroes with the help of their new mentor Dimitria must stop this new menace.
Episodes
Factions
Heroes
Villains
Characters
Heroes
Villains