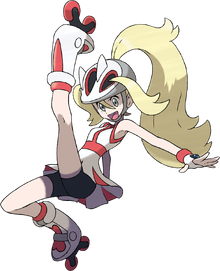 Korrina (Japanese: コルニ Corni) is the supporting heroine in both Pokemon X and Y game and Pokemon anime series. She is the 3rd Kalos Gym Leader. In X and Y games, the Pokemon she fights with are Mienfoo, Machoke, Hawlucha(only in the games), and Lucario. She has the ability to Mega Evolve Lucario into Mega Lucario with Lucarionite. 
Pre-LOTM: Dynasty Warriors
During the aftermath of the deaths of President Snow and Alma Coin, Korrina and Marcus decided to have an honorable respect to Coach Toriko, Iroh, and Gurkin(Mega Evolution guru). She and her boyfriend trained themselves with martial arts and animal training before the start of a new war.
Korrina and her boyfriend made a first appearance.
Trivia
Korrina resembles Xiaomu; while her boyfriend resembles Reiji Arisu.
Korrina is the only Kalos Gym Leader:

Who is battled outside their respective Gym or the Battle Chateau.
Who uses Mega Evolution in the games.
To have two pieces of VS artwork.

The first four moves used by Korrina's Lucario in the anime are the same four moves that the Lucario she gives to the player in X and Y knows.
Ash has battled Korrina more times than any other Gym Leader who is not one of his major companions.
Aside from Ash's traveling companions, Korrina is the Gym Leader who has appeared in most episodes of the anime, having appeared in thirteen episodes.
Gallery