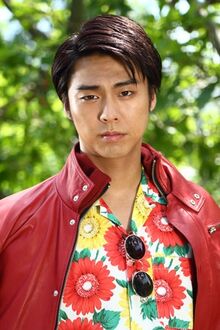 Kiriya Kujo (九条 貴利矢 Kujō Kiriya) was a medical examiner of Seito University Hospital. He obtained a Gamer Driver and the Bakusou Bike Gashat to transform into Kamen Rider Lazer (仮面ライダーレーザー Kamen Raidā Rēzā).
Dynasty Warriors
Kiriya made a debut in the next story episode. He acts as a supporting scientist of Ten Legendary Warriors-United Heroes by attending a lot of things like: technological repairs, medical healing, and research. He gave the assignments to the heroes before rescuing the heroes and battle against the evil forces of Dark Lord Empire Federational Apocalypse-United Villains in the battle of Lyceum of Alabang.
Kiriya appeared again in the next episode. He and scientists are happily amazed that Van Kleiss, Hawk Moth, and Miran Rex were executed for good. Kiriya and the heroes have congratulated them for saving the heroes. They are celebrating at Shakey's Restaurant in Ayala Alabang. After the joyful celebration is done, he and the scientists must continue research.
Trivia
Unlike the original Kamen Rider stories, Kiriya Kujo is happily responisble for escaping the tragic fate. He remained alive and well.
Kiriya is also similar to Urataros from Kamen Rider Den-O due to their truth twisting tendencies. Unlike Urataros, whose lies convinces the Primary Rider, Kiriya is subjected to being called out even by Emu.
In the next season of Dynasty Warrior series, he and the scientists decided to remain absent in the rest of the episodes until season 3.