Kate Walker is the main protagonist of the Syberia series of adventure games. As a lawyer from New York it is her job to oversee the sale of the Voralberg toy factory in Valadilène. There, she discovers that the thought to be deceased brother of the previous owner is still alive, so it is up to her to hunt him down in order for the sale to go through. In doing so she is wisked away on an adventure through many far away locations. As the series progresses she becomes more detached from her previous life and becomes completely entranced with the search for still living woolly mammoths.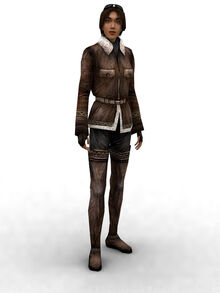 Ad blocker interference detected!
Wikia is a free-to-use site that makes money from advertising. We have a modified experience for viewers using ad blockers

Wikia is not accessible if you've made further modifications. Remove the custom ad blocker rule(s) and the page will load as expected.