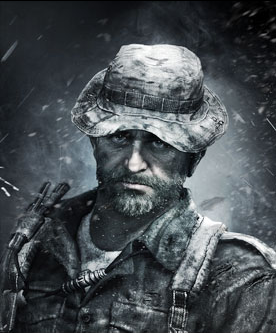 Captain John Price
is a character from the 
Call of Duty: Modern Warfare 
subseries. He also appears in the multiplayer of 
Call of Duty: Ghosts
.
He is voiced by Billy Murray.
Price was a Captain of the 22nd Special Air Service Regiment of the United Kingdom Special Forces. He later became a Captain of Task Force 141, and evenutally its leader after the death of Soap and the traitorous General Shepherd, in which he eventually successful in killing Russian terrorist Vladimir Makarov.
Fire Rebellion Storyline
The B Team Storyline
He is sent by Lizbeth to bring Dib to their area while she has Maka bring Knuckles after Discord encounteres the crew. Price shows up and leads them to the location.
Allies and enemies
Friends: "Soap" MacTavish, Nikolai, Dib and The Membrane Elite
Enemies: Makarov, Discord, The Dystopia League, Shepherd, Sigma, The Sigma Organzation, Malcom Hargrove
Gallery