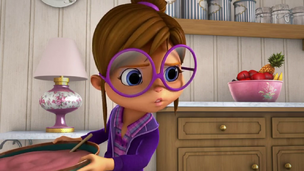 Jeanette Miller
 is the second youngest of The Chipettes, younger than Brittany and older than Eleanor. Her last name is Miller in the 80's cartoon, but she does not have a stated last name in the CGI series. It is presumed to be Seville because of The Chipettes being adopted by Dave. However, this would be controversial, as it would make her Simon's adopted sister in addition to his love interest. 
Ad blocker interference detected!
Wikia is a free-to-use site that makes money from advertising. We have a modified experience for viewers using ad blockers

Wikia is not accessible if you've made further modifications. Remove the custom ad blocker rule(s) and the page will load as expected.