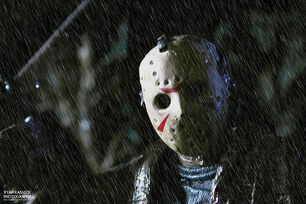 "There's a legend around here. A killer buried, but not dead. A curse on Crystal Lake, a death curse. Jason Voorhees' curse. They say he died as a boy, but he keeps coming back. Few have seen him and lived. Some have even tried to stop him... No one can. People forget he's down there, waiting..."
- The Narrator
Jason Voorhees is the main antagonist of the Friday the 13th franchise and one of the two main antagonists of the crossover film Freddy vs. Jason, along with Freddy Krueger. He was a silent, undead and unstoppable killing machine. Jason was an iconic madman who haunts Camp Crystal Lake and the surrounding area, driven to slaughter anyone he encounters by a burning need to avenge the death of his beloved mother, Pamela Voorhees.
Jason Voorhees has killed (at least) 152 people. This counts Andy's and Debbie's unborn child, twenty of the people he killed during his body possession spree, Creighton Duke's girlfriend, and, in two deleted scenes, an unnamed man in bathroom, and Vicki's boyfriend (which some of them are completely off screen) over the years.
Gallery