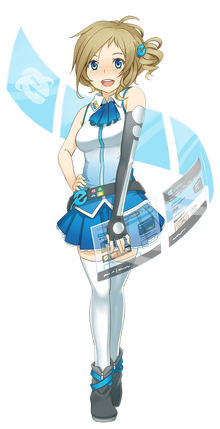 Inori Aizawa
 (Japanese: 藍澤 祈
?
, Chinese: 藍澤祈), also known as 
Internet Explorer-tan
, is a moe anthropomorphism mascot character, originally of the Internet Explorer web browser and currently of its successor,Microsoft Edge, created by MicrosoftSingapore and designed by Collateral Damage Studios. Aizawa was created in celebration of Anime Festival Asia 2013, and is featured in a video, Facebook profile as well as a special edition of the browser. Inori's purpose is to help advertise IE, and to convince anime fans to return to using the browser, due to its falling popularity. The character has received mostly positive reception. She is voiced by Valerie Tang.
Pre-LOTM: Dynasty Warriors
During the aftermath of the defeats of Carol Mars Dienheim and Autoscorers, she goes on a lone journey. She nearly might be killed in the explosion of the bombs by an unknown villains. Suddenly, she and Akame are saved by the united powers of Xerneas and Yveltal. Reunited, she and Akame must go to training session with Coach Toriko, Iroh, and Gurkin.