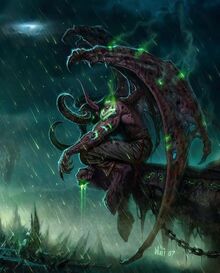 Illidan Stormrage
is a fictional character who appears in the
Warcraft
series of video games by Blizzard Entertainment. Born a night elf and a former Demon Hunter, his pursuit of power led him to commit several horrific acts against his own people, which earned him the nickname "the Betrayer". Self-proclaimed the Lord of Outland, he also defected to the Burning Legion and became a partial demon himself.
Ad blocker interference detected!
Wikia is a free-to-use site that makes money from advertising. We have a modified experience for viewers using ad blockers

Wikia is not accessible if you've made further modifications. Remove the custom ad blocker rule(s) and the page will load as expected.