"Can you not understand ... Good, evil ... How silly it all is ... There is only one real power ... Entropy!"
— Hondao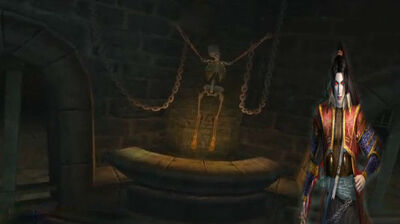 Hondao (Alexander Zholin or Baron Yukio Kuroda) is a Samurai Demon. He was once a human. Hondao wants to destroy the multiverse, which would end the suffering of all worlds. He can use fire magic and regeneration. His Base
is in the Wastelands. His organization is called the Great New Empire
Appearance
Hondao is in "Chronicles of Great New Empire:Book One - The Enthropy"
Personality
Chronicles of Great New Empire
Real world inspirations
Shoko Asahara
(麻原 彰晃
?
Asahara Shōkō
, born March 2, 1955 as
Chizuo Matsumoto
(松本 智津夫
?
Matsumoto Chizuo
)), is the founder of the Japanese doomsday cult group Aum Shinrikyo. Asahara was convicted for being the mastermind behind the 1995 sarin gas attack on the Tokyo subway and several other crimes, for which he was sentenced to death in 2004. In June 2012, his execution was postponed due to further arrests of Aum Shinrikyo members.
Qin Shi Huang
(Chinese: 秦始皇; literally: "First Emperor of Qin"; 18 February 259 BC – 10 September 210 BC) was the founder of the Qin dynasty (秦朝) and was the first emperor of a unified China. He was born
Ying Zheng
(嬴政) or
Zhao Zheng
(趙政), a prince of the state of Qin. He became the
King Zheng of Qin
(秦王政) when he was thirteen, then China's first emperor when he was 38 after the Qin had conquered all of the other Warring States and unified all of China in 221 BC.
[2]
Rather than maintain the title of "king" borne by the previous Shang and Zhou rulers, he ruled as the First Emperor (始皇帝) of the Qin dynasty from 220 to 210 BC. His self-invented title "emperor" (皇帝,
 huángdì
), as indicated by his use of the word "First", would continue to be borne by Chinese rulers for the next two millennia.
Aleister Crowley
(/ˈkroʊli/; born
Edward Alexander Crowley
; 12 October 1875 – 1 December 1947) was an English occultist, ceremonial magician, poet, painter, novelist, and mountaineer. He founded the religion of Thelema, identifying himself as the prophet entrusted with guiding humanity into the Æon of Horus in the early 20th century. A prolific writer, he published widely over the course of his life.
Oda Nobunaga
(織田 信長
?
 Oda Nobunaga (help·info)
, June 23, 1534 – June 21, 1582) was a powerful
Daimyō
of Japan in the late 16th century who attempted to unify Japan during the late Sengoku period. Nobunaga is regarded as one of three unifiers of Japan along with his retainers Toyotomi Hideyoshi and Tokugawa Ieyasu.During his later life, Nobunaga was widely known for most brutal
suppression of determined opponents, eliminating those who by principle refused to cooperate or yield to his demands. He was both a skilled ruler and keen businessman, economic reformer, strategizing at both the micro- and macroeconomic scales. He was killed when his retainer Akechi Mitsuhide rebelled against him at Honnō-ji.

Hideki Tōjō
(Kyūjitai: 東條 英機; Shinjitai: 東条 英機;
 Tōjō Hideki 
; December 30, 1884 – December 23, 1948) was a general of the Imperial Japanese Army (IJA), the leader of the Imperial Rule Assistance Association, and the 27th Prime Minister of Japan during much of World War II, from October 17, 1941, to July 22, 1944. As Prime Minister, he was responsible for ordering the attack on Pearl Harbor,planning for it had begun in April 1941 before he entered office. After the end of the war, Tojo was arrested, sentenced to death for Japanese war crimes by the International Military Tribunal for the Far East, and hanged on December 23, 1948.

Herbert Spencer
(27 April 1820 – 8 December 1903) was an English philosopher, biologist, anthropologist, sociologist, and prominent classical liberal political theorist of the Victorian era.
Spencer developed an all-embracing conception of evolution as the progressive development of the physical world, biological organisms, the human mind, and human culture and societies.

Ad blocker interference detected!
Wikia is a free-to-use site that makes money from advertising. We have a modified experience for viewers using ad blockers

Wikia is not accessible if you've made further modifications. Remove the custom ad blocker rule(s) and the page will load as expected.