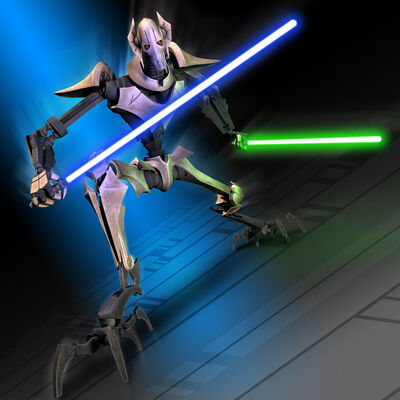 General Grievous
a recurring villain from
Star Wars: The Clone Wars
.
A skilled warrior, General Grievous wanted to become a Jedi but lacked Force sensitivity. He decided to exact his revenge by wiping out the Jedi.
HailFire Empire
He did not die during his last battle with Obi-Wan. As he lay there, watching as the Jedi took his ship, he thought it was over. But he was saved by a Nobody who went by the name of Larxene. She opened a dark corridor and took him back to his lair, where his medical droid was able to repair his damaged body. When the droid finished, Grievous saw that Larxene had vanished. Intrigued, he began searching the Multi-Universe for her just so he could express his gratitude.
Years passed, and still he did not find her. Just when he was about to give up, a dark corridor appeared before him. He cautiously entered the portal and met Johnathan Tangelo (known as the Phantom). He was asked to join the Hailfire Empire, and the only reason he agreed was because Larxene was a member.
When John and Larxene got married, Grievous was surprised to find that he was jealous. But as the relationship went on, Larxene became depressed. When Grievous asked her what was wrong, she explained to him that John planned on sacrificing himself.
A few months after Larxene divorced John, Grievous started dating her. Never had two sadistic people been more in love. They both serve the Cosmic Empire side-by-side, defending the Multi-Universe from many threats.
Gallery