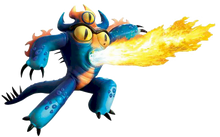 "
The name's Fred; school mascot by day, but by night... I'm also the school mascot.
"
―Fred
Fred is a major character from Disney's 2014 animated feature film, Big Hero 6. Fred is a young comic book enthusiast, with an eccentric personality and a slightly overbearing, yet lovable personality. He is the son of a wealthy couple in the city of San Fransokyo, though he rarely spends quality time with either of them, as they're often away on the family-owned private isles, and usually finds himself under the care of his loyal butler,
Heathcliff. Nevertheless, the family fortune, as well as the family mansion, are left in Fred's care during their absence, and the young man spends such privileges satisfying his unhealthy obsession with comic book lore, Japanese giant monsters, and other nerdy hobbies.
Aside from this, Fred is also a regular attendant at the San Fransokyo Institute of Technology, where he works as the school's mascot, as well as entertains his passion for science (which seems to actually be more of a fanboyish love for science-fiction). At the school, he spends most of his time with his closest friends, Wasabi, Honey Lemon, Go Go Tomago, and Tadashi Hamada, and was noted to be the creator of their nicknames, basing them off their dominate personality traits (Though Wasabi was given his namesake after spilling the food of the same name onto his shirt on one occasion), as well as explaining why he's the only member of their group with an average name; Tadashi aside.
He is soon discovered that his super hero heritage was all coming from his father's bloodline, who was formerly superhero before his retirement.
Chronicles of Great New Empire
Ad blocker interference detected!
Wikia is a free-to-use site that makes money from advertising. We have a modified experience for viewers using ad blockers

Wikia is not accessible if you've made further modifications. Remove the custom ad blocker rule(s) and the page will load as expected.