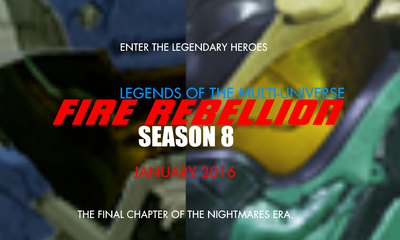 COOLAUTIZ AND 22KINGDOMHEARTSFAN PRESENTS...
Freeze: Tommy Oliver? What are you doing here?
Tommy: Sounded like you guys needed help. Your father was a legendary hero like us.
A LEGENDS OF THE MULTI-UNIVERSE STORY.
Freeze: Us? Why did all the legendary heroes united?
Tommy: You can thank Malcolm Hargrove
Hendricks: What? Malcolm Hargrove was a fascist and hypocritical egomaniac who thought he could make a better Multi-Universe by fucking everything up!
(The scene switches to the attack in Liberty City)
Tommy: After the Attacks of '15, we knew it was time to come together as one.
(The scene switches to Rarity being brought back to normal by the Knights of the Just and Brotherhood of Steel.)
Nevada: These "friends" of Nevada? They have no idea what they are getting into.
(The scene of the Nightmare Forces nearly attacking the Infinity before it went into Emergency Slipspace.)
Nevada: But maybe they do. I'll show them that they'll ultimately fail.
(Switch to Agent California.)
Cal: Maybe Elias is right. Maybe we shouldn't give up on her.
(All the legendary heroes are together.)
Cal: But either way, we must stop the Nightmare Forces before they destroy everything.
LOTM: FIRE REBELLION: SEASON 8. COMING JANUARY 2016
Ad blocker interference detected!
Wikia is a free-to-use site that makes money from advertising. We have a modified experience for viewers using ad blockers

Wikia is not accessible if you've made further modifications. Remove the custom ad blocker rule(s) and the page will load as expected.